With all your data backed up on a cloud service, you can easily retrieve your work in case of any serious tech failure. You will never have to worry about managing your data with free cloud storage services.
To understand the advantages of the cloud, let's have a look at the key features that any free cloud storage service should offer.
In today's hyper-connected world, cloud storage is our go-to method of data storage. The idea of cloud storage has been around for quite some time now but it was only in the early 2010s when it took off.
The Best Free Cloud Storage in 2022
Cloud storage is how the data is stored online today. It is a replica of traditional storage devices. With the growing data storage needs, the technology is moving towards server-based storage.
Data stored online allows users the flexibility and accessibility needed to work remotely – anytime round the clock.
Top Features to Look for in Free Cloud Storage
1. File Versioning
This is one of the greatest features being offered by today's cloud storage services. It enables the user to save multiple versions of files. In short, this feature prevents the service from overwriting your old files when you make changes.
You can always retrieve the older version of your files from the cloud with this perk.
2. Automatic Sync
Automatic data syncing is another prominent feature being offered by cloud services. This feature automatically updates your data to the cloud to reflect any edits made in real time.
Auto-sync provides you with ease of mind by making your updated data accessible over all your devices.
3. Crucial Security
Security is a priority concern when it comes to sharing data across the cloud. Services with the best security measures protect your data from being compromised. Professional cloud storage services provide you with top-notch data encryption so that you can send your data securely.
4. Adaptable Storage Capacity
Our data storage requirements are always changing; a small or new business setup has relatively fewer storage needs but, as the business grows, so do its storage requirements.
With a cloud storage service, you can easily upgrade to a bigger (or smaller) storage plan at any time of your choosing. Moreover, there's no data transfer hassle to deal with either!
5. Quality Customer Support
In this age, businesses don't take a break. In this age when competition among businesses is higher than ever, a downtime issue of a few minutes has the potential to cause a loss of millions.
This is why all leading free cloud storage services offer priority support. With priority customer support at hand, you can easily resolve a problem before it gets out of hand. And this is why, when it comes to cloud storage, quality support is a key feature to be considered.
So, to help you find the most suitable cloud storage service for your needs, we tested some of the most popular cloud services based on the above-mentioned features.
After thorough testing, we came up with a list of the top free cloud storage services in 2022 for you.
Now, let's dive right into it!
What Are the Best Free Cloud Storage Services in 2022?
1. Google Drive – Free Cloud Data Storage
Rating: 4.8 out of 5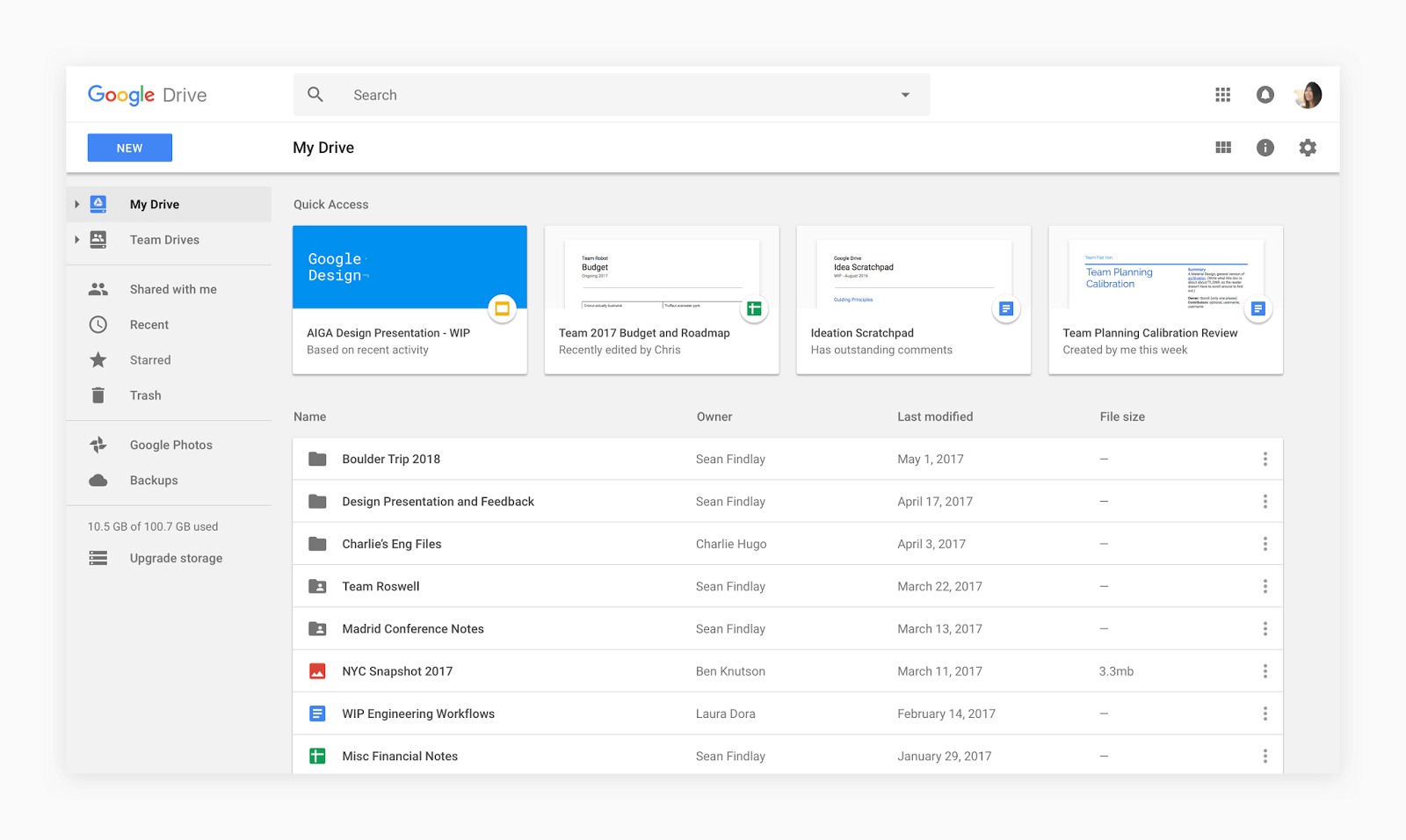 Being used by nearly a billion users regularly, Google Drive is the undisputed king of cloud storage services in terms of popularity. Google has always been known for its clean UI and easy-to-use apps and Drive follows that ideology to the letter.
What makes Drive so great is its office suite which includes apps like Docs, Sheets, Slides, and Forms. Having a capable cloud-based office suite automatically makes Drive great for collaboration.
And, thanks to its ability to work with a long list of third-party apps, sharing data becomes effortless.
Pricing
Google is planning to launch Google one, an upgraded cloud-sharing software just like Google Drive. For this reason, pricing plans for Google Drive are not available. Google plans to provide users with much cheaper pricing and more perks through Google One.
However, Google's offering cloud for business through G-Suite. The pricing plan for the G-Suite edition is as follows:
Basic – at $6 per user/month this plan provides 30GB of cloud storage, 24/7 support, Alert center for G Suite, Video, Messaging, and Gmail.
Business – at $12 per user/month including unlimited cloud storage, Smart Cloud Search, Data regions, and E-discovery for emails, chats, and files.
Enterprise– at $25 per user/month including unlimited cloud storage, Premium Office Suite, Cloud Premium, and, Advance Controls and features for Security.
Pros:
Offers Google's office suite

Integrated with a lot of third-party apps

15 GB free cloud storage space

Two-factor authentication

Strong customer support

Easy in-app collaborations and data sharing
Cons:
File-sharing security is weak

Uploads and downloads can get quite slow sometimes

Doesn't offer password protection for shared files
---
2. OneDrive – Free Private Cloud Storage
Rating: 4.7 out of 5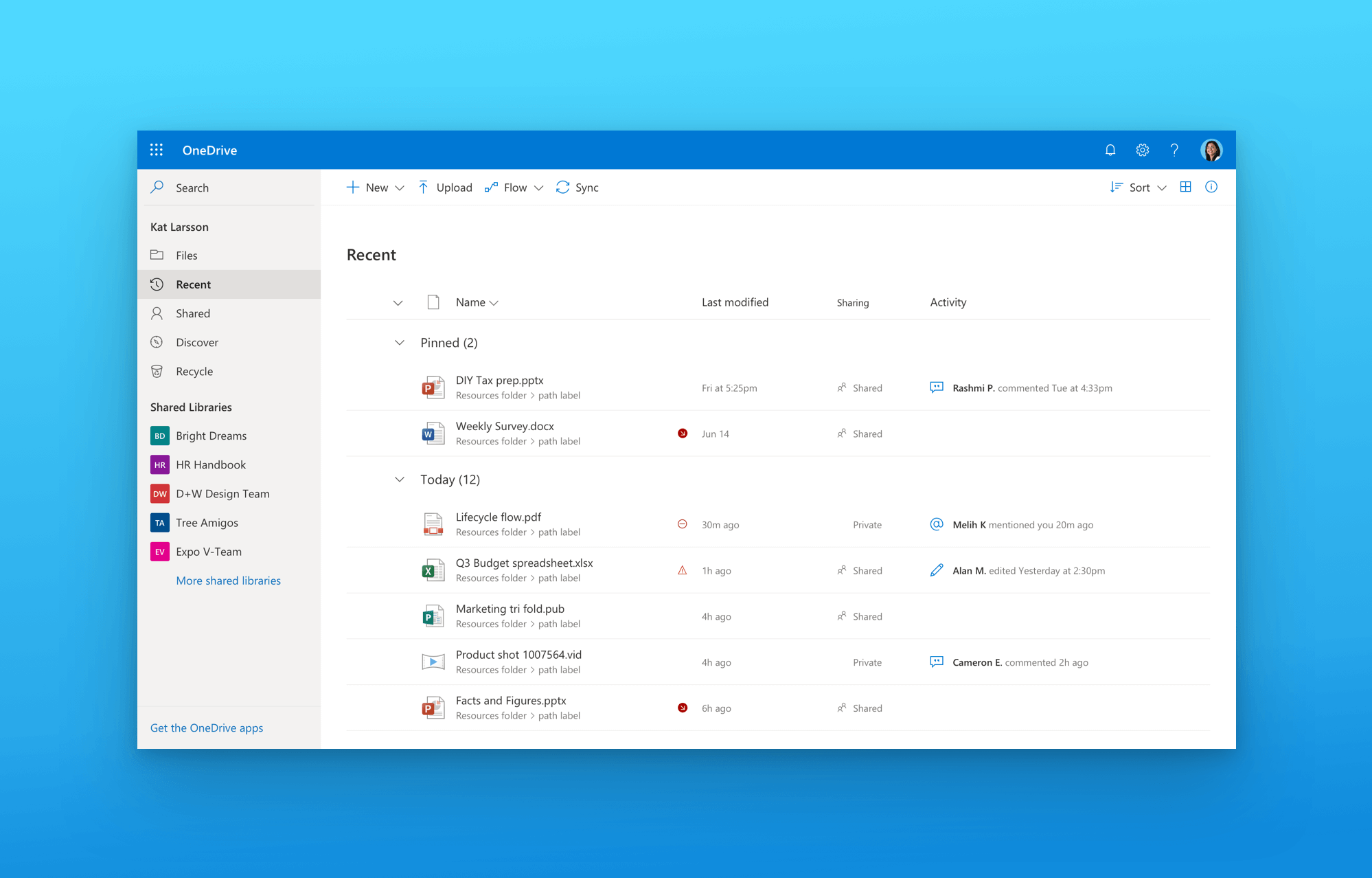 OneDrive is Microsoft's big entrance into the world of cloud storage and even though the service has had a few struggles in its early days, it's easily one of the best cloud storage services today.
When it comes to productivity, Microsoft's Office suite has always been pretty great, and hence, it was a genius move from Microsoft when it decided to integrate Office 365 with its cloud service. Moreover, OneDrive also offers Office Online which makes simple write-ups and editing fast and hassle-free.
Due to its integrations with apps like Skype and Outlook, collaboration is really fun on OneDrive, and thanks to its fast speeds; file sharing is quite easy too.
Pricing
OneDrive offers cloud storage for both personal and business concerns. Hence, it offers pricing plans for both One Drive personal and One Drive Business. We have mentioned both below:
OneDrive Personal:
Basic– forever free, this plan offers up to 5GB cloud storage, Advanced Sync Technology, and Files on Demand.
OneDrive 100 GB – at $1.99 per user/month including 100GB of cloud storage with Web access and Mobile Apps
Office 365 Personal – at $6.99 per user/month it provides 1TB of cloud storage with Office, access on multiple devices, and advanced security features.
Office 365 Home– at $9.99 per user/month it provides 6TB of cloud storage, password-protected link sharing, Offline folders, and an increased sharing limit.
OneDrive Business:
Business Plan 1 – at $5.00 per user/month this plan provides 1TB of cloud storage, built-in search, and discovery tools, secure file sharing, 24/7 support, and a license for commercial use.
One Drive for Business Plan 2 – at $10.00 per user/month this plan provides unlimited cloud storage, an advanced data loss prevention mechanism, and eDiscovery.
Office 365 Business Premium – at $15.00 per user/month plan offers 1TB of cloud storage, office Applications, business-class email hosting, custom email and domain addresses, HD video conference hosting, and many other advanced features.
Pros:
Offers MS Office Online

Fully integrated with Office 365, Skype, Outlook, and other MS products

Clean and simple UI

Support multimedia playback

Fast synchronization

The family plan is quite economical
Cons:
Only 30 days of file-versioning

There's no Linux client

Potential Security Issues

No at-rest encryption for home users
---
3. Dropbox – Secure & Free Cloud Storage
Rating: 4.7 out of 5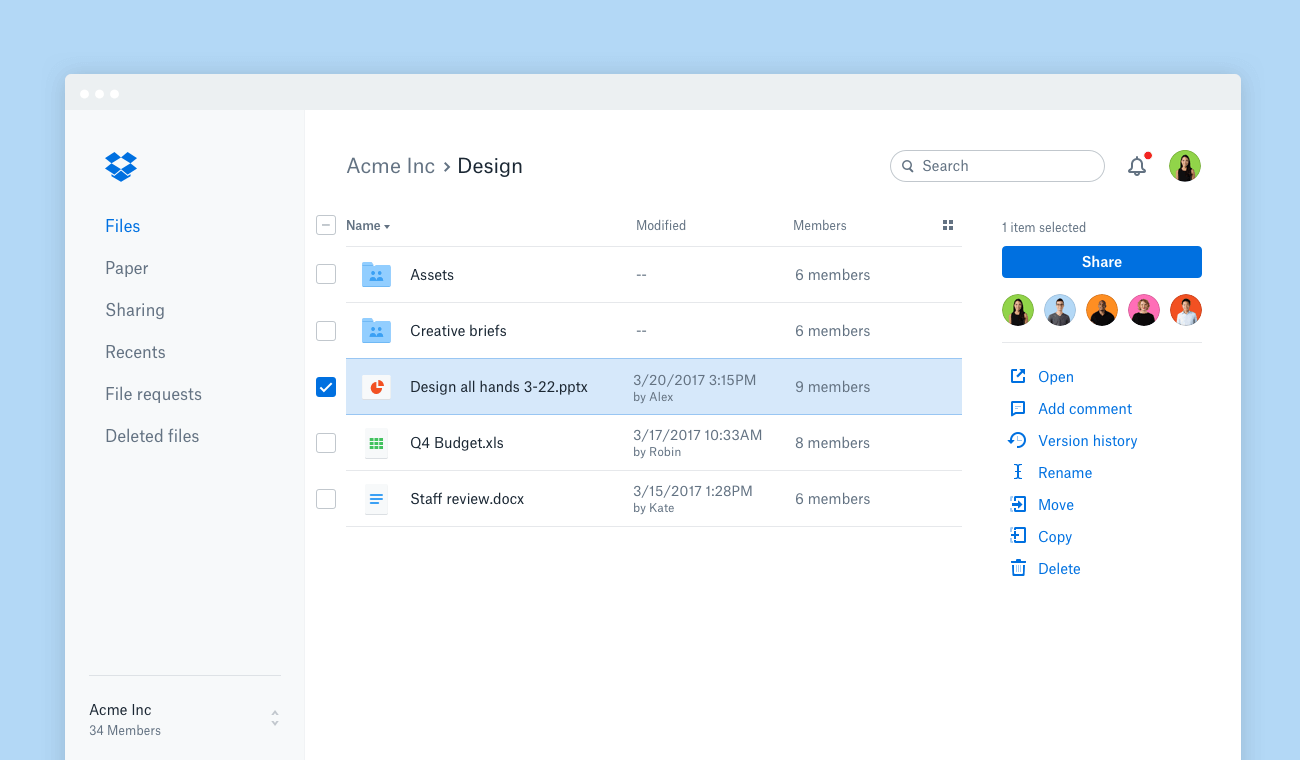 Launched in 2007, Dropbox is one of the biggest cloud-based productivity tools available today. If we're being honest, Dropbox was the first one to make cloud storage fast, secure, and effortless. This is the company that made cloud cool and without it, cloud-storage services wouldn't be where they are today.
Today, Dropbox has over 500 million users and is counted among the most well-reputed sharing & storage systems. The reason we love this service so much is that it's compatible with almost every device and offers apps for Windows, Mac, iOS, Android, and Linux, making it easier to access data anywhere.
A unique feature of Dropbox is that it allows the users to share data with someone who does not even have a Dropbox account. Furthermore, it provides you with the opportunity to retrieve deleted data and access up to 30 days old file versions.
Dropbox doesn't offer zero-knowledge encryption which is a bummer but, its integration with Office Online makes it good for collaboration. Moreover, Dropbox offers a home-grown note-taking app as well.
Pricing
Dropbox uses a freemium pricing plan, where users get a free account with a limited storage size. Users can upgrade their storage and can get access to features with paid subscriptions.
Here is the yearly pricing plan for Dropbox:
Basic – free forever,2 GB storage, Dropbox paper, 30 days of file recovery, and history along with E-mail and self-support.
Plus – at $9.99 per user/month billed annually includes 2 TB storage, Dropbox Smart Sync, Remote device wipe, Dropbox rewind for 30 days, and E-mail support on a priority basis.
Professional – at $16.58 per user/month billed annually provides 3 TB storage, Auto OCR, Dropbox showcase, File recovery, and Dropbox rewind with 180 days history. This plan further offers Advanced sharing controls, Watermarking, Full-text search, Priority E-mail and chat support.
Pros:
Integrated with Office Online

With Smart Sync, saves PC storage space by storing everything on the cloud

Offers Dropbox Paper for easy document editing

Supports all major platforms

Synchronization is quite snappy
Cons:
No zero-knowledge encryption

Expensive in comparison to other cloud storage extensions

Lacks a few privacy features
---
4. Apple iCloud – Free Online Storage Space
Rating: 4.7 out of 5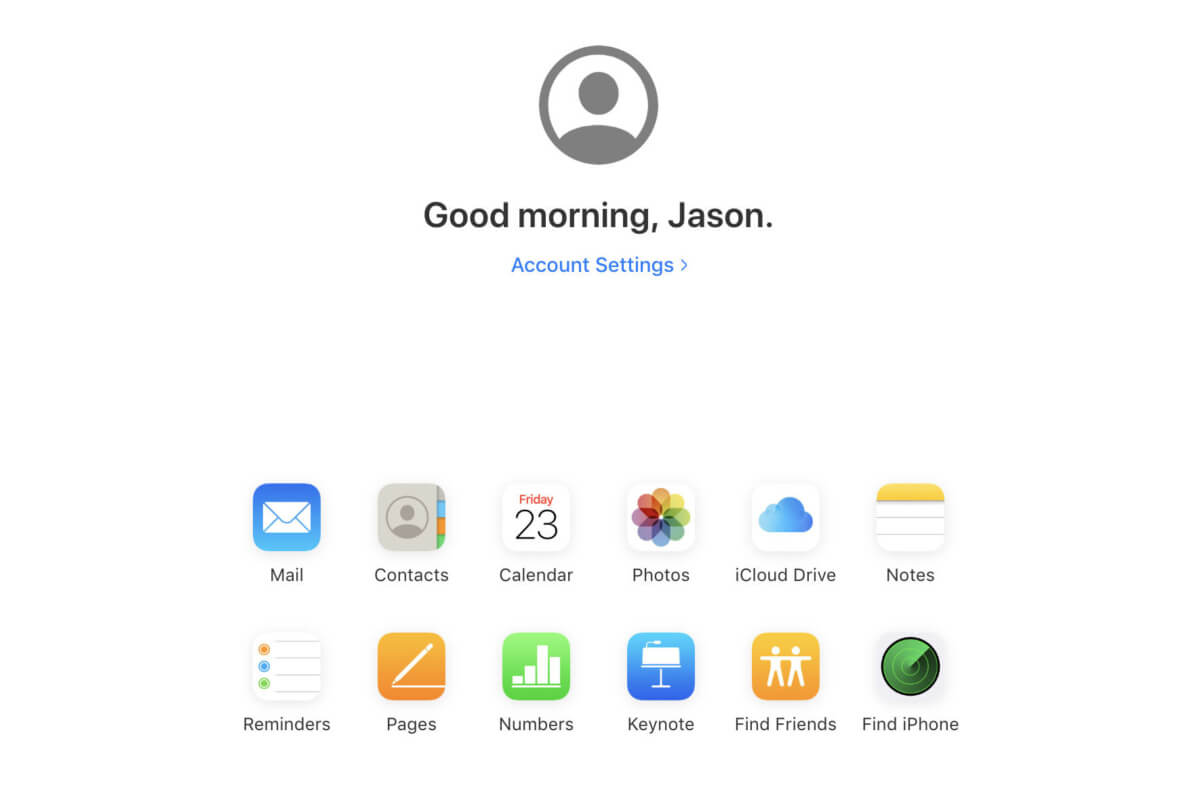 With Apple devices being so popular, when Apply decided to pre-package iCloud with all new devices, iCloud easily became one of the most widely used cloud storage services. But, having a monopoly doesn't mean Apple doesn't care about quality; iCloud is probably the most user-friendly cloud service available today. Moreover, the service offers good upload/download speeds and its price plans are budget-friendly too.
Moving from iCloud to another cloud service can be a real pain though and, because the service is mainly focused on the average user, it leaves experienced users wanting more. For your average user, these issues can be overlooked but, what you can't overlook is the fact that iCloud doesn't offer file versioning either.
Pricing
iCloud currently offers four different paid subscription tiers, split according to the devices you are using including iPhone, iPad, Mac, and supported Windows computers.
5 GB storage – free of cost.
50 GB storage – at $0.99 per user/month
200 GB storage – at $2.99 per user/month
2TB storage – at $9.99 per user/month
Pros:
Fully integrated with the Apple ecosystem

Offers 5GB free storage

Price plans are economical

Seamless file sync across devices

Document and photo sharing is smooth
Cons:
Has a record of breaches

Lacks collaborative editing

Doesn't offer email support

Windows client is quite lacking
---
5. Sync – Best Free Cloud Storage for PC
Rating 4.6 out of 5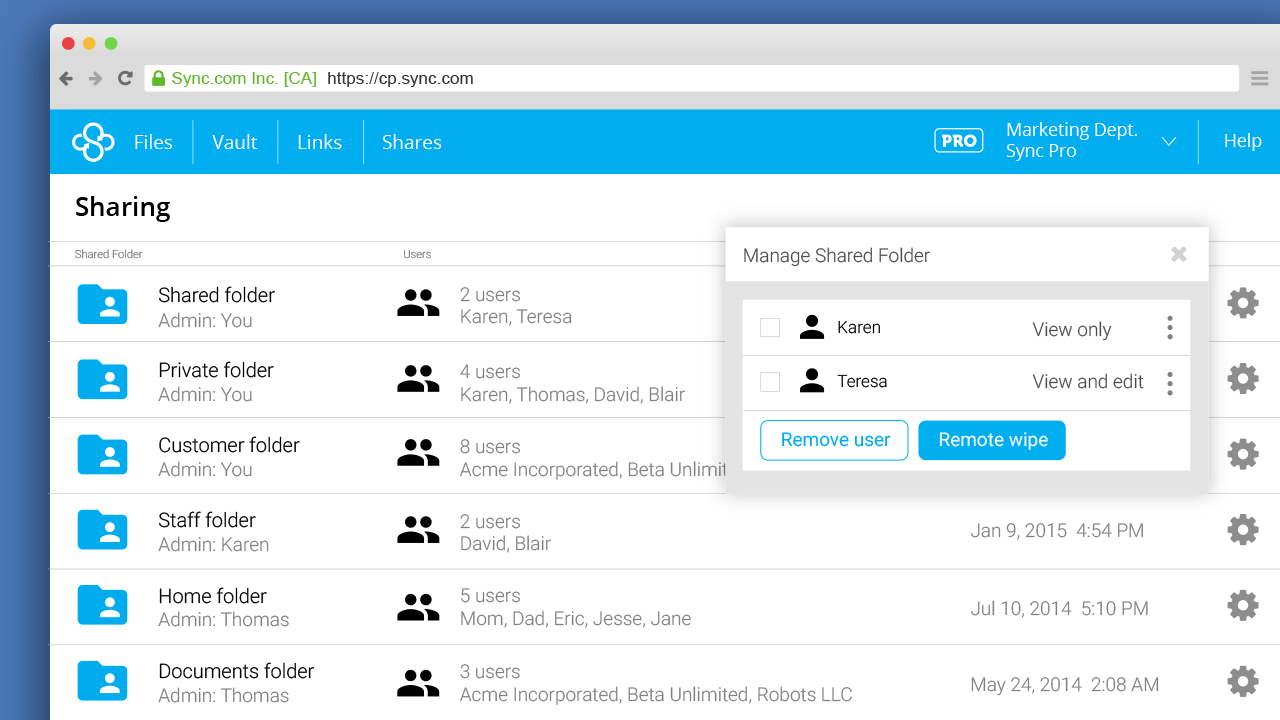 Based out of privacy-loving Canada, Sync has its eyes set on becoming one of the most secure cloud storage services. It comes with zero-knowledge encryption which ensures your data stays safe at all times but, it also limits the number of third-party apps Sync can integrate with, and hence, its collaborative features are limited.
Apart from top-notch data security, Sync offers great file-sharing features as well. Not everything is perfect though, Sync's desktop client could use a newer and simpler UI. And, as the service doesn't offer any monthly plans, a lot of people end up looking elsewhere for cloud storage.
Pricing
Users can subscribe to3 pricing plans offered by Sync.com with a 30-day money-back guarantee.
Solo Plan – at $10 per user/month billed annually with 3TB secure storage, sync vault, end-to-end encryption, and advanced sharing and collaboration features.
Pro Plan – at $5 per user/month billed annually offers 1TB secure storage, minimum 2 users, multi-user admin controls, centralized billing, and priority support.
Business Pro Advanced– at $15 per user/month billed annually offers 10TB secure storage per user, minimum 2 users, transfer in existing Sync accounts and live chat support,
Pros:
Unlimited versioning

Zero-knowledge encryption

No file size restriction

Follows privacy-friendly Canadian laws

Offers an online Vault for even more secure data storage

File restoration is really easy
Cons:
Doesn't offer block-level file copying (meaning, the entire file has to be uploaded if updated )

No monthly plans

Not integrated with any third-party apps
---
6. WeTransfer – Free Online Storage Provider
Rating: 4.6 out of 5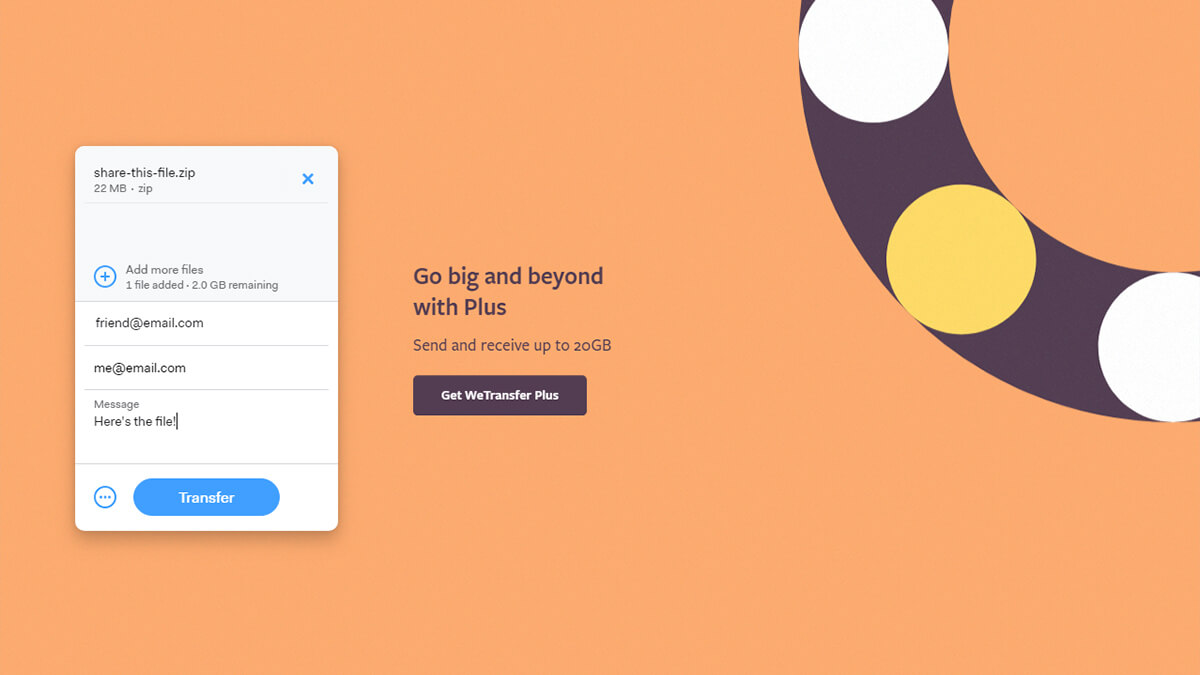 WeTransfer was launched back in 2009 and over the years, it has become one of the leading services for easy file transfers. It allows users to transfer large files quickly, even without having to sign up for it. For basic users, it provides a file size limit of 2GB to be transferred. The sent file can be downloaded within seven days of it getting shared.
For business users, WeTransfer offers a pricing plan with upgraded storage of 1TB. They also get the ability to transfer files of up to 20GB size in one go. Moreover, business users can also set a custom time limit for a file's deletion and set passwords on files.
Pricing
WeTransfer provides basic features for free, but its premium service, called "WeTransfer Plus," is paid.
Free – free forever, send about 2GB of file.
Plus – at $12 per user/month store up to 1 TB, file size limit of 20 GB, password-protected, and expire link when you want to.
Pros:
File transfer without signing up

Free transfer up to 2GB File

Files can be shared through email and links

Email notifications for the sender

Preview files before downloading
Cons:
Free users cannot create WeTransfer Account

File sharing links are public

No encryption or file-password features for free users
---
7. MediaFire – Free Video Cloud Storage
Rating: 4.6 out of 5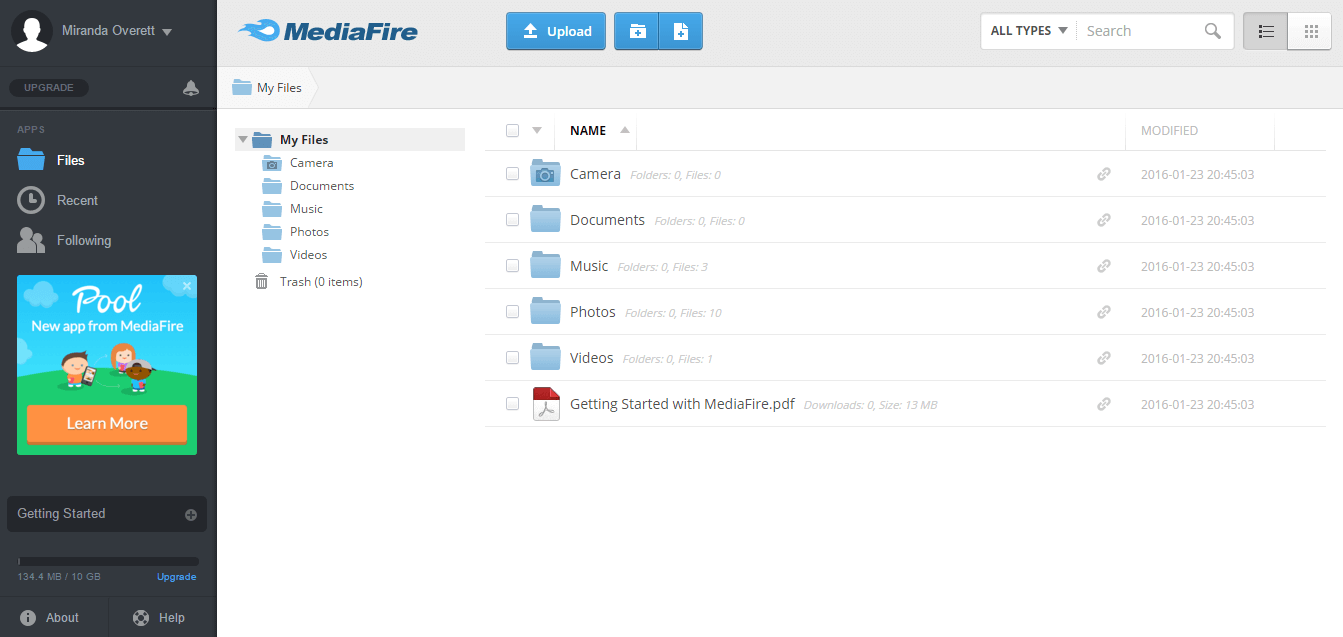 Launched in 2006, MediaFire has 46 million users under its belt today. The only thing MediaFire seems to be focused on is simple cloud storage but in 2022, that's just too little.  The quality which sets MediaFire apart from other services is its affordable pricing plans. Its basic free plan offers up to 10 GB of storage.
MediaFire doesn't offer a desktop sync client which seems quite strange in 2022. Moreover, file versioning is missing as well. The service doesn't offer any third-party app integrations either which means collaboration is almost impossible on MediaFire.
Pricing
MediaFire provides its users with two subscription levels, Professional and Business. Additional features are included in these plans along with the free services.
Basic – free of cost with 10 Gb storage and ad-supported downloads.
Pro– at $3.75 per user/month this plan provides 1TB cloud storage, file drop, priority support, and long-term storage.
Business– at $40 per month, comes with 100TB cloud storage, ad-free sharing and downloads, detailed security log, can accommodate 100 plus users, and provides customizable branding.
Pros:
Up-to 10Gb free storage plan

Easy on budget

Fast Upload speed

20GB file size limit

File Drop feature
Cons:
Slow downloading

No desktop apps

Ads in the free version

Weak security
---
8. Tresorit – Secure Cloud Storage Space
Rating: 4.6 out of 5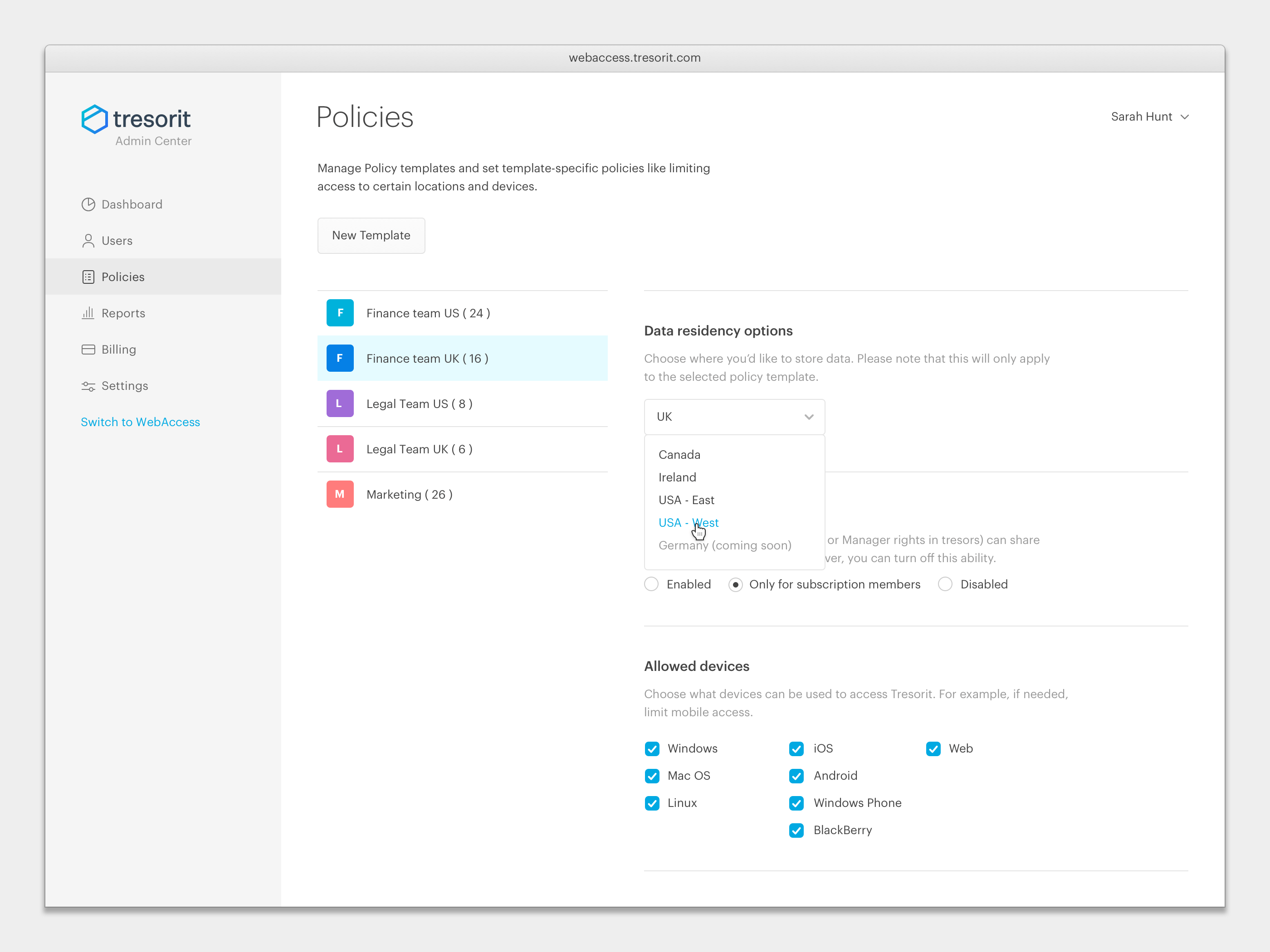 Tresorit is a secure, powerful, and fast cloud storage service with top-notch security features. With strong sharing capabilities, it ranks as one of the best cloud services. It provides content control options to keep your shares secure.
The only drawback of Tresorit is that it is one of the most expensive options.
With zero-knowledge encryption, advanced privacy features, and great security, Tresorit ensures your data stays safe at all times. But, due to its zero-knowledge encryption, the service doesn't offer any third-party app integrations and hence, collaboration is impossible.
Pricing
Tresorit offers two products, based on the number of allowed users per subscription plan and access to premium features – Individuals and Teams. Each of them has its sub-plan as mentioned below:
Individuals:
Send – basic free plan to send large files with encryption
Premium – at $10.42 per user/month with 200GB redundant cloud storage, 24/7 support, multiple device access, and local wipe devices
Solo – at $24 per user/month with 2TB redundant cloud storage, file version history, multi-platform support, GDPR compliance, and access logs.
Teams:
Small Business – at $20 per user/month starting at 2 users, 1TB storage, IP filtering, offline access, and zero-knowledge system.
Business – at $12 per user/month starting at 10 users, 1TB storage, secure link sharing, access logs, and active directory integration.
Enterprise– at $24 per user/month starting at 100 users, 1TB storage, custom branding, CSV reporting, Splunk, and admin center API.
Pros:
Zero-knowledge encryption

Secure file sharing

Two-factor authentication

Great platform support

Advanced privacy and security features
Cons:
Not easy to use for beginners

Price plans can seem expensive for many people
---
9. Box – Free Web Cloud Storage
Rating: 4.6 out of 5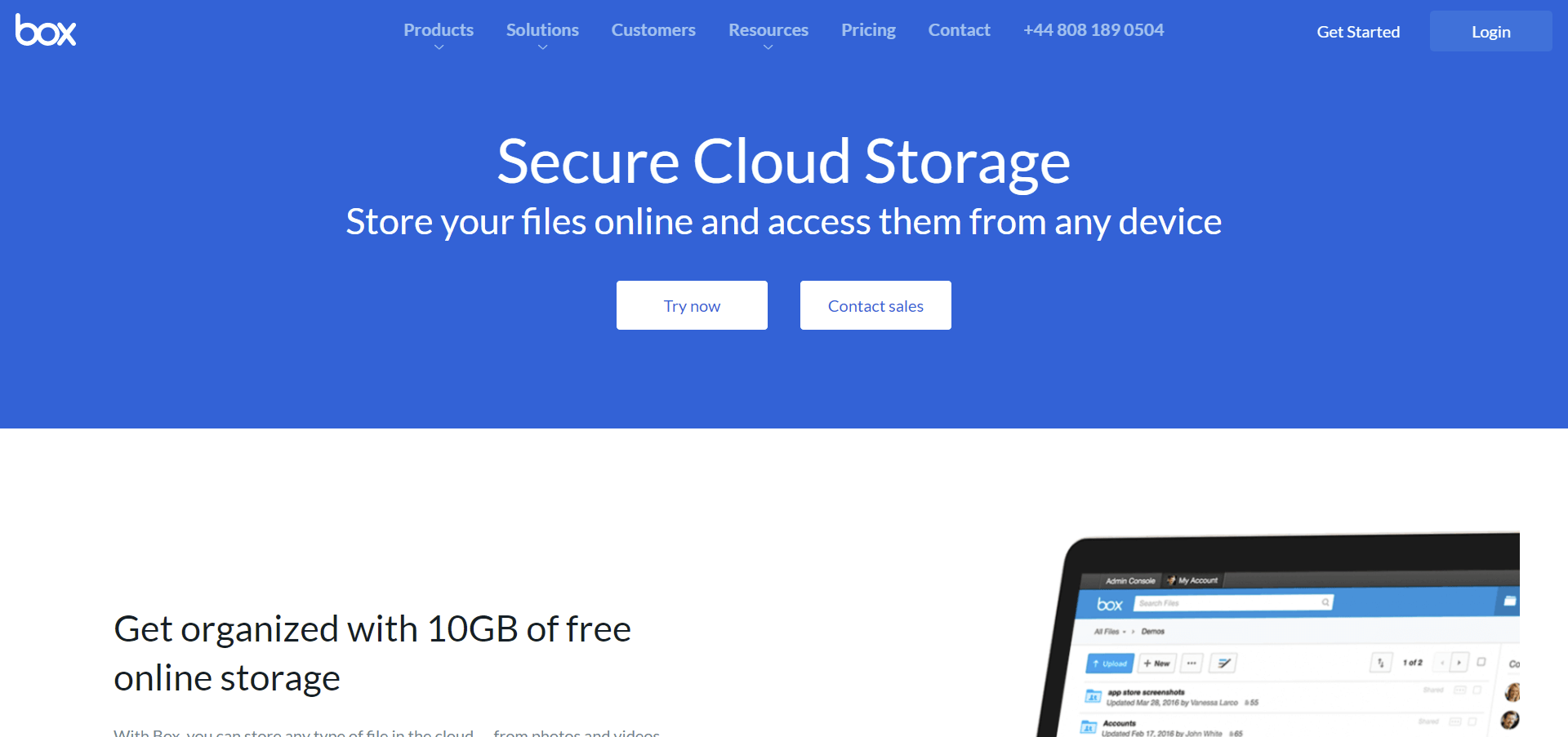 With Box, you can store any type of file in the cloud. From photos and videos to financial information, you can keep everything organized in folders—just like your desktop—and securely stored in the cloud.
You can also work with all your cloud files from your desktop with Box Drive without using much hard drive space. Box helps you transform your business with Cloud Content Management.
With files scattered across different sharing tools, document management systems and storage infrastructure, enterprises face an impossible challenge of keeping data secure, processes compliant, and teams on the same page. That's where Box comes in.
With Box, you get a single place to manage, secure, share, and govern all of the content for your internal and external collaboration and processes.  And it connects to all your apps. That's why 95,000 customers and 69% of the Fortune 500 rely on Box to meet the demands of the digital age.
Pricing
Box offers the following plans:
Individual Plans
Free – You can secure and access your files from anywhere with this plan. It is offered free of cost.
Personal Pro – you can upgrade your plan for more flexibility and storage space at US$11.50/month.
Business Plans
Business plans of the Box app are the most popular. And you can save 5% by paying yearly. This plan is for a minimum of 3 users. It is divided into four categories:
Starter – It offers secure file sharing and storage for teams at US$5.80 per user/month paid annually and offers 100GB storage.
Business – It lets you collaborate with teams for any business at US$17.30 per user/month Paid annually, comes with unlimited storage.
Business Plus – You can manage content for your entire organization at US$27.26 per user/month Paid annually, with unlimited storage.
Enterprise – This plan offers advanced content management and data protection. Along with unlimited storage. You can contact the vendor for this plan as it varies accordingly.
Platform Plans:

Integration with Box – it is a free plan.
Build with Box platform – starting at $500 per month, and it is free for up to 25 app users with 120+ file types rendered, comments and tasks, SSL and at-rest encryption, and user management.
Pros:
The speed to download and upload every single file.

Box has great storage capacity and many useful tools for editing and syncing items. It's a very flexible, scalable tool.

Ease of use. It is simple, whatever is in your Box Drive folder is what is on Box. It is very easy to share files with others.

Simple, interactive UI.

Integrations with MS Office 365 and Google Docs.

Large 10 GB free cloud storage space.

Business plans with powerful security features.
Cons:
Uploading file size limitation.

You get what you pay for. There are not as many features as Dropbox, such as Dropbox Paper, and thus it might not the best option for everyone.
---
10. Mega – Free Backup Cloud Storage
Rating: 4.5 out of 5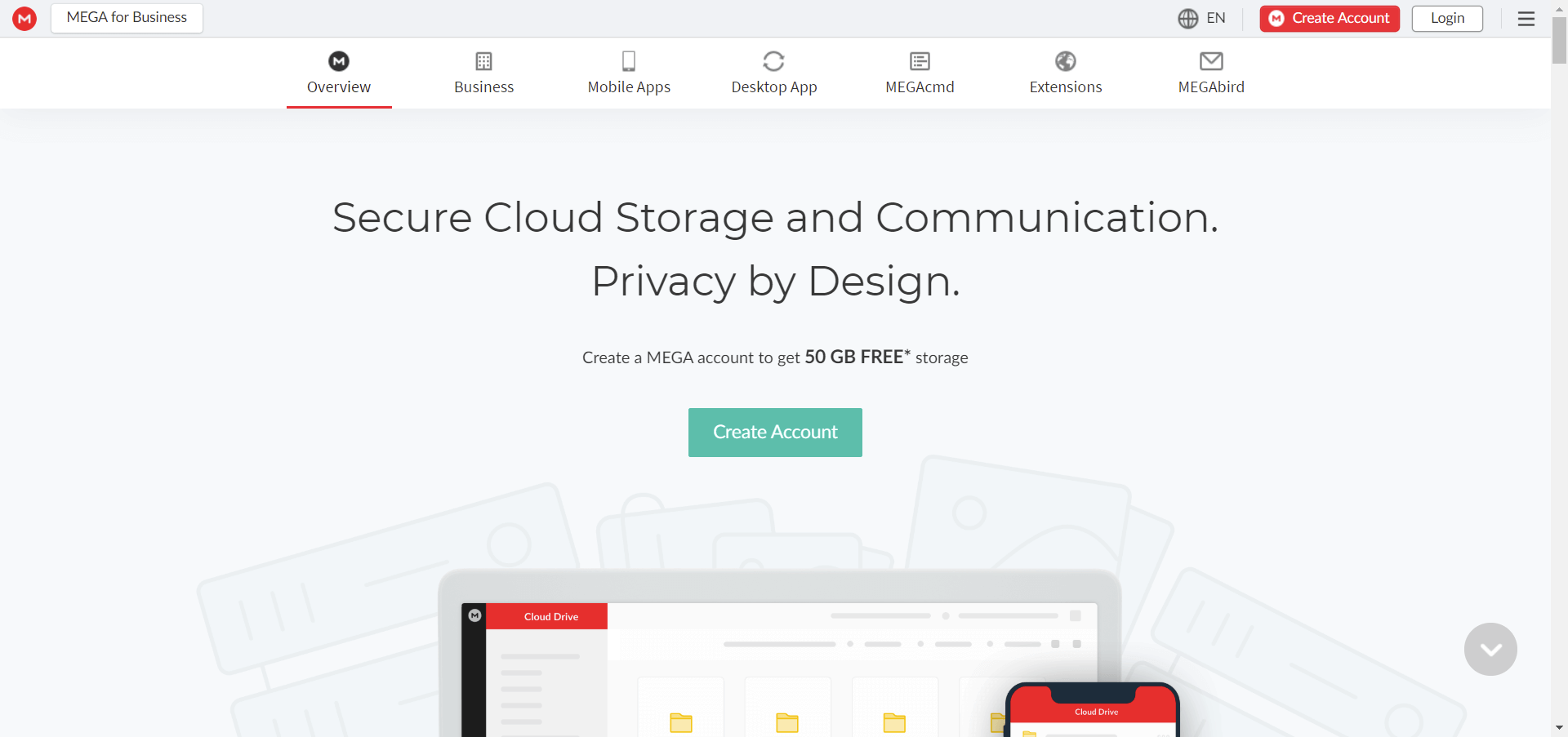 Mega is a secure cloud storage and communication app. It offers reliable storage and fast transfers.
It is a great cloud storage option, especially for those who want a service that comes with extra security. This service is also simple to use and it comes with great main features and some amazing advanced features. All you have to do is to select the right paid plan for you and your needs.
Take into consideration your budget and all of the features before you decide to purchase this service
Pricing
The great thing about this service is its Free plan. They offer more than 50GB for free and you benefit from all of the features that Mega has to offer. Also, you get 10GB for free for every invitation you send to your friends. This service offers you a lot of features including file backup and file restoration.
You can also get up to 8TB of storage space for $29.99/month.
This means that it is also a great option for small businesses because it offers enough storage space. However, you have a monthly bandwidth that you can't get over unless you want to pay extra. Make sure to check the maximum bandwidth before you purchase one of their plans.
If this is not enough for you, then you should pick one of their paid plans. Fortunately, you have enough options to choose from.
Personal Account – it starts from $5.50/month, and offers end-to-end encryption, automated synchronization, video and voice conferencing, secure team messaging, and file Versioning.
Business Account – it starts from $11.02/user/month, offers everything in the Personal Account plan along with user management. In this account, a minimum of 3 users is required.
Pros:
Excellent security & client-side encryption.

Well-made sync client.

Useful mobile application.

Allows FTP connection.

One of the best things about Mega is the big storage limit for their free plan.

This service is easy to use and its apps are user-friendly.

They come with great paid plans that suit every type of user.
Cons:
Can be slightly expensive as your data increases

Slow speeds at peak hours

Limited support options

You will have to remember the encryption key and never forget it. If you do, you can never access your data again.
---
Rating: 4.5 out of 5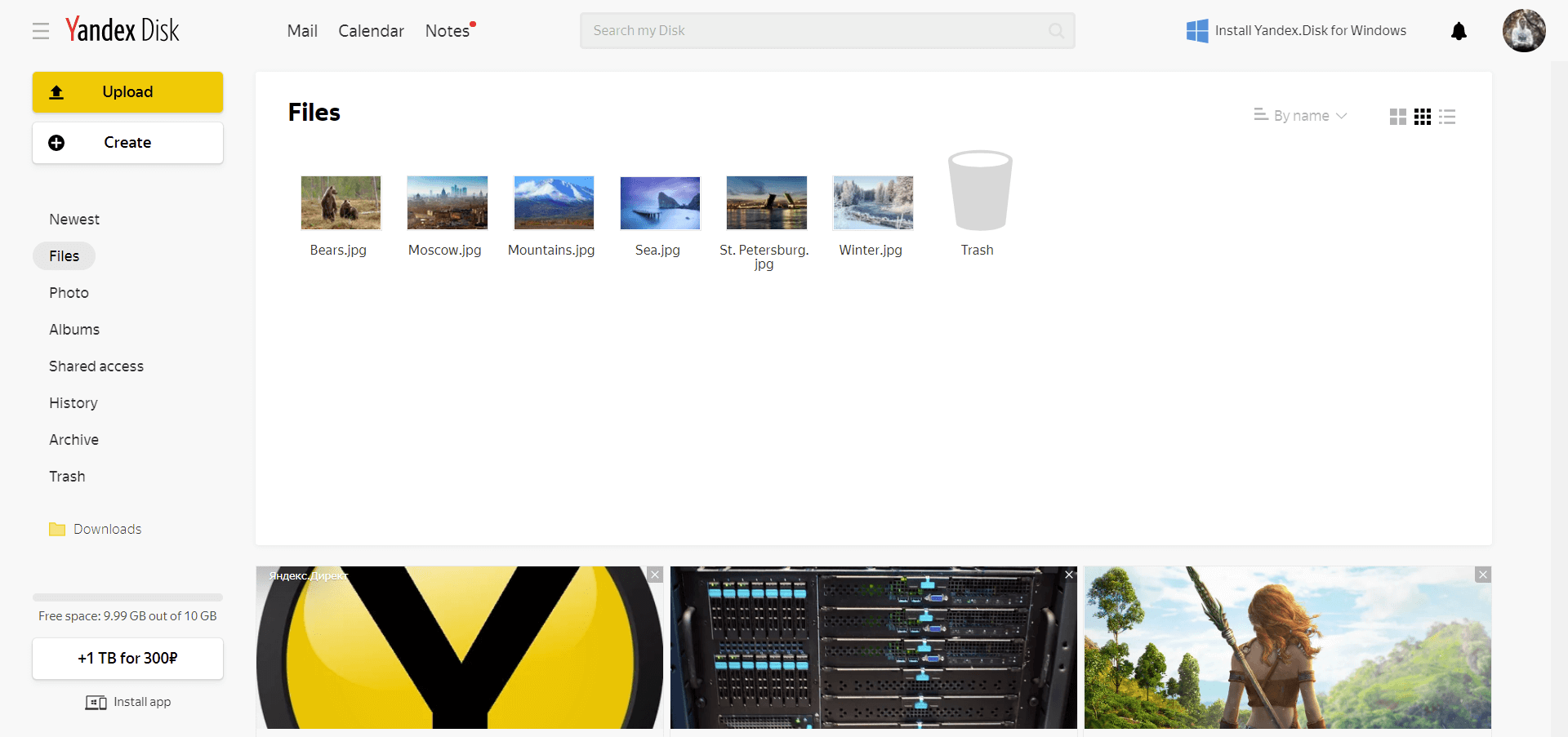 Also known as the "Russian Google", Yandex Disk is one of the best cloud storage choices that you can have your pick from. The Yandex Group is the owner of this service.  The service launched in 2012, which makes it younger than veteran cloud storage services.
Yandex Disk is one of the best cloud storage services that compete with western companies quite well.
Pricing
Yandex Disk doesn't have many pricing plans for you to choose from. However, other than increased storage capacity, the user doesn't gain any additional features once they upgrade their pricing plan.
Nonetheless, if they do choose to purchase the upgrade, they will receive a yearly discount of 17%.
Yandex Disk is available in 4 price plans and the good news is that all 4 of them offer the same features like enhanced changelog for files, no ads, priority support, and unlimited downloads from public links.
Here's the price breakdown:
Free – offers 10GB storage space and it is completely free of charge.
10GB – offers 20 GB of space and costs $1/month or $10/year.
100GB – offers 110GB and costs $2/month or $20/year.
1TB – offers 1TB and costs $10/month or $100/year.
Pros:
Speed is reasonable and buying more storage is cheap.

Once you refer a friend, you receive 512MB of space for free, and your friend receives 1GB through the referral program.

Windows allows Yandex Drive to be mapped as a network drive. It is an easy-to-use cloud storage service with a straightforward configuration.
Cons:
The startup size is 10GB, however, other services (Google Drive, OneDrive, and many others) offer 5 GB more space.

No content control options

Russian privacy laws
---
Rating: 4.5 out of 5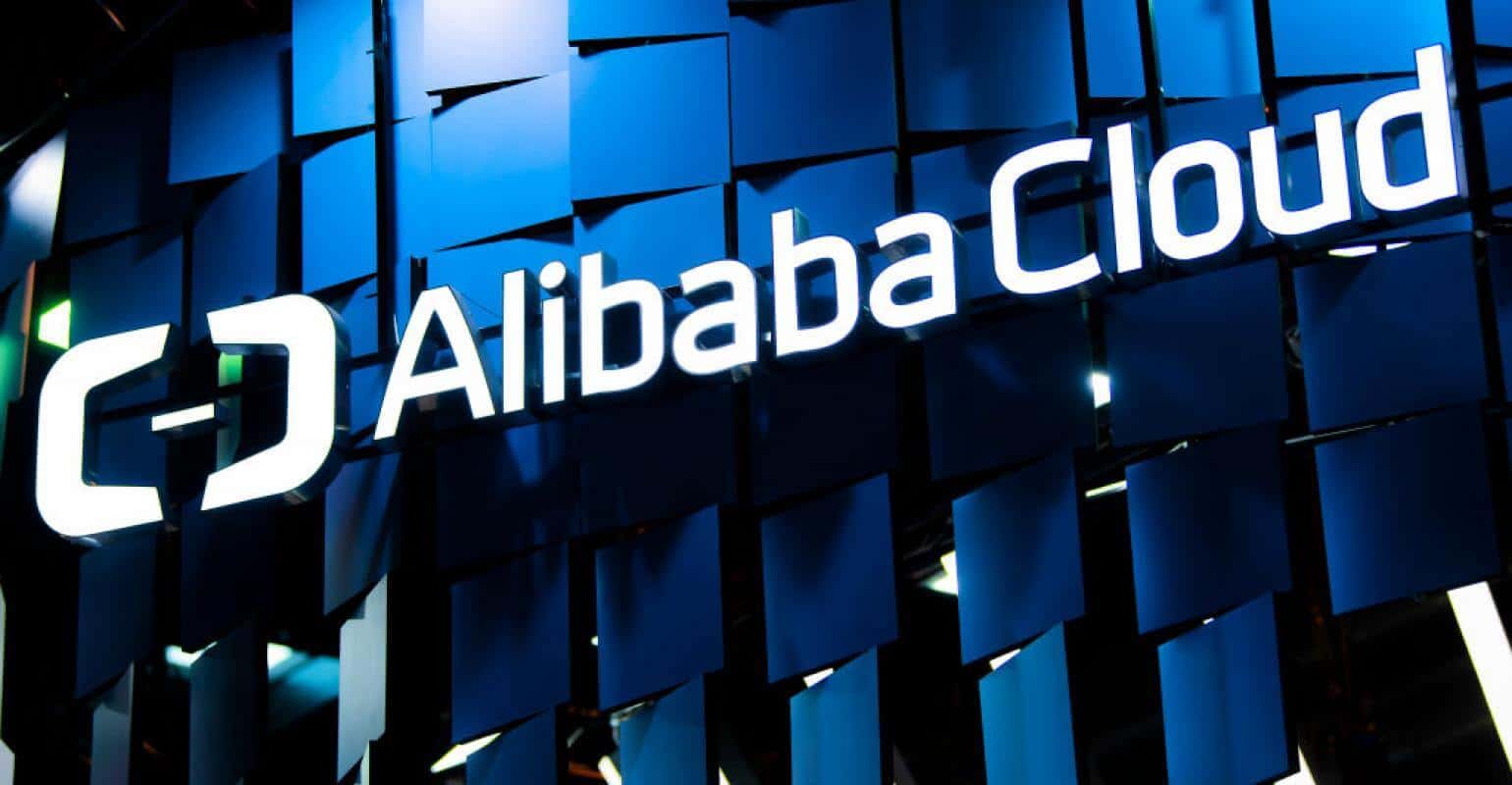 Alibaba is best known for its e-commerce business. This storage program works smoothly allowing you to store, back up, and document big amounts of data inside the cloud. It is simple to use, encrypted, safe, and economical.
With the help of utilizing Object Storage Service (OSS), the user can store and retrieve any type of data on the web anytime and anywhere. Once you've uploaded the data to the OSS, it is possible to use it with Alibaba's cloud products and other services.
Pricing
The OSS pricing is calculated based on the total capacity of storage used, the quantity of data transferred, and the various API requests made.
Processes stored data, such as images, and offers flexible metering and billing based on your actual usage. No fees are incurred if you suspend this service.
The billing of storage fees is made on an incremental basis. If, however, your storage amount exceeds a particular level, your bill will the based on the cost of the next increment.
The best part is that your cost/unit decreases the more storage space you use.
Most services provide traditional storage packages, in which a fixed quantity of storage and network transfer capacity can be purchased.
If you use up more than the given requirement, the service will either charge you extra or cut you off. Unfortunately, if the whole amount is not used, you will still be charged with the full bill.
Pros:
Alibaba OSS hosts and serves all forms of the static website content, such as; HTML, CSS, JavaScript, images, PDFs, etc.

The HTTP endpoint is served by API Gateway. This serves as a door for users to gain access to data, business rationality, or functionality from your back-end facilities.
Cons:
Unfortunately, there are limitations on the finishing time (10 minutes) and payload size (6 MB). There are also restrictions on the highest number of functions, which can be made under one service (50 functions). If tasks need more than 10 minutes to complete execution, they need to be sectioned off into small groups.

Startup latency: the whole design process of functions is to operate in containers, therefore, jump-starting this setting increases the completion time.
---
Rating: 4.5 out of 5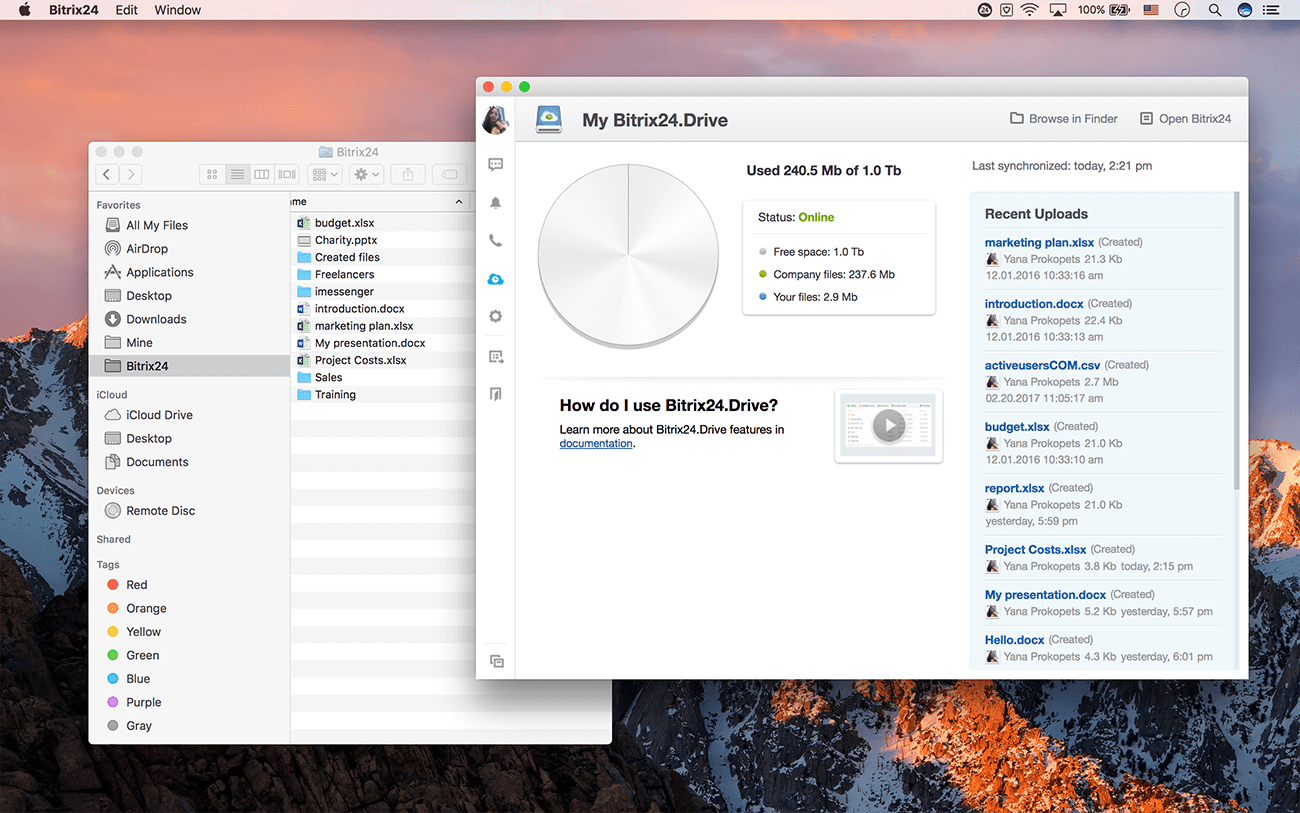 If you are looking for a free cloud service that has over 30 handy tools, then Bitrix24 is the one for you. Some of these tools include; document management, storage, and sharing facility for online files, real-time interactions, email server, CRM, social network, project management, and an HRM system.
Luckily, Bitrix24 is offered as a self-hosted software for on-premise use for organizations, which comes along with an open-source code and API. Migrate from the cloud to your server any time you want.
Bitrix24 is the best cloud storage for small businesses and companies. This software is great for remote teams since it makes it easier to collaborate efficiently and keep in touch effectively.
Pricing
The way it structures its free versus paid plans is confusing because some things are in, and some are out.
The Free plan provides; 12 users, CRM, 5GB of cloud storage, document management, and task management. All their communication tools and customer service management tools are free forever.
The collaboration and team management tools of Bitrix24 are also always free. This factor means you'll get all the communication and collaboration tools with messaging, mobile optimization, and some of the website options.
Here is a general breakdown of their paid plans:
Plus – it costs $39 per month, gives access to up to 24 users, and offers24GB storage with change history, logs, and 500 records.
Standard – it costs $99 per month, and allows access to unlimited users plus external users. Offers 100GB storage, and logo customization.
Professional – it costs $199 per month, and comes with unlimited storage, time management tools, meetings, records management, and domain customization.
The upper-tier plans might sound expensive, but they aren't when you consider you get unlimited users and all the features of the lower tiers.
Pros:
All users that are within the corporation have easy access to operate the storage system.

Users can create subtasks, tasks, and projects. These extensive organizational tools aid in providing clarity of the progress of the task.

Offers integrations within Bitrix, including CRM and text messaging (sales).

There are so many features to choose and apply from, making the functionality extremely diverse, which allows the user to make things work the way they want.
Cons:
Its mobile app functionality is quite limited, this makes it difficult for effective teamwork and collaboration.

It can be an expensive cloud storage service to maintain.
---
Rating: 4.5 out of 5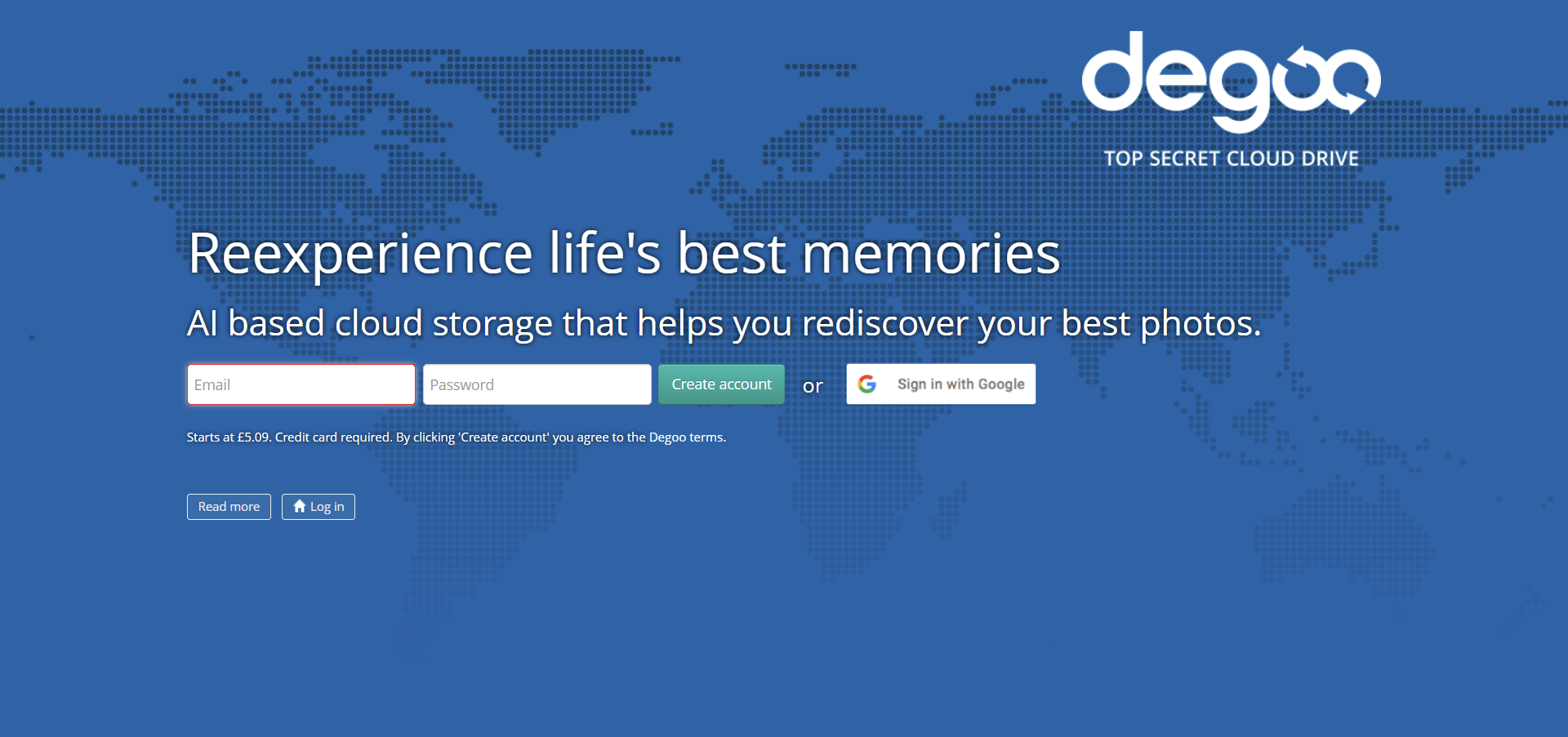 If you are looking for a program that has a cloud-style storage facility for all kinds of files, then Degoo is the one for you. Degoo can be used to store various things, from business reports to family photos. It plays the role to be a backup for physical files that can be lost or ruined with ease.
Degoo is now known as one of the top free online cloud storage facilities in the industry, with farming over 9 million users. There are over a whopping 1.7 million new installs per month, which means that every two seconds there is a new Degoo install.
Pricing
Degoo cloud storage offers many features to its customers. A user can receive 100GB of free space upon signing up, and it is used with a single device. Every time a user refers a friend they receive a further 3GB each time, and it can go up to a maximum of 500GB  ̶̶  provided they have that many friends.
If free users do start running out of space, Degoo Premium will provide them a backup space of up to 2TB.
The two paid pricing plans are:
Pro expands capacity to 500GB and three devices for just $2.99 per month, and Ultimate has 10TB of space and unlimited devices (mobile and desktop) for just $9.99 per month or $95.88 per year.
Degoo Ultimate represents plenty of space for most people, and there are no restrictions on the number of computers or mobile devices you can connect with one account.
We'd recommend sticking with the monthly or annual options.
Pros:
Your information is stored on a secure server powered by the cloud. The best part of this digitized facility is that you can access your information whenever you want and wherever you are!

Degoo is economical, it lets you store files even if your price range is out of reach for higher-end cloud storage services.

You can access your cloud storage on multiple devices.

Encrypted files are safe and secure, and kept separately in a password-protected section.
Cons:
Even though Degoo gives you the confidence that you are less likely to lose your information, it doesn't mean you can forecast any future threats in Degoo.

You cannot view the encrypted files. However, encrypted photos are shown on the front page "timeline".
---
Rating: 4.4 out of 5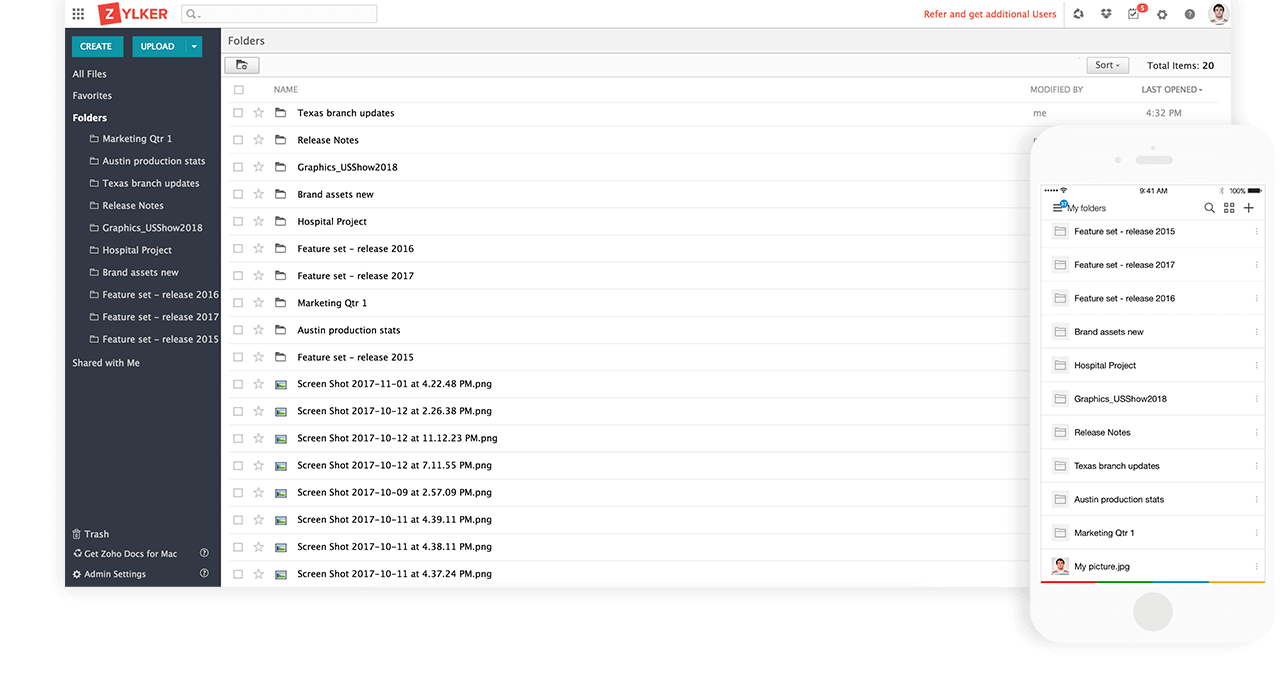 Zoho Docs is for everyone, and it is one of the best free cloud storage systems for small businesses and enterprises. The purpose of creating Zoho Docs was to keep team collaboration optimized, which is why every feature of this cloud storage service operates to support efficient teamwork.
Part of a business management suite, Zoho Docs is the product of Zoho Corporation, a multi-national business that started in 1996. They are a leader in web-based business tools, ranging from CRM apps to project management, business accounting, and more.
Pricing
Zoho offers affordable pricing that scales with your business. Zoho Docs comes in three distinct price plans:
Free – This pricing plan has made Zoho one of the top free cloud storage systems, which permits project collaboration of up to 25 people, and also gives 5GB free storage/user, with a 1GB upload size limit.
Standard – costs $4/user/month, gives 100GB/user, with an upload limit size of 5GB.
Premium – costs $8 per month per user, offers 1TB/user, and has a 25GB upload size limit.
Both Standard and Premium plans are billed annually.
Pros:
Fully supports all the popular MS Office file formats.

Auto-save functionality

Chat and comments are allowed on shared files.

Mobile apps for Android and iOS

Supports revisions to restore an older version of a file.

Upload data in bulk.

Email-to-cloud upload functionality.

Create groups, share password-protected links, and set tasks for the team.
Cons:
A size limit is placed on uploaded files.

It can't import scans, photos, and videos.

The cost can become expensive, particularly for a large team.
---
Rating: 4.4 out of 5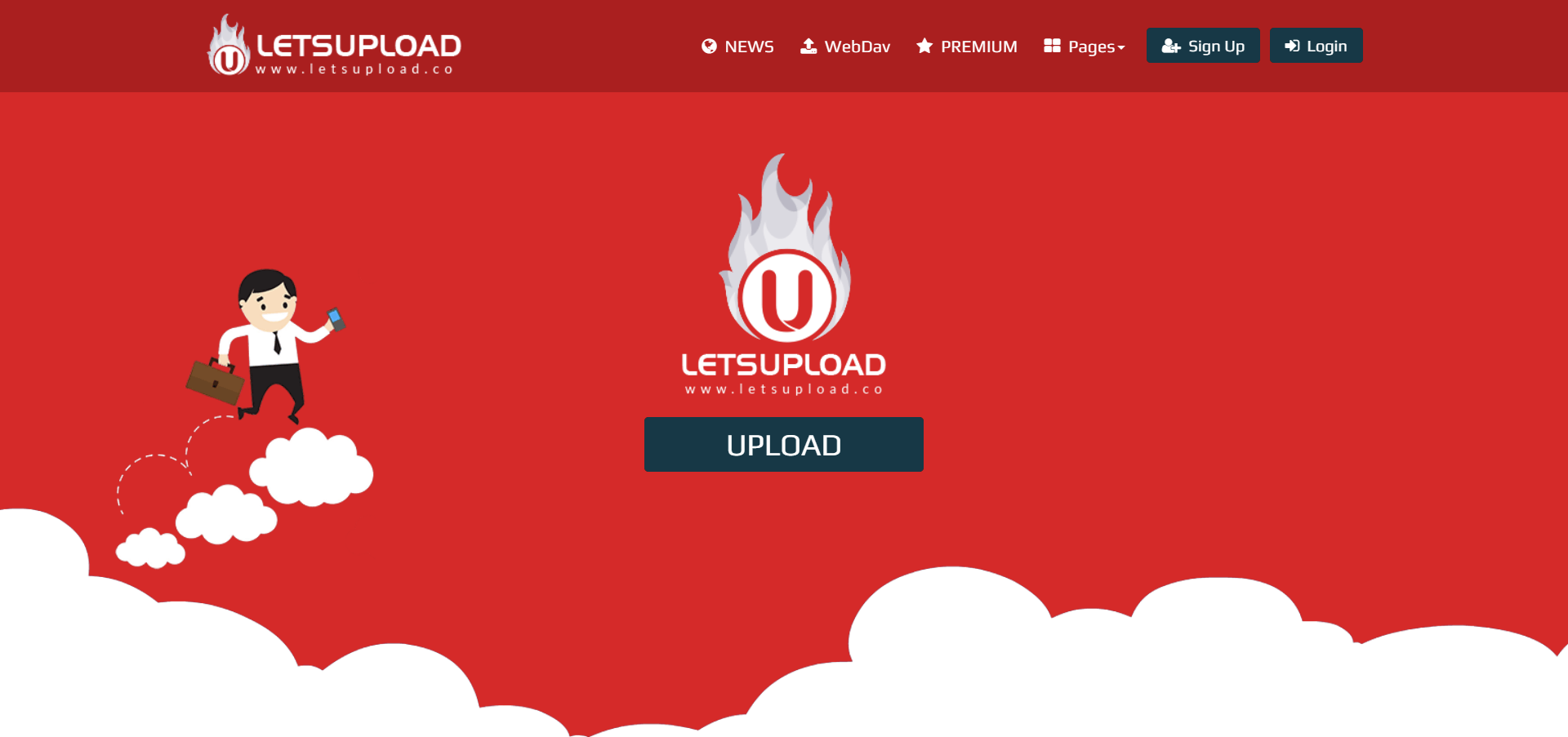 LetsUpload is a free unlimited cloud storage service that goes for all files and media formats.
Since your data is always available wherever you are, this cloud storage service provides features such as cross-platform access, and pre-generated HTML codes that link from the site.
LetsUpload provides tremendously quick upload speed. So, if you've got hundreds of GBs of videos to store or thousands of family photos, LetsUpload is one of the best cloud storage for photos.
Pricing
For Free users, here's how LetsUpload works:
Guest – offers 100TB of space, files will be deleted after 60 days of inactivity, and 11.2GB maximum upload size limit.
Registered User – offers 100TB of space, files will be deleted after 65 days of inactivity, and 11.2 GB of maximum upload size limit.
LetsUpload offers only one paid package – Premium. The package costs $8.99/month and offers unlimited storage space. Files are kept forever and the upload size limit is 120GB.
Pros:
Gives the offer of free storage of up to 100TB.

We felt that the security and privacy features are pretty reasonable.

Upload speeds are some of the fastest we've seen.

Sharing files is a breeze.
Cons:
There is no desktop client.

The cloud storage service doesn't offer file versioning.

Free users have to deal with quite a lot of ads.

Allowing web hosting of illegal content means LetsUpload might get banned in many countries.
---
Rating: 4.4 out of 5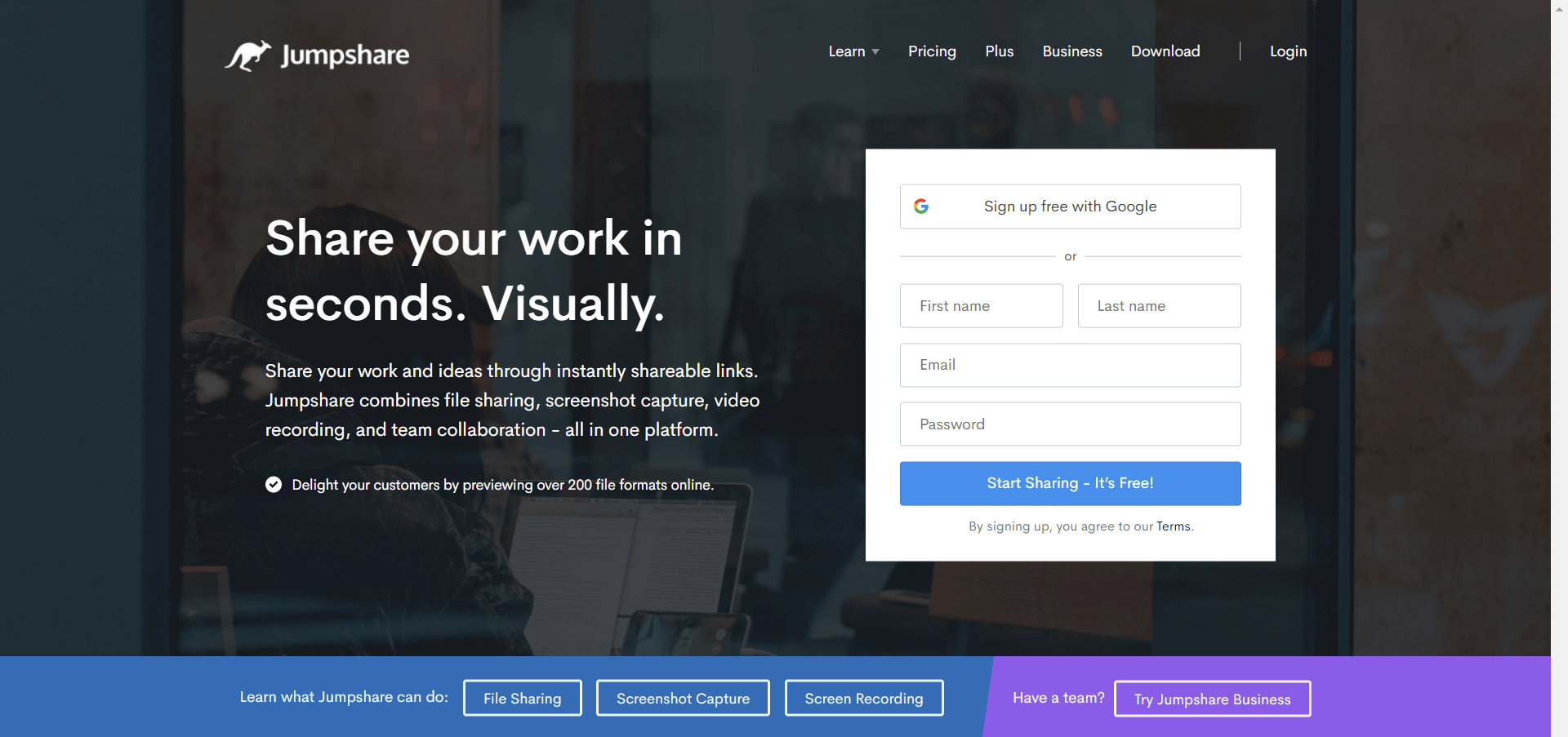 Jumpshare is a considerably new cloud storage service. It also happens to be a cloud storage service that has a vast variety of features, along with file-sharing services.
This cloud storage service may not be very well-known in the competitive market, but has awesome features and capabilities that make it worth your investment.
Jumpshare is getting to be known as one of the best cloud storage services because it was created to improve the efficiency of team collaboration.
Pricing
Jumpshare is being offered in 3 distinct plans:
Basic – offers 2GB space, has a 250MB file upload restriction, and allows only 30 seconds of screen recording. This plan is completely free of charge.
Plus – offers 1TB space and has a 20GB file upload restriction. This plan costs $99 through annual payments and $9.99 through monthly payments.
Business – offers 2TB space and doesn't have any restrictions. This plan costs $150 through annual payments and $15 through monthly payments.
Pros:
Sharing is easier than ever thanks to Jumpshare's drag-and-drop feature
Record your computer/phone screen in video or GIF form
Every single item you upload to Jumpshare can be accessed through the system tray app
Communication is easy when each file can be commented on
Cons:
There is no Android app available currently

No file sync

There's no private encryption
---
Rating: 4.4 out of 5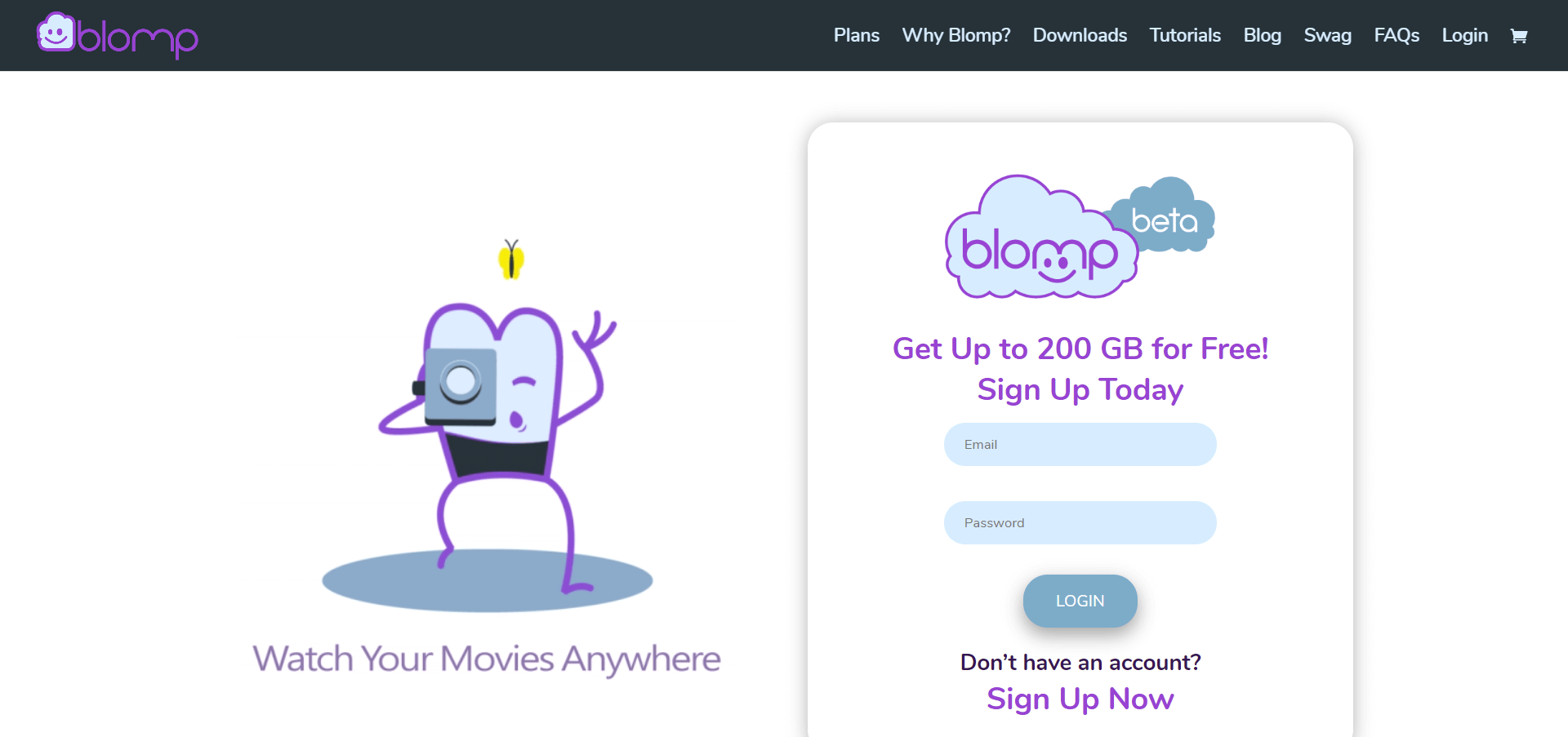 Blomp happens to be one of the quickest-growing personal cloud storage services in the industry. It is a dependable cloud storage service to store and protect important documents and other data.
Blomp is one of the best free cloud storage services offering great value features at an affordable cost, including cross-platform accessibility, dependability, and sizeable storage space.
Pricing
Blomp comes with the following plans:
20GB – this plan is free of cost and offers an initial storage space of 20GB. However, you can scale up your Free plan to 200GB. Each successful friend invite adds another 20GB.
250GB – this plan costs you $0.99/Month. It comes with 250GB of Storage plus everything in the 20-200GB plan.
2TB – it costs $2.99/Month and offers 2TB of Storage. Along with everything in the 250GB plan.
10TB – this plan costs $9.99/Month with 10TB of Storage. And everything in the 2TB Plan.
Pros:
Use your software with Blomp's open standards interface.

Scalable storage space – easily increase storage when needed.

Multiple simultaneous downloads or uploads with no throttling.

The highest quality of data integrity and protection
Cons:
There is no web-based application, you have to install their desktop client Windows, Mac, or Linux.
---
Rating: 4.4 out of 5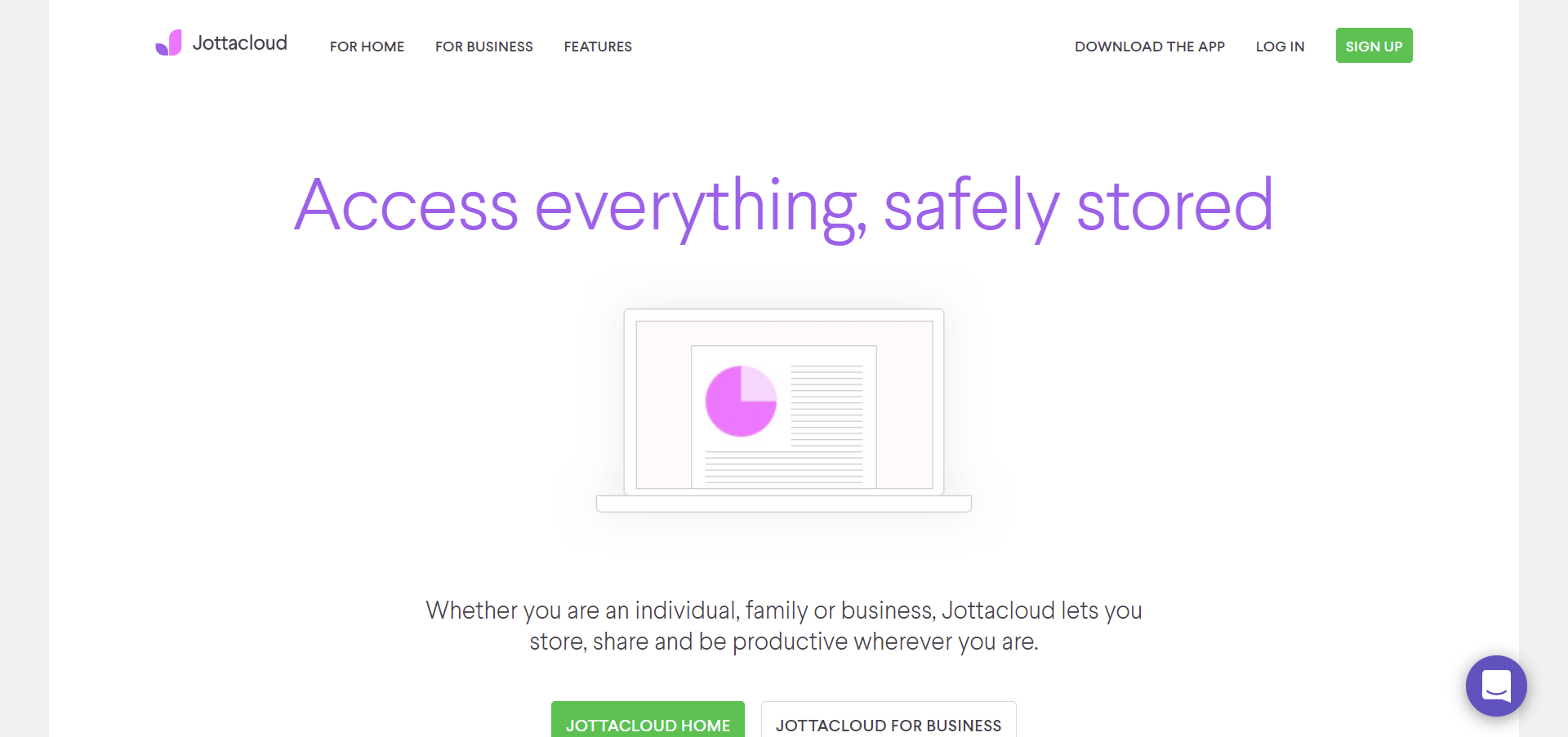 Jottacloud is a Norwegian cloud storage service that is a combination of cloud backup and cloud storage. It has an attractive large storage capacity upgrade plan with an easy-to-use interface.
It has simple and affordable pricing plans for Personal and Business to backup and organize all your documents, photos, and videos, and access them from any device. You can run Jottacloud on your phone, desktop computer, or a server of your choice.
Pricing
These plans are a perfect choice if you store your digital life at a fixed cost.
Jottacloud Personal
Free – It is free of cost, offers 5GB storage, and it is one user account.
Personal – costs $8.26/month and comes with unlimited storage space. It also is for a single-user account. It offers everything in the Free plan in addition to phone support. However, upload speed is reduced if storage exceeds 5TB.
Jottacloud Home
The Home plan is a great way to manage all the members of your family. It is a shareable subscription with additional benefits.  The following plans give access to 5 family members.
1TB – costs $7.16/month and offers 1TB of storage, includes everything in the Personal plan along with no bandwidth limitation.
5TB – it costs $14.88/month and offers 5TB of storage.
10TB – costs $54.54/month and offers 10TB of cloud storage space.
20TB – this plan costs $109.64/month and offers 20TB of storage.
Jottacloud Business
These subscriptions are for teams, organizations, and businesses.
Free – this plan is free of cost and offers 5GB of storage, giving access to 2 users.
Business Small – it costs $7.71/month and comes with 1TB storage. And also gives access to 2 users.
Business Large – it will cost you $11.02/month with access to unlimited users. You can add extra storage to your Business subscription for $6.61 per TB per month.
Pros:
Easy to use

A mix of cloud backup and storage

Large storage capacity options

Two-factor authentication
Cons:
No block-level sync

Limited sharing options

No client-side encryption

Buggy mobile application
---
Rating: 4.3 out of 5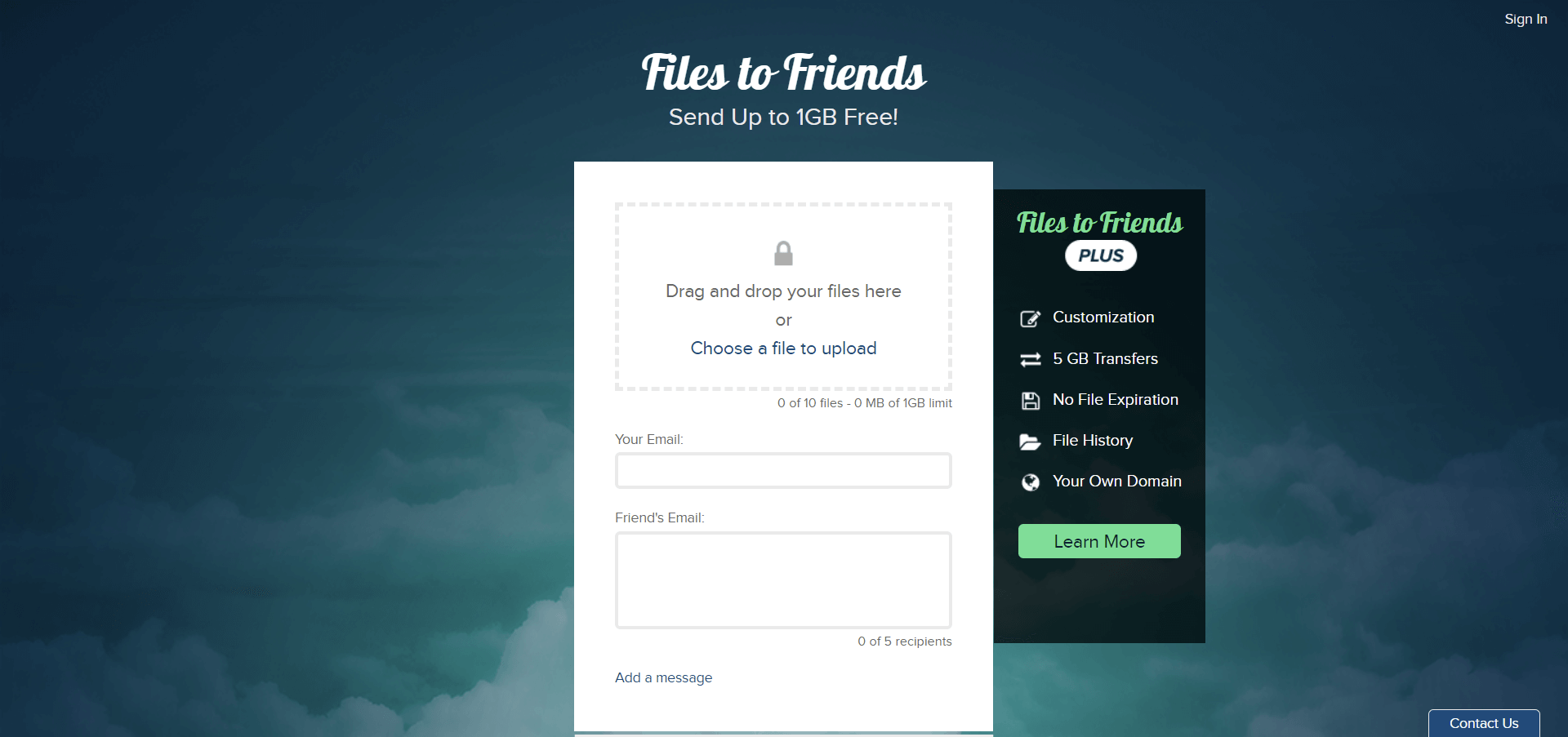 Files to Friends is an incredibly helpful tool for receiving large design files from our designers. It looks so professional and there is no learning curve. Easy for both sides!
It is an easy-to-use online cloud storage service that did not require going through a tedious registration process. With Files to Friends, you can just go to their website, upload your files, specify who you want the files to go to, and send them away!
Pricing
Paid plans for Files to Friends start at $10 per month with a 14-day free trial. You will not be billed unless you keep your account open past your free trial. You have an option to cancel anytime.
Pros:
No file expiration

Access to file history since day one.

Use your domain – send files with your custom link.

5GB transfers – send HD Videos, Photographs, Design Files, and more.

Customization- Use your background image and Logo for full branding.
Cons:
May use your information to improve their products and services.

May send promotional emails about new products, special offers, or other information.
---
Rating: 4.3 out of 5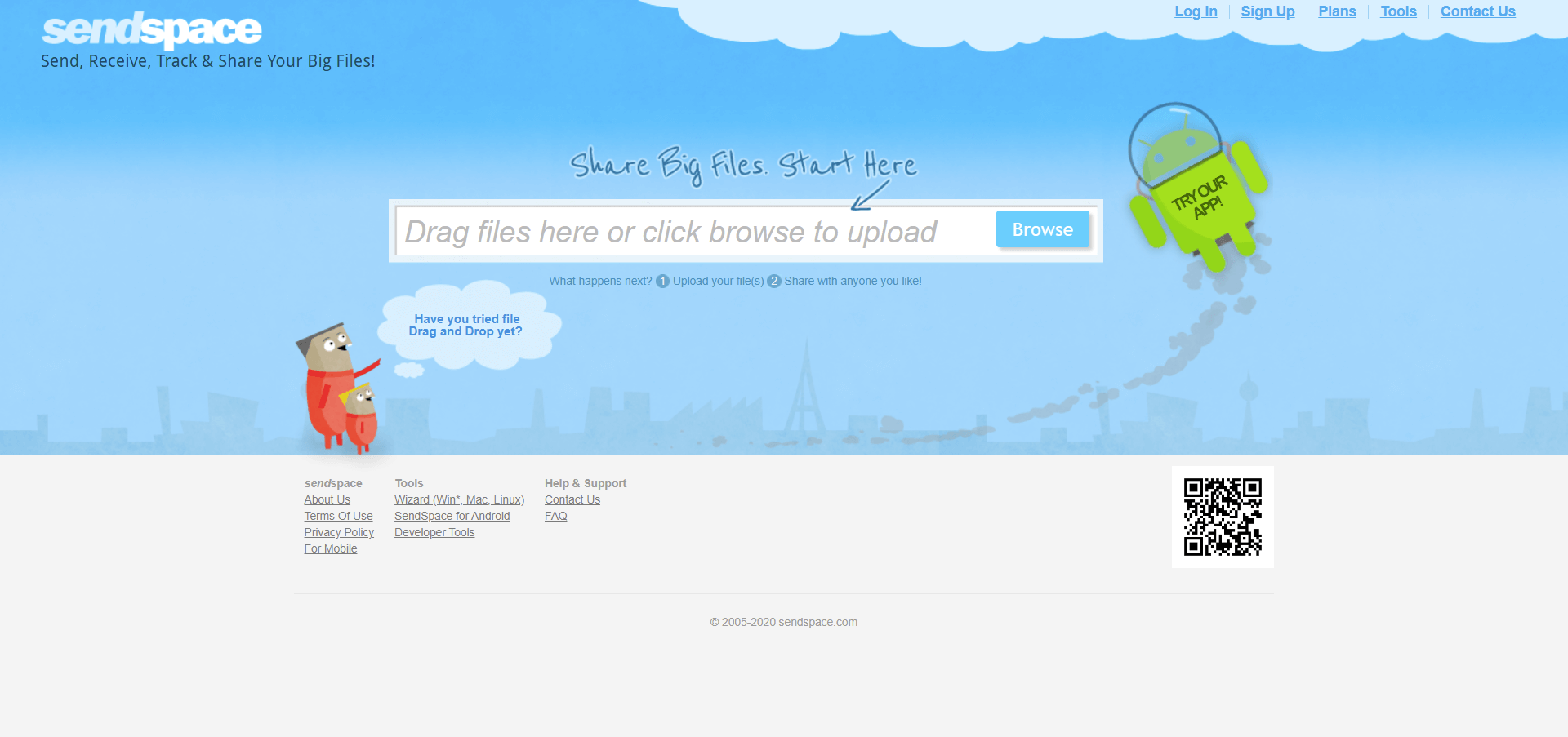 SendSpace is an instant file-sharing application designed for both personal use and business functions. It enables you to drag and drop files into an upload bar and email the download link to one or many recipients.
Sendspace is great to overcome the ~30 MB attachment file size limit when it comes to sending files via email. Recipients simply receive an email with a download link where they can then view the document in the web browser and download it.
Overall, Sendspace is a file-sharing platform for personal or business use. Files are sent instantly to receivers, and uploaders can track the files sent.
Pricing
SendSpace comes with an online knowledge base, an FAQ section, and a freemium version. It is available with the following plans:
Free Plan – it is free of cost, 300MB file size limit, and offers unlimited storage for 30 days with basic file upload and download statistics.
Pro Base – this plan costs $8.99 per month and offers uploads of up to 5GB file size and direct download bandwidth of 100GB, along with unlimited lifetime storage.
Pro Plus – it costs you $19.99 per month and offers uploads of up to 10GB file size and 300GB bandwidth. Plus, unlimited lifetime storage.
Pros:
Files upload and download super-fast, in a variety of adaptable methods.

Links are easy to share between members while also featuring a variety of privacy options.

Ad-free uploads

Email notifications for files uploaded and shared

With a paid account, you get almost unlimited cloud storage and sharing capabilities
Cons:
If a provider uses a free link instead of a pro link, the download speed is limited.

Works well on the windows-based platform but is not as reliable on Mac.

Many users have complained about security issues when using Sendspace.
---
Rating: 4.3 out of 5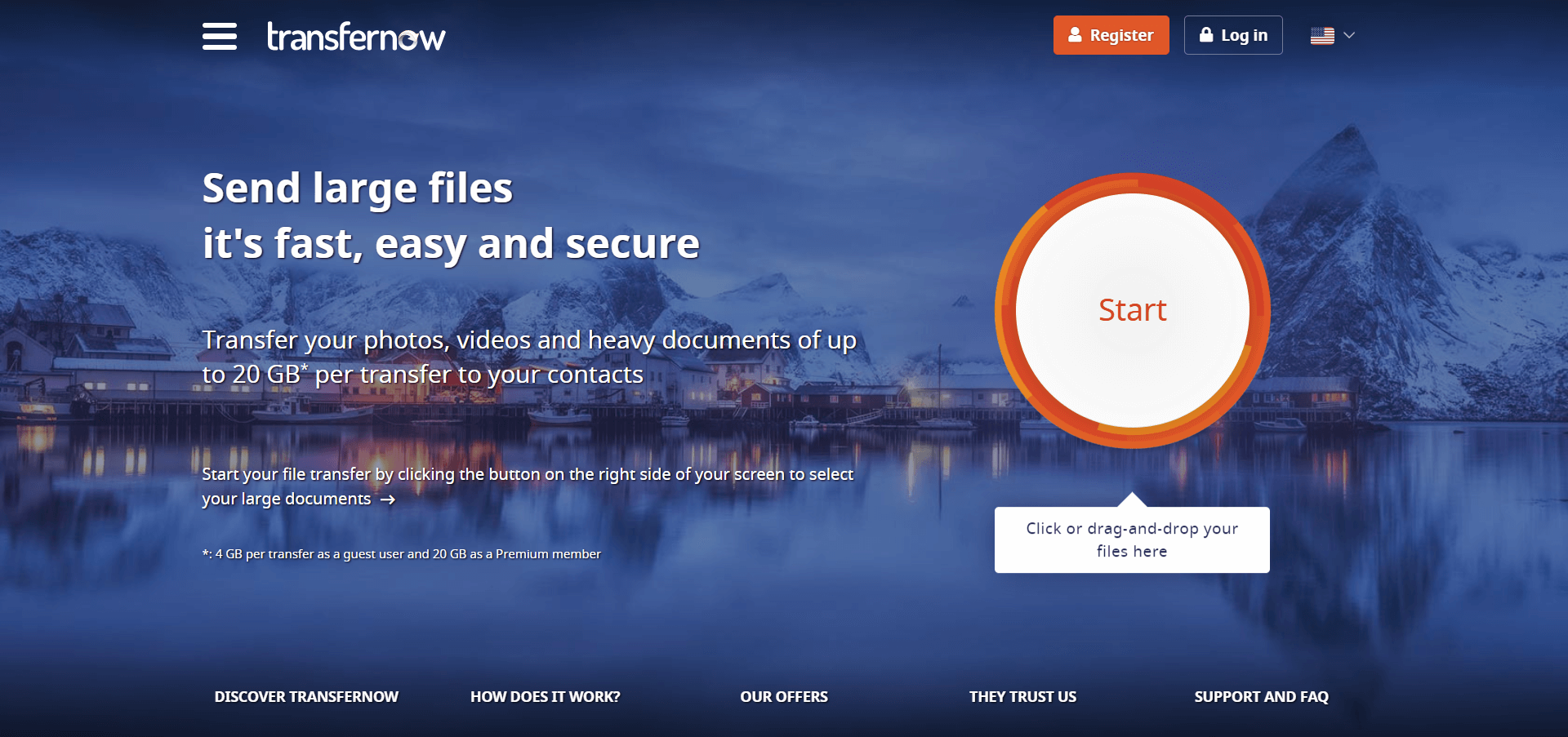 TransferNow is a secure platform to send and share your photos, your vacation videos, and your favorite music, as well as your personal and professional documents. This software facilitates the movement of large files for a seamless business operation.
TrasferNow enables you to take your files with you everywhere you go and share them easily with your friends, co-workers, and family so you can all have quick access to the same information.
It is available on all your devices: laptop, tablet, and smartphone. Send and share large files quickly in just a few clicks, and get a download link that will be sent directly to your contacts, or easily get a custom link and share it however you'd like on forums and social media.
Pricing
By subscribing to TransferNow Premium (at $9.30 per user/month), you will enjoy:
Extended transfer limits – 20 GB per transfer, 50 recipients per transfer,
Transfer manager,
Address book and contact lists,
Customization and white-label
Pros:
Simple to use. Upload, enter your email, and enter friends' email. Boom, done. It's that intuitive.

Free to use, can send to multiple recipients in one go, page cache, speedy, and private.

No commitment, cancel the membership whenever you want.

This software is user-friendly and transfer is immediate with no quality issues.
Cons:
Files only remain for 7 days. Some important files may have to be resent.

It takes very long at times to transfer files, despite the internet speed.
---
Rating: 4.2 out of 5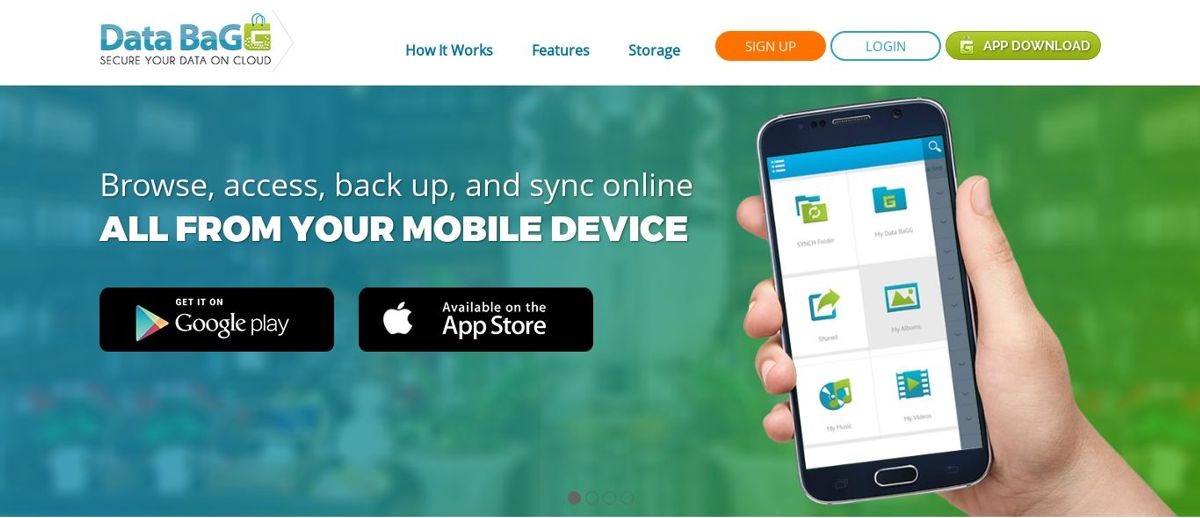 DataBaGG is yet another powerful cloud service. It is a lightweight application with a compact desktop interface. DatabaGG is one of the best free cloud storage systems that provides Enterprise Cloud Storage and Security Solutions, Economical, and excellent data backup in this latest technology. The application is compatible with Windows PCs, Android, iOS, Blackberry, and Windows mobile devices.
Pricing
Personal – 100 GB for $7.95 per month, 250 GB for $16.95 per month, 500 GB for $29.95 per month
Small Business – 5 TB for $69.95 per month
Enterprise – 10 TB for $99.95 per month with advanced features
Pros:
Global access

Auto backup

Efficient Sharing

Seamless user experience

Interactive UI design
Cons:
Mobile App needs further development

The web interface can be improved
---
Rating: 4.2 out of 5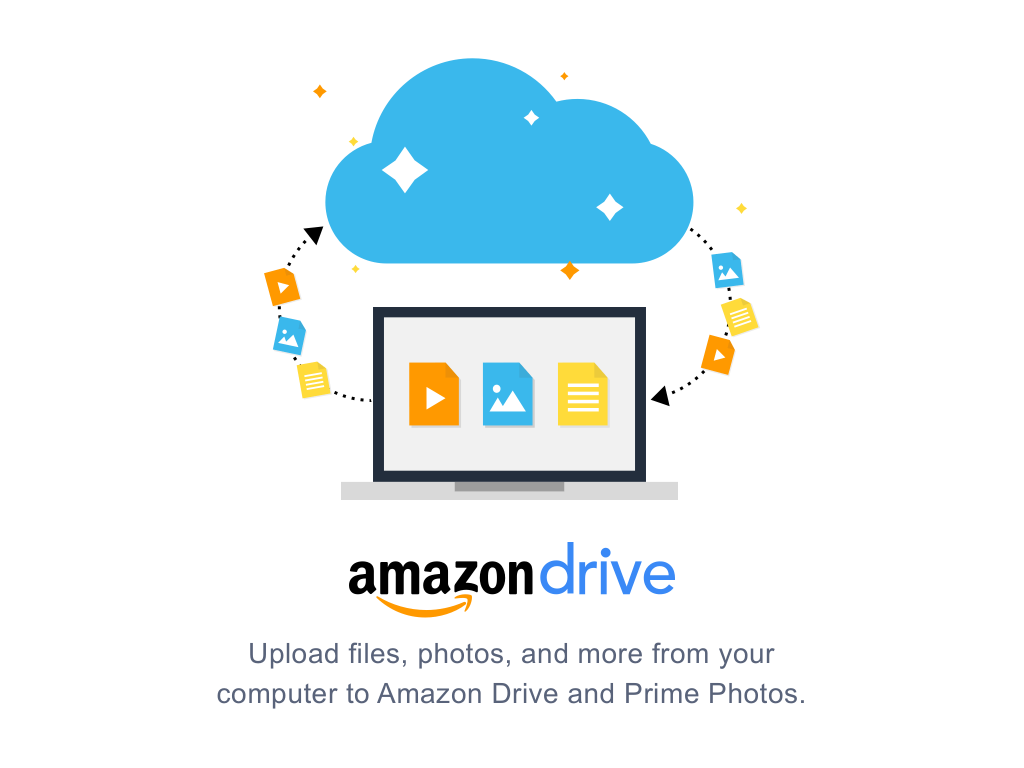 Back in 2006, when Amazon was relentlessly investing money in itself, one of the many new businesses they launched was Amazon Web Services, a cloud storage service for businesses. Today Amazon's cloud service is known as Amazon Drive.
Amazon Drive is easily one of the best cloud storage services available today thanks to features like unlimited photo storage, 24/7 support, and economical price plans. Another great feature being offered by Amazon Drive is block-level file copying which minimizes the time required for file-syncing by uploading only those parts of the files that have gone through a change.
Pricing
Amazon Drive shines in the pricing department, as it is one of the cheapest per GB offerings around.
5 GB storage – free of cost, provides 5GB cloud storage.
100 GB Amazon Digital Storage Plan – at $ 1.09 per user/month for 100 GB of cloud storage, backup and secure your photos and videos
Pros:
24/7 support

Block-level file copying

Fast file syncing

Economic subscription options

Free 5GB space and unlimited photo storage
Cons:
Lacks advanced security features

Doesn't offer any productivity apps

Absence of at-rest encryption

No file versioning
---
Rating: 4.2 out of 5
Note: UpThere Home has ceased operations on March 03, 2020.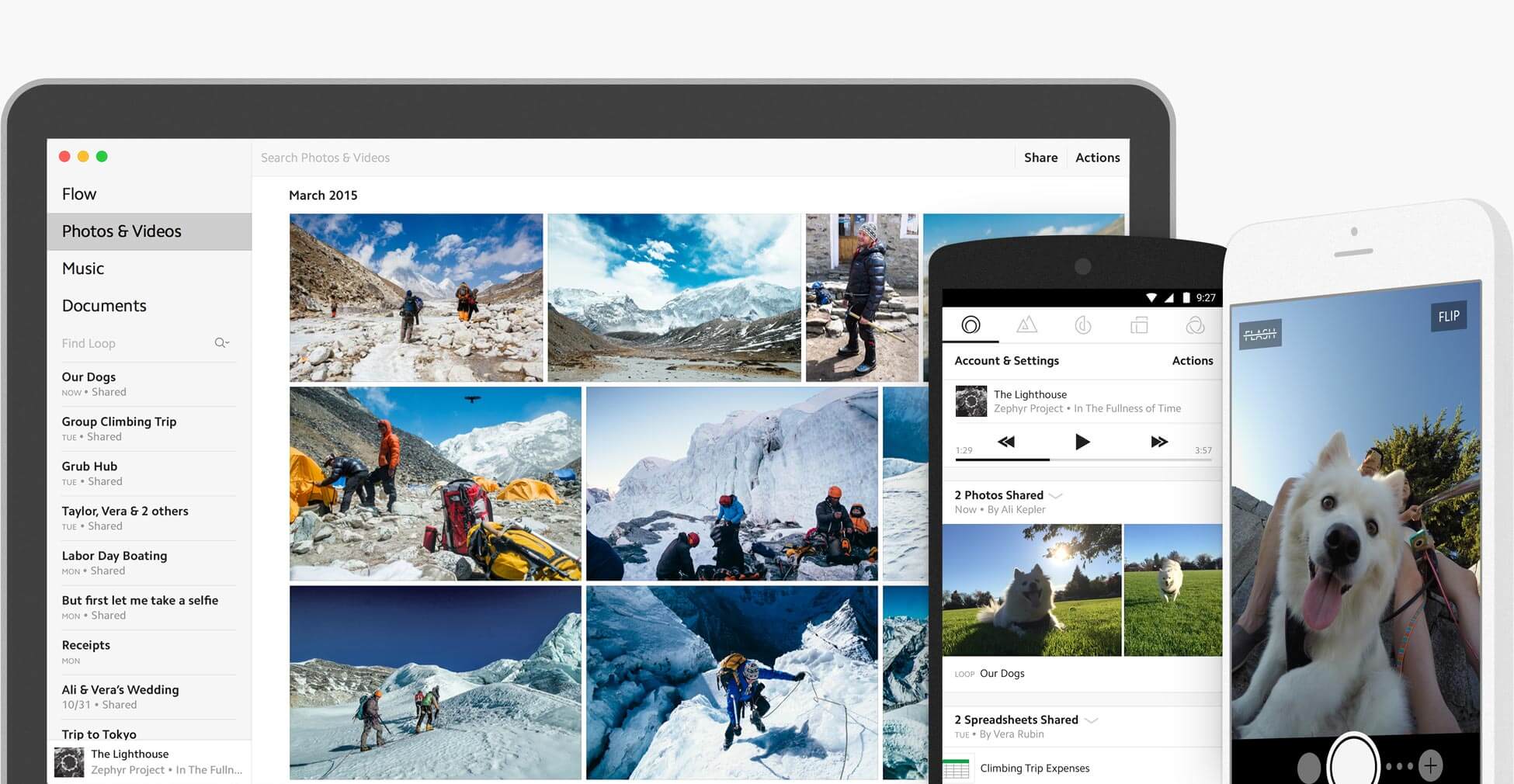 UpThere is transforming the personal storage market by providing a new and better way to keep, find, and share what's important and meaningful.
This comes with wonderful features like auto-categorization of data by photos, videos, and documents and then making the data searchable by type, location, and time.
It's good to avoid signing up with them from now on. If you are their existing user, they will provide a tool to help us download all our content in the coming weeks.
Pricing
UpThere works a little differently than most other cloud storage services:
Their Basic plan offers 20GB of space and doesn't cost anything. This is what landed this service a spot among the best free cloud storage services.
If you are looking for more space, you can buy as much as you want but the charges will be $1.99 per 100GB/month.
Pros:
The content that other UpThere users share with you does not count towards your storage usage. You're only charged for the files you add to your own UpThere account.

20GB of free space.

Quickly find the data you need thanks to its powerful search tools.

Decent security features make sure your data stays safe.
Cons:
UpThere lacks a few important features:
There is no desktop app.

No file sync tools.

There aren't any virtual drive connections.

You can only upload an individual file and not a folder.
---
Conclusion
With data being considered currency nowadays, the importance of cloud storage is increasing. It is very crucial to choose the best cloud service out there. We have provided you with the best free cloud services that can revolutionize the way you store data.
All the services mentioned above are worth signing up for as they all come up with unique features and free storage. Choose the one that suits your needs best and access your data on the go.
---
Other SaaSy goodness on All That SaaS: