Enabling the best live chat software improves customer experience allowing your users to start a conversation when it is most convenient for them. This improves sales and after-sales revenue streams when customers receive effective troubleshooting.
According to a survey conducted by Zendesk, over 92% of respondents shared they feel that live chat software beats all other customer support channels.
General Information
The Best Live Chat Software and Apps in 2022
Customers do not want to go through the trouble of filling forms on a website or waiting for an agent on a busy phone line, they expect an instant response and immediate solutions which makes live chats popular.
Top Features to Look for in the Best Live Chat Software
1. 24/7 Chat Option
Live Chat software comes with 24/7 chat options along with customization of business hours and automated replies. In case your agents are unavailable at certain times the chat software should support automated replies or bots to provide an instant response at any time.
2. Tracking and Insights
Website visitors that interact with you are a rich source of data. Analyzing conversation data, visitor details, response time, etc. will help you make better decisions about your sales, marketing, and customer support.
3. Easy Integration and Accessibility
Live chat software should be able to easily integrate with CRM applications such as Hubspot, Salesforce, and others. This means you can view and track all your data in one place. Moreover, the software should support other messaging apps such as Facebook messenger.
4. Real-Time Communication
79% of customers prefer to use live chat because it provides immediate responses thus the ability to communicate in real-time with your customers is extremely important. Features such as data sharing, file sharing, and screen sharing in real-time are vital to enhancing your customer experience.
Based on these features we have compiled a list of the best live chat software:
The Best Live Chat Software for Websites in 2022
1. Gorgias – Best Helpdesk Software for Ecommerce Businesses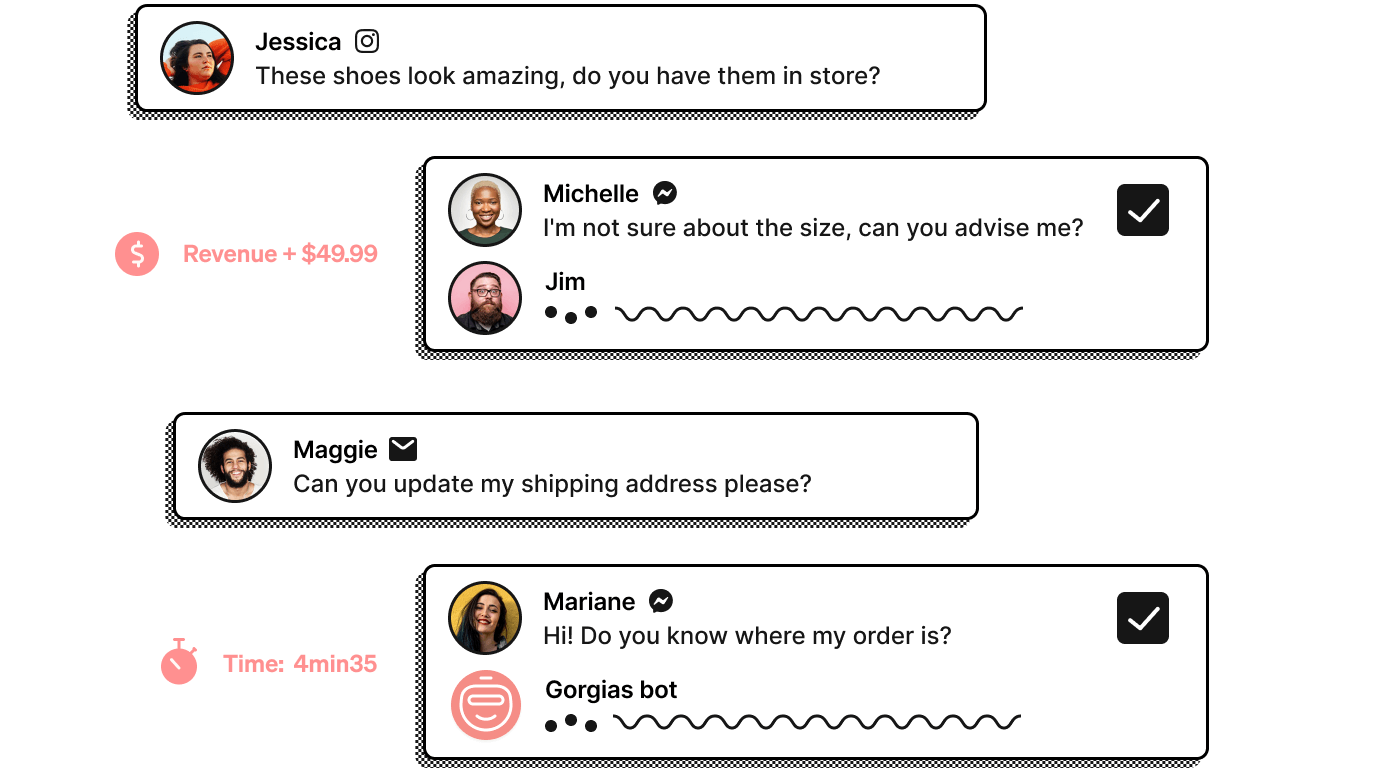 Gorgias is a leading helpdesk for Shopify, Magento, and BigCommerce merchants where retailers can manage all of their customer communication and tickets in one platform (email, social media, SMS, phone).
It's powered with machine learning to automate up to 25% of commonly asked questions and seamlessly integrates into your existing tech stack to deliver better customer support.
Key Features
Deep eCommerce integrations: Full integrations with Shopify and Magento, which allow you to update, create and cancel orders, as well as process refunds, issue invoices, and update shipping addresses, all directly through Gorgias.
Omnichannel support: Manage all of your customer channels in one centralized dashboard, including live chat, SMS, social media, phone, and email. You can also track if a customer has contacted you through multiple platforms, so your agents have access to the full customer history.
Efficiency with machine learning: Use machine learning to detect the intent of your customers and segment them accordingly. You can also respond to customer tickets in one click with intelligent templates and customer data points that are automatically synced from your eCommerce store.
Turn your helpdesk into a profit center: Track the performance of your customer service agents and attribute sales to your team. With Gorgias, you can easily provide personalized discount codes for customers engaging with your brand, and incentivize your customer support team like a sales team.
Pricing
Gorgias' price is based on your number of customer tickets, with an unlimited amount of agent seats. The basic plan starts at $60/month.
---
2. Intercom – Best Live Chat Software for Small Businesses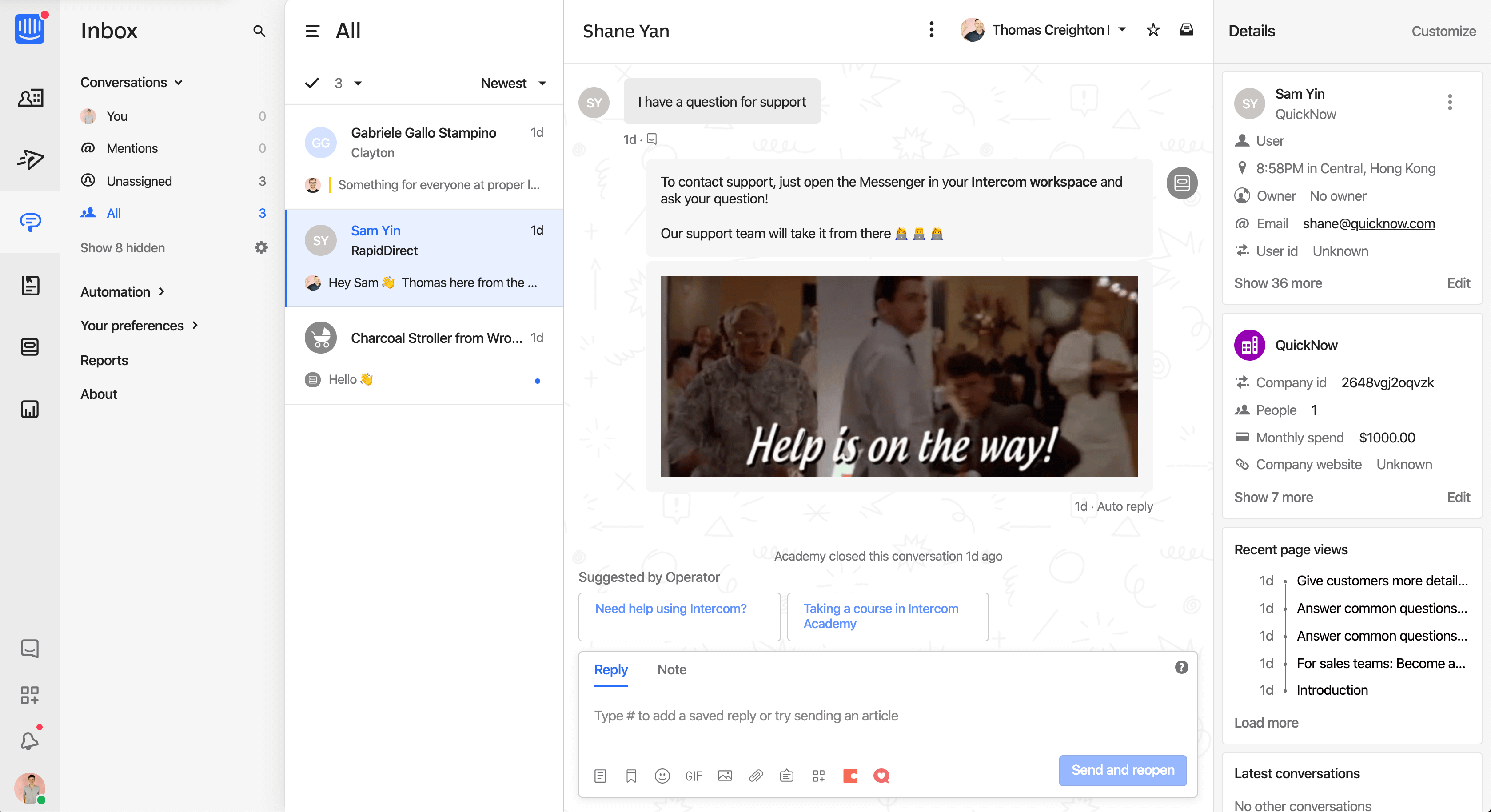 Intercom is one of the best online chat software for cloud-hosted websites. It is an all-in-one live chat solution to drive conversions for your business.
It provides customer services, marketing, and messaging products – everything you can need to onboard, support, and engage customers as well as capture and convert leads.
Apart from the live chat service, Intercom also allows you to offer voice and video chat as well as screen-sharing for effective online collaboration. Plus, it consists of multiple advanced features for sales teams to connect, route queries, and measure results making it a highly innovative software.
Key Features
Real-time chat: The software offers you better communication and connection with your customers with messaging and real-time chat that's more private and reliable.
Email creation/ in-app messages: You can send in-app messages through your web devices and cell phones other than emails to derive an audience.
Problem resolution: you can make announcements and targeted texts to the customers having any problems on-site and re-engage with them.
Customer user data: Moreover you can also track your customer's actions and events to see what they are up to with the help of collaborative inboxes and reporting data.
Customized answer templates: It helps you convert prospects into clients with live chats by enabling you to personally message clients with chatbots.
Team communication: team communication is very improved with the help of private chats to furthermore connect with the customers.
Targeted messages: with this software, you can send targeted texts and do email campaigns after looking into the interested audience on site.
Pricing
All in One – Starting at $87/month and increasing as interaction increases with multiple add-on options available
Customer Support – Starting at $38 get access to real-time chat, help center, and bots
Customer Engagement – from $49/month you can send outbound messages to engage customers
Lead Generation – From $87/month access to a team inbox and outbound messages
---
3. HubSpot – Live Chat Software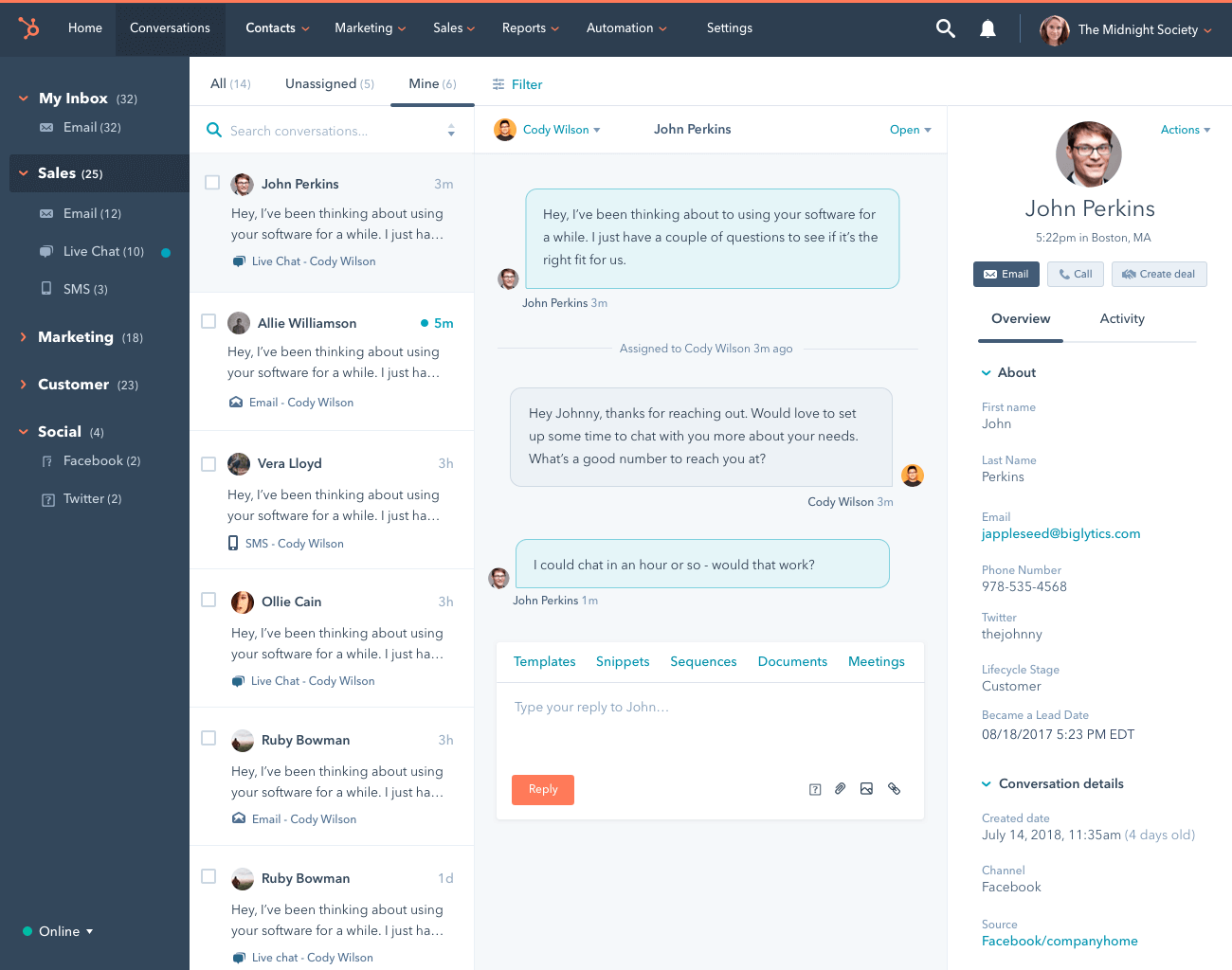 HubSpot offers an absolutely free live chat tool with its free CRM meaning all conversations can be enriched with data about the client to deliver excellent support! Its compatibility with the HubSpot CRM means no other tiresome integrations are needed.
HubSpot allows you to customize the chat widget, save conversations in the CRM, follow up on missed conversations through email, route customer inquiries to other teams, lighten the load with chatbots, and anything you can imagine the best free live chat software to do for a growing business.
Key Features
Automate email tasking: HubSpot allows you to send emails related to the content of interested clients by automating email tasking.
Marketing metrics reports: This software enables you to gather all your metrics and check further insights into revenue streams with inbound marketing campaigns scaling.
Insights on customers: You get to see how customers are interacting with your content and websites with sales CRM software.
Automate service requests: Whenever someone creates service requests on your website you can send those tickets with automated service tickets.
Customer service software: it has easy access to everything but in case of problems you can get in touch with visitors through messaging and customer service software.
Email tracking: With this software, the tracking of emails and any communication carried out by prospects can be tracked by reporting data.
Documents library: With the help of the tool, you can add links for better team communications in your emails with content management software.
Pricing
Free – This is a free live chat software as part of the free HubSpot CRM.
---
4. Crisp – Best Chat Support Software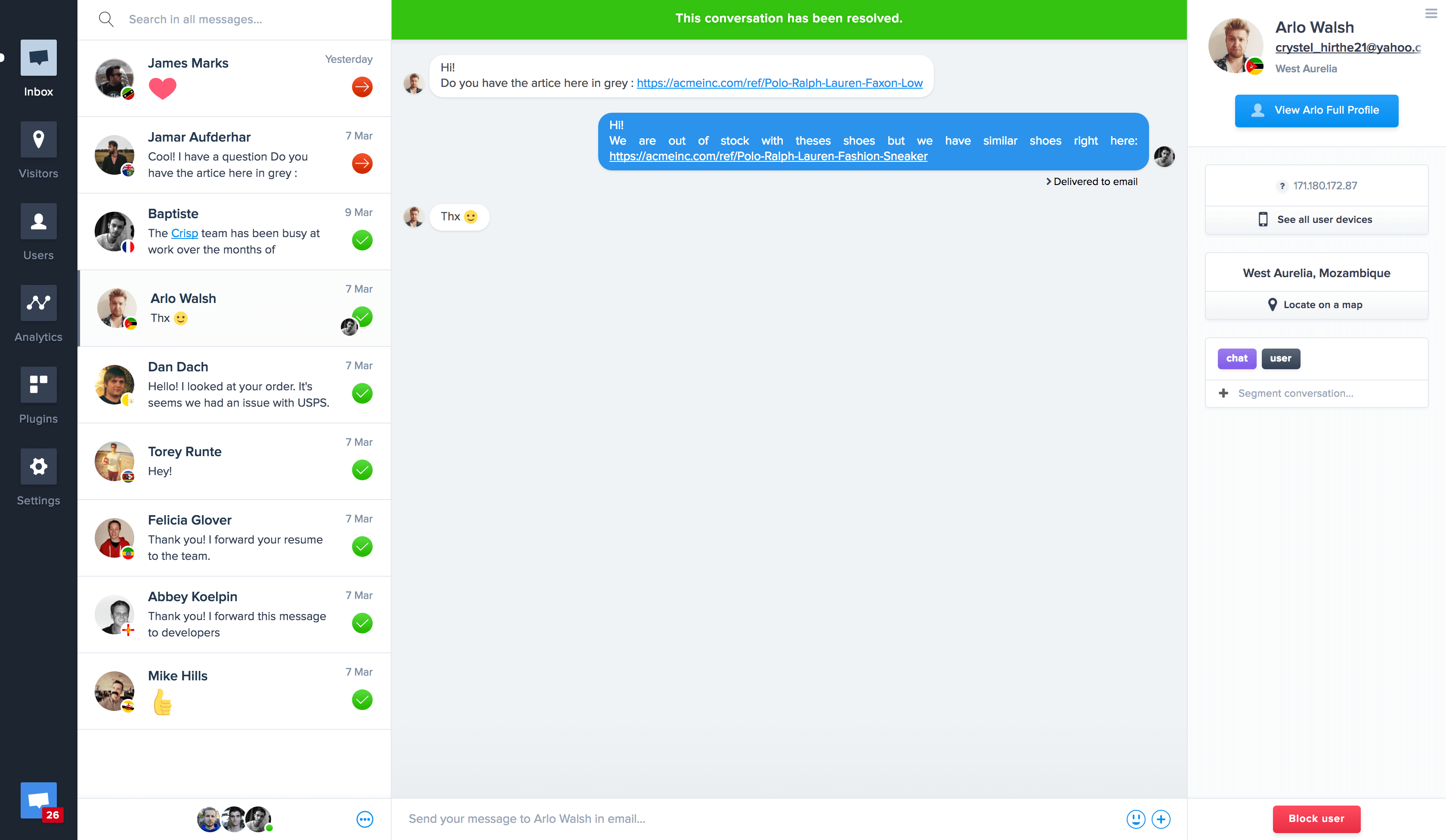 Crisp is the best live chat software for small businesses. It is simple to use and consists of a free version if you have a small team. It comes with a customizable chat window, allows you to create automated messages, and easily integrates with other services to unify all channels of your customer support.
What makes Crisp unique is its ability to translate conversations in real time if your customers are geographically distributed. It also gathers customer data allowing you to segment and drip campaigns, making it a useful marketing automation tool.
Moreover, you can also monitor the status of your website and automatically alert customers in case of downtime.
Key Features
In-app messages: other than emails, you can also send in-app messages through your phones as well because Crisp supports IOS and Android.
Site customization: furthermore, you get to customize texts, logos, chat colors and features, and branding with Crisp's customization option.
Notifications: both sides of communication get to have notifications for anything new popping up.
Progress reporting: Crisp allows you to get notified about all business metrics and progress tracking with Crisp's analytics tools.
Customer integration: to improve functionality and communication it enables you to integrate with other customers through customer service software.
User support: this software is easily accessible on all mobile and other devices because it provides user support for both iOS and Android.
Language translation: Crisp translates your live conversation with international users who uses different foreign languages.
Pricing
Free – free live chat software forever with 2 seats with team inbox, mobile app, and message notifications.
Pro – at $25 per website/month, 4 seats, pre-saved responses, audio messages, and integration with Facebook and Twitter messengers.
Unlimited – at $95 per Website/month, unlimited everything including video calls, analytics, and synchronization with CRM apps.
---
5. Drift – Customer Support Chat Software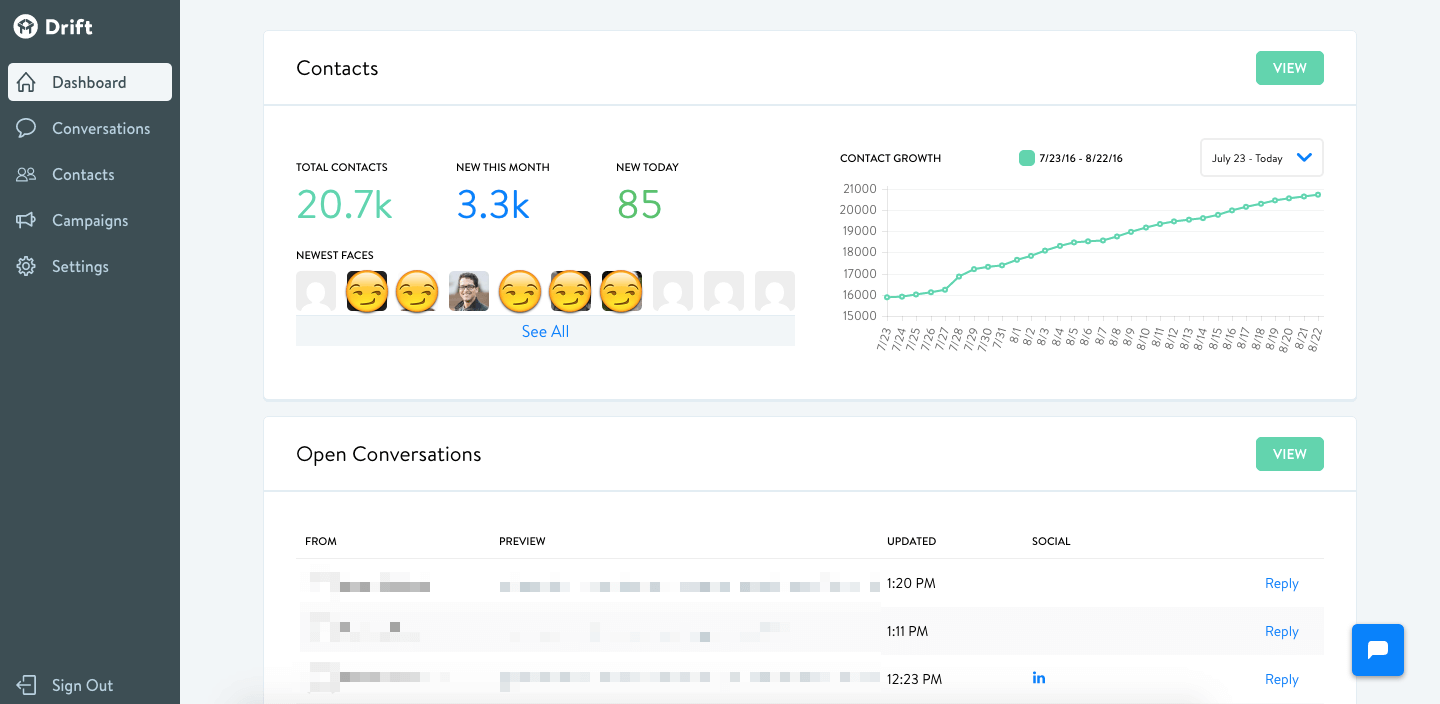 Trusted by over 150,000 businesses Drift is one of the best live chat services for websites that have high traffic. Drift eases off the load from your sales team by automating parts of the live chat and intelligently qualifying site visitors to deliver only the most important ones to your sales team.
Drift is equipped with several important features such as a meeting scheduler right within the chat window, account-based marketing to keep track of VIP visitors, automated help centers, email sync, and more! It also provides multiple dashboards for measuring ROI and presents analytics about your chats, prospects, conversions, team performance, etc.
Key Features
Pop-up messages: To improve the interaction between customers and the website, the software sends pop-up messages on the websites.
Targeted emails: moreover to engage customers, targeted emails with the email marketing program to build a better connection with the clients.
Agent reports: Drift gives you access to keep tabs on all the interactions that your agents have and how all processes are being handled with Drift's analytics.
Third-party integration: for better facilitation, you are given access to send out applications and merge with the other Drift's integrates.
Issue resolution: The software's Al Chatbot automatically directs answers to the client's frequently asked questions to solve their problems.
Tech-stack: you can send out emails to specific prospects with the help of the data provided on the tech stack on Drift's audience details.
Personalized texts: the software allows live chats with your prospects as well to improve connections and interactions by Drift's audience details.
Pricing
Free – free live chat software forever for 100 contacts, 1 chat seat, email signature, calendar integration, and other basic features
Standard – at $50 per month, unlimited contacts, chat support, and all free plan features.
Pro – at $400 per month, custom branding, CRM routing, and many integration features.
Premium – at $1500 per user/month, unlimited contacts, dedicated customer support, and multiple team management.
---
6. Acquire – Best Website Chat Software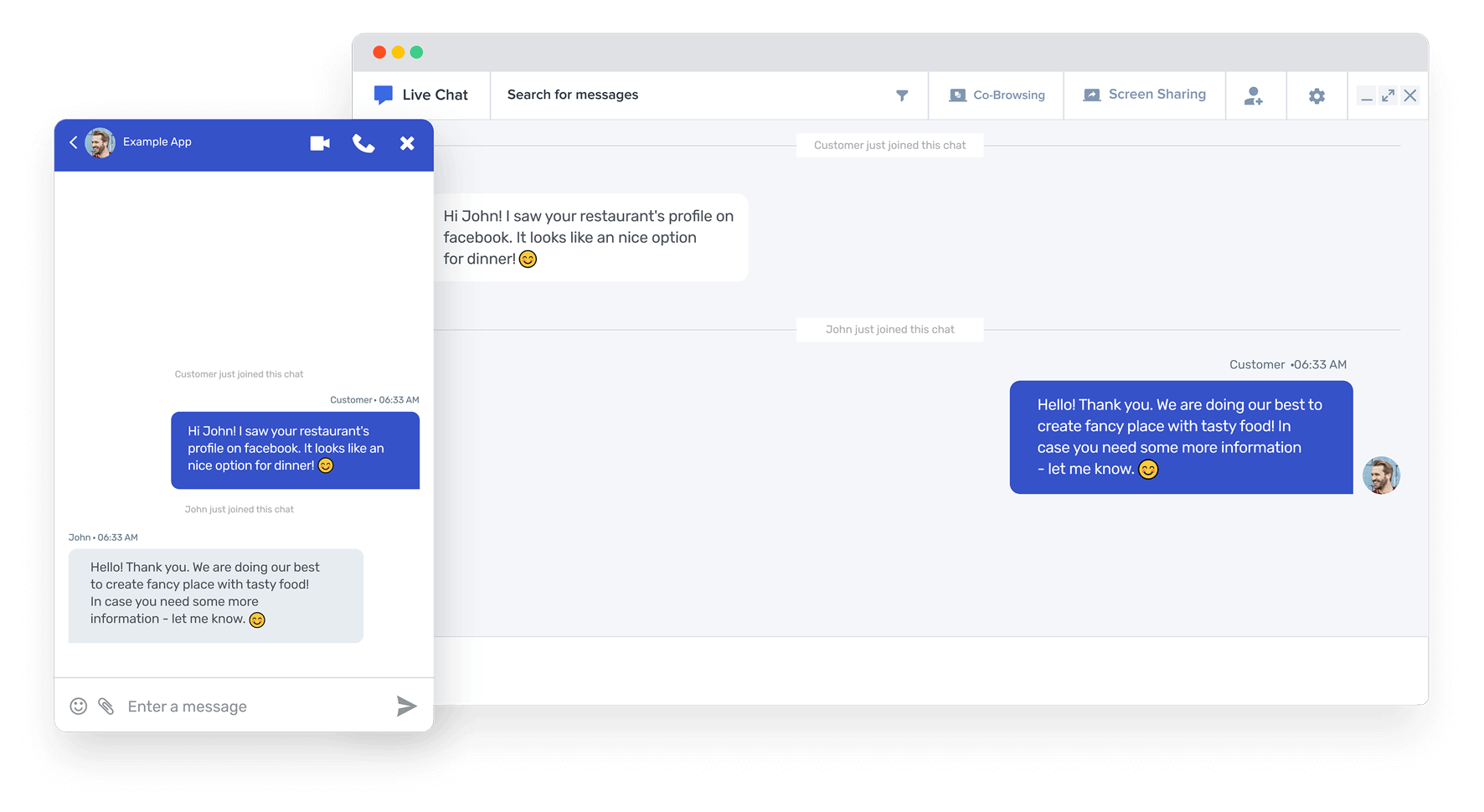 This live chat customer service software allows companies to streamline their customer conversations for onboarding, support, and sales. Acquire is available on Windows OS as well as the cloud. Enterprises can also use native iOS or Android applications to use on mobile.
This application includes voice/video calling, chatbots, live chat, interactive co-browsing, and a free demo! This multi-channel communication software is recommended for analyzing detailed reports on real-time traffic.
Key Features
Dashboard performance: the software ensures dashboards that are here to help display the metrics and process performances.
Live chats: to communicate with the clients better and more efficiently, the option of live chats is available through the all-in-one live chat software.
Progress report: you can track your prospect's emails and what they are doing or not calculate the average of progress with Acquire Unified view.
Personalization of website: you get to have access to change the date, objects, and features according to the specific, user or user groups.
Branding customization: this software enables you a Rich editor which helps in customizing the chatbot of the website to match with its company's branding and theme.
Article importer: with this software, you are granted to secure all your information and data lying all over the place with Acquirer's article importer.
Automate reply: automate replies can be enabled with chatbots in case the customer faces any problem or have any frequently asked questions.
Pricing
Acquire offers a subscription-based custom pricing model based on various factors such as visualizing information. For pricing information, please visit their website or contact sales.
---
7. JivoChat – Best Live Chat Service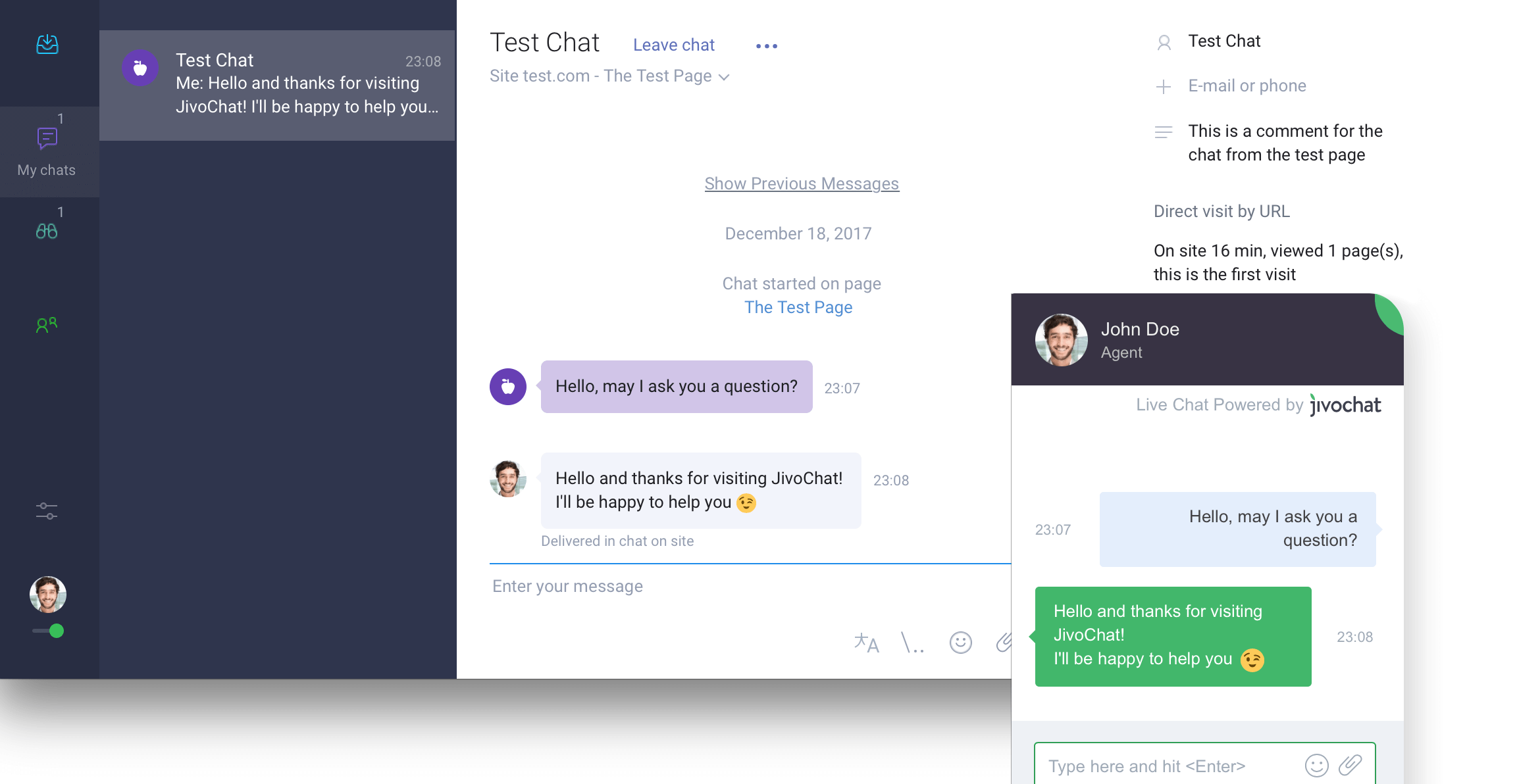 JivoChat is an international software being able to customize chat in 20 languages. Its multiple features make it an all-in-one- messenger support system. Over 200,000 websites use this free live chat software to power their customer support.
It is packed with multiple functionalities including CRM integration, detailed visitor info, automatic triggers, real-time visitor monitoring, file transfers and so much more. It promises audio callback with clients in less than 30 seconds which it delivers by ringing all agents and once.
Key Features
Performance tracking: You can validate your marketing performance by seeing the number of visitors and their performance on the sites.
Targeted invitations: You can automate custom messages to the new visitors with their required problems solutions, invitations, and advice.
Easily accessible: This software is easily accessible and is simple to process on all mobile devices and PCs as well.
CRM integration: For convenient access integration helps you to connect with multiple channels through a single platform.
Call customer service: The visitors will be able to get the answers to their queries within 30 seconds with the real-time call service.
Personalized design: to enhance the customer's experience the option of personalizing your chats by changing the features and data can be helpful.
Offline customer service: in case of offline hours, the system provides automates to reply to customers' frequently asked questions and queries.
Pricing
Basic – free forever, up to 5 agents allowed, 20 language support, apps for all interfaces, and 24/7 customer support.
Professional – at £10 per agent/month if billed annually, 90+ language support, complete visitors' info, analytics, and reporting with google analytics integration.
---
8. Freshchat – Web Chat Support Software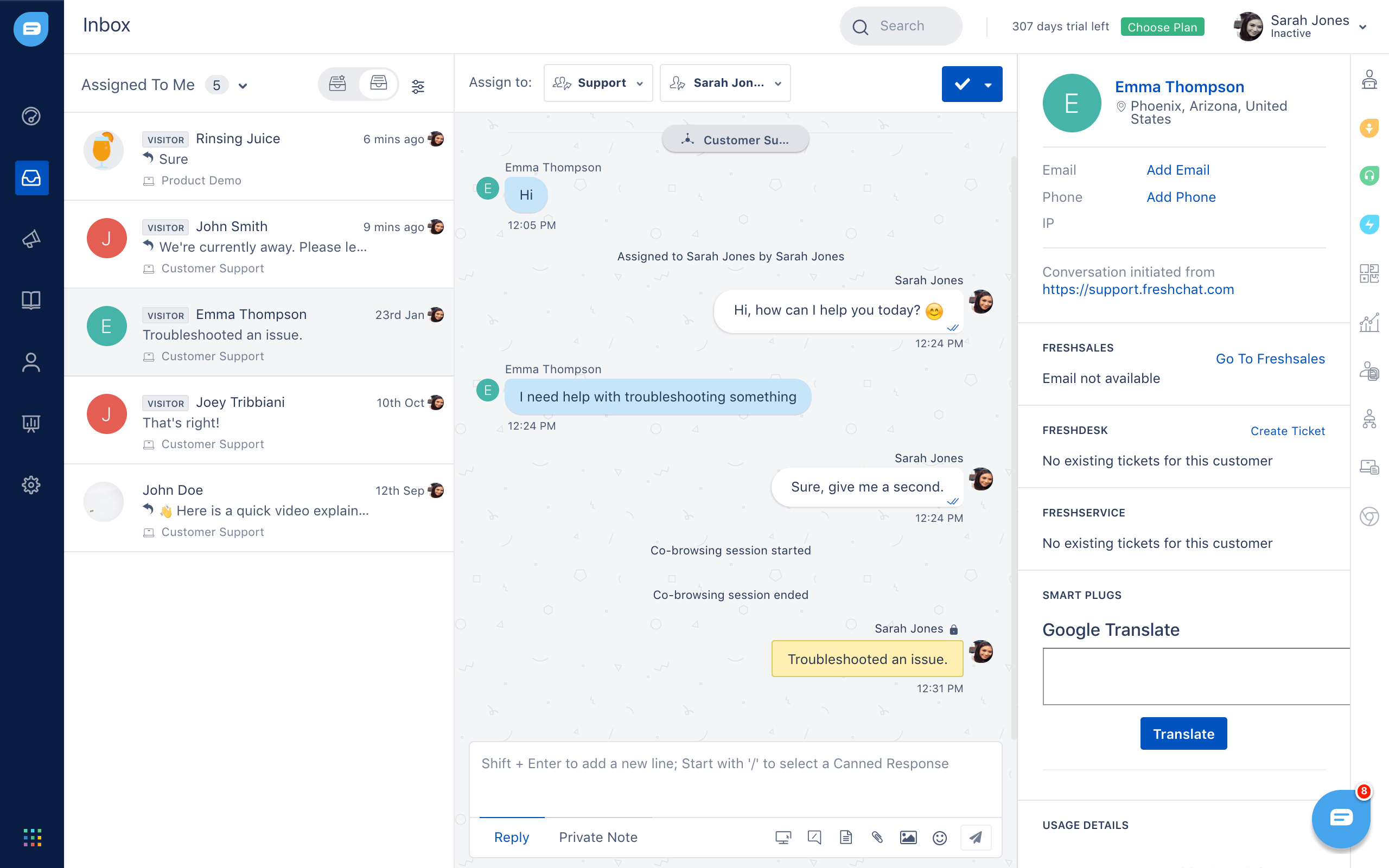 Freshchat is part of FreshWorks 360-degree software suite which means it easily integrates with other applications to create a seamless experience. This is the best live chat service for websites that ties with CRM, a platform for marketing automation, sales, helpdesk, and much more.
Freshchat comes with a variety of features that are hard to expect from a free live chat tool. From integrations with Clearbit, Slack, Facebook Messenger, Shopify, WordPress, and others to notifications, event timelines in chat, rich insights, and email campaigns, it has everything you can need to generate leads, engages customers, and offers the best support.
Key Features
Traffic lead capture: The automated tool with bots and Al in the software helps to revenue the website traffic for better marketing of your site.
Offline guidance: Visitors can also access the basic questions guide where they can find all their answers with automated bots.
Dashboard: dashboard on the site is present to show the performance of the team and as well the website traffic merits.
Customer's data: this software allows you to collect all the required data and even the customer's information like their number and mail in the chatbots.
Personal overview: visitors on the site will be granted access to give their overall reviews about the FAQs and also the website on the customer feedback software.
In-app campaigns: In-app campaigns are available with targeted texts and push messages on the website to keep the clients updated on new information.
Communication: Freshchat enables different businesses to respond to a visitor's need on one platform to improve customer experience with the help of integration.
Pricing
Sprout – free forever, 10 team members with 10,000 Monthly unique visitors, mobile app, and Omni chat.
Blossom – at $15/month billed annually and $19/month billed monthly with one monthly targeted campaign, team performance evaluation, and file attachment option.
Garden – at $24/month billed annually and $29/month billed monthly with unlimited triggered messages, WhatsApp integration, and email campaigns.
Estate – at $39/month billed annually and $49/month billed monthly with multiple business hours option, co-browsing, and an intelligent job assigning system.
Forest – at $79/Month billed annually and $99/month billed monthly with APIs, Apple business chat integration, and IP whitelisting feature.
---
9. Olark – Live Chat Software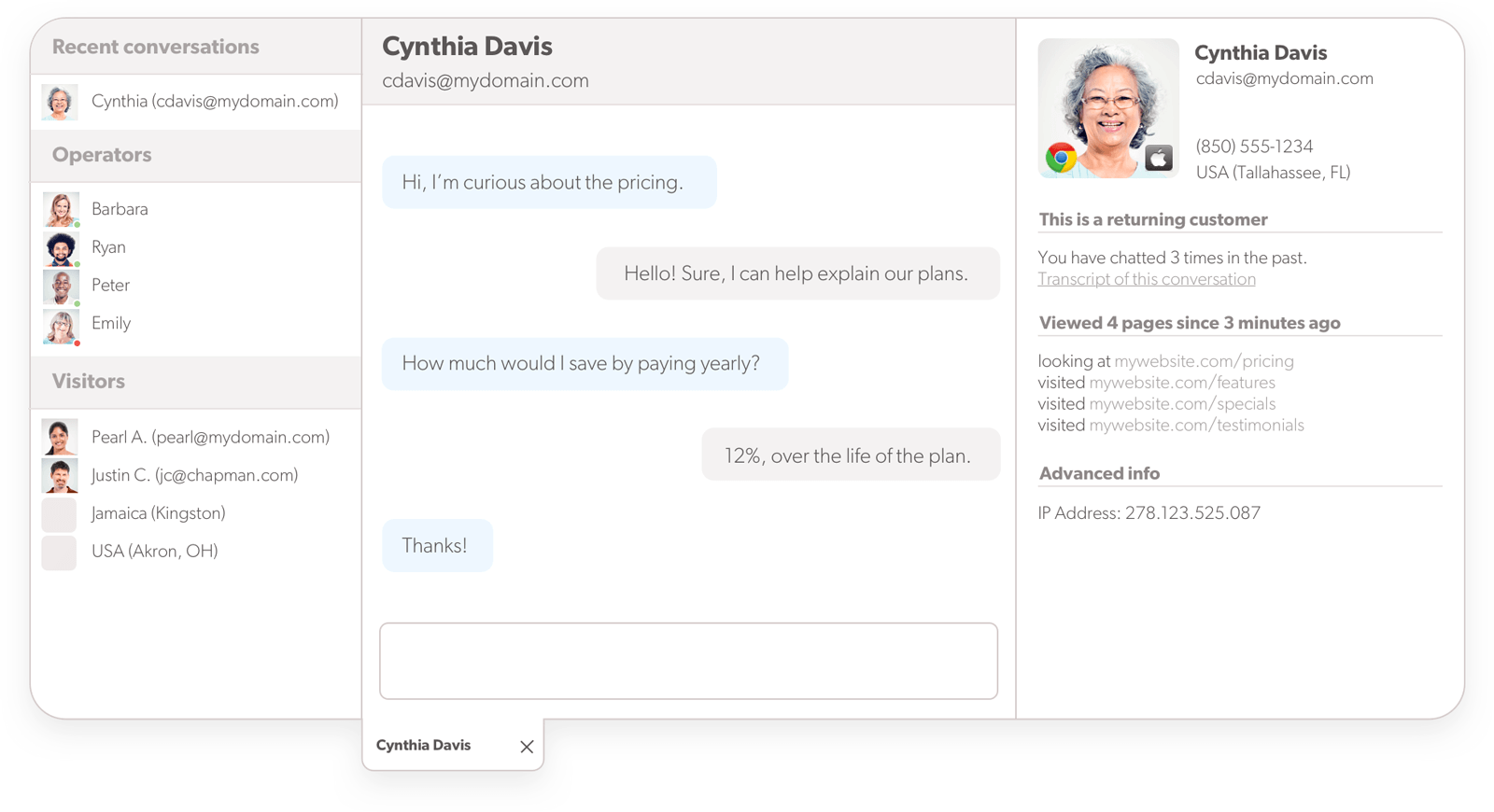 Olark aims to make customer support easy and its live chat software does just that. It consists of multiple notable features, straightforward reporting, and team management tools to help businesses grow and learn from their interactions.
Olark allows you to add the chat tool to specific pages and automatically send targeted messages based on the page a visitor is viewing. One amazing feature is that it stores all chat transcripts and presents them in an easily searchable and qualitative form to help learn from the insights.
Key Features
Chat in real-time: The chat in real-time of Olark gives you the option to send and receive files and also deliver consistent service by reclaiming chats.
Visitor's information: While chatting with a visitor, you are assured of the visitor's name, number, location, email, etc.
Notifications: All the users of the website get notified about any new information, announcements, or new employ with real-time dashboards.
Visitor's monitoring: With Olark you can track the URL of the client to know more about him and provide efficient services accordingly.
Analytics: the Google analytic integration of Olark automatically adds recent events, live chats, and announcements to your dashboard.
Team user data: You can see all the users' and user groups' activity, their responses, and the overall merits of the site with data summaries in your inbox.
Automation: When a customer requires assistance during offline hours so automated chatbots can help ensure all the respective answers to their FAQs.
Pricing
Monthly – at $17 per agent/month monthly plan provides a 14-day free trial and comes with all the features of Olark.
One Year – at $15 per agent/month billed annually with unlimited everything.
Two Years – at $12 per agent/month billed bi-annually with full features of Olark.
---
10. LiveChat – Website Live Chat App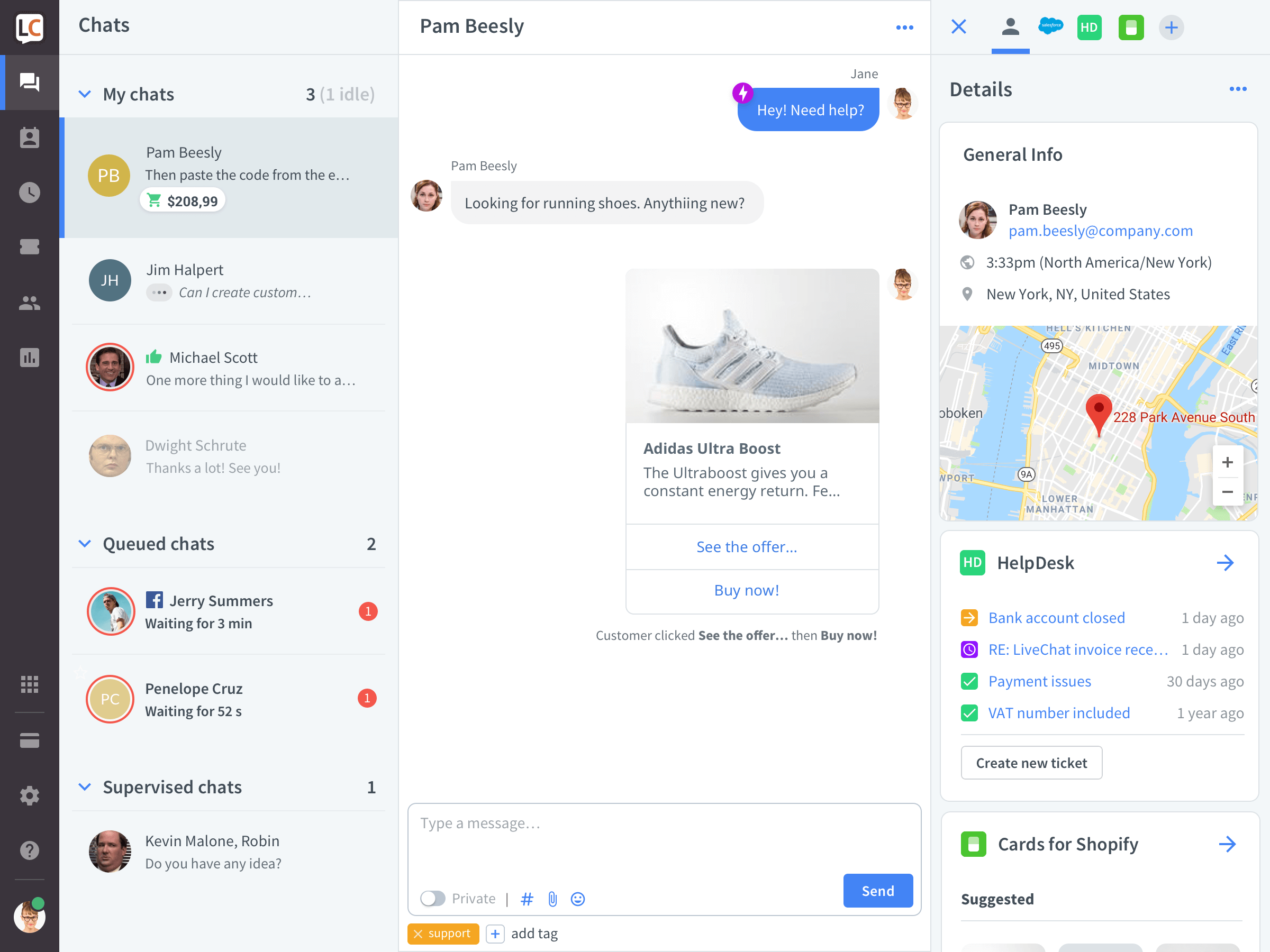 Established in 2002 LiveChat is one of the oldest live chat plugins for customer support. The software is quick to set up and it can be easily operated from a desktop or mobile device making it one of the best live chat software for small businesses.
Its features are straightforward and include chat archives, report creation, team monitoring, and multi-lingual support. It provides powerful insights into customer interactions to help improve team performance and support.
The interface is clean and simple forming a sleek display on your website.
Key Features
Customization: With this software, you can match your widgets with your websites by customizing all your chatbot features with customization features.
Fast response: Clients with any sort of problem can get their answers with live chat within 30 seconds to enhance the customer experience.
Personalized view: you can personalize all the data that you require from the pile of information on your personalized view feature.
Online chatting: As the visitors are granted access to real-time live chats to aid their problems so it benefits them in many ways.
No language barrier: With the help of the language translators the agents can easily understand the customers and respond accordingly.
Ticket management: it can allow the customers to fill a request and auto-replies chatbots to remind them of their shopping requests.
Chat transfers: the chat among the business agents can be transferred with private comments to ease the problem of visitors repeating themselves.
Pricing
Starter – at $16/Month billed annually and $19/month billed monthly per seat with unlimited agent accounts, basic chat features, a ticketing system, and 60-day chat history.
Team – at $33/month billed annually and $39/month billed monthly with unlimited chat history, unlimited agent accounts, and a basic reporting feature.
Business – at $50/month billed annually and $59/month billed monthly with advanced reporting, staffing prediction, and work scheduler.
Enterprise – custom-designed plan billed annually can be signed on by contacting Live Chat Team comes with security assistance, engineer and management support, and single sign-on.
---
11. SnapEngage – Best Customer Chat Software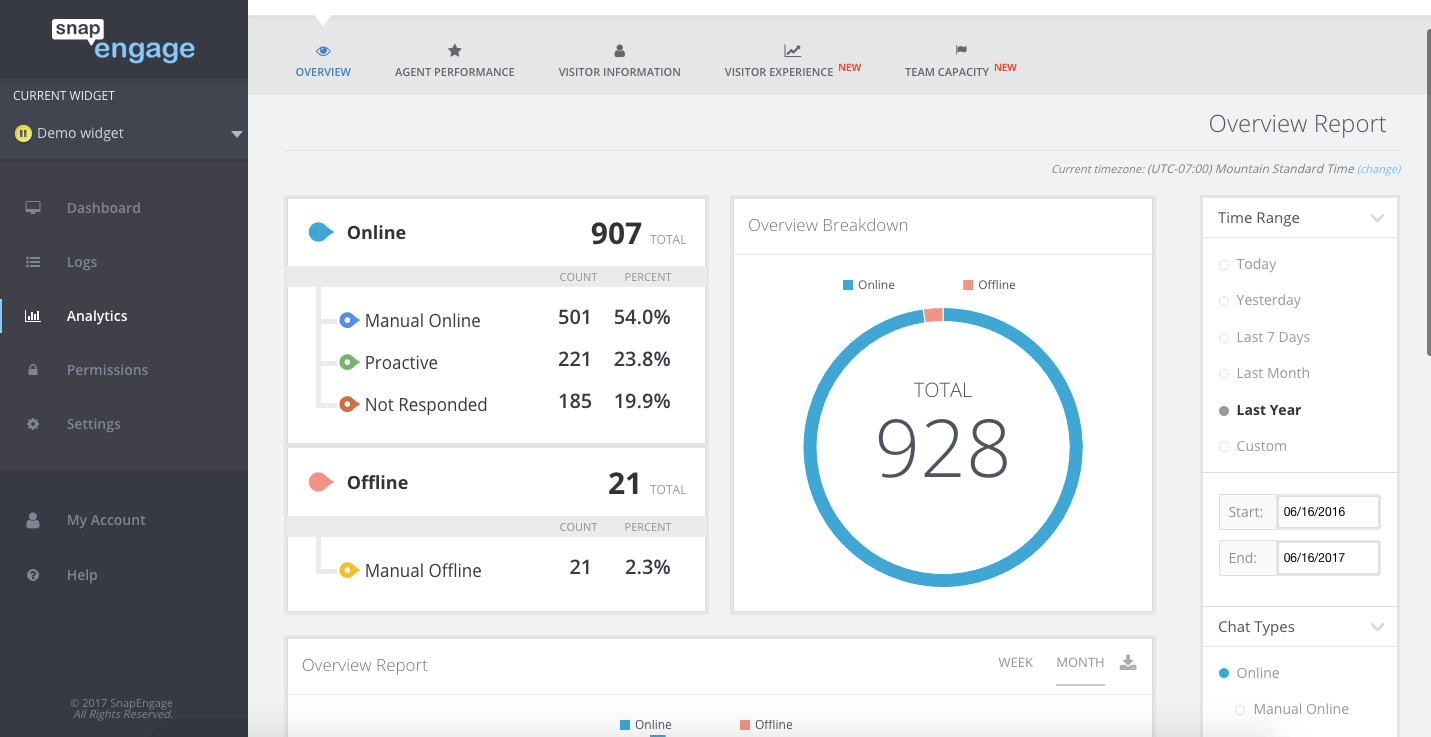 SnapEngage offers a 'live chat solution that gets proven results and focuses on two use cases: amplifying sales and retaining customers. Its multiple integrations allow it to deliver a seamless experience and omnichannel support making it one of the best helpdesk software.
Rather than searching for canned responses, SnapEngage API allows advanced customization and you can set up text commands to efficiently answer customer queries. A unique feature is the social discovery option which pulls customer data from social networks in connection to their email address.
Key Features
Automatic invites: With the automated invites through bots your visitors will be automatically invited for chats so save more time and work.
Easy access: This software is easily accessible on any smart device as it is available on iOS and Android as well.
Customization: To make your branding more website-friendly, you can also customize its features like chats, buttons, and contacts with intuitive design tools.
SMS chatting: This feature helps the visitors to initiate a chat with the agents via text messages as preferred by their ease.
Chat window features: Furthermore, the agents can also share and receive files and images within the chat window safely.
Secured data storage: Highly secured information like credit card details, security codes, and other personal data can be saved with private messaging.
Surveys: To analyze the chat performance and the customer's experience you can collect their feedback with post and after surveys.
Pricing
Essentials – at $16 per user/month billed annually with a minimum of 3 users including basic chat features, integration with CRM apps, and messengers.
Professionals – at $26 per user/month billed annually with a minimum of 3 users including custom integration mapping, secure data transfer and click-to-call.
Enterprise – at $40 per user/month billed annually with a minimum of 5 users including API, Client success manager, and Single sign-on.
---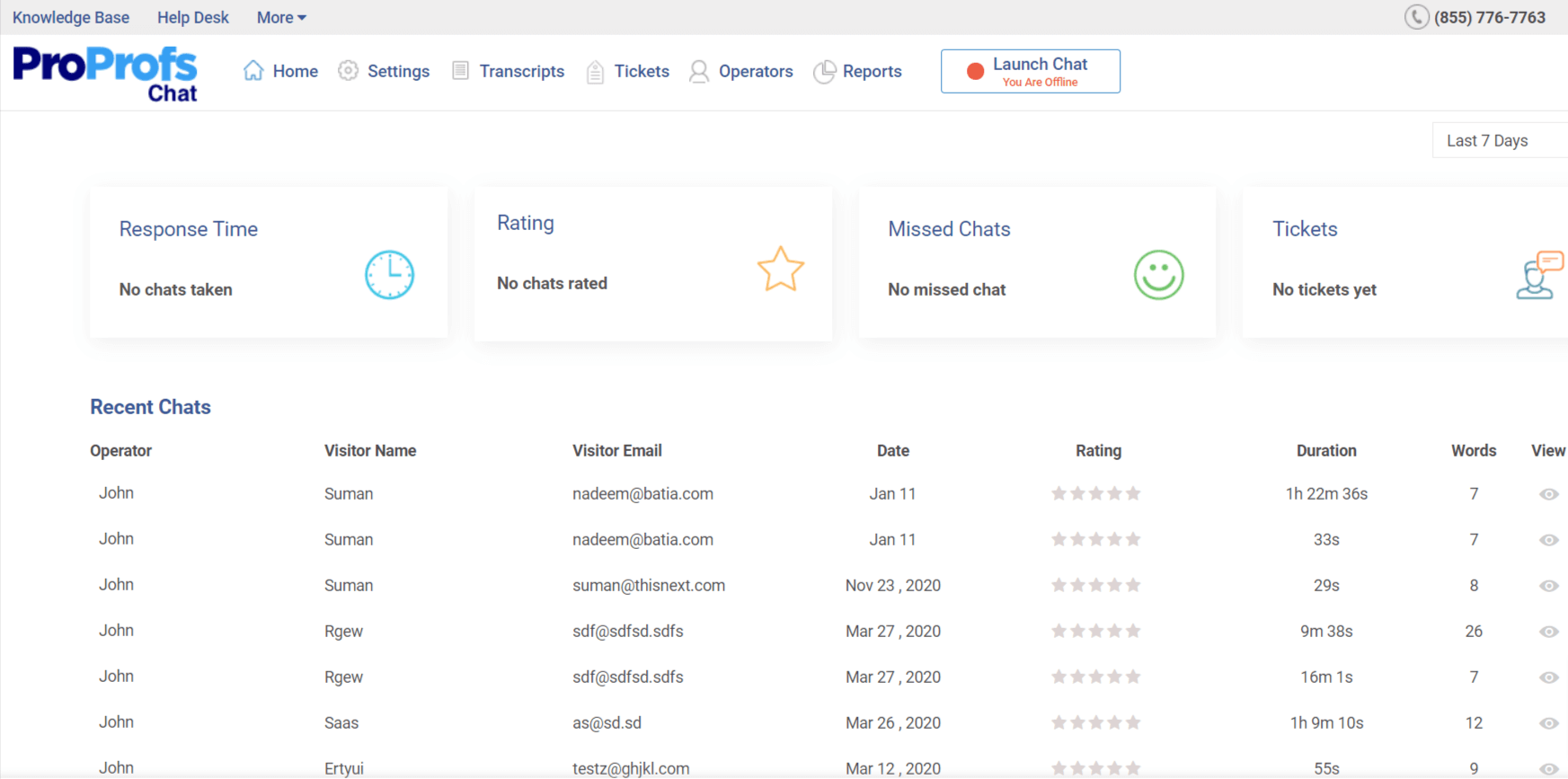 ProProfs Chat is fast, simple and intuitive live chat software that enables your business to offer support proactively. As a support tool, this live chat solution assists your agents to learn what visitors are browsing on your website.
This equips your agents to identify possible reasons why the visitor is browsing the website and initiate a chat right away.
ProProfs Chat also supports seamless integration with native tools like knowledge base, help desk, and survey maker, therefore helping you build a complete support suite hassle-free.
Key Features
Proactive chat triggers:

Use chat greetings to trigger proactive chat messages as and when your visitors are browsing a page on your website.

Automate frequently asked questions:

With ProProfs Chatbot, you can make sure that none of your customers have to wait in a queue to get answers to frequently asked questions.



Insightful reports and analytics:

Track how your support agents are performing and whether your customers are satisfied with your services or not.

Announce upcoming upgrades and events:

Keep your customers informed about what's next or potential discounts on your products or services via Announcements.

100+ settings to help you customize:

Personalize the look and feel of your chat widget with more than 100+ settings options.

Integrate with third party tools:

From CRM, CMS, email marketing to social media platforms, ProProfs Chat allows you to integrate popular platforms for improved performance.

On-the-go support:

ProProfs Chat allows you to offer support to customers on the go with its mobile app (available for both iOS and Android devices).
Pricing
Essentials:

Billed at $10/mon for single operator use.

Premium:

Billed at $15/mon for single operator use.

Enterprise: Connect with the sales team to request a quote.
---
13. Zendesk – Best Free Live Chat Software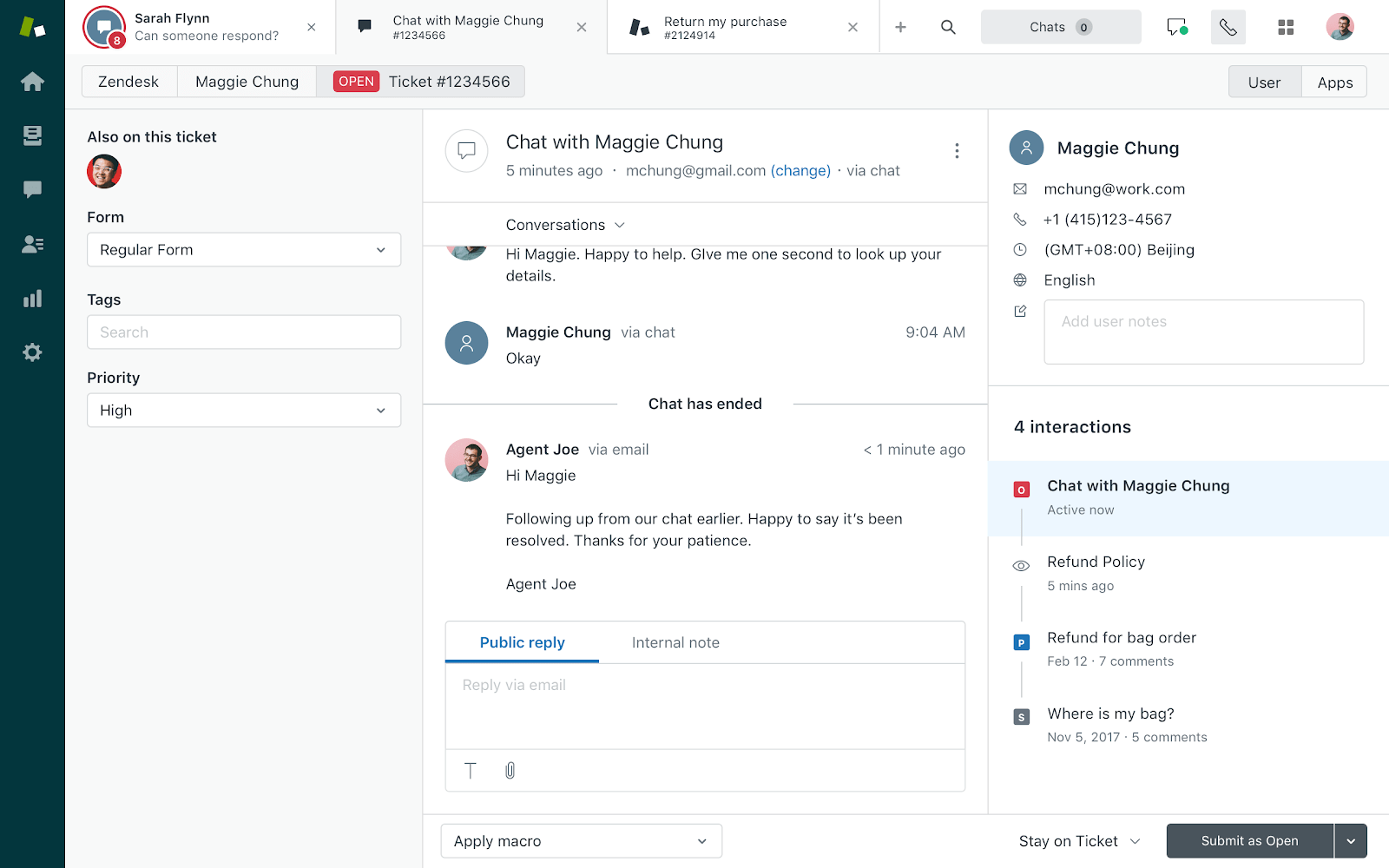 Zendesk is a popular live chat software, used by thousands of teams worldwide. It offers one pretty package which includes everything you need to be exactly where your customers are. It can be integrated into your landing pages to provide targeted support based on what your customers are browsing.
This live chat software can also be integrated with third-party apps Such as HubSpot, Zoho, Facebook Messenger, and many more.
Real-time translations make it perfect for a business with a global audience and a real-time dashboard showing active, in the queue, incoming chats, and other analytics makes it an ideal tool for a busy business.
Key Features
Instant access: This software helps businesses to boost their marketing by efficiently connecting instantly with clients through real-time live chats.
Call customer care: Moreover, the call care service is also available for visitors so their queries can be solved within no time.
Live chat: It helps businesses to engage with their clients and provide a solution to their problems on real-time live chats.
Data reporting: Furthermore, this platform helps connect with customers through mobiles, voice chats, and social media with full data reports and analytics.
Communication guide: Zendesk provides the option of a fully integrated ticketing system so that all the concerns of your customers can be dealt with on one platform.
Multi-channeling: The agents can work with any type of ticket to communicate and help the visitors at the same time with a multi-channelizing desktop.
Multi-branding: Zendesk supports more than 5 brands and you can additionally add more to it for improving customer data interaction.
Pricing
Lite – free forever, limited features with 1 simultaneous chat, and 30-day chat history.
Team – at $14 per agent/month, with all lite features, 2 triggers and departments, widget customization, and public apps.
Professional – at $29 per user/month, unlimited triggers and departments, conversion tracking and chat, and agent reports.
Enterprise – at $59 per user/month, 24/7 support, roles, and permissions options, and widget un-branding.
---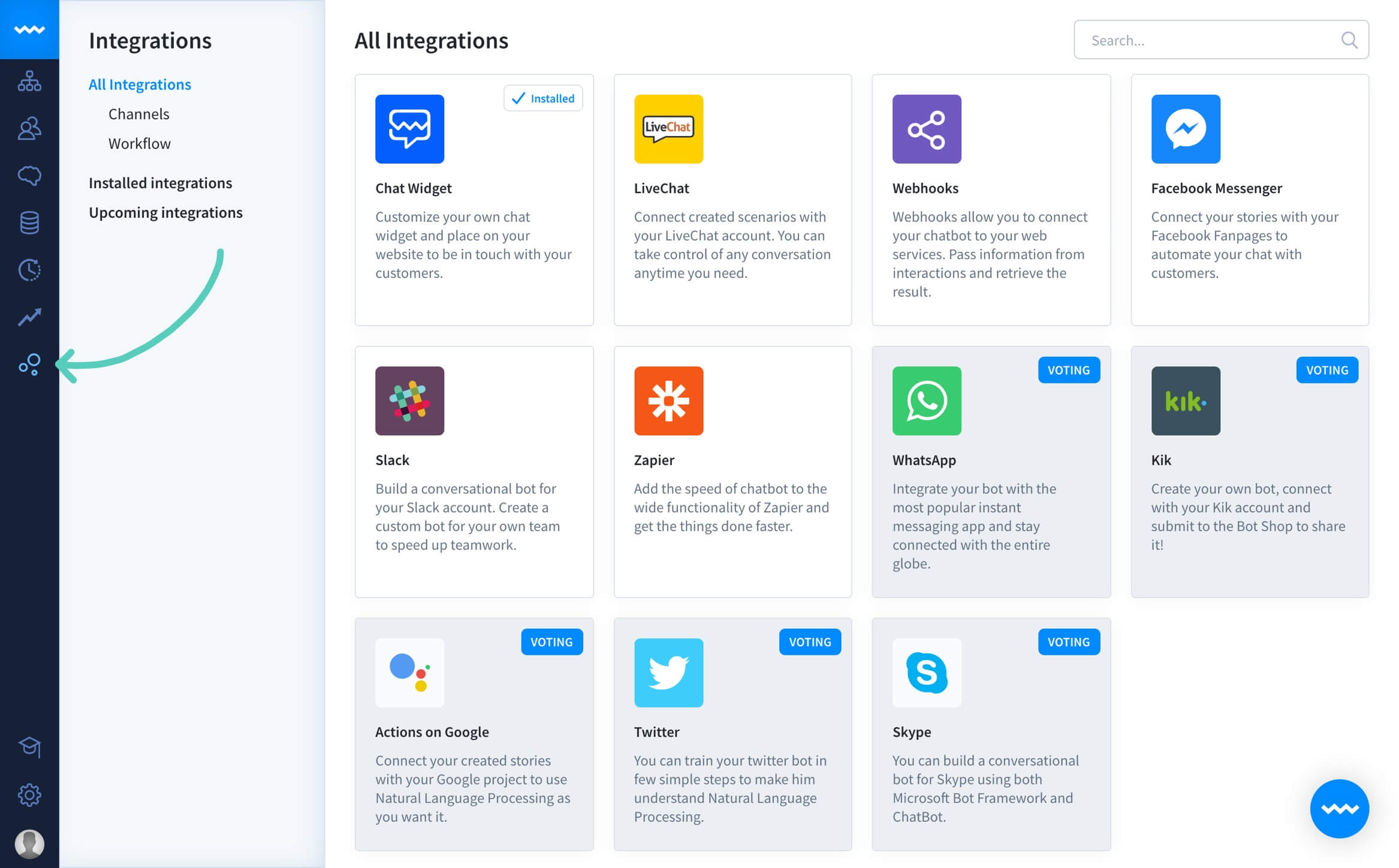 This all-in-one live chat platform creates, deploys, and tracks chatbots across multiple channels. With Chatbot, you can create diverse templates within a matter of a few minutes. It uses AI algorithms to help improve your responses over time.
ChatBot is one of the best live chat software that offers integrations with not just Zapier, but also webhooks, using an open API. The ChatBot includes customer service 24/7 with lead generation from visitors' data.
Key Features
No language barrier: this software is capable of generating accurate answers to any issues as it can deal with several languages with a language translator.
Personalized experience: you can personalize the experience of your visitors by using data reports or analytics either for a user, user team, or their activities.
Issue resolution: Chatbot is pre-trained to resolve all sorts of customer queries whether they are based on brand or industry-specific information with automated messaging.
Messenger: have real-time conversations with the visitors on-site with the messenger to grow your audience.
Solve problems faster: Chatbot enables the usage of interactive forms and visuals to save up more time on solving a customer's problem.
Chat archives: the conversation with the agent can never be lost so there is no risk of losing secured data and information with chatbot messaging and archives.
Pricing
Starter – In $50 per month, you get 1000 chats, 1 active chatbot, unlimited stories, 7-day chat history, basic reporting, data security, and all integrations.
Team – In $149 per month, you get all starter plan features with 500 chats, 5 active chatbots, unlimited history, advanced reporting, team collaboration, and smart actions.
Business – For $499 per month, you can get 25,000 chats per month with all team plan features as well as premium customer support, personal onboarding, and security assistance.
Enterprise – This custom plan allows you to create your own model and pricing is based on features that you choose. These include all business plan features as well as security assistance, chatbot set-up, and a dedicated account manager.
---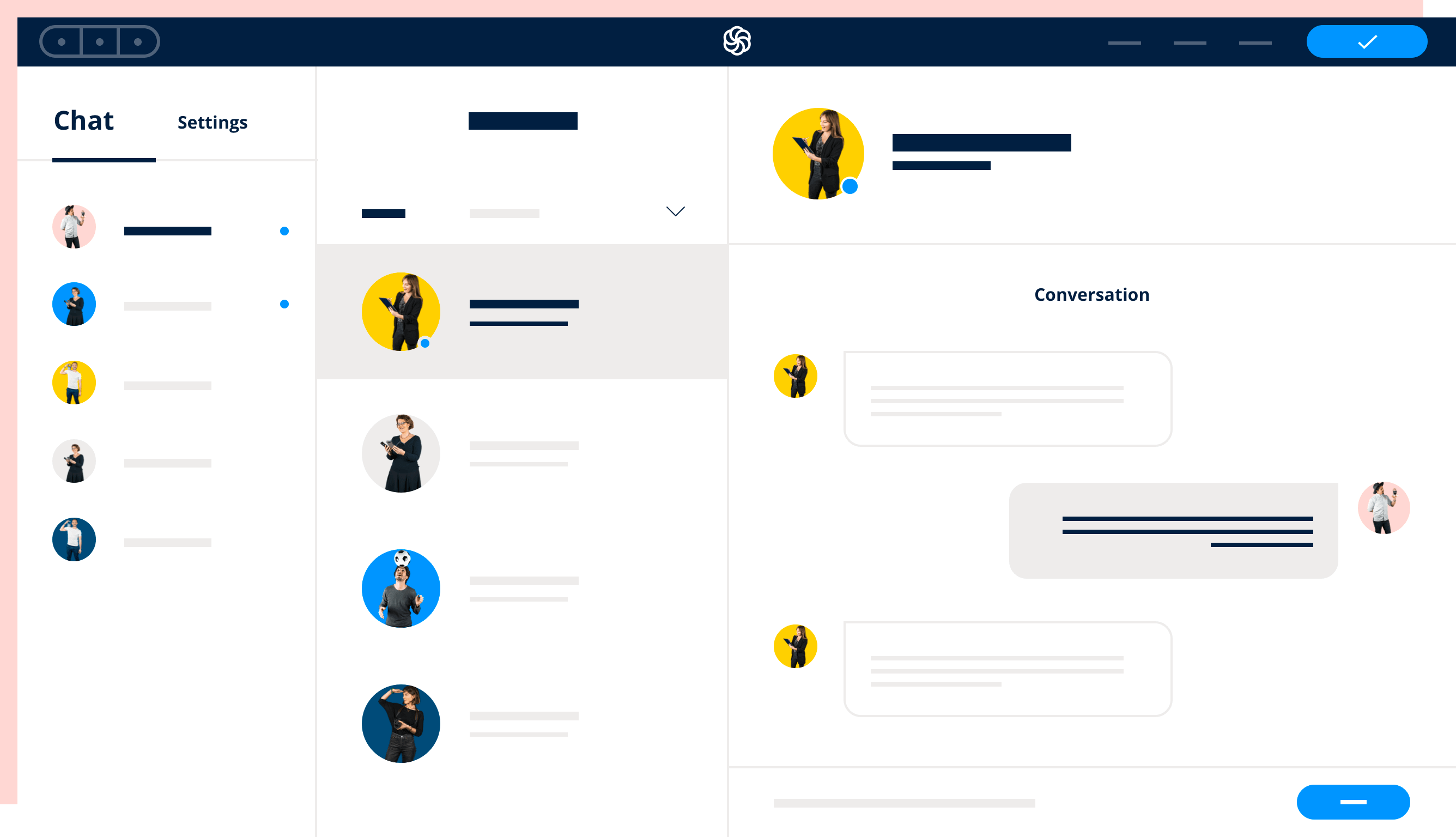 Sendinblue is a great live chat support software that allows companies to grow their customer relationships via marketing automation, email campaigns, Facebook Ads, CRM, and chat.
This software works like a marketing engine to design email campaigns. Sendinblue is integrated with Privy, PlugMatter, and OptinMonster which allow you to easily display messages in the main account. You can also view reports and results in real time with a heat map.
With over 100,000 customers worldwide, this software creates a seamless experience for your website's visitors by personalizing the page to create maximum user engagement. Allows you to create custom webhooks for instantaneous motivations
Key Features
Customizable signups: to turn visitors into clients you can customize your signups according to a branding's need and initiatives with mass emailing software.
Organization: it enables you to organize your clients into different groups to send in targeted information for efficient business with a personalization feature.
Direct chatting: In case of any queries regarding the product you can also chat with the customers directly through chat windows with SMS marketing.
Automation: with the help of automation, all your contacts will be updated with targeted statuses to grab their attention with automated chatbots.
Time optimization: Sendinblue recognizes the best time to automatically send emails and invites at that time with a machine learning-powered by-time algorithm.
Comprehensive marketing solutions: to increase the marketing of campaigns, you can send multiple comprehensive ads on platforms with landing pages.
Collaborative tools: this software provides collaborative tools when it recognizes the market needs of the team effort to achieve specific goals.
Pricing
Free – For 0$ per month, you can enjoy 300 emails per day with unlimited contacts.
Lite – For $25 per month, you can get 40,000 per month for unlimited contacts with no daily sending limit.
Essential – For $39 per month, you can get 60,000 emails per month for unlimited contacts with A/B testing, customizations, and advanced statistics.
Premium – For $66 per month, you can send 120,000 emails per month to unlimited contacts, with Facebook ads, chat, multi-user access, marketing automation, and landing pages.
Custom Plan – The pricing of this plan depends on the features chosen, including all premium plan features as well as managed setup, priority support, dedicated infrastructure, dedicated account manager, SSO, and 10+ seats.
---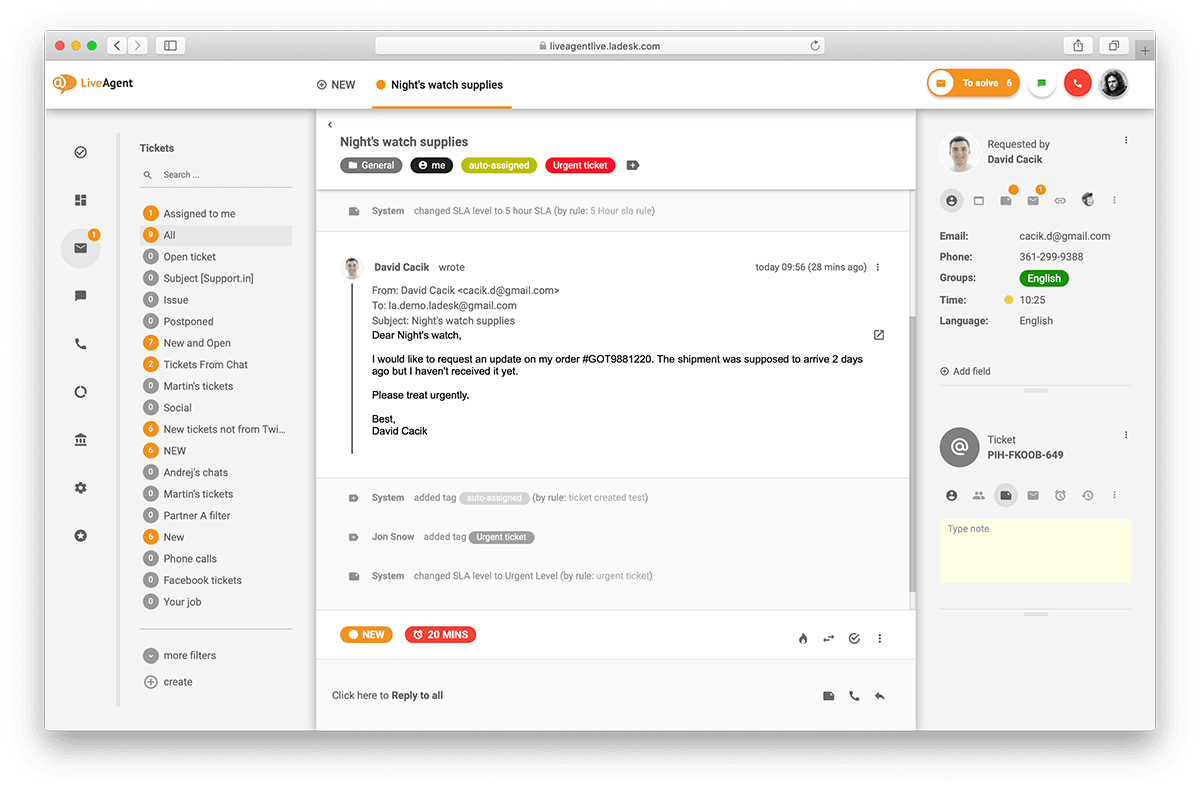 LiveAgent is an award-winning live chat and helpdesk support platform that combines multiple channels into a unified experience. The interface is simple and easy to use with easily accessible elements.
The company also offers 24/7 live support to assist you through the work. Besides, the social media management offered by LiveAgent is actually very powerful since it works in integration with Facebook and Twitter to capture trends.
This live support chat software allows businesses to grab better opportunities and work with keywords and tags that are in trend.
Key Features
Multi-language: LiveAgent enables multi-languages in the system due to which agents can comfortably talk to the visitors and aid them.
Chat indicator: On your main panel, you can get notified about the number of visitors waiting for chats and get in touch with the chat indicator.
Service ranking: By service ranking and analytics you will know the services that your agents are proving and if the customers are getting the required attention they require.
Instagram integration: You can easily connect your Instagram account or any other social media connected with Facebook and join it here with social media integration.
Facebook comments: LiveAgent allows you to connect your Facebook here and fetch its private texts and comments from an FB page with an all-inclusive extension.
Tickets merging: Ticketing is a great way to get multiple answers from different sources and merge them on one ticket for convenience.
Video chatting: Moreover, this software also allows full browser-based video chats via Skype for more personalized chats with your clients.
Pricing
Free – The free plan of this free live chat software includes email ticketing for 1 ID, live chat for 1 chat button, call center support for 1 phone number, and ticket history for 7 days. This plan also includes feedback management, customer portal, mobile applications, data center, and email notifications
Ticket – For $15 per agent per month, you get unlimited ticket history and unlimited email ticketing, with all free plan features as well as SLAs, advanced reporting, multi-brand support, and API integrations
Ticket + Chat – For $29 per agent per month, this plan includes all ticket plan features as well as unlimited live chat, real-time visitor monitoring, customer surveys, and chat invitations.
All-Inclusive – For $39 per agent per month, this plan includes all "Tickets + Chat" plan features as well as Video Calls, IVR, call routing, unlimited call storage, and gamification
---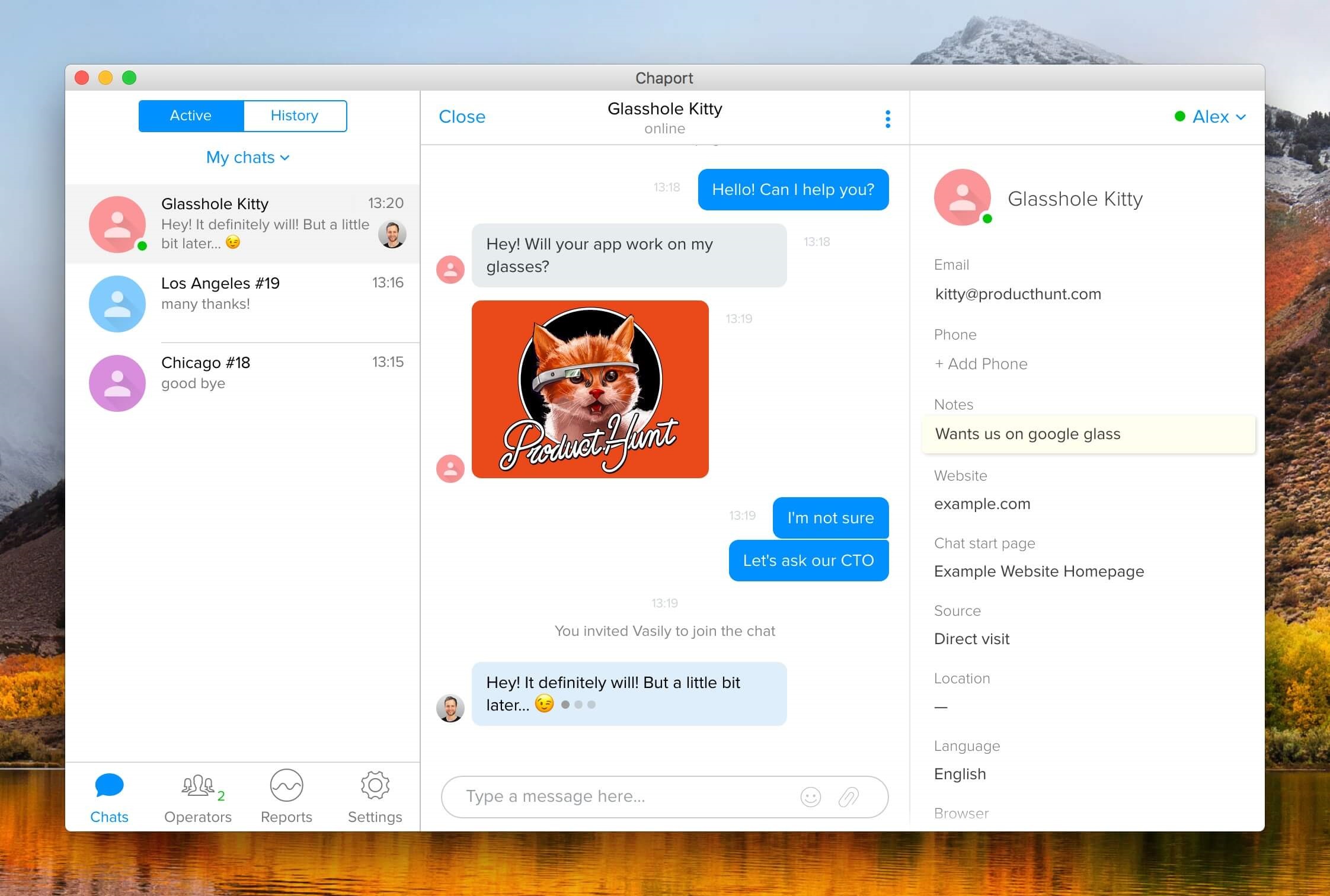 Chaport is a simple live chat support software that offers premium quality at very reasonable prices. It also includes auto-invitations and integrations with Telegram, Vibe, and Facebook.
Therefore, agents can experience a unified workflow for responding to queries through a single window.
Chaport is best for E-commerce, and software vendors who wish to increase sales by communicating with their visitors via live chat. This application offers SSL encryption and complies with GDPR to ensure security.
This live online chat software also has training available live online as well as documentation.
Key Features
Notifications: For faster access, the software enables notifications on user portals so they can respond immediately.
Live chat: The option of real-time live chat is available with this software via Skype to offer a more personal client experience.
Offline availability: although the assistance is offline the client's queries will be answered through automated chatbots.
Visitor information: Chart also enables you to view complete visitor information like visitor name, credit card details, number, and URL tracking with data reporting.
Multilingual chat window: Clients from all around the world will be able to view their chat widgets and information in their native languages with language translators.
Customizable widget: The chat windows can be customized according to your branding preference as well for a better experience by designing tools.
Automation: Furthermore, the option of automation allows chatbots to send emails and invites automatically to the targeted audience.
Pricing
Free – The free plan works for 1 operator with unlimited chats and websites, 30-day history, basic reports, and basic widget customization
Pro – at $9.80 per operator/month, the Pro Plan includes unlimited chats, chat history & websites, advanced reports, widget customizations, auto invitations, typing insights, API, saved replies, and group chats.
---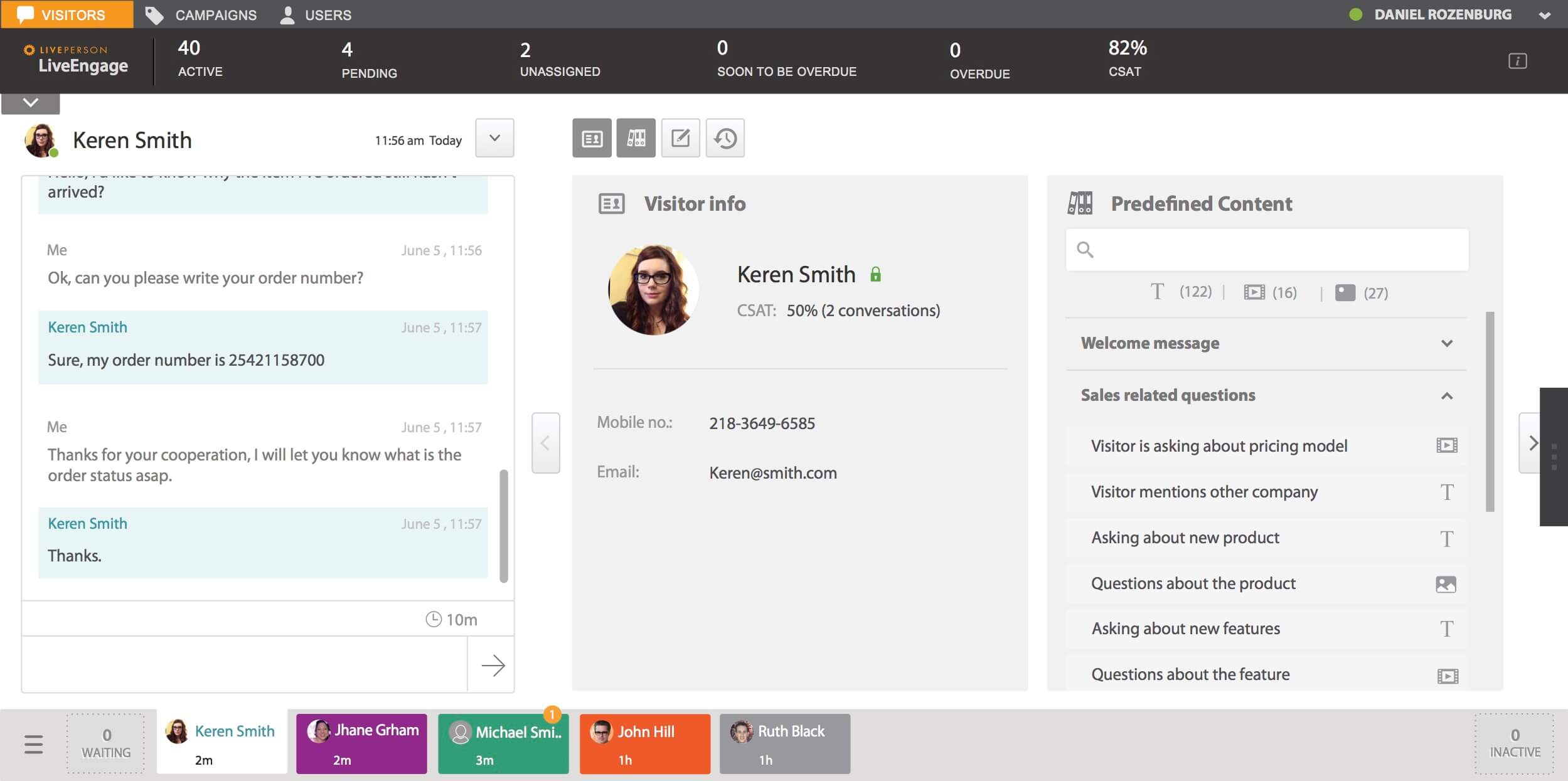 This AI-powered live chat software makes it convenient for agents to answer queries from clients in a unified channel.
LivePerson allows you to fetch messages from Facebook Messenger, SMS, WhatsApp Business, your website, and Apple Business Chat, into one unified platform from which agents can communicate.
Over 18,000 companies have currently deployed LivePerson due to its impact on creating relevant connections. With LivePerson, you can also create personalized campaigns for digital marketing in just 6 minutes.
This feature allows you to not only can you target visitors via referral sites, but also make use of affiliate tracking for new and returning visitors.
Key Features
Tailored solutions: this software offers automated chatbots with easily tailored solutions that are adaptable to any business like reporting, routing, and tracking.
Notifications: the prospects and the agents both get notified on their dashboards of any new announcements, live chats or invites with pop-up notifications.
App messaging: now you can access this software anywhere and get in touch with visitors because it is easily accessible on both IOS and Android.
Targeted emails: you can send targeted invites and emails to specific clients with the help of automated bots so that you don't have to do anything.
Customization: moreover, you can customize your chat windows by changing their texts, chat colors, branding, and logon according to developer tools.
Client's profile: with the help of data reports and analytics you would be able to create separate profiles for your customers and the targeted contacts.
Social media channelizing: you can interact with clients by using social media platforms as well and by channelizing them here through communication channels.
Pricing
Custom Plan – LivePerson's business live chat software offers a subscription-based custom pricing model based on various features such as messaging channels, AdLingo, website & applications, and Google RBM.
---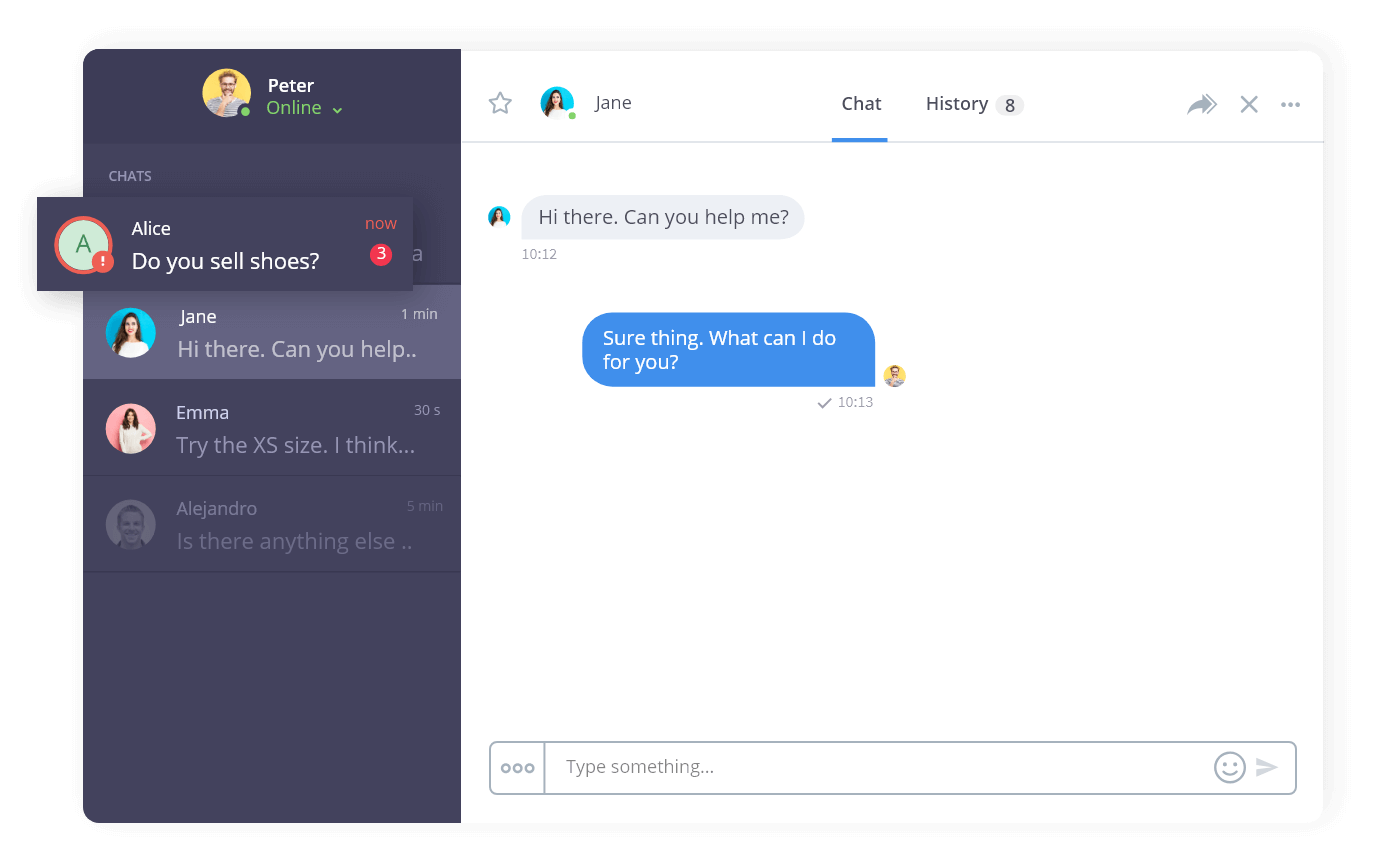 This live chat application allows visitors to use the recording feature. With the Smartsupp live chat software for the website, you can also view session mouse click recordings and record visitor behavior on your website.
You can also chat with the visitors in real time since this application gives notifications every time a visitor initiates a conversation on your website.
This cloud-based application is used by around 320,000 websites and webshops all over Europe. The best part is that you can track effects on sales via Google Analytics which allows you to keep check of customer behavior and conversion rates accurately.
Key Features
Customization: You can change the chats, tools, and texts and customize your chat windows by your branding with design tools.
Visitor's overview: in your dashboard, find detailed info about your clients and get to know them better to interact wisely with data reports.
Fast communication: no matter where you are in the world, communicate with customers through this software as it can be accessed by IOS and Android too.
Automatic texts: The option of automation for email and invites is generated for the targeted clients.
Video recordings: this is the only software out there that lets you analyze the movements of your visitors very closely by video recordings.
Analytics: check satisfaction rates of your visitors and see which modifications are required like agent response, time, and more with analytics reporting.
Integration: Smartsupp automatically links the date of your visitors to your integration for e-commerce platforms with an integration feature.
Pricing
Free – the free plan includes unlimited chat conversation and agents with custom design for the chatbox and 14-day chat history in this live chat software.
Standard – The standard plan costs $8 per month, and includes all features for free with unlimited chat history and visitors' video recordings. You can also connect to Google Analytics and set up autoresponders.
Pro – The Pro Plan includes all standard plan features along with a high-load dashboard, statistics, agents' groups, and Slivovica shots – all for $19 per month.
---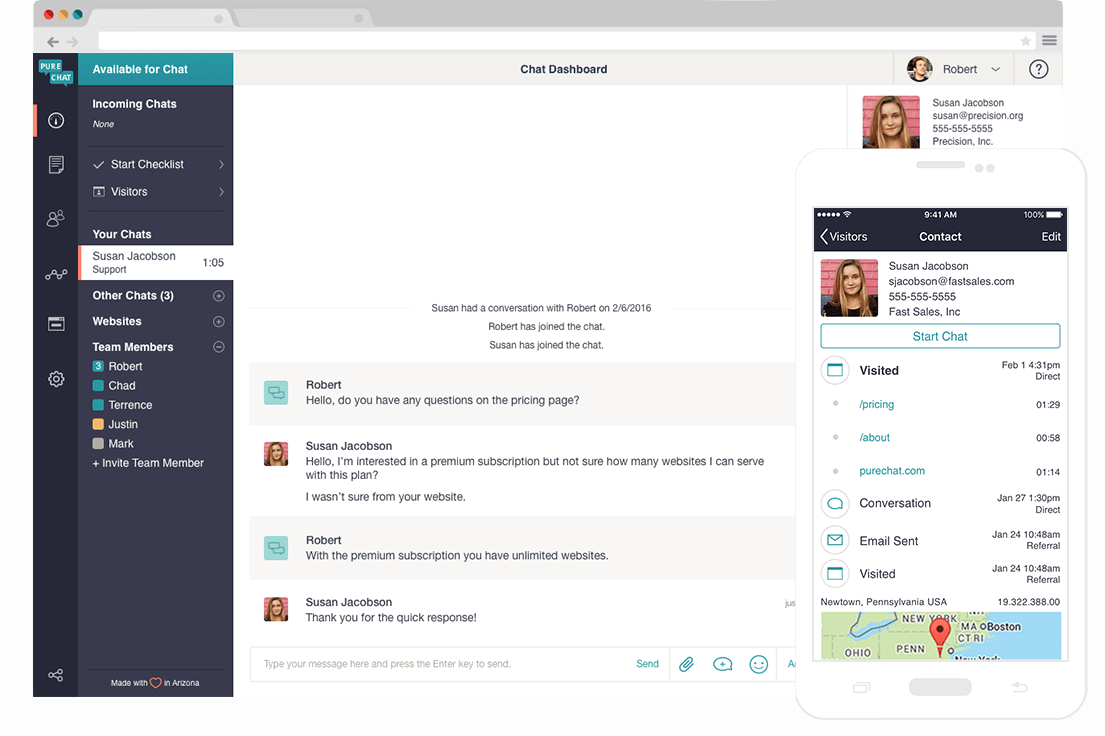 This live chat software focuses on generating more leads and driving sales by allowing companies to track visitors to a website. Pure Chat's reporting feature also emails reports of daily activity.
This platform not only includes an open API but is also available as a desktop application for both Windows and Linux OS.
The proactive chats and triggers allow agents to get in touch with visitors immediately. There is also the option to manage chat from multiple channels at the same time which obviously simplifies the work process for agents.
Key Features
Customizable chatbox: you can customize your chat widgets by changing their texts, tools, and chats following the preferred branding with a convenient editor.
Web devices: this software is easily operateable on all PCs and mobile devices whether it's IOS or Android.
Multi-lingual: The pure chat is provided with more than 13 different language translators so you get to see your native language on the chat widgets.
Automation: With the help of automated texts and invites, your targeted customers will be automatically notified.
Live chat: Pure Chat also enables the feature of real-time live chat so that you can talk with visitors and see their problems more personally.
Files transfer: the agents can send and receive images and files in the chatbox which will be securely saved in real-time live chat.
Notifications: agents and visitors will be informed in case of any new announcements and live chats with notifications.
Pricing
Free – The free plan includes unlimited operators, users, and chats. It can be used for 3 different websites with customized widgets, canned responses, file transfers, and chat alerts. The free plan also includes security roles for operators, admins, and users.
Pro – In $99 per month, the Pro Plan of this best live chat software includes all free plan features along with visitor alerts, analytics, SMS notifications, unlimited contact, and comprehensive reports.
---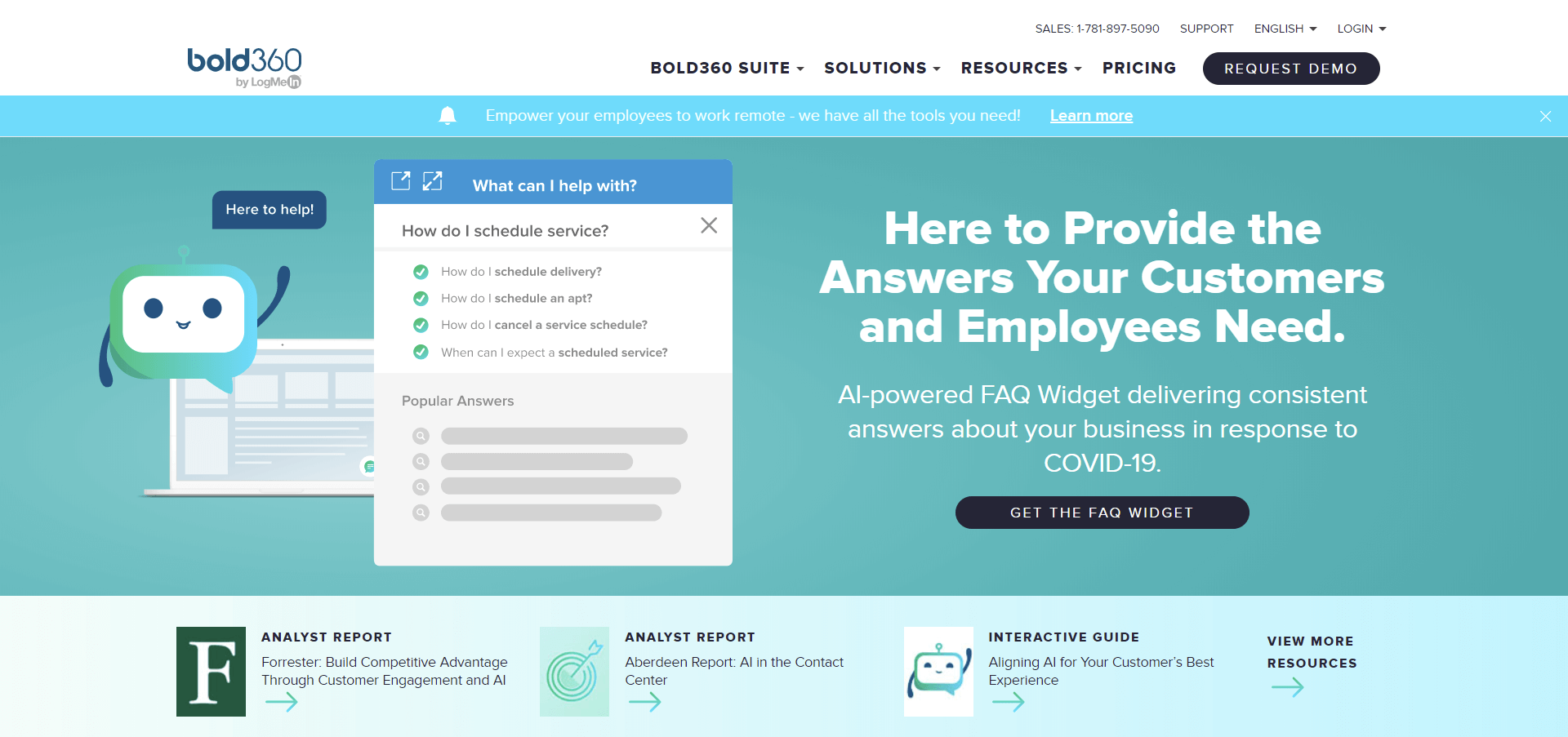 This AI-powered customer engagement solution offers actionable insights to small, medium, and large enterprises. With this platform, your company can transfer files, and co-browse through a single window.
This cloud-based software offers canned responses and also keeps track of visitors to the company website.
Bold360 is a live chat support software that offers live chat, messaging, email, and social channels support in a unified experience to simplify the workflow of agents. Therefore, with Bold360, you can carry out proactive and persistent chat.
Key Features
Dashboards: the systems provide a dashboard with the latest interaction information and their metrics and the agent's performances with data analysis.
24/7 service: with Bold360 you will be provided with 24/7 services so that none of your queries are left unanswered with automated chatbots.
User friendly: this software is user-friendly as it is very easy to use for implementing team tasks, visitor monetization, and code building on both IOS and Android.
Multiple chat management: by using Bold360 you will be provided will multiple chat options through different means like Twitter, Facebook, and emails.
Multi-channelizing: various options like chatting, calling, texting, video calls, and social media management apps can be utilized in this software by communication channels.
Multiple solutions: this program helps a visitor's problem with various solutions within no time with automated bots and also enables real-time feedback options.
Customization: you can also customize your chat box following your branding like changing its logo, and text, with design tools.
Pricing
Custom Plan – Bold360 offers a subscription-based custom pricing model based on various features such as AI chatbots, mobile SDK, A/B testing, customizable engagement invitations, an outreach campaign manager, and a dashboard for conversion reporting.
---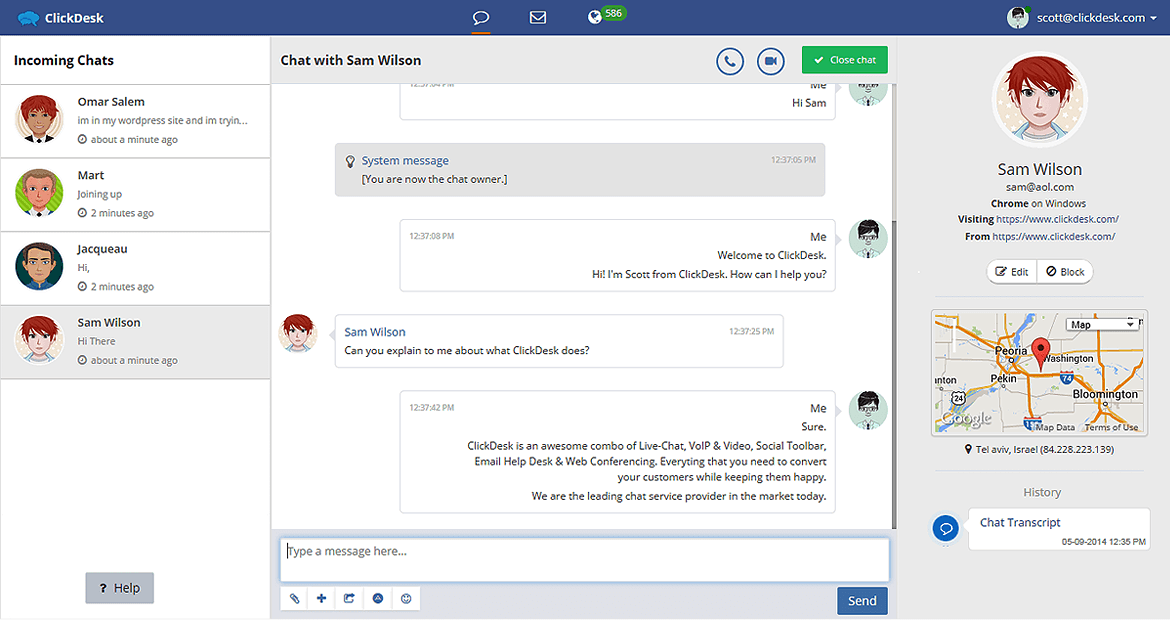 This live chat support solution combines voice chat, a social toolbar, live chat, and a help desk to support agents in responding to customer queries.
ClickDesk live chat software for websites is ideal for customer service teams that require a one-stop solution to respond to queries from multiple channels in one place.
It is a cloud-based application that lets agents receive chats on Instant Messenger of their own choice.
The main interface of ClickDesk's live chat software also includes a social toolbar that allows users to tweet through the chat window. It also includes smart chat tools such as keystroke preview and live chat maps that allow agents to engage website visitors on a more conscientious and personal level.
ClickDesk also has a video chat feature that lets you personalize your chat experience with customers through a face-to-face conversation. With the in-browser video tool, agents can use the feature within the chat window.
Key Features
Video chat: you can acquire real-time live chat with Clickdesk which is a great way to improve business efficiency as it improves customer interaction. Furthermore, for any customer's issues, a browser-based video chat option is available to give personalized answers.
Automatic integration: this software enables automatic integration of live chats for customer issues to the main desktop so you are updated every time.
Social media managing: you can integrate multiple social media apps with the social media toolbar and generate likes, comments, and feedback from there.
Multi-device friendly: this app is not just for PC users but it can easily be installed on mobile phones for efficient communication and also on iOS and Android.
Targeted texts: moreover, Clickdesk enables you to send targeted texts via automatic bots through emails and invites automatically to the specific audience.
Local access: it gives visitors access to more than 40 countries because of a language translator so that they can video chat, and place calls locally over the place.
Pricing
Free – With a limit of 30 chats and 10 users, you get features like audio calling, localized chat widgets, and basic custom settings along with 25 tickets' handling, in the free plan.
Lite – In $14.99 per month, the lite plan offers unlimited chats, chat transfers, SSL security, widget customization, and 99.5% uptime.
Pro – In $24.99 per month, the pro plan offers CRM integration, API, post-chat survey, history, reports, chat conferencing, SSL security, and 99.5% uptime.
Enterprise – The enterprise plan includes queuing, analytics, white-labeling, unlimited domains, widget custom CSS, and a dedicated account manager – all for $39.99 per month.
---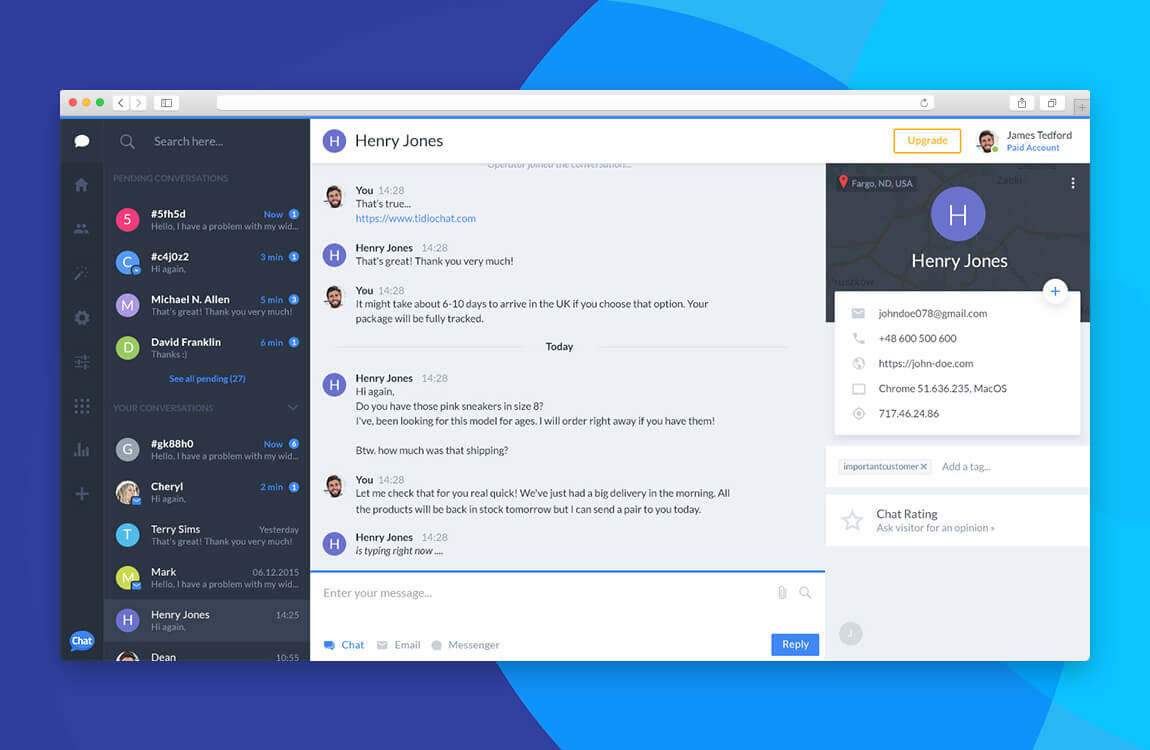 This web-based live chat application combines Facebook Messenger, emails, and website chat widgets to create a unified agent interface.
Tidio allows agents to deal with multiple customer messages simultaneously with the same tool no matter which channel they come from.
It also offers website visitor tracking with geo-targeting and immediately gives canned responses to generate a proactive chat experience for your clientele.
Reviews suggest that Tidio is the best live chat software available on Windows and Mac Operating Systems. Besides you can also use the Cloud-hosted version which supports all devices.
Moreover, Tidio also includes pre-chat survey options to obtain phone numbers, emails, and names of visitors.
Key Features
Live typing: With the help of the live typing feature you can see what the visitor is typing and generate a reply before they even send their queries.
Live visitor's list: Here, you will be able to view the entire live visitor on the specific sites with data reports and analytics and you can also start a conversation with any of them.
Visitor's history: Whatever a visitor is up to and what websites they have been viewing can be seen by you with a real-time world map so that you provide the relevant content.
Notification: You will get informed about every new announcement and visitor that views your website for fast communication with notifications.
Monthly triggers: Moreover, you can send multiple invites to reach out to more clients with the help of the monthly triggers.
Multiple operators: Tidio helps you in getting new operators with agent filters who will assist you in chatting with visitors and solving their queries.
Automated messages: to improve your marketing rates, you can automate texts with chatbots to specific visitors for efficient business.
Pricing
Trial – A free trial for this video live chat software is available for a period of 7 days.
Premium – Tidio offers a subscription-based model with pricing starting from $15 a month – depending on the features you choose. These features include live typing, new visitor notifications, a list of visitors, and viewed pages.
---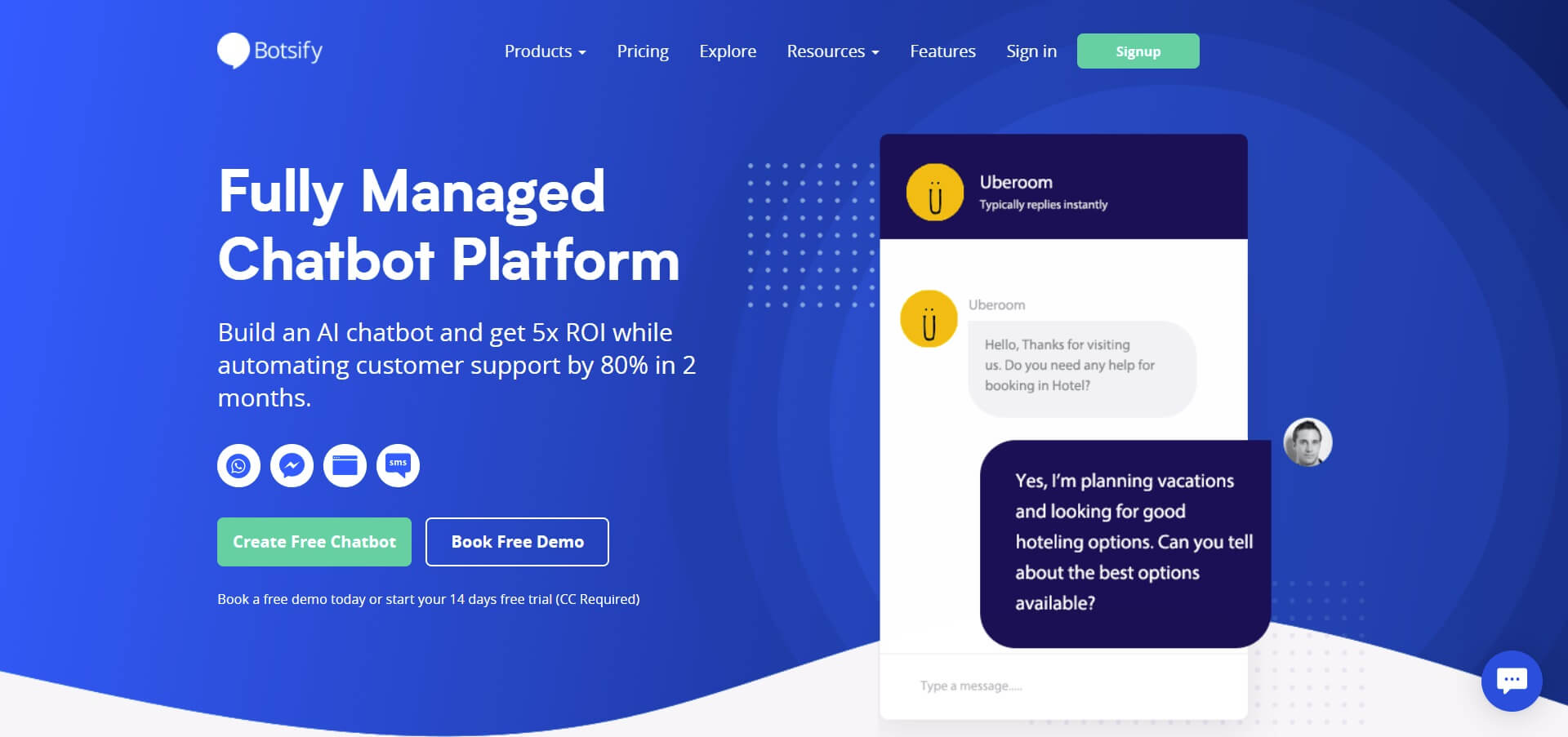 Botsify is a fully-managed chatbot platform that helps businesses to deliver the finest chat automation solution and allows non-techie people to create a customized chatbot without coding skills.
This chatbot not only optimizes customer support but also streamlines the marketing and selling process. Botsify aims to provide conversational automation that helps companies to be available 24/7, real-time connectivity for engaging customers, save cost, acquire qualified leads and elevate sales.
The Botsify chatbot can be conveniently integrated with multiple platforms, such as Website, Facebook Messenger, WhatsApp, Slack, & SMS. With its story-based interface, people find it convenient to add stories and can test their bots instantly.
Botsify's live chat software makes it possible that humans and chatbots can work in the same place that's why a live chat solution also witnessed that Botsify is worth trying.
Key Features
Fully-managed chatbot platform – you can hire a chatbot expert to make your customized chatbot.
Chatbots for multiple platforms like Website, Facebook Messenger, WhatsApp, Slack, & SMS.
Maximum integrations like – Zapier, Integromat, Stripe, Google Sheets for data export, etc.
Pricing
Personal: costs $49/month, 2 chatbots, 5,000 users/month, unlimited stories and conversations, forms, and media, message scheduling, basic support, and more.
Professional: costs $149/month, 5 chatbots, 15,000 users/month, everything in the Personal plan plus access to all Botsify resources, 1-Chatbot development free (deployable across all platforms), 3-month chat history, and more.
Business: costs $499/month, 20 chatbots, unlimited users, everything in the Professional plan plus white-labeling, 24/7 premium support, 1 dedicated account manager, bi-weekly reporting, personal onboarding session, unlimited chat history, Botsify API access, and more.
---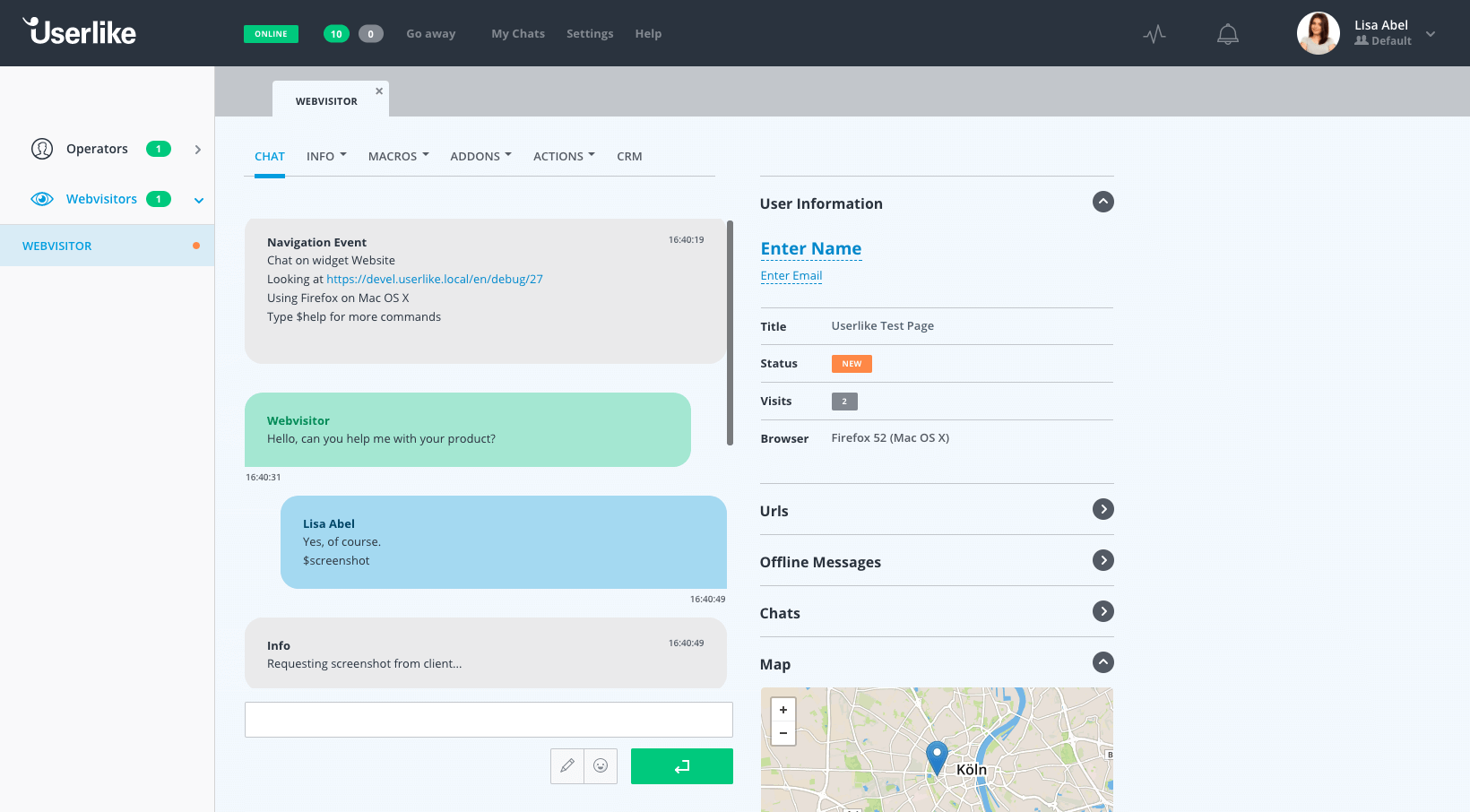 This open-source customer messaging and live chat application is suitable for businesses of all sizes. It is a cloud-based solution that can be integrated with existing websites to enable real-time communication between employees, team members, and customers.
Userlike offers a wide range of customization management options such as design templates, chat behaviors, chatbots, design templates, and feedback.
Userlike live chat support software also offers CRM integration for companies to work with Salesforce alongside. The plugin code can be copied and pasted to create a chat widget in a matter of minutes.
Moreover, it works on a wide range of operating systems including Windows, Mac, Solaris, UNIX, and IBM.
Key Features
Fast replies: Userlike provides customer care services to its visitors so they get responded to their queries in no time.
Sticky chat: Additional feature of sticky chat tells you if you have conversed with a visitor before to ensure better insights into them.
Customer profiles: Customers can get their profiles automatically made by Userlike on the site by just providing their basic information like an email address.
Integration: Agents can transfer their chats to the selected integrated businesses to make the customer's experience more efficient by the CRM tool of choice.
Chat feedback: Visitors are allowed to give their open feedback about their actions such as their chat with the agents or agent performances on the feedback feature.
Chat surveys: Before and after chat surveys are made by Userlike so that they can rate their interaction with the site agents.
Automate chats: Automated chats are a feature that proactively asks a visitor on a site if they may have any queries or questions.
Pricing
Free – With the free plan, you get 1 operator, 1 widget, and unlimited conversations.
Team – With the team plan, you can have 3 operators, 3 widgets, add-ons, and 1 channel along with customization, for 29$ per month.
Corporate – The corporate plan offers 5 operators and 5 widgets with 3 channels and analytics along with translations, for 99$ per month
Business – The business plan costs about 299$, and it includes 10 operators, 10 widgets, 5 channels alongside white-label, and skill-based routing. You also get a widget router and API access.
Flex – The flex plan is designed for industry leaders. This plan works with custom pricing since it entirely depends on the features you choose. The features include unlimited operators, channels, organizations, and widgets. It also allows you to get a dedicated Whatsapp channel and chatbot API along with a dedicated account manager, professional onboarding, and CSLA (Custom Service Level Agreement). For this plan, you can also request a free demo.
---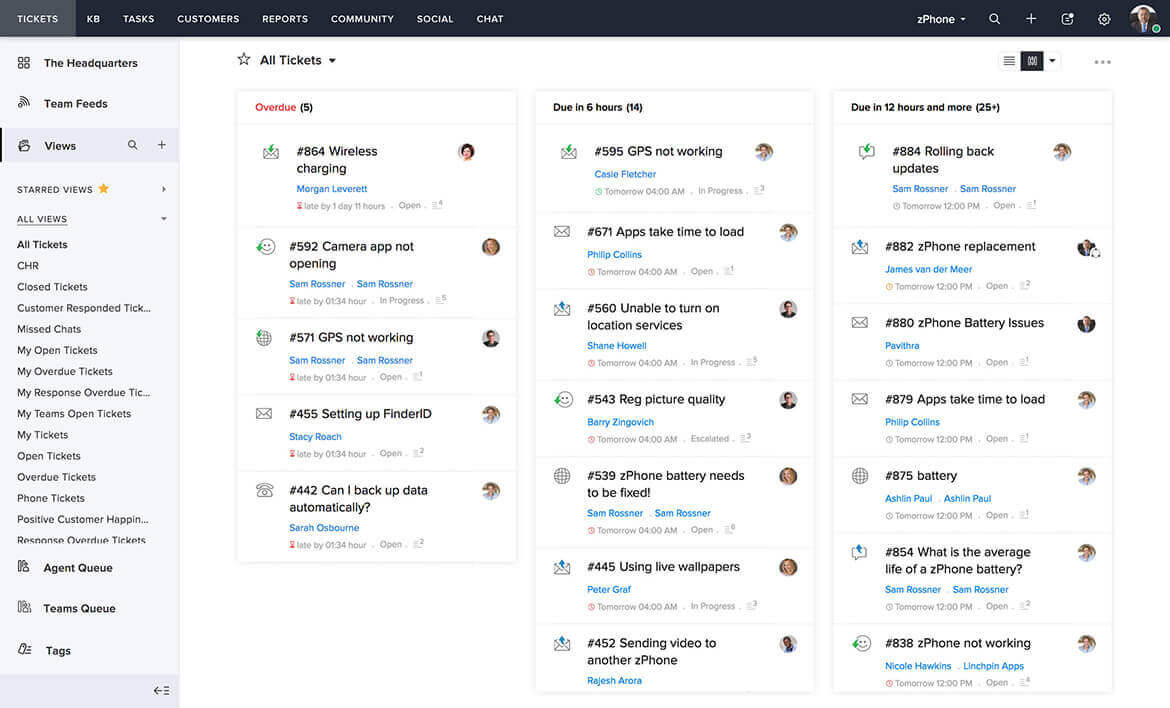 This support desk platform allows businesses to deliver timely and high-quality customer services to their clients. This comprehensive application is available for both Mac and Windows OS. Moreover, mobile users can get a native application for Android as well as iOS.
With this application, you can gain a unified customer service experience by utilizing multiple support channels. You can also address customer queries via a fully functional ticketing system.
Zoho Desk is a great video live chat software that includes Business intelligence tools that increase agent productivity by generating detailed reports. This cloud-hosted documentation enables managers in finding key issues in the performance of agents.
Key Features
Multi-channelizing: To improve your customer experience you can talk to them through any means of channels they prefer with Omnichannel.
Call chats: If a visitor has any questions, you can have a call conversation with a real-time live call to make them understand better and solve their issues.
Email conversation: For many professional chats, real-time email conversation is also enabled to provide solutions and answers to a customer's requests.
Live chat: Live chat feature is another advanced option to chat with a customer to solve their queries and answer their problems.
Notification: Zoho ensures to inform you about any unusual activity on the site whether it's related to agents, merits, or new visitors with notifications.
Dashboard: There is a dashboard feature for everyone where the recent activities of their visitor and agents' performances are displayed.
Community: You can create a community and group of users, visitors, prospects, and businesses to take your marketing to a new level with the Help Center.
Pricing
Classic – This plan is available for free with a knowledge base, email support, a customer portal, and community forums. You can get live chat and toll-free support for 8 hours a day, 5 days a week with a maximum of 8hrs response times.
Premium – This plan is available for 20% of the license fee which is $30/agent/month. The plan includes a knowledge base, email support, a customer portal, community forums, remote assistance, product onboarding, and configuration assistance. You can get live chat and toll-free support 24 hours a day, 5 days a week with a maximum of 3hrs response times.
Enterprise – This plan is available for 25% of the license fee which is $45/agent/month. The plan includes a knowledge base, email support, customer portal, community forums, remote assistance, product onboarding, technical account manager, quarterly report, and configuration assistance. You can get live chat and toll-free support 24 hours a day, 7 days a week with a maximum of 1hrs response time.
---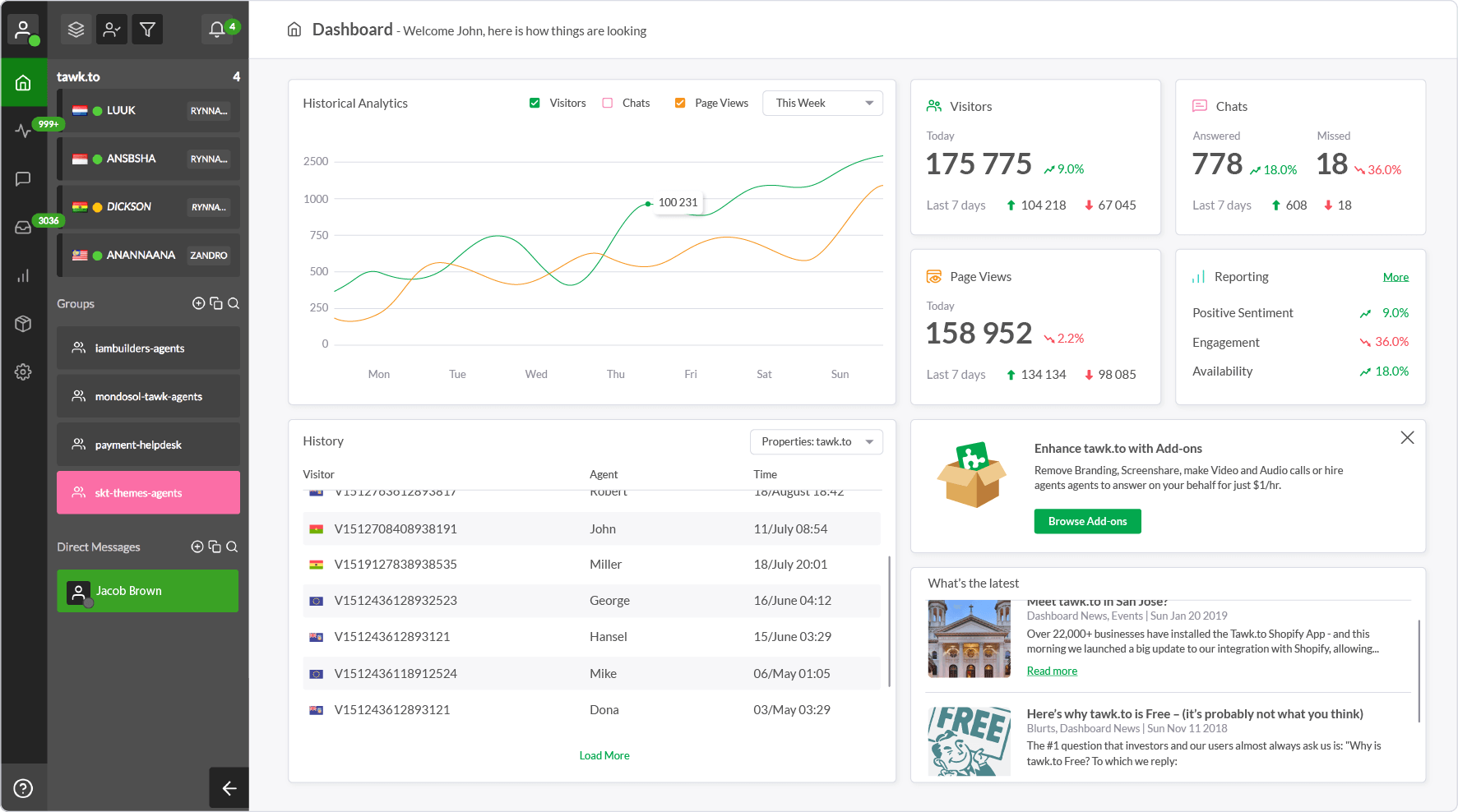 Equipped with a high load dashboard and custom tabs to track engagement and gather detailed reporting, the Tawk.to web portal offers ease of use to its customers.
This messaging and live chat support application is an efficient communication medium between customers and companies. It also allows you to create shortcuts on the portal and check analytics.
With Windows and Mac support along with apps for iOS as well as Android, this live chat customer service software works for companies of all sizes.
The best part is that this application is completely free! Tawk.to can be deployed both on the cloud and on-premise. Furthermore, it offers an Open API for developers to bring more alternatives if required.
Key Features
Multi-device operational: Twak.to is not only operational on PCs but is a mobile app accessible for iOS and Android so that you can reach out to your customers faster.
Customizable chat box: you can customize your chat widgets like your branding by changing its tools, chats, and logos with designing tools.
Integration: this software provides 100-plus integration so that visitors can have access to as much data out there as possible.
Automated messages: automatic texts can be generated with bots for the new visitors to proactively ask them about any queries and issues.
Track visitor's movement: you can track what the visitor on-site has been recently up to and what they are doing and not to get to know them better with data reports.
Visitor's information: basic to secured information of a visitor is safely secured in the chat windows with private messaging like email address, credit card details, etc.
In-app features: in the chat windows, agents can send and receive files and images to each other and they will be saved securely with reliable and secure chatbots.
Pricing
Tawk.to is a 100% free live chat software.
---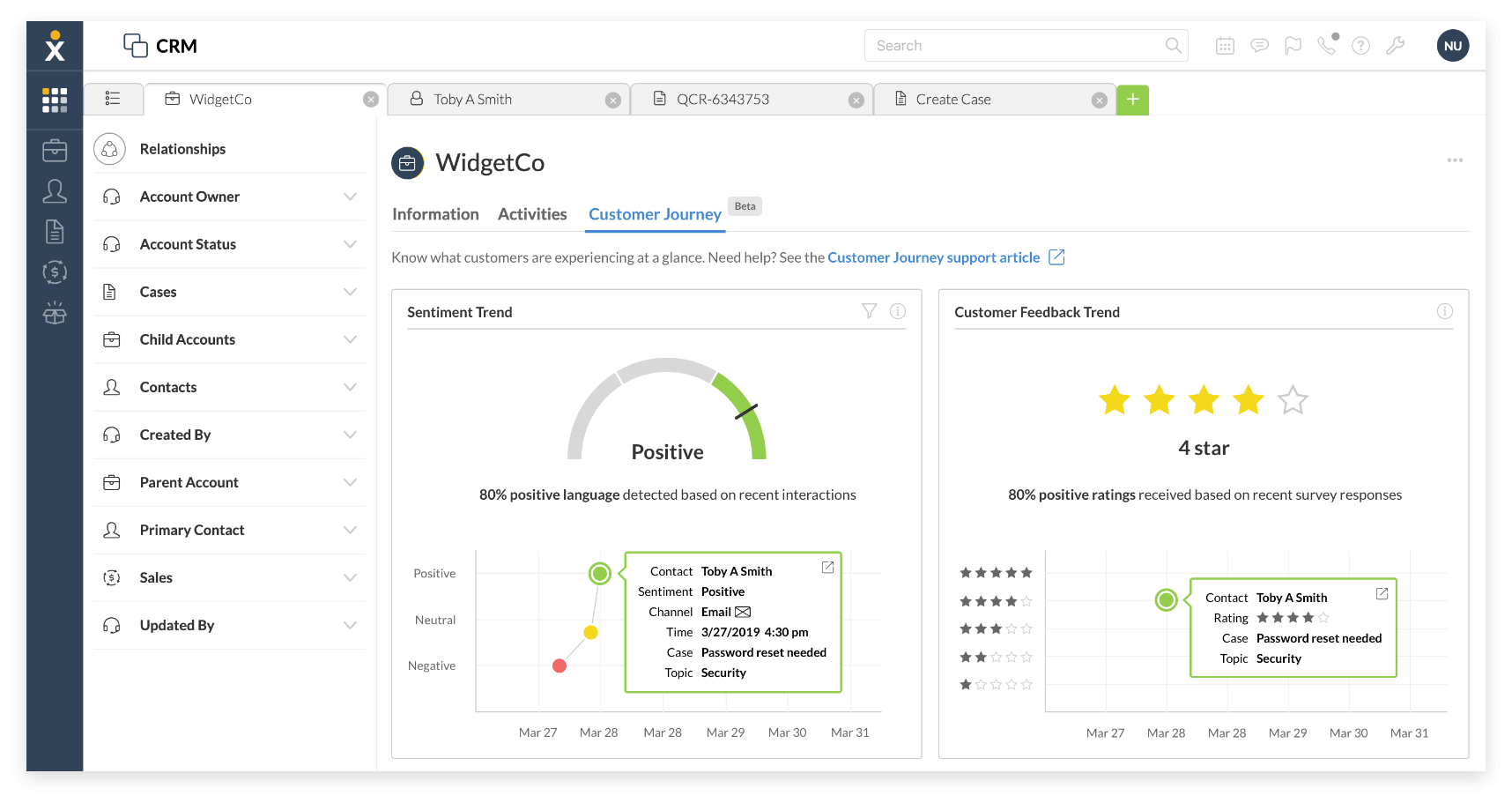 Nextiva is a complete cloud-based VoIP system that offers live chat as well as business phone system services at multiple locations simultaneously.
This suite is best for enterprises that have several offices spread across the globe and wish to be managed from a central platform.
The online Nextiva portal allows you to add employees, assign a number, offer automated greetings, designate features, and even create call-queue routes.
Accredited with an A+ rating by Better Business Bureau, this live chat software is one of the most reliable live chat platforms. The best part is, all Nextiva plans unlimited calling within the US along with unlimited peer-to-peer video conferencing.
Key Features
Voicemail: Instead of texting, use voicemails with Nextiva for a better understanding of the customers now.
Unlimited messaging: You can reach out to as many clients and visitors as you want and generate and increase your marketing rates with intelligent case routing.
Online fax: You can send out online fax to your visitors to provide them with secured information with the online fax feature.
Team chat: you can manage your team and its members and ensures they prevent any errors that can disturb customers' experience with an internal knowledge base.
Forwarded calls: Nextiva allows you to forward visitor calls to direct information sources but they can chat with them as well with video conferencing software.
Call statistics: With this software, you can also record, rate, and analyze your call and generate reports to improve with call analysis.
Automate call attendant: It provides a built-in automation greeting to the visitors calling and gives them basic information about their specified business.
Pricing
Essential – The essential plan starts at $19.95 per month/user. It includes 1000 toll-free minutes and unlimited audio conferencing for 4 participants.
Professional – The essential plan starts at $20.95 per month/user. It includes 2500 toll-free minutes and unlimited audio conferencing for 425 participants.
Enterprise – The essential plan starts at $27.95 per month/user. It includes 10,000 toll-free minutes and unlimited audio conferencing for 100 participants.
---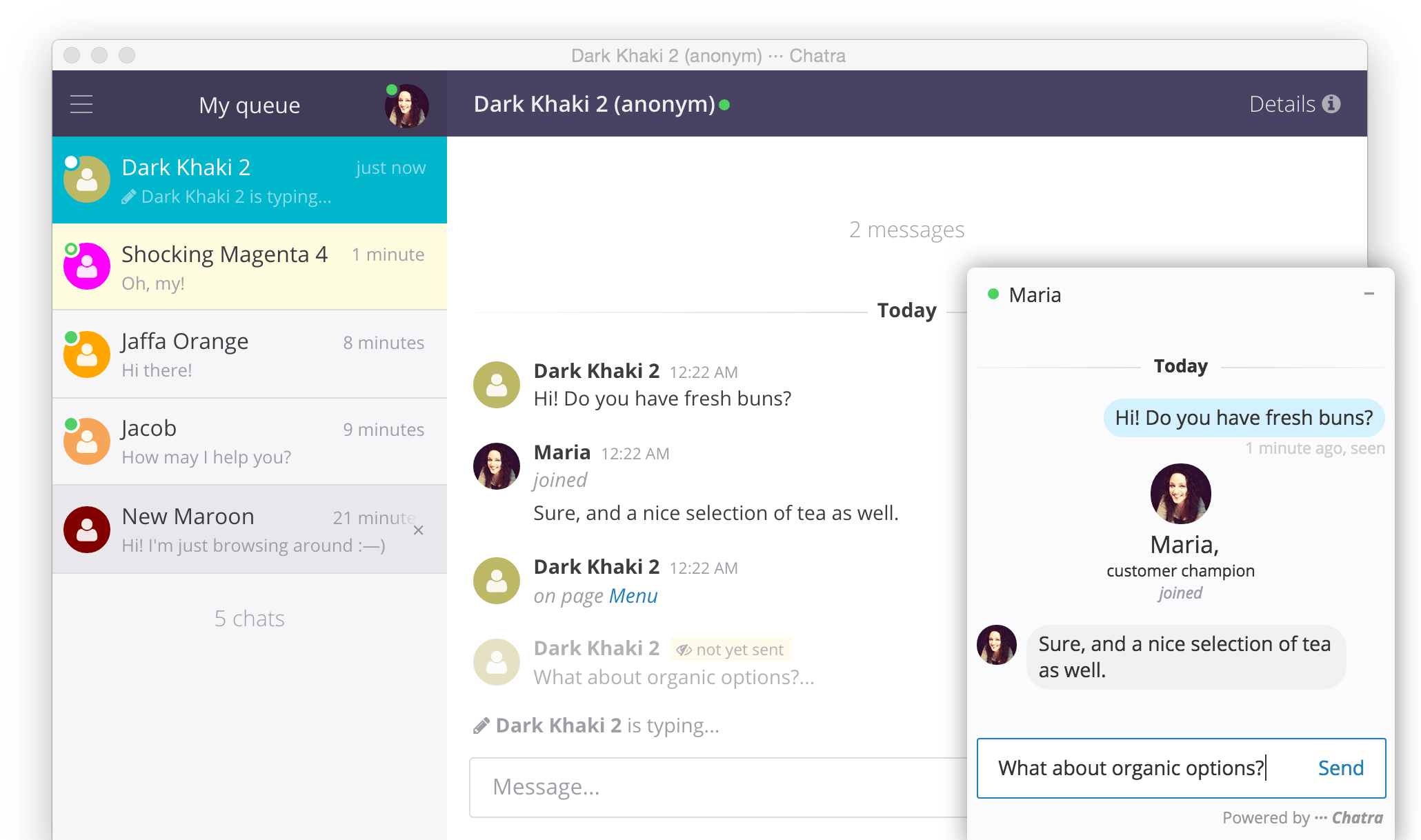 From customizable branding, website visitor tracking, geo-targeting, and canned responses, Chatra has it all! Besides, it also offers a free plan to get started with!
With multilingual support and mobile apps – both for Android and iOS – Chatra is one of the most impressive live chat apps available online. This app is available for both Mac and Windows apart from the Web.
According to live chat software reviews, this modern messaging and live chat solution is best for software, e-commerce, legal, automotive and financial enterprises that need to be accessible to their customers and visitors at all times.
Besides you can also get facilitated by online training as well as detailed documentation for its features.
Key Features
Visitor info: Chatra enables you to have all visitor information like their number, email, and credit card details to be saved in chatbots.
Notifications: with the help of notifications you will be updated with every new unusual detail on the sites and can work accordingly.
In-app data: whatever information and additional secured data are shared in the chatbox it will be automatically saved for long terms with in-app data.
Automate emails: the option of automatic emails with chatbots can be generated and these invites can be sent out to the new visitors to proactively approach them.
Customization: you can customize our chat widgets like chats, tools, and logon by your branding with design tools.
Chat reports: Chatra provides you with timely chat reports so that you can make changes and efficiently improve customers' time on the site.
File features: agents can send and receive images and any file with a chat function, and the desire for each other will, later on, be saved in the chats automatically.
Pricing
Free – The basic free plan of our live help chat software includes an unlimited number of agent accounts. However, only one agent can be online at a time.
Monthly – The monthly plan is for premium users and it works for an unlimited number of agent accounts at $19/agent
Annual – The annual plan includes premium pricing and it works for an unlimited number of agent accounts at $15/agent
Conclusion
We hope we have provided all the information you need to select the best helpdesk software for your thriving business. Engaging with website visitors in real time and answering their queries instantly can do wonders for your sales process.
Remember to keep measuring your analytics and constantly improve your performance.
---
Other SaaSy Goodness on All That SaaS: