To-do list apps play a vital role to keep your busy life on track. To help you align your everyday tasks, the best apps to manage to-do lists come in handy. Whether you have a work-related idea or need to build a shopping list.
We have been using paper and pen to make lists forever. Now, modern technology has helped us upgrade almost every aspect of our life. It also came up with this brilliant idea of digital to-do list apps.
The Best To-Do List Apps in 2022 for Personal Task Management
Best To-Do List Apps – Frequently Asked Questions
---
What Are the Best To-Do List Apps in 2022?
We decided to do a round-up of the best to-do list apps that are available this year, and how they score. Here are our thoughts on how each of these to-do apps performs:
Supported Platforms: Windows, macOS, Android, iPhone, iPad, Web
Price: $3 per month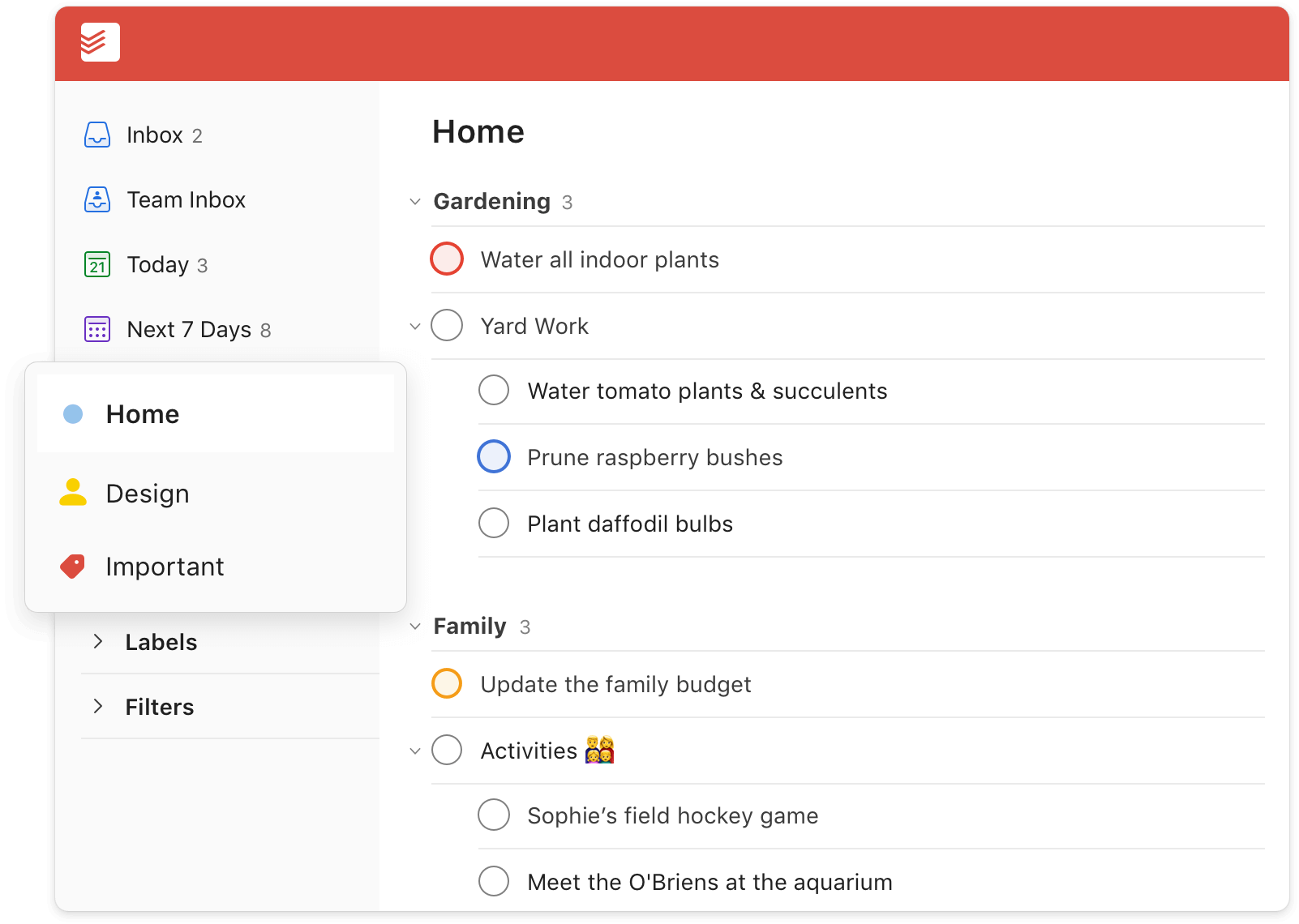 As one of the top-ranking to-do list apps, Todoist is user-friendly and is a strong task management software. It can handle small day-to-day tasks such as grocery shopping, to major projects that require professional team management. Individuals, small teams, or even large groups can use Todoist with ease.
It supports all existing platforms, which is why Todoist is one of the best apps to manage to-do lists in the world.
Todoist's versatility allows multiple consumers to quickly produce simple set-ups or sophisticated and more complicated task management. Todoist is quite versatile to deal with competitive workflows and is not complex either.
It's a great app to get your hands on particularly when you are confused about where to start.
Features
Recurring tasks are where Todoist shines, standard features! It helps you to plan the next instance of a repetitive task depending on the last date the task has been accomplished.
Hide things you've never begun, If you're trying to constantly juggle a bunch of projects, covering things you're not focused on at the moment will help the Active Projects screen look a lot less overwhelming.
Start using the templates of the project, if you want to replicate a work at a later date, you'll love Todoist templates together with all its tasks and settings.
See your recurring Tasks at Once, Go to Filters and click Add Filter. Name the filter, type recurring in the Query field, then click Add Filter. You will see a complete list of all your ongoing tasks once you click on that button to keep them up-to-date.
There is a checklist next to all tasks in Todoist. Even so, if you want a task listed without a checkbox, simply start the task name with a space followed by an asterisk.
Visualize your productivity, press the Karma score and you're going to see a visual representation of your success. You'll be able to see how many tasks you've done, how productive your days are, and for which projects you've accomplished the most tasks.
You can perform some basic formatting to your main tasks and comments, whereas, adding hyperlinks is also not a big deal for Todoist.
Offers powerful extensions for Google Chrome and Mozilla Firefox so you can easily manage tasks while browsing the internet.
Pricing
Free – This is ideal for starters, it can complete 80 projects, and 5 people/project.
Premium – Mainly for pros, price is billed annually at $3/user/month, can complete to 300 projects, with 25 people/project. Features are; reminders, comments & file uploads, labels & filters, and productivity trends.
Business – The package is great for teams, price is billed annually for $5/ user/month or $6/user/month, at a time 500 projects can be taken up, with 50 people/project. Features are; team inbox, admin & member roles, team billing, and priority support.
---
Supported Platforms: Windows, Mac, iOS, Android, Web
Price: $3.99 per month
Check out our top picks for the best Evernote alternatives.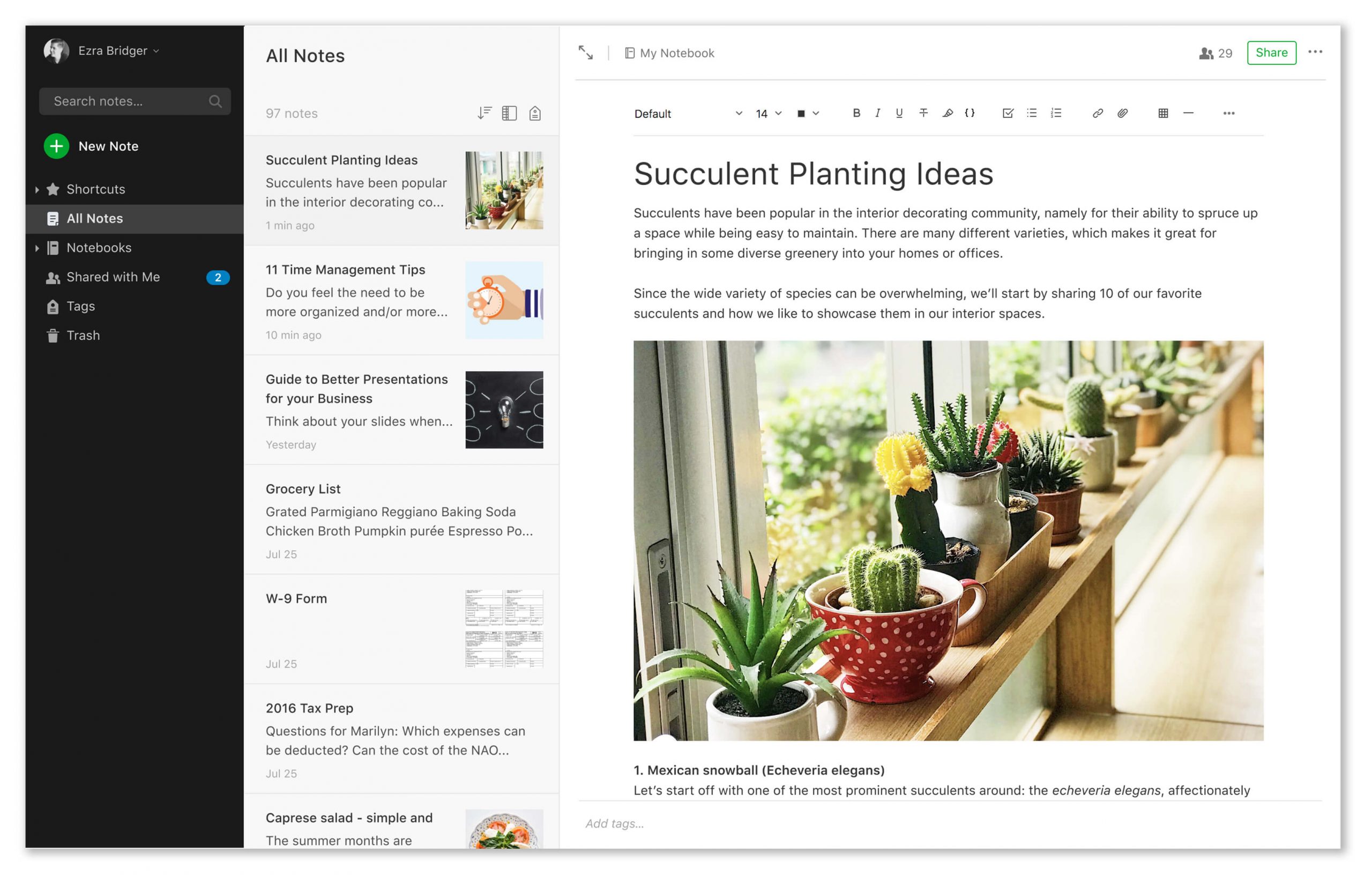 We have specially chosen our favorite Evernote options just for you! Have a quick read below.
Up next on our list for the best to-do list apps is Evernote. As a cloud-based software service, its purpose is to create, systematically arrange, and stockpile various types of media. Also, keeps all your stuff stored in the cloud via your own personal Evernote account.
Eventually, Evernote has become the ultimate note-taking and archiving tool of choice for many professionals and casual web users to collect information, keep it all updated and even collaborate with others.
Features
Mobile offline notes, anywhere, even without an internet connection, your notes are accessible. Ideal for airlines, international travel, and on-the-go jobs.
More uploads, 10 GB of monthly note uploads so you're never worried, such a relief!
With larger notes, you can store high-resolution photos and presentations with a maximum note size of 200 MB.
Business card scanning, Leave your card stack behind by scanning them using the camera from Evernote.
Presentation mode to plan collaborative and constructive meetings straight from your notes.
PDF annotation, you can prevent lengthy email dialog if a picture is worth a thousand words.
Account switching, Shift from one free account to unlimited Premium accounts instantly.
For faster image recognition, discover what you're searching for more easily.
Pricing
Basic – Free, note-taking, audio notes, to-do lists, annotations, and comments
Plus – $3.99 per month, Email-to-Evernote, business card scanning, PDF annotations, priority support, and more
Premium – $7.99 per month, AI-suggested content, integrations, team collaboration, team administration, priority support, and more.
---
Supported Platforms: Android, iPhone/iPad, Web
Price: $5 per month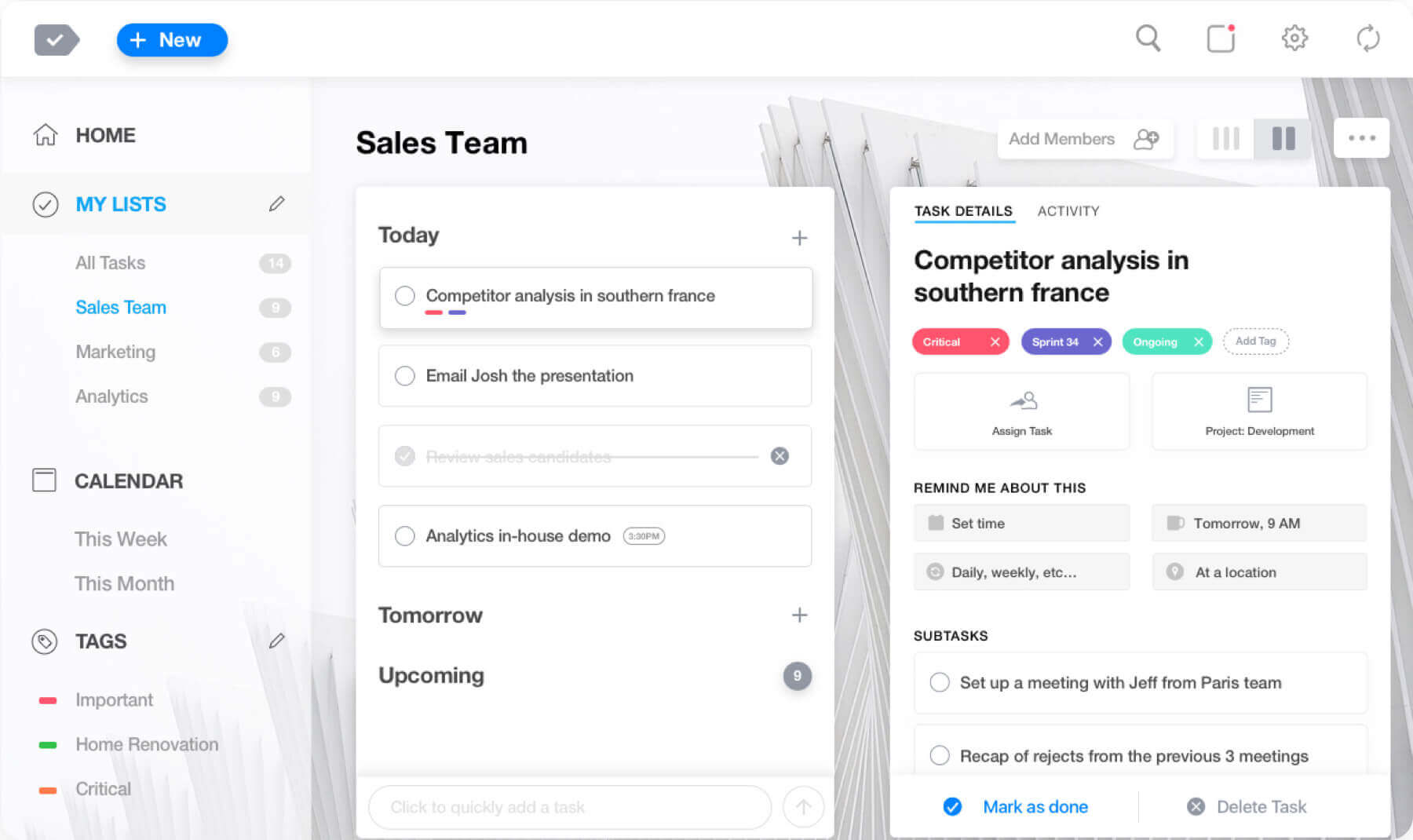 An award-winning to-do list app, Any.do has a fabulous interface along with its very own elite feature, the Any.do Moment. This task management app not only helps you keep track of your assignments and chores, but also helps you keep them organized.
Any.do synchronizes all your apps seamlessly, making your to-do list available anywhere. It's an all-in-one free to-do guide, calendar app, and reminder app that stays with you wherever you go.
Overall, Any.do provides its users with some great free features and is ranked as one of the best free to-do list apps.
Any.do can be great for anyone who wants to make the most of their time by embracing a minimalist design as well as powerful apps. This is exactly what you need if you're the kind of person who adds things to a list and forgets about them.
Features
Any.do Moment is the signature feature of the app. This feature allows you to review all of the tasks currently assigned to you and determine whether to commit or postpone them to a later date.
Any.do has launched a new feature – Focus Mode. Entering into the focus mode means setting a time to be focused for say, 20 mins. On-screen appears a small tree and timer.
"Plan my Day" feature, a feature that makes you schedule your various tasks and their completion timelines.
Set smart reminders to ensure that important things don't slip away. You can be sure that critical things are not forgotten with powerful one-time, recurring, and location-based reminders.
Use a smart grocery list to streamline your grocery shopping experience. It also integrates with Siri and Alexa!
Share lists and assign tasks to each other, start team chat, and more as simple as it could be.
A strong and versatile task management list allows users to add other people to the list by sending an email.
Add files to tasks that are on their computer, Dropbox, or Google Drive.
Pricing
The Free plan offers access to, to-do lists, daily planners, and sync across devices, notes, and more.
The Pro account, which costs $5 per month or $45 per year, gives you access to more features.
---
Supported Platforms: macOS, iPhone/iPad
Price: $9.99 (one-time) for iOS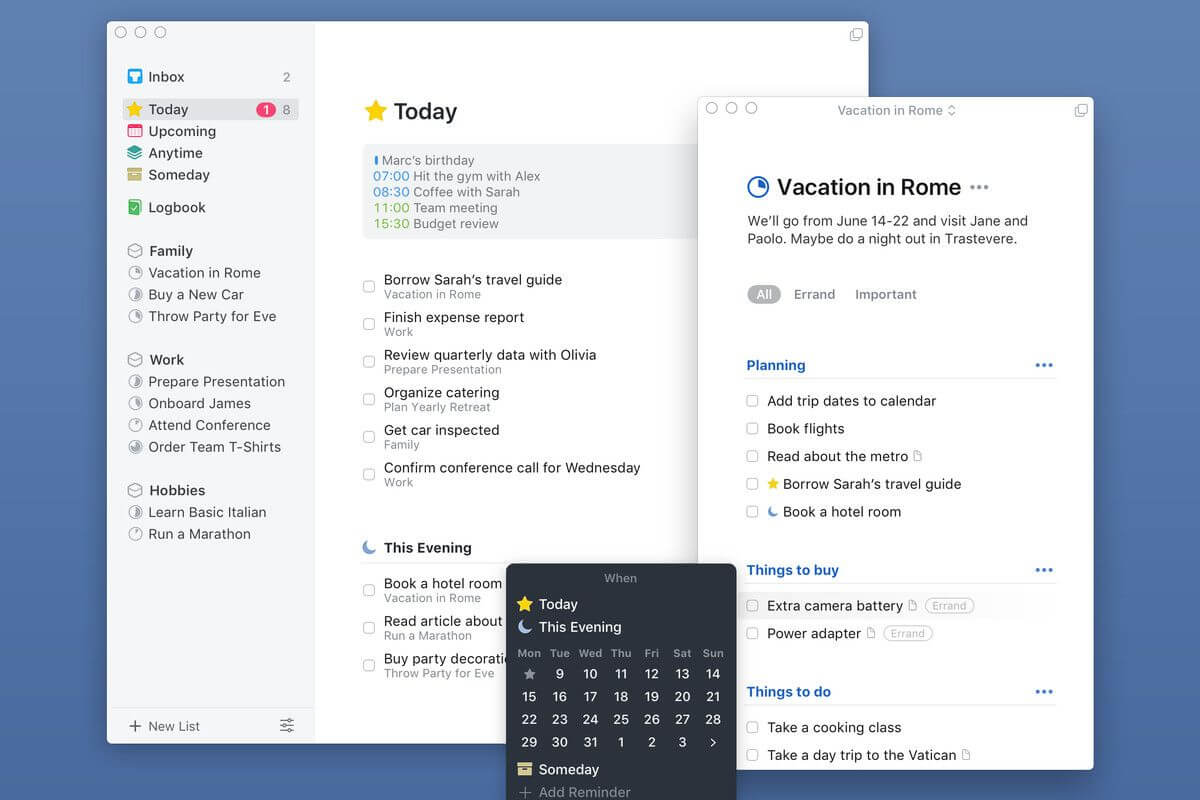 Things 3 is the baby of a German tech startup named Cultured Code. It is an award-winning app based on an Apple Design that is simple to use and strong enough to systematically arrange and balance your personal and professional life.
Known as one of the best to-list apps for iPhone and Mac, Things 3, is the iOS-only task manager app valued for its importance in increasing efficiency.
We noticed a lack of some important features that one would expect to find in the best to-do list apps, such as sharing devices, location-based reminders, and a web app.
While there is a complete lack of Windows and Android versions, this decision is surely part of what makes the team focus on delivering such a healthy product. As an Apple user, you should indulge in this top-notch software.
Features
Project completion circles; a circle appears as you fill in your task. If there are five pieces in a project and you've finished four of them, you'll see a little sliver left to do.
The magic plus button appears in the app as a large blue circle in the bottom right corner, and you can tap and drag it wherever.
Today and This Evening lists are your go-to places for all of your activities once you've made your daily plans.
Allows you to display calendar events in conjunction with your tasks to have a complete schedule outline. This organized future list shows the plans that have been made for the coming days/weeks, which include tasks, deadlines, and events.
Bulky projects can be apportioned into smaller and less engulfing sub-projects with ease.
Things 3 has Slim-Mode with a two-finger swipe to up receive a more focused view by breaking down your sidebar. It provides an option for multiple Windows as well.
If you're using Apple's Calendar and Reminders software, you can press a single button to import all your activities and reminders.
With a multi-select gesture, being able to grab tasks on iOS was very nice when in a hurry.
Pricing
Things 3 is available for Mac at $49.99 and also offers a 15-day free trial.
It costs $9.99 for iPhone & Apple Watch.
For the iPad, Things 3 costs $19.99.
---
Supported Platforms: Android, Windows, macOS, iPhone/iPad, Web
Price: $2.79 per month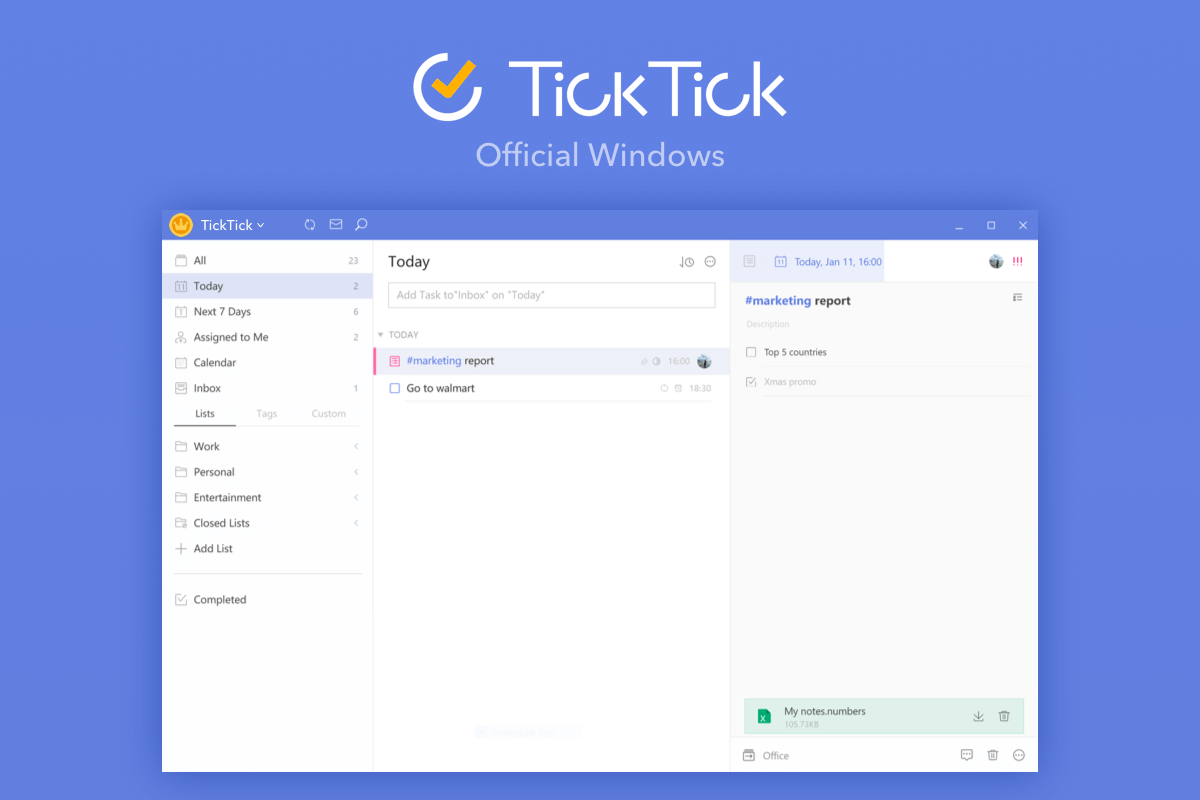 TickTick is a strong contender as a cross-platform app, which helps a user collaborate well with a to-do list, along with other smooth features that enhance a person's work performance.
Ultimately, TickTick is a good app but there are too many limitations on its free version to make long-term use. It wouldn't be right to completely downplay the free app, because it is a promising app with room for better development.
Features
With flexible views of calendars, you can more easily test and monitor your schedules with five different views of the calendar.
Tasks can be added quickly and with ease. Now you can seamlessly add in voice input, convert emails into tasks, and use Siri, widgets, and Quick Ball.
You can apply smart date parsing and not have to worry about missing a deadline. It also has features such as; task duration, multiple reminders, location reminders, and recurring tasks.
It also helps you set and pay attention to your goals with the use of a Pomodoro timer and White noises.
Teamwork is made easy with the help of sharing lists, assigning tasks, task activities, and list activities. The best part is you can collaborate with anyone!
Once you enable the time zone option in the settings you will never get lost in time.
Sleek & exquisite interface, In addition to enriching your screen, TickTick will also make you less stressed.
Swipe for quick actions, you can organize tasks easily with quick actions without entering the task information page.
Pricing
TickTick offers a Free account, as well as a Premium plan at $2.79/month or $27.99/year. The Mac app costs $2.99/month.
---
Supported Platforms: Web, iOS, Android, Mac
Price: $99 per month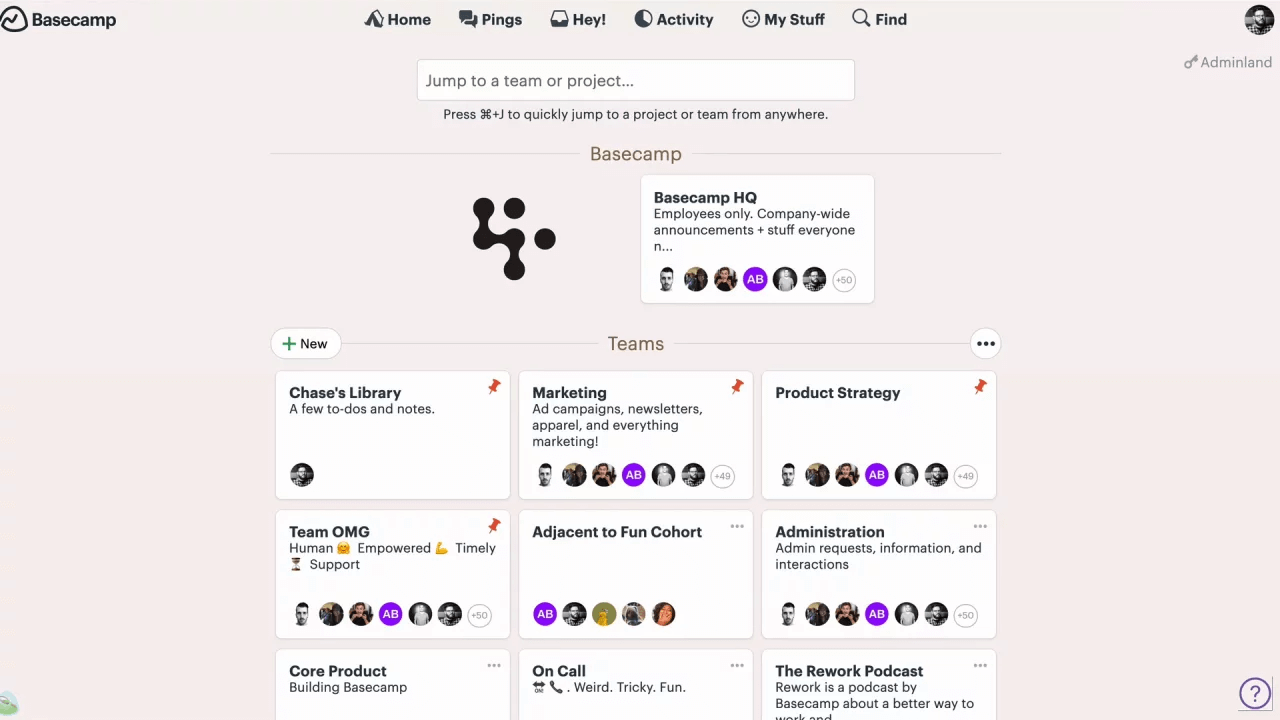 As a reliable service with easy setup and fast learning time, Basecamp is cloud-based and one of the most popular online project management apps out there. It is normally used as project management and collaboration tool, and it is ideal and recommended for small businesses.
Many software shops, design companies, freelancers, consultants, etc. have moved to Basecamp to substantially improve their project workflow and make it stand among the best apps to manage to-do lists.
Features
Simple view: Creating a project is very easy. The notepad creates a page sheet when a project has been initiated, allowing the user to do the following:

Add team members: Project team members can be added, along with their information as project manager. Customer team members can also be added.
Add project administrator: Team members can be designated administrative roles making it easier to hand in the Basecamp project seamlessly.
Create to-do lists: In the project, tasks can be created. Due date and an individual can be assigned to the assignment. Basecamp can be used to assign tasks and provide the designated person with all the relevant information needed about the task, all of this can be done by sending them an email.

Hold discussions: You can create topics for discussion, add material with attachments, and submit the project to people. They can express their opinions.
Manage project calendar: The calendar for the Basecamp is quite detailed. Projects, activities, and deadlines can be seen from one perspective.
Track milestones: Milestones can be combined with that-dos to show the activities that must be performed to achieve a milestone.
Have different project views: The calendar view enables dates-based tracking of activities on a list. Another view shows the users and their activities. There is also a feature that shows a third view of how things look when they are open and closed.
Pricing
Basecamp comes with a Standard plan free of cost with 3 projects, 20 projects, and a 1 GB cloud storage space limit.
For Businesses, the cost is flat and a fixed fee of $99/month or $999/year. The package includes unlimited users and projects.
For Non-profits and charities, a 10% discount is applicable.
---
Supported Platforms: iOS, Mac, Web
Price: $49.99 (one-time purchase)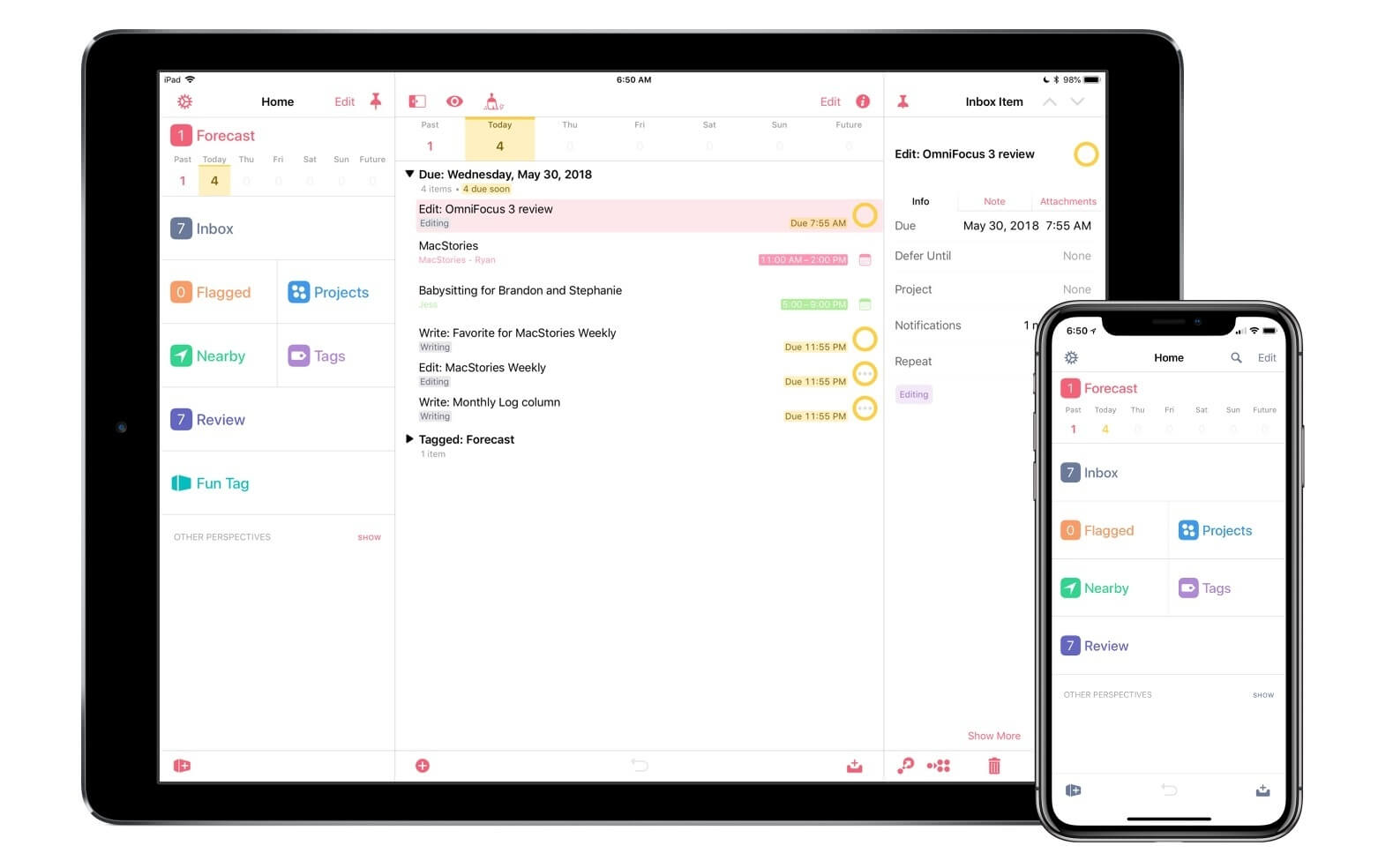 OmniFocus 3 is a powerful GTD framework that enables actions to be generated and tags to be classified by category. It can also be used as an app for project management and offers the amazing features mentioned below.
The features you choose to create the functions can be grouped into actions to aid you in managing the current projects being worked on.
This feature comes in customizable sections. It also comes with a feature that allows you to create sub-projects within the projects, set up checklists, and notes as attachments to them individually. You can also use color code for easy organization and access to tasks.
However, OmniFocus3 does not allow nor support collaboration, because it isn't cross-platform letting users connect. There is a similar app that costs a lot less than OmniFocus3. Meanwhile, it also stands among the best to-do list apps for iPhone.
Features
Tags lets you add context and are another way of filtering and sorting tasks.
A great feature of GTD is custom perspectives. There is a custom view of tasks that can be created and saved after they meet the task management criteria.
We found that OmniFocus was not as easy to use as other to-do applications, including Todoist, when it comes to creating fast entries. Command+n starts a new blank job, okay, but when it comes to adding information, the correct fields must be tabs or mouseover.
OmniFocus has a few cool features that are more suited for GTD. For example, Focus Tabs can be created, which view only the tasks that the user can see displayed as separate tabs in the app window.
There is a forecast tab that lets you see and keep tabs on projects that are overdue or due soon. It also allows the user to keep a check of how many tasks are due on a mini calendar and of any impending deadlines.
And a few brand new features: Summary View, Thumb Nav, and a suite of extra goodies.
A flexible Inspector has a lot of the same details from version 2, but it can now be personalized. This feature lets the user customize the data fields as they want to see them and choose the function for their ease.
Pricing
OmniFocus users now have the option of purchasing an OmniFocus Pro subscription for $9.99 monthly or $99.99 annually. Using an Omni Account, users can sync their data on Mac, iOS, and Web simultaneously.
Stand-alone apps:
Mac only – $99.99 for Pro, and $49.99 for the Standard plan.
iOS only – $74.99 for Pro, and $49.99 for the Standard plan.
Web add-on – $4.99 per month, or $49.99 per year. An existing license for Mac or iOS is required.
After paying for the OmniFocus app for iOS Mac (or both), there is an additional cost for the web service which is $4.99/month.
---
Supported Platforms: iPhone, iPad, macOS, WatchOS
Price: $1.49 per month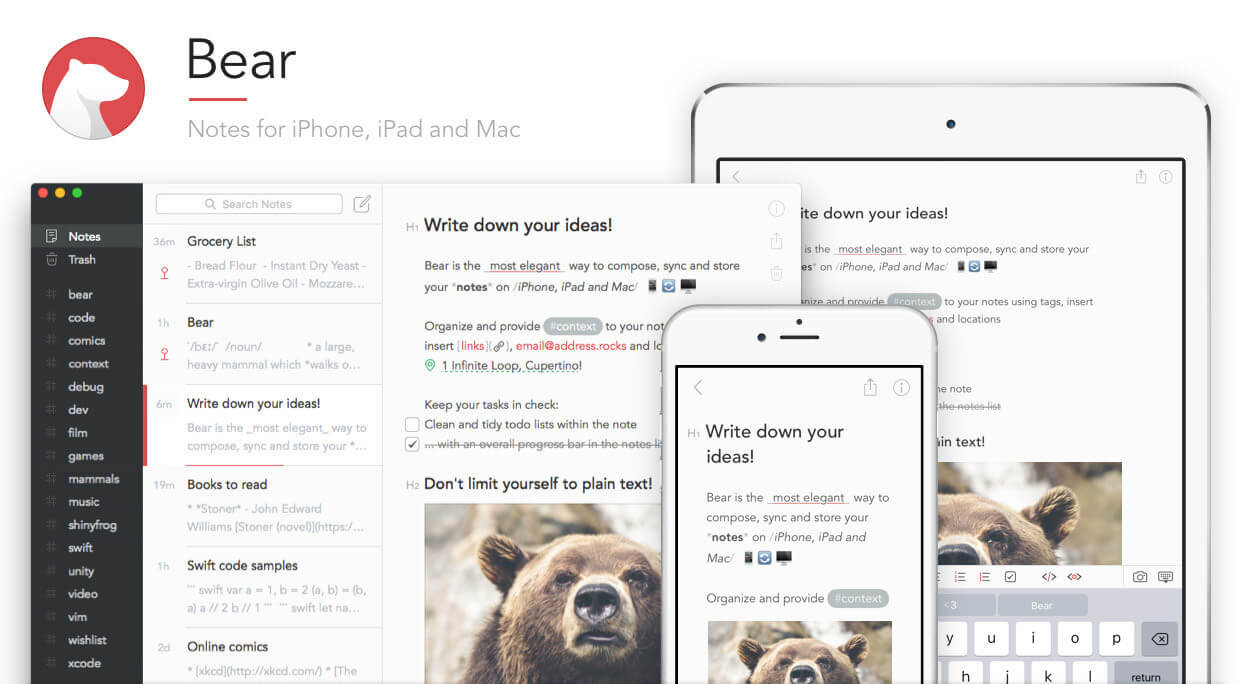 Bear is a nice, versatile writing software for notes and prose development. One of the most attractive and the best to-do list apps for Mac and iPhone. Unfortunately, there is no app for Android developed just yet.
The aesthetics of this app are simple, since it gives the user an easy-to-use simple page without any interruptions to make lists, notes, or plan the day. There are different inline styles to apply and get creative with the text.
The Bear app gives the user the beauty of simplicity to become productive by giving them plenty of functions all while the workspace is clean and unpretentious in the focus mode where it is easy for the user to focus on getting things done.
Features
A focus mode helps you to focus, and advanced markup options are the best friend of an online writer. Total in-line picture support gives life to your writing.
Contains various pleasant themes, font styles, and a Dark Mode. This app makes the user's published piece of writing look impeccable before and after it has been broadcasted.
Bear Pro has a bonus, which keeps the data of individual notes safe under lock and key from the roving eye by encrypting them.
Edit and export Simple tools from Bear take the effort to write. This is helpful especially when the user needs to meet a specific word count, reading times, or convert the written piece to PDF and Word docs.
There is also smart data identification of links, emails, addresses, colors, etc.
One-tap iPhone and iPad setup with a custom shortcut bar and plentiful keyboard shortcuts.
Use Cross-Note Links to outline work, easily connect other notes, etc.
Hashtags to identify and organize notes easily.
Focus mode conceals notes and other choices when necessary.
Pricing
The Bear app has a variety of features that are free to use on Mac, iPad, and iPhones. The user can create notes, add tags and attachments, and export them to different formats.
The Bear Pro version offers advanced features, such as; syncing all of the user's devices, more than a dozen beautiful themes, and far better export options. More Pro features can be unlocked with a single in-app subscription, which ensures all your devices.
The Bear Pro subscription has two options:
$1.49 per month, inclusive of a one-week free trial.
$14.99 per year, inclusive of a one-month free trial
---
Supported Platforms: macOS, iOS, Android, Windows, Web
Price: $5 per month
Check out our top picks for the best Trello alternatives.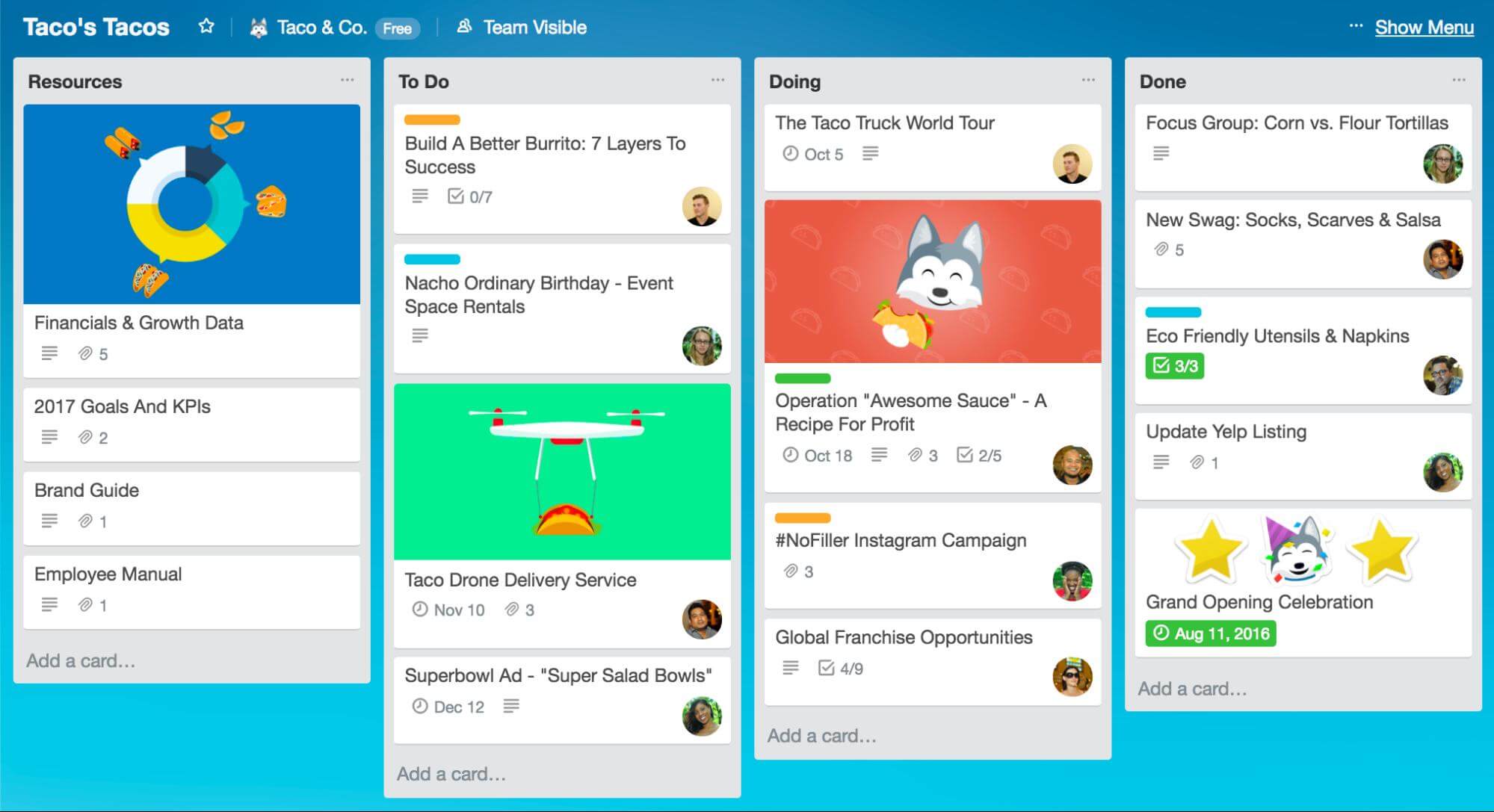 Trello is a visual resource to coordinate your life and work. There are more than 35 million registered users of the Trello app. Trello is popular for being among the ones offering outstanding features in the best free to-do list apps.
Whether you are planning a website design project, a holiday, or an off-site service, Trello is infinitely customizable and scalable to satisfy your every need. Trello is a forum for project management that helps people and teams to work together better and organize their tasks.
Features
Integration with an unlimited number of apps (via Power-Ups). The types used are; Salesforce, Slack, Google Hangouts, GitHub, and Evernote, just to name a few.
The file attachments can yield up to 250 MB.
The extended features are; the ability to add files, comments, or emojis to discussions, and tag certain team members inside the comment.
There are added security measures that are featured, such as:

Restrict membership invitations, remove former employees from the account, set access to observer-only for clients or external team members, etc.
Users can also take control of which person has access to create private or public boards.

Custom branding can be done with the help of board backgrounds and stickers.
There are a variety of sorting options, for example; setting members alphabetically or by recent activity, etc.
Team data can be exported with just one click.
Notifications can be set on any device at any time.
Trello's ability to create cards and add comments via email is another notable feature. Users can send attachments or reply to emails without logging in to Trello.
Pricing
The Standard plan is free of cost
Gold: $5 per month, or $45 per year, provides access to additional features, e.g. three power-ups/ board, saved searches, top-quality stickers, custom-made backgrounds, and up to 250 MB attachments.
Business Class: $9.99 per user/month (if paid annually), all Trello Gold features plus various business-oriented features. Subscription users are allowed an unlimited number of power-ups to the boards.
Enterprise: costs are tiered and differ according to the number of users. Businesses that have broad requirements are recommended to opt for Trello's Enterprise plan. This plan features that are designed for large companies, which have to collaborate with multiple teams on large-scale projects.
---
Supported Platforms: Android, iPhone, iPad, Web
Price: $4.99 per month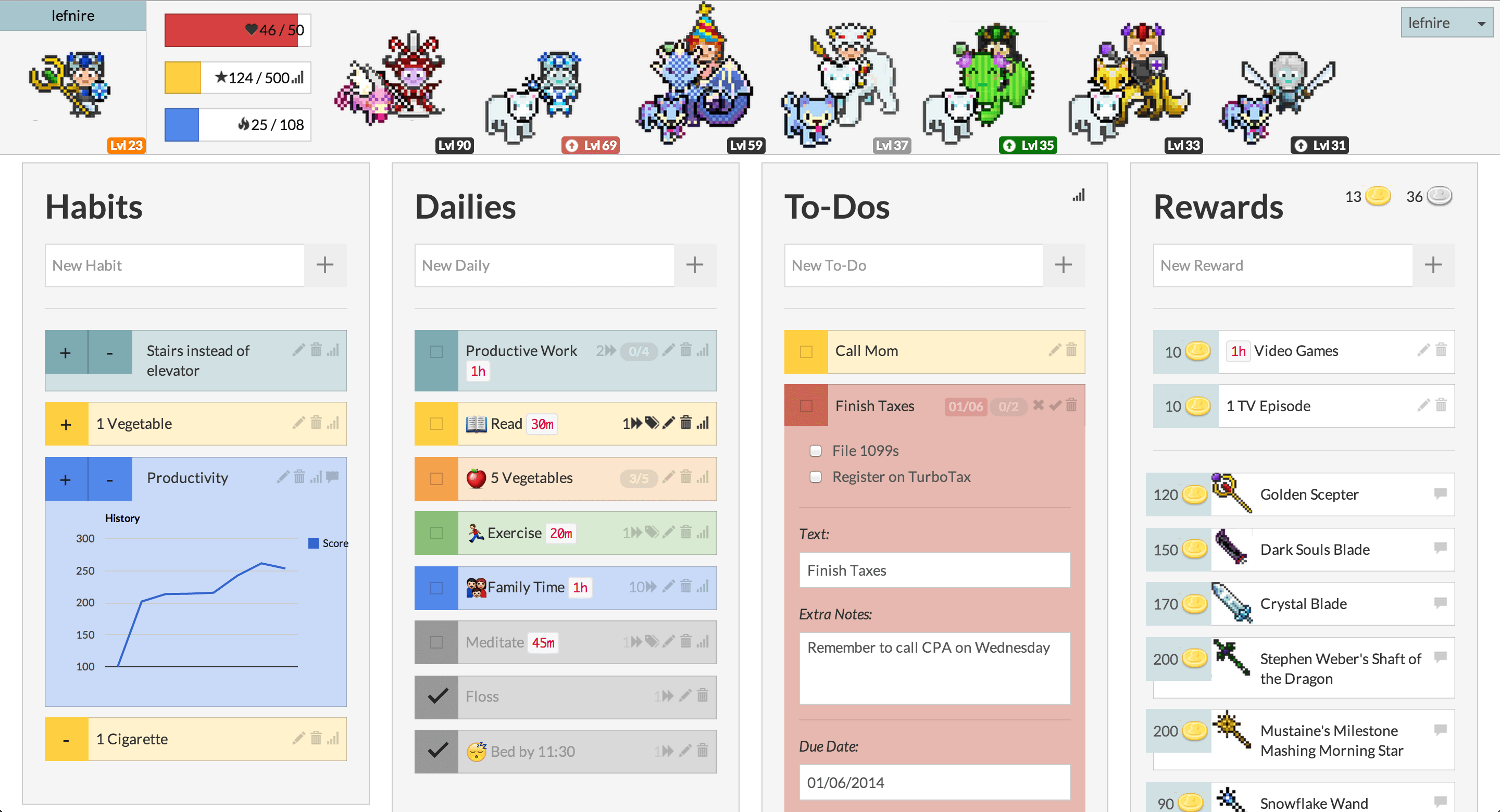 If you're game-prone and like to do things in a fun way, you are reached the right place. Habitica is an application that will view your real life as a game for action and productivity building. Habitica will help you make your goals secure. To inspire you and a strong social network to empower you with in-game rewards and punishments.
Type your Habits, Daily Objectives, and To-Do list, and then create a personalized avatar.
An excellent source to compel yourself to do anything; versatile, interactive, and enjoyable. You will love a fully customizable task list that helps to form Habitica to fit your personal goals.
This app is even better to use with teammates or friends onboard that help you tackle problems. You can battle bosses together, but be careful: failure to complete any tasks on time will hurt your mates.
Someone having your back through thick and thin is something that can inspire you.
But wait what's the downside? It is not an ideal to-do list app for long-term project management so you might need to try some other app in the blog. But if your problem is motivation, then Habitica is well worth a spin.
Features
Track your habits and goals. With seamless mobile apps and web interfaces, the user can stay accountable by checking and regulating habits, daily goals, and to-do lists.
Users can earn rewards for the set goals, and look into their avatar-level tasks. Features can easily be unlocked, such as; battle armor, game quests, mysterious pets, and a variety of magic skills.
Battle monsters with friends, Battle other Habiticans with monsters! Purchase in-game or custom bonuses using the gold you receive.
Achievement: game incentives to complete tasks and big milestones keep you focused on improving your goals in real life.
Adventure and advancement: Continuous positive performance of activities includes standards and resources. Level progression will unlock extra game features and level-specific quests.
Shared quests: many types of quests enable you to do your Dailies or damage all your mates, building up to a stage of co-responsibility.
Common-Interest groups and challenges: Using Habitica can help you find people of the same mind. Specified challenges can be added to the task list and help you reach your goals. Enter guilds and converse with people around the world.
Pricing
The paid subscription has a perk, more gems can be purchased for gold as the length of the subscription increases. The Standard plan is free.
There are four types of tenures available with the Premium Habitica subscription:
$4.99 every month
$14.99 every three months
$29.99 every six months
$47.99 every year
---
Supported Platforms: Android, Windows, Web, iPhone, iPad
Price: Free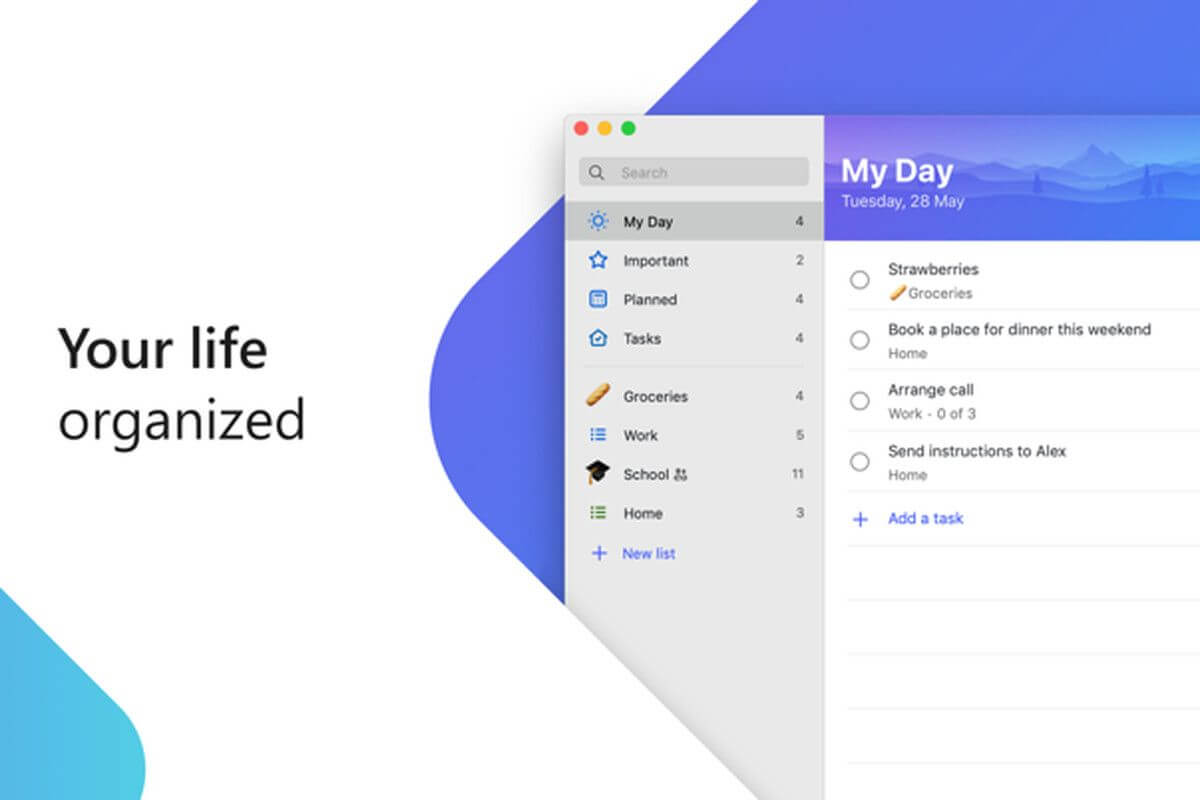 Microsoft To-Do is a perfect task manager and to-do list planner for your needs, whether it's work, school, or elsewhere. It has an elegant user interface that takes only a few seconds to set up.
If you're an avid user of Office 365, this to-do list app is great for you. You can easily create your regular to-do list from scratch or import it directly from other apps, such as Outlook and Wunderlist. Via the My Day list, you can easily identify and prioritize your everyday errands as a matter of urgency.
The software synchronizes very seamlessly across platforms. This makes it easy for you to move and work from anywhere between your apps. If you still haven't decided on which best free to-do list is right for you, you better consider this free app.
Features
A daily planner personalized with suggested tasks: My Day and to-do lists are accessible anywhere, on any device.
Share lists with your team, relatives, bosses, and classmates and delegate tasks.
The feature of task management divides your tasks into manageable steps.
Use the To-Do widget to add reminders, tasks, and lists.
Reminders with one-time or recurring due dates. And Attach up to 25 MB of files to any task. Office 365 integration Sync reminders and task lists between Outlook and To-Do. Also, multiple Microsoft accounts can be added.
Make lists of tasks and switch between the lists of school, work, and personal.
Microsoft 365 stores lists and activities with encryption.
Task lists are compiled from Microsoft 365 apps and services.
Pricing
Microsoft To-Do is completely free to use.
---
Supported Platforms: Web, iOS, Android
Price: $10.99 per user/month
Check out our top picks for the best Asana alternatives.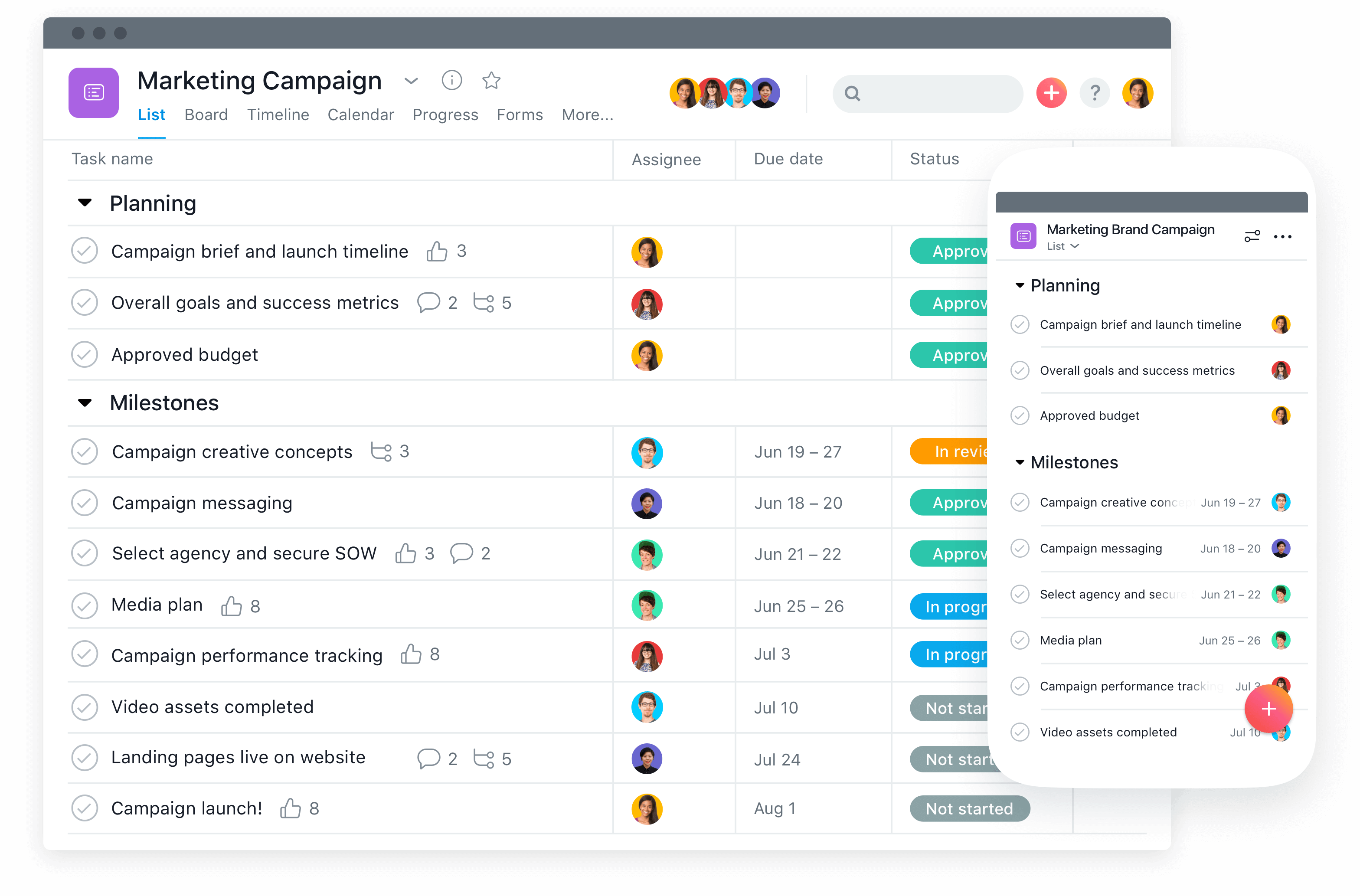 Asana is a robust collaboration tool for task management that allows teams to organize their projects and tasks. It is a collaborative application that encourages openness and transparency.
The app also allows users to focus on their business objectives and goals.  Productivity enthusiasts love Asana—and for good reason. This is why it is on the list of best apps to manage to-do lists.
This online team collaboration platform focuses on process management but it also tackles task management nitty-gritty with aplomb.
Asana comes with an easy-to-use, beautifully designed interface and smart features, so people can share plans, communicate in real-time, track progress, and gain insight from views and reports.
Features
Projects: Make a success of each mission. Map every move and arrange in one place all the specifics of your work.
Boards: Visualize the work you do. Move work quickly, comfortably, and beautifully through multiple stages.
Use a timeline to create a plan that will show you how your project's pieces fit together and help you keep track of things as they shift.
Automation: simplify workflows, reduce mistakes, and save time to solve more important problems.
Calendar: nail your schedule by viewing a calendar of work. Find holes and overlaps easily in your schedule and make adjustments quickly.
Portfolios: See how all your ventures are going with Portfolios in real-time. Enabling you to proactively fix challenges and track stakeholder updates.
Workload Management: Manage the workload for your squad. See how busy team members are, all in one view, across projects.
Integrations bring emails, files, tickets, and more to Asana with more than 100 integrations to choose from. So you can see it all in one location.
Pricing
Basic – Free to use, tasks, List/Board/Calendar views, assignees, due dates, and more
Premium – $

10.99 pe

r user/per month

(

billed annually), timeline, advanced search & reporting, custom fields, forms, milestones, and more

Business – $24

.99 pe

r user/per month

(

billed annually), portfolios, workload, custom rules builder, proofing, lock custom fields, and more

Enterprise – contact sales for inquiry

,

SAML, user provisioning & de-provisioning (SCIM), data export & deletion, and more
---
Supported Platforms: Web, Android, iPhone, iPad
Price: Free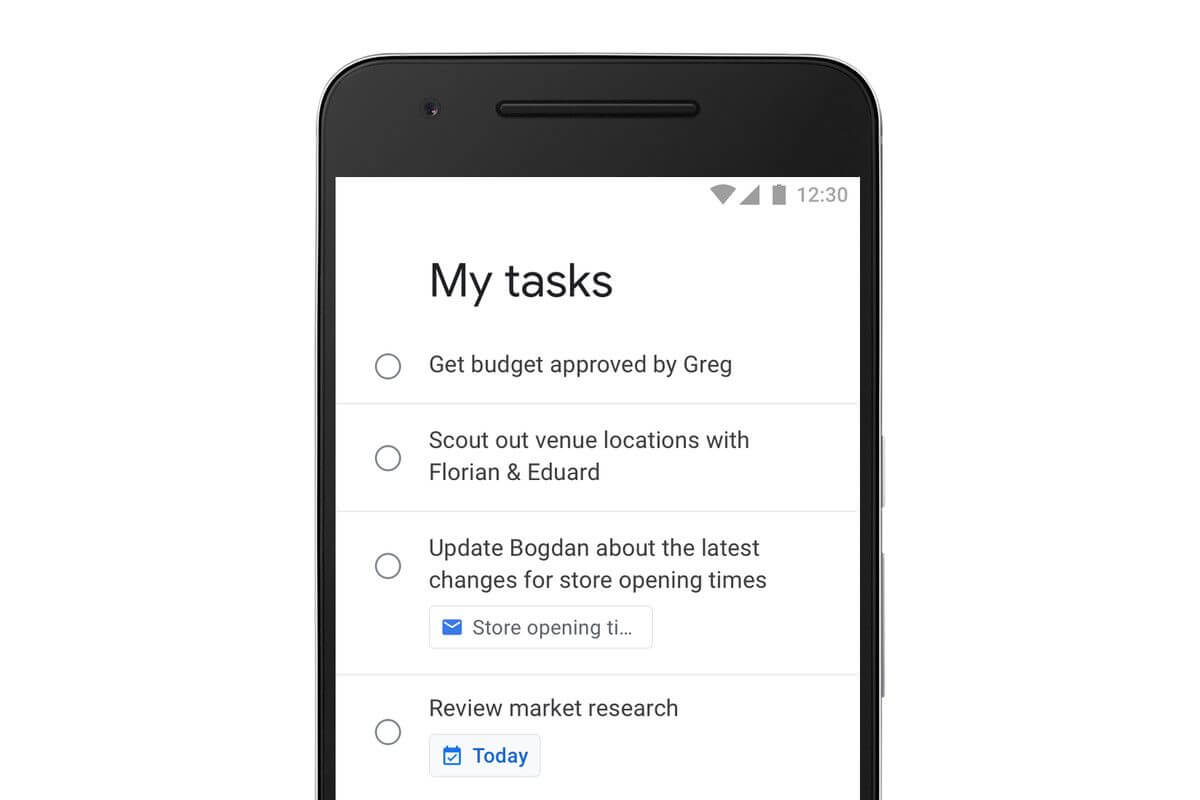 What could bring more Android stock experience than the task manager of Google itself? If you are looking for easy, minimal design, and clear functionality, Google Tasks it is.
Integration with Gmail and Google Calendar makes it a powerful tool and enhances its functionality. These features make the app stand out among the best apps to manage to-do lists. It synchronizes seamlessly across all your Android devices.
It also offers the most stock-based Android experience on any one-to-do list app which makes it stand among the best to-do list apps for android.
Features
Create multiple lists: To open a dropdown menu, tap on My Tasks at the top of the window. Select create a new list and enter a list name. Tap Start. To fill in your list, select add a task.
Renaming lists: Select 'More' (three-point icon) and choose the Rename folder.
Move the task to a different list: Right-click on the task and choose Moving from the menu to another page.
Export current Google Calendar reminders by clicking more. Choose Task reminders to export.
Filter your lists of to-do. You can filter your lists by the order you made or by the date you made them.
View tasks created from emails, and generate a task directly from an email in Gmail. View your tasks in Gmail's side panel-Return a task to your source email.
Part of G-Suite — Bringing Google's suite of powerful, smart apps to your business. Use Google's AI to bring data insights and analysis to every employee. Connect easily to your team with one suite: Gmail, Tasks, Calendar & more.
Pricing
The Google Tasks to-do list app comes free with a Google account.
---
Supported Platforms: iPhone/iPad
Price: $2 per month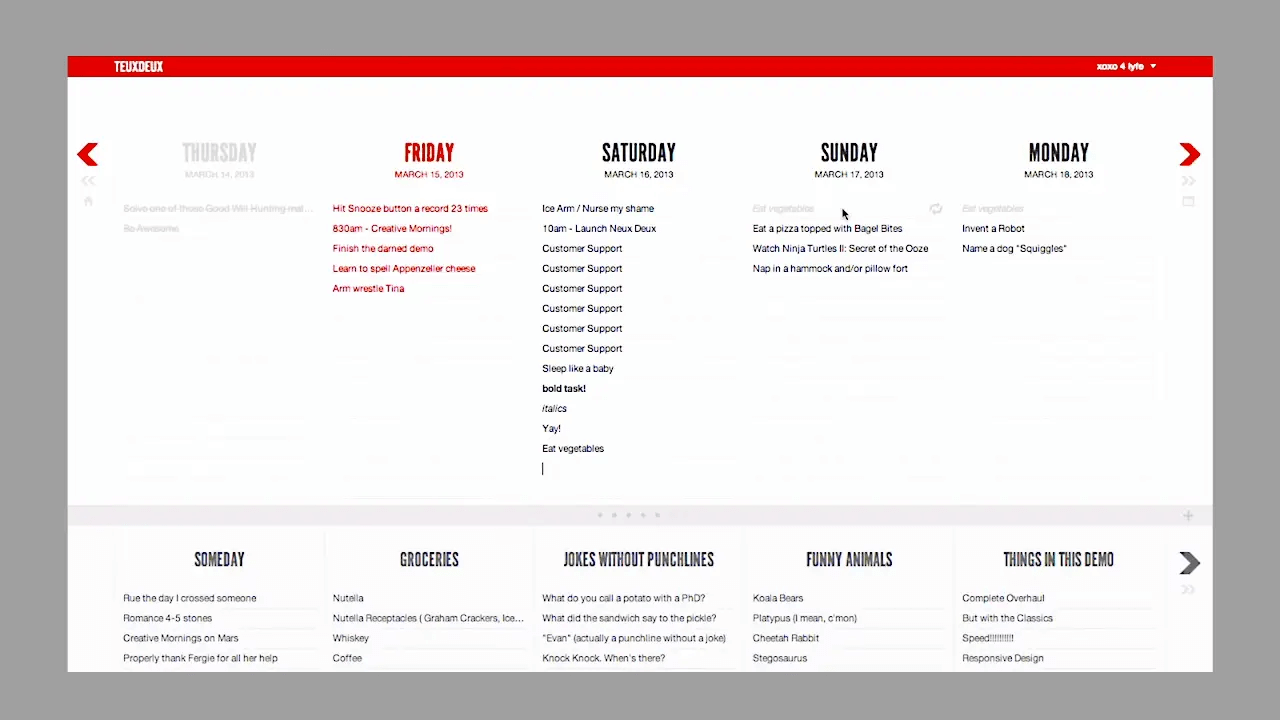 TeuxDeux is the last one of our blog's best to-do list apps. Rather than adding any task management feature in the app, the emphasis is only on managing a to-do list. Clear and clear, TeuxDeux makes sure that while doing things, you're not frustrated.
If you're traveling all the time and you don't want to miss your work, TeuxDeux mobile app will take care of it. The app is designed to connect tasks for iOS users.
Features
Build and delegate assignments and set due dates for your team.
You can rank the tasks as required according to your project.
To plan any project, add many users to one project.
Make discussions in the comments section for any confusion and progress-related issues.
Easy drag and drop and text formatting functionality to add to-dos in lists.
Recurring reminders of to-dos and Effortless to-dos access.
Roll forward function that moves tasks today to the next day if missed.
TeuxDeux week interface: You can look at past activities and see what to do or plan. TeuxDeux is a weekly to-do list, but there's something you don't have to do right away, but you want to recall it. In this case, at the bottom, you can use the section "Someday."
Pricing
You can try TeuxDeux free for 30 days, after which, the Believer plan is available at $2 per month, paid annually.
---
Supported Platforms: Windows, macOS, Android, iPhone, iPad, Web
Price: Free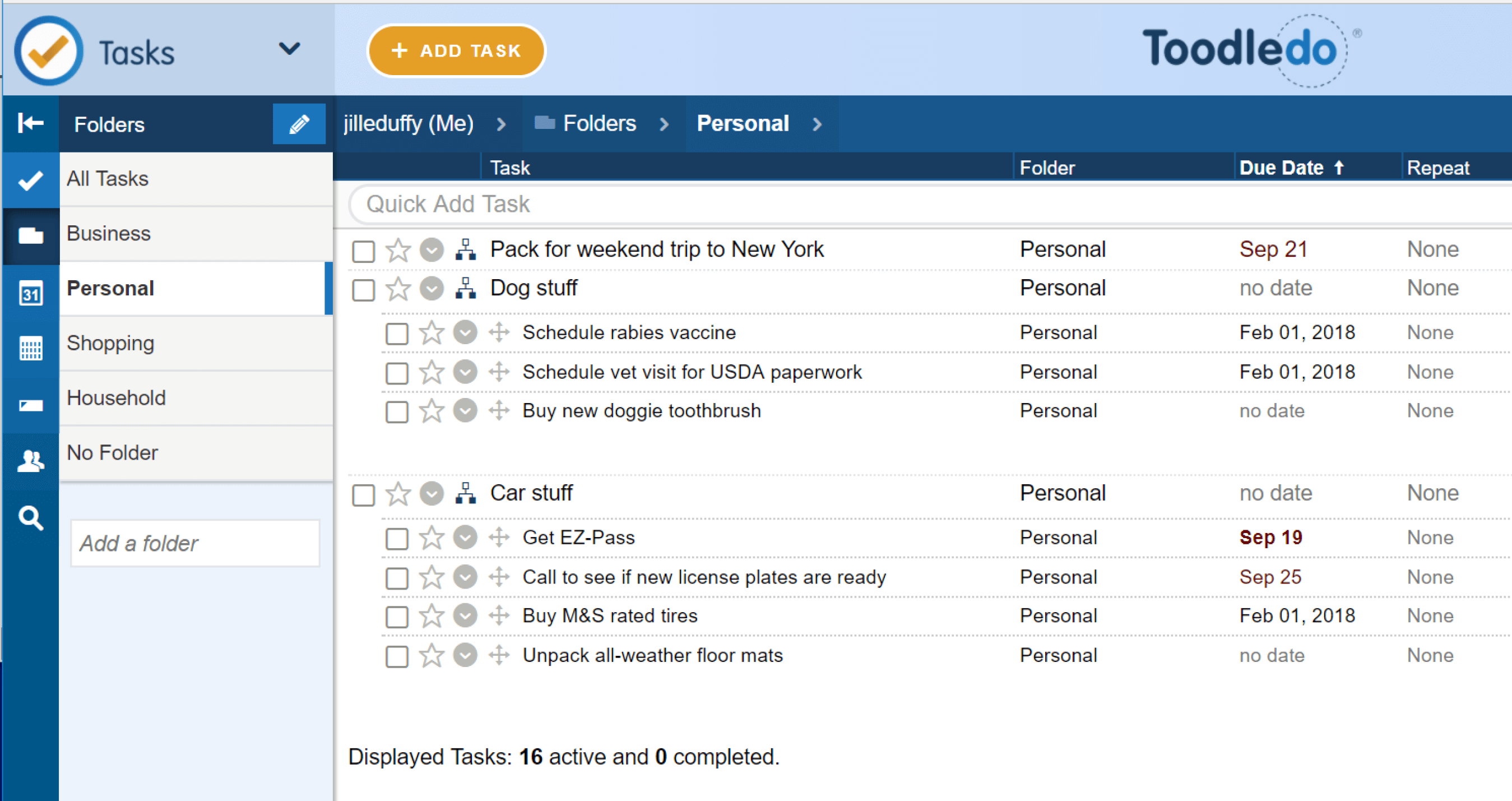 One of the best to-do list apps, ToodleDo helps you manage tasks efficiently. Its effective tools serve the purpose of organizing, productivity, and collaborating. It helps you organize tasks, set goals, and get timely reminders to enhance productivity.
ToodleDo also allows you to work in teams which makes it one of the best to-do list apps. On top of everything, ToodleDo allows you to manage your data, without much trouble, through easy sync between devices.
Features
The features of ToodleDo are divided into four categories:
Task organization: Its task organization features make ToodleDo one of the best apps to manage to-do lists. The features include folders, tags, subtasks, priority, context, and repeating tasks. It also gives you the ability to assign stars to important tasks.
Productivity tools: It provides a lot of productivity tools that form the hallmark of the best to-do list apps. The features range from a Calendar and alarm clock to goal setting and time tracking.
Collaboration: Features like workspaces and the ability to share and assign tasks, make ToodleDo one of the best to-do list apps available for teamwork.
Data management: Easy sync and import/export from third-party apps make it very easy to manage data.
Pricing
ToodleDo is a free app, but it offers an additional feature of Sound Pack for $0.97. The Sound Pack contains 30 high-quality sounds that can be used as task alarms.
---
Supported Platforms: Windows, macOS, Android, iPhone, iPad, Web
Price: $4 per month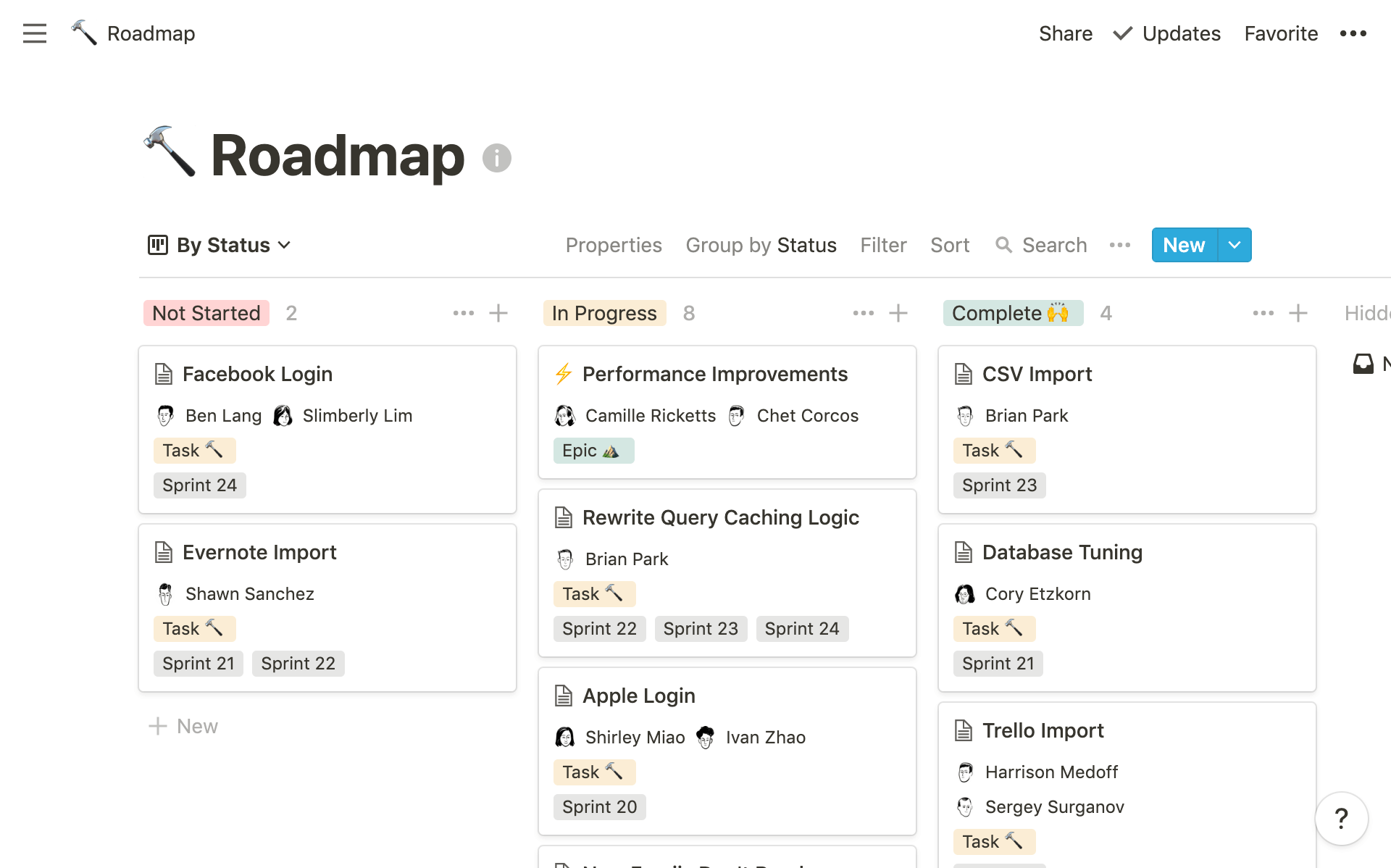 With effective tools for both teams and individuals Notion has made its place among the best to-do list apps. You can use it to organize your notes, manage your tasks, and work effectively in collaboration with other people.
The lightweight CRM and elaborate databases allow you to analyze your work and your team's work. The amount of content that can be uploaded is limited in the free version and unlimited in paid versions.
Features
It allows you to create notes and docs with 30+ media types. The interface disappears as you type, providing you with a distraction-free writing experience.
Acts as a knowledge database making it easy to share and search for knowledge across the organization.
Allows you to create projects and assign tasks which makes it great for teamwork. It also enables you to interact with team members in real time.
With desktop push notifications you can stay updated with new developments.
The lightweight CRM makes it easier to manage teams. Databases and spreadsheets give valuable insights into the workflow.
Pricing
Free: You can add unlimited members and guests. The amount of content (also referred to as blocks) you can add is limited to 1000 blocks and the size of each must be 5MB or less.
Personal: This plan is tailored for personal use (there can be unlimited guests but only you can be a member.) Available at $4 per month, in this version, there is no limit to the number or size of the blocks.
Team: This package is available for $8 per month and per member. You can add an unlimited number of members, guests, and blocks. Advanced admin tools and permissions are available.
Enterprise: The sales team will create a personalized pricing plan based on the size of your company and the features you are interested in the most.
The number of members, guests, and blocks that can be added is unlimited. Advanced permissions, a dedicated manager, and admin tools are available. Any past version of a Notion page can be restored at any time.
---
Supported Platforms: Android, iPhone, iPad, iPod Touch
Price: $9 per month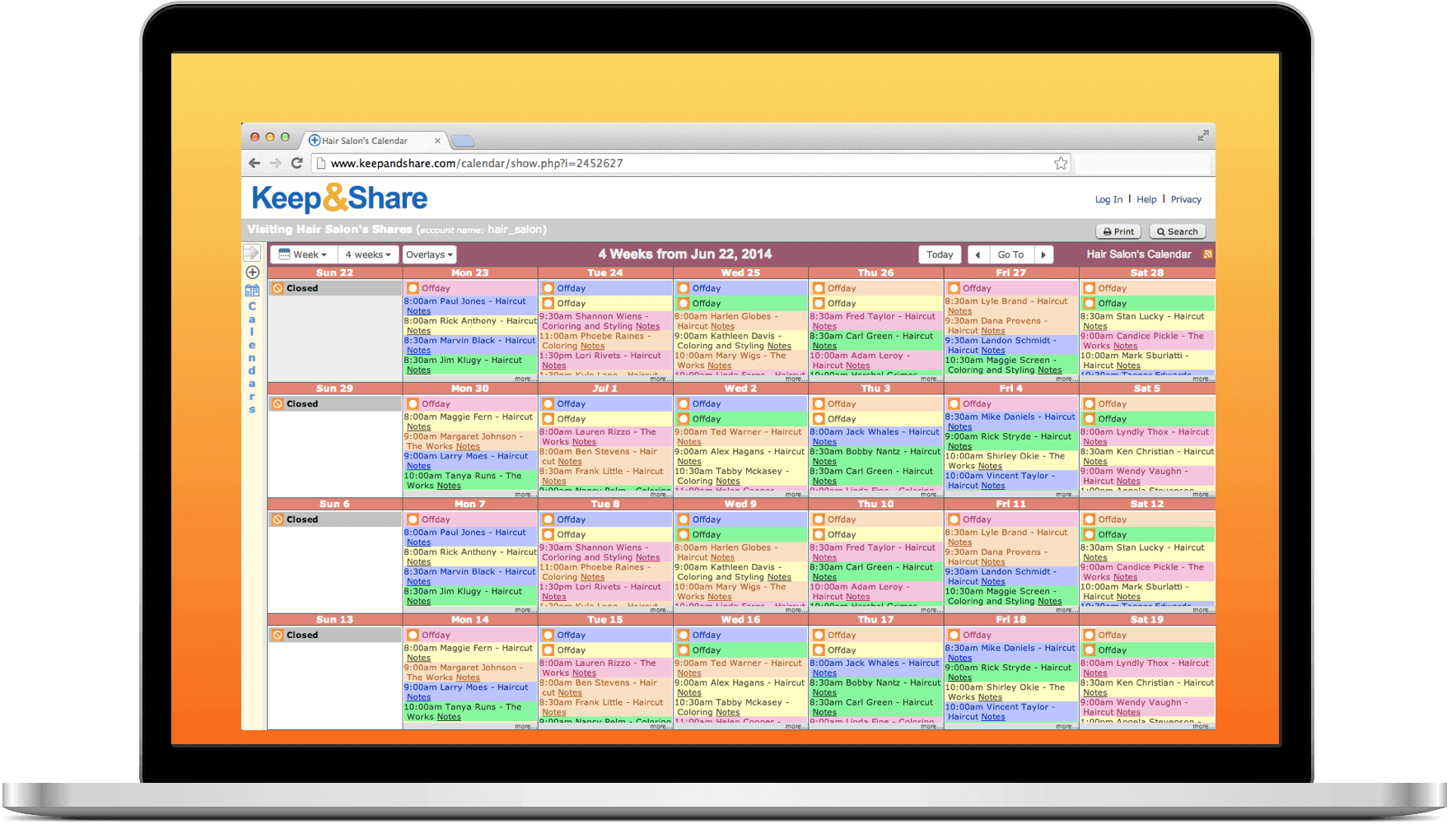 This is a calendar app that allows you to stay organized by giving you the ability to add events, addresses, and photos to your calendar.
The app has different versions to choose from depending on whether you want to use it as an individual or you want to add your whole team to it so that you can schedule things together in one place.
Features
As the name implies, the Keep and Share calendars are shareable which makes it easy to coordinate with other people.
Email and text reminders make sure that you do not miss out on anything.
Extensive color coding makes organization easier.
Features like event tags and the ability to add images make the calendar very customizable.
It also allows you to save addresses and photos.
Pricing
Keep and Share is one of the best free to-do list apps but its paid versions are also available.
Basic: This plan is free. It allows up to 500 calendar entries, 1 calendar, 2 event tags, 100 addresses, 500 photos, and 50MB files. Edit rights cannot be received or given in this version.
Solo: This is available for $9 per month. It allows 3000 calendar entries, 5 calendars, 8 event tags, 5GB files, 5000 addresses, and 12500 photos. Edit rights can be given to or received from other paid accounts.
Team: This plan allows you to add multiple users and form a team. The pricing depends on the number of users in the team. A 3-user team will be charged $19 per month and a 50-user team will be charged $149 per month.
Add-Ons: There are 3 expansion packs available as add-ons for any of the plans. The prices are $9, $19, and $29 per month.
---
Supported Platforms: macOS, Android, iPhone, iPad, Web
Price: $4.99 per month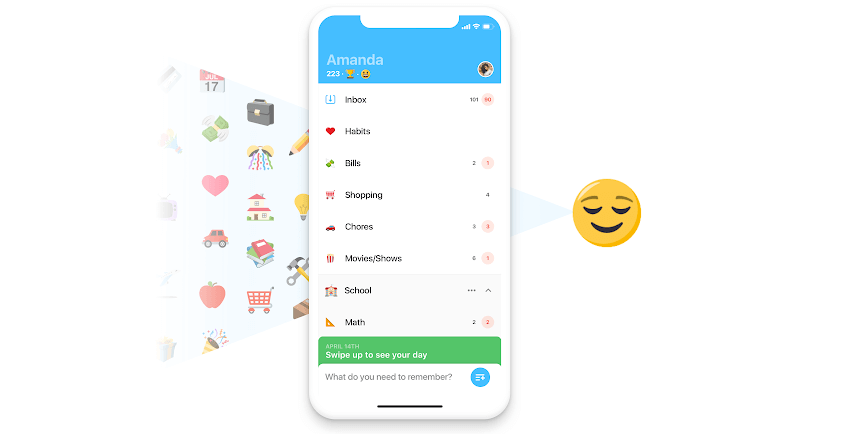 WeDo is one of the best to-do list apps for Mac and is also available on other platforms. It provides you with an easy-to-use interface and allows you to create, organize, and share your data with others.
Productivity tools like reminders, time tracking, and due dates help you stay right on track and keep your vision clear.
Features
It enables you to create notes, add habits, and organize your data entries into folders.
Notifications, reminders, time estimating and due dates are provided to allow effective time management and planning.
Subtasks and priorities aid in working out a plan of action
The app allows you to upload files and attachments.
The sharing feature allows you to share your lists and notes with your friends, family, and colleagues.
Pricing
Free: The core features of the app like reminders, habits, and subtasks are available for free.
Premium: A monthly payment of $4.99 ($3.99/mo. if paid annually) allows you to enjoy the app ad-free. It also provides some additional features like habit targets, insights, and A-Z sorting.
Lifetime: This plan requires a one-time payment of $159.99. With this plan, all the features of the app will be available for a lifetime.
---
Supported Platforms: Windows, macOS, Blackberry, Android, iPhone, iPad, Web, Linux
Price: $39.99 per year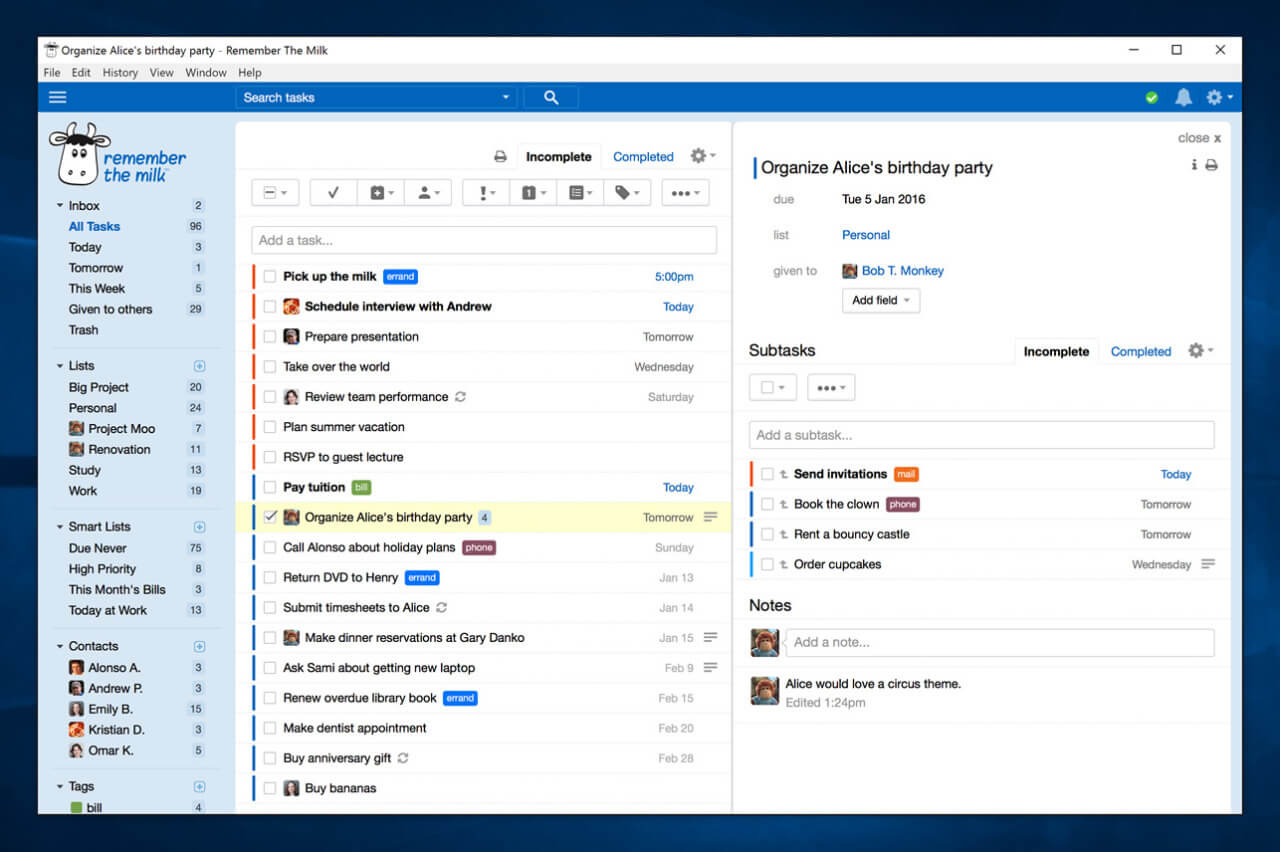 Remember the milk is a very simple to-do list app with features such as reminders to help you stay active and productive.
The basic free version should work fine for anyone in want of a simple use to-do-list but if you are looking for customizations and more advanced tools you might want to upgrade to the paid pro version of the app.
Features
It allows you to create a to-do list for the tasks you do not want to forget.
Reminders make sure that you do not forget anything.
The sharing feature can help others know what is on your to-do list. It also enables you to divide your work by assigning some of the tasks to others.
Your data is automatically synced to all your devices.
Advanced A to Z sorting and color coding allows a better organization.
It also allows you to attach files to your tasks making the experience more personalized.
Pricing
Basic: The basic version is free making this app one of the best free to-do list apps.
Pro: The pro version is available for $39.99 per year. Among other features, this version comes with advanced permissions, customization, and sorting.
---
Supported Platforms: Android, iPhone, iPad, Web
Price: Free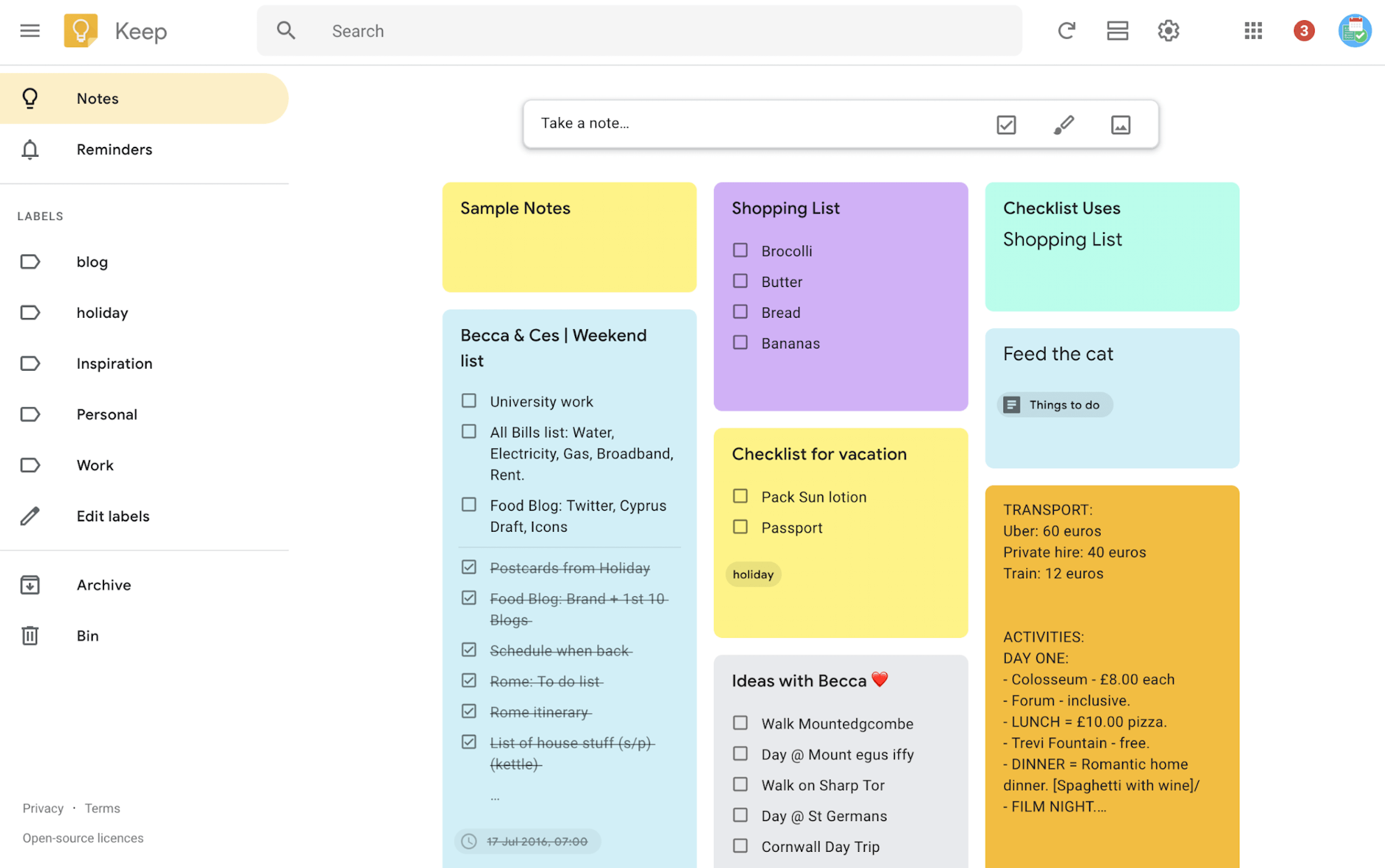 Google Keep is one of the best to-do list apps with a very easy-to-use interface. When it comes to managing day-to-day notes and keeping task lists, Google Keep can come in handy. It has all the core features that one needs in a basic to-do list app including reminders and the ability to attach images.
One of the features, that is not present in many apps is the ability to draw. With an easy user interface and data sync across devices, Google Keep has the potential to be your go-to app for basic organizing.
Features
It allows you to create notes and lists.
The notes and lists can be color-coded for better organization.
The feature of labels also allows for better organization and sorting.
Auto-sync to devices keeps you in touch with your data everywhere.
Reminders keep you from missing out on things you need to do.
The ability to make drawings and attach images allows for a more personalized experience.
Pricing
If you are looking for the best free to-do list apps with no add-ons, Google Keep is the one. All features are available for use for free.
---
Supported Platforms: iPhone, iPad
Price: $2.99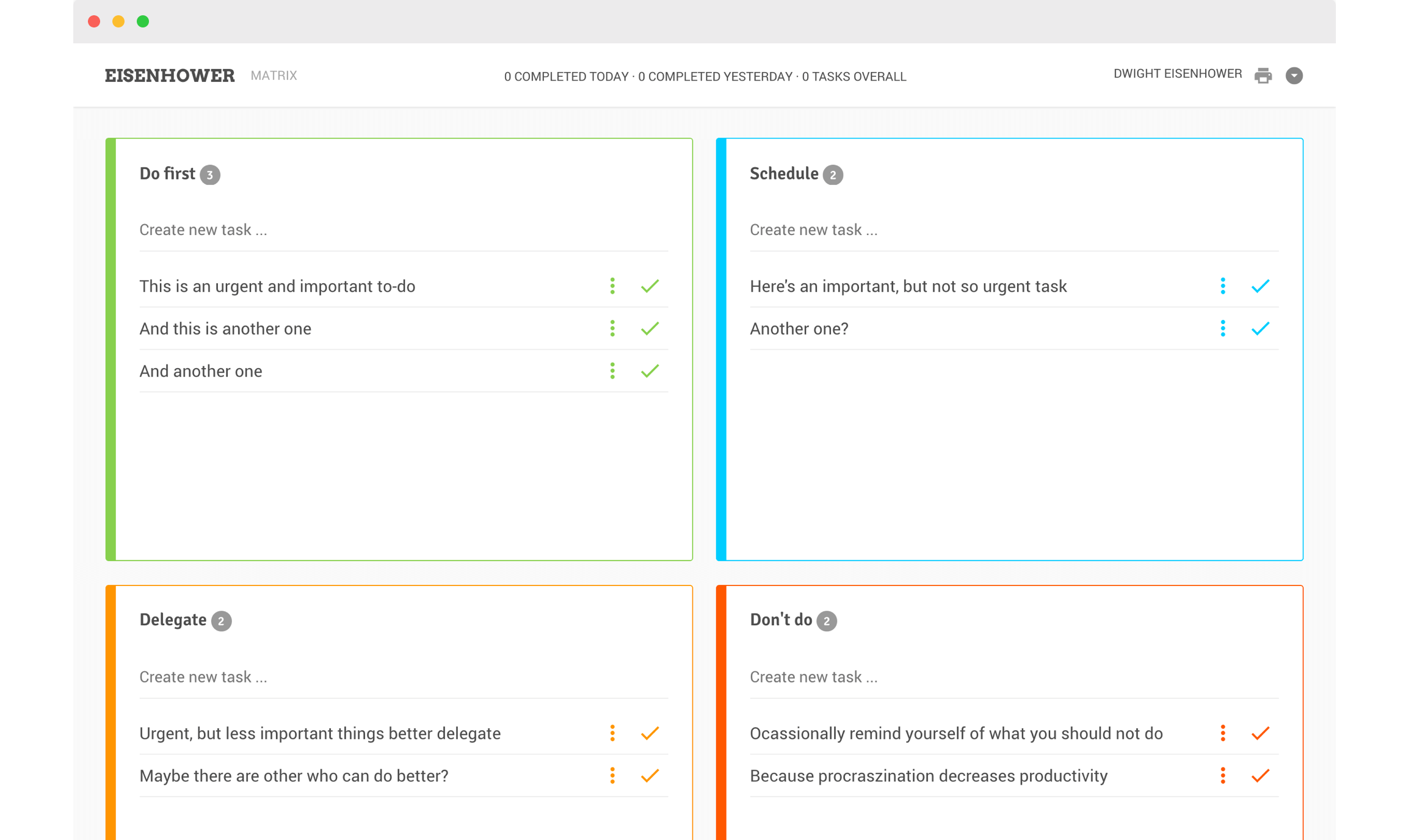 Available at a one-time payment of $2.99, Eisenhower is a simple yet effective app to bring organization and focus to your life. You can use the Eisenhower Matrix to prioritize tasks.
The special built-in timer can keep you from feeling overwhelmed by helping you maintain focus on a single task at a time.
Features
Being one of the best to-do list apps for the iPhone, Eisenhower provides unique features for task management. Following are some of them:
It allows one to manage tasks according to priority, complexity, due date, and dependency.
It also allows you to track the status of a task in terms of incoming, designated, completed, and so on.
Eisenhower matrix allows time management by managing tasks according to their importance.
Focus mode is a special timer to help you focus on a single task for 30 minutes
You can move tasks among different quadrants if urgency or priority changes.
You can trigger emails to delegate tasks to others.
Cloud sync allows you to switch between devices without having to transfer data manually.
Pricing
Counted among one of the best to-do list apps for iPhone, Eisenhower is available for only $2.99 on the App Store.
---
Supported Platforms: Android, iPhone, iPad, Web, kindle
Price: $3.25 per month/user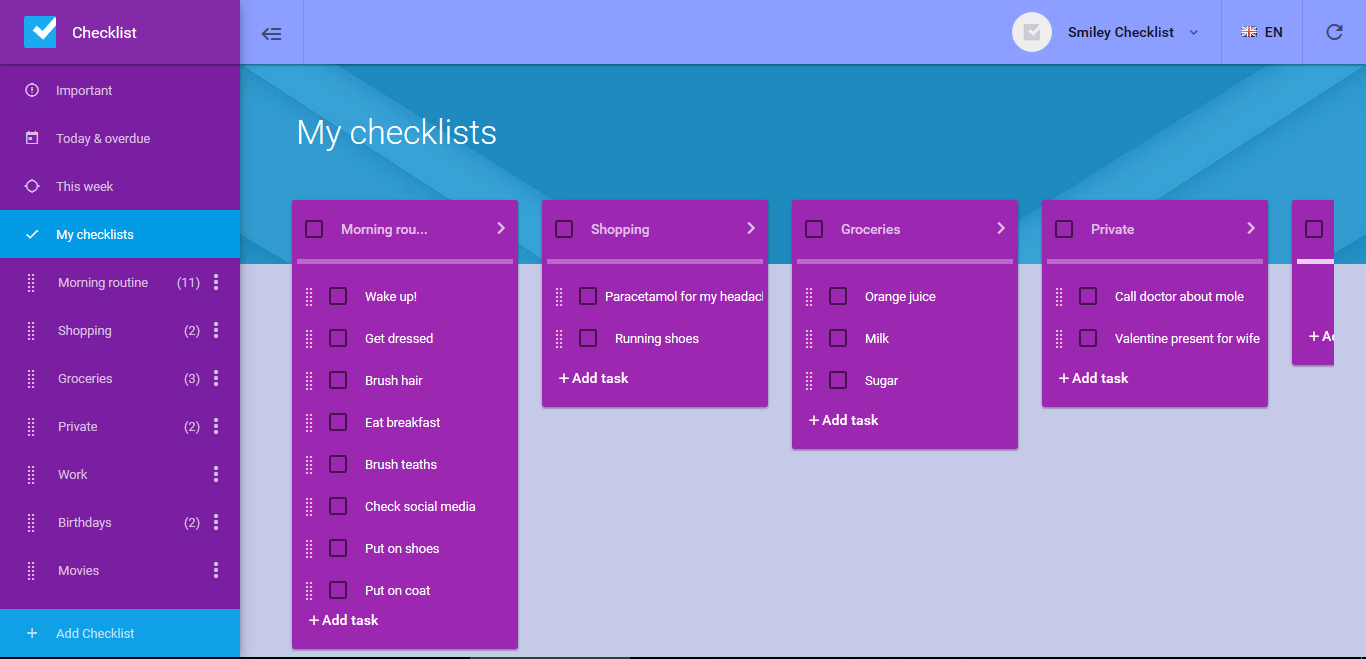 Checklist has a free version that allows you to manage checklists and share them with others. Its paid version however also allows you to work with teams. The paid version gives you the ability to invite members to the team and assign them different tasks and roles.
It also serves as a data collection software with fields like address and contact numbers. This app is not only useful for task management but also to analyze the workflow of projects.
Features
It allows you to create and publish your checklists.
Tasks can be further divided into sub-tasks to bring more clarity.
Features like tags and advanced search allow easy sorting.
The ability to add attachments makes the checklists more personalized.
User roles are used to assign tasks to others and manage teams.
Fields allow for the collection of data like phone numbers and addresses.
Email and VIP support help to make your experience of using the app more useful and easy.
Pricing
Free: Free version offers the core features such as unlimited checklists, unlimited sub-tasks, 1GB storage, and others.
Standard: €3 (~$3.25) per month and user. Additional features include tags, advanced search, email support, increased storage, and the like.
Pro: €5 (~$5.42) per month/user. This is designed for teams and has features like user roles, private templates, multiple task types, and 20 GB storage.
Enterprise: €9.5 (~$10.3) per month/user. It offers advanced features like location tracking, timeline view, VIP support, and a storage of 50 GB.
---
Supported Platforms: Android, iPhone, iPad, Web
Price: Free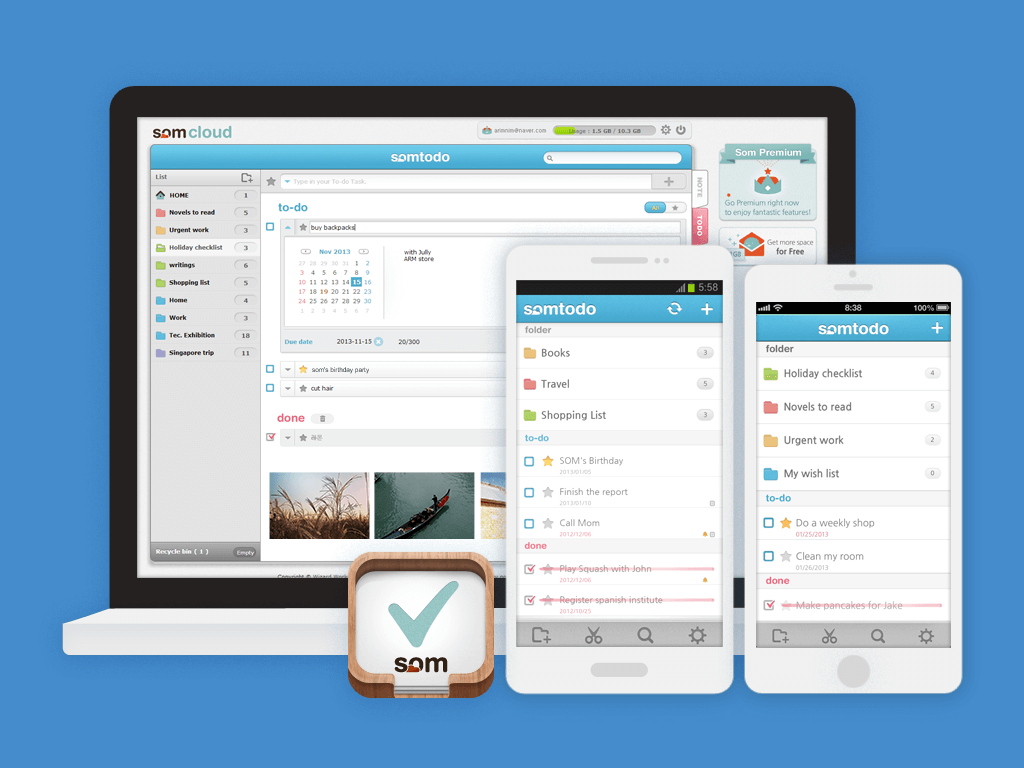 SomToDo is a very simple and basic app. Its colored folders make it easy to organize things and the keyword search makes it easy to navigate around. The major plus point of the app is the ease with which it can be used.
From adding notes and lists to filtering tasks by category, SomToDo provides you with all that you may look for in a simple management app.
Features
It allows you to add tasks that need to be done.
Due dates and reminders make sure that the tasks are not missed.
You can easily add notes and memos to the tasks.
It allows you to prioritize your to-do list by marking the most important tasks with stars.
You can filter tasks by categories and search for anything using keywords.
Color-coded folders make navigation easy.
Password security protects your privacy.
Pricing
Basic: The basic version is available for free. The app offers in-app purchases to go premium.
Premium: $3.6 per month or $37.4 per year. The premium version is ad-free and provides increased storage and prompt customer support.
---
Supported Platforms: iPhone, iPad, Apple Watch
Price: $4.99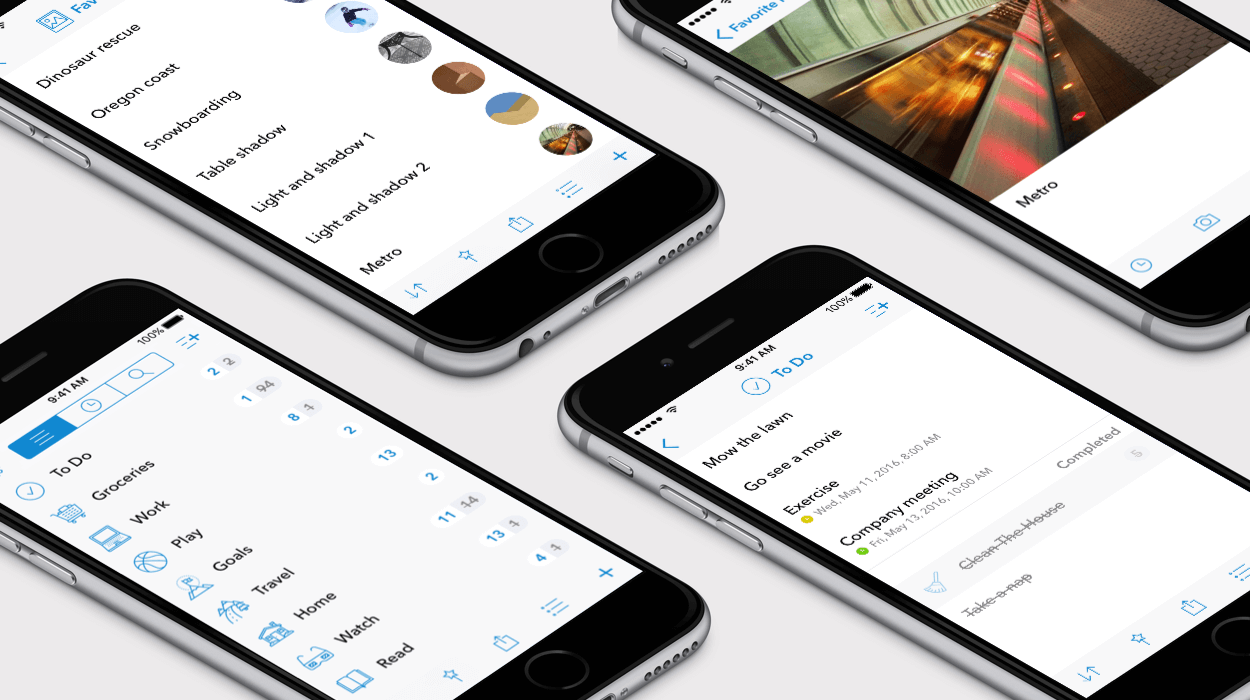 The easy-to-use and beautiful interface has made Ikiru one of the best to-do list apps for the iPhone. Ikiru is great for keeping and managing to-do lists. You can use a wide variety of icons to assign to lists making the experience of using Ikiru more fun.
It allows you to create lists within lists to enable an effective breakdown of big tasks. The major plus point of the app is its easy accessibility and control which makes it stand out.
Features
Create lists and then lists within those lists.
Assign and create categories and sub-categories of different tasks.
Perform batch operations and also has a 'shake to undo' feature to undo accidental swipes or clicks.
Group all items due on a particular date so that you can see everything in one place.
Sorting options like alphabetical sorting and due date sorting.
Lists can be shared with others via Email.
Images can be added to list items.
Password protection is available.
Automatic backup and cloud sync keep your data from being lost.
Pricing
One of the best apps to manage to-do lists, Ikiru is available for $4.99 on the Apple App Store.
---
Supported Platforms: macOS, Android, iPhone, iPad, Web
Price: $7.5 per month/user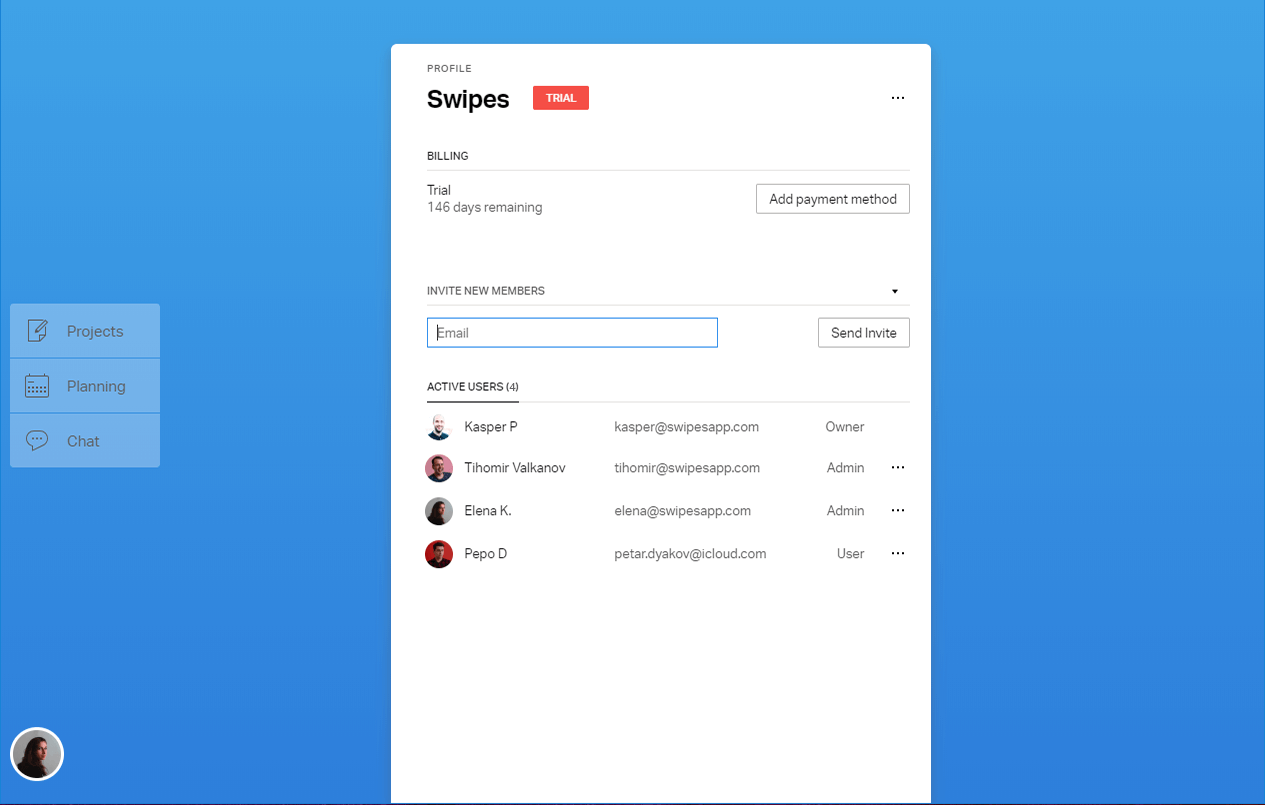 Swipes have specialized versions for both individuals and teams. If you want to use Swipes for individuals, the good news is that it is free of cost. Swipes for individuals allow you to collect and organize your data and help you get into action.
Swipes for teams is very effective when it comes to assigning tasks to others, managing teams, planning activities for the team ahead of time, and evaluating overall performance.
Features
It allows you to collect all your tasks in one place through integrations with apps like Gmail and Evernote.
You can prioritize your tasks based on their importance. It allows you to leave the less important tasks for rescheduling.
It helps you focus on the current priority and cheers you once the task is marked completed.
Swipes for teams allow you to break down tasks and plan them with your team.
It allows you to add team members and helps you be aware of what tasks your team is working on currently.
The tracking tool helps you analyze progress and shows you all that is done and all that still needs to be done.
Pricing
Personal: The version of the app designed for personal use is free of cost.
Teams: $6 per month/user (charged annually) or $7.50 per month/user. A 30-day free trial version is also available for Swipes Teams.
---
Supported Platforms: Windows, macOS, Android, iPhone, iPad, Web, Linux
Price: $8 per month (paid annually)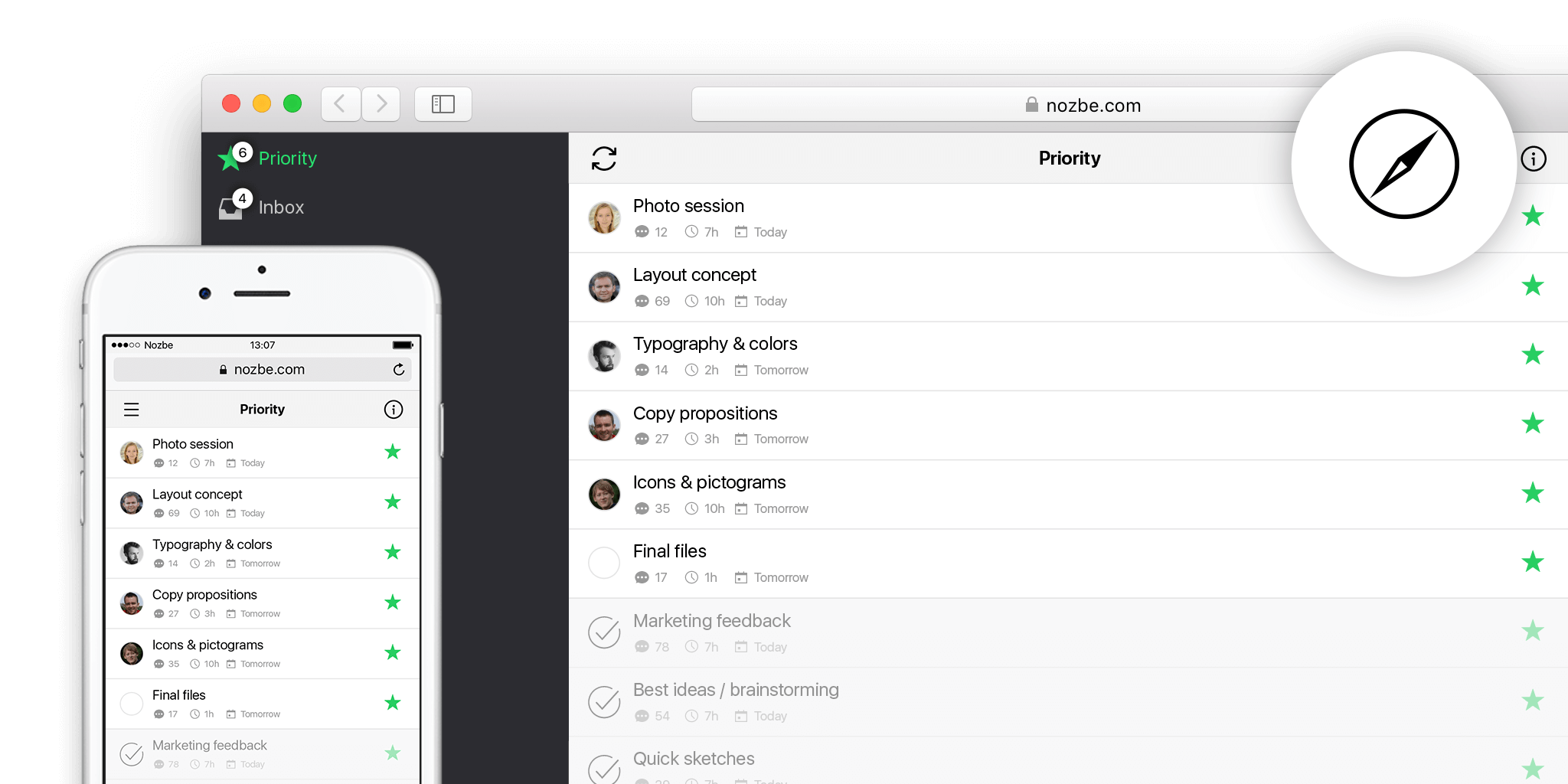 Nozbe is a great choice to help you organize quicker. Its integrations with other apps like Evernote allow a quick transfer of all your valuable data. You can even sync it with Google Calendar which will save you from the trouble of entering data anew.
The app provides specialized plans for small businesses, large businesses, and individuals or duos. The price of each plan varies and the features provided are customized to suit the purpose of the plan.
Features
It allows you to create lists and reminders both for personal use and business purposes.
You can share projects via the app and make teamwork easy.
It allows you to delegate tasks, invite people to work, and attach comments.
It offers productivity advice to keep you going on the right track.
Integrations with Google, Evernote, and Dropbox allow for an easy transfer of data where you need it.
It provides email support and the version for large businesses also comes with VIP support and a dedicated account manager.
Productivity reports help you see and analyze things.
Pricing
Solo Duo: $10 per month (if paid monthly), $8 per month (if paid annually). The solo duo is available for 1 to 2 users.
Small Business: $23 per month (if paid monthly), $18 per month (if paid annually). This plan can include up to 8 users.
Business: $99 per month (if paid monthly), $78 per month (if paid annually). This is suitable for big businesses as it allows you to add an unlimited number of users.
---
Supported Platforms: Windows, macOS, Android, iPhone, iPad, Web, Linux, Amazon Fire
Price: $9 per user/month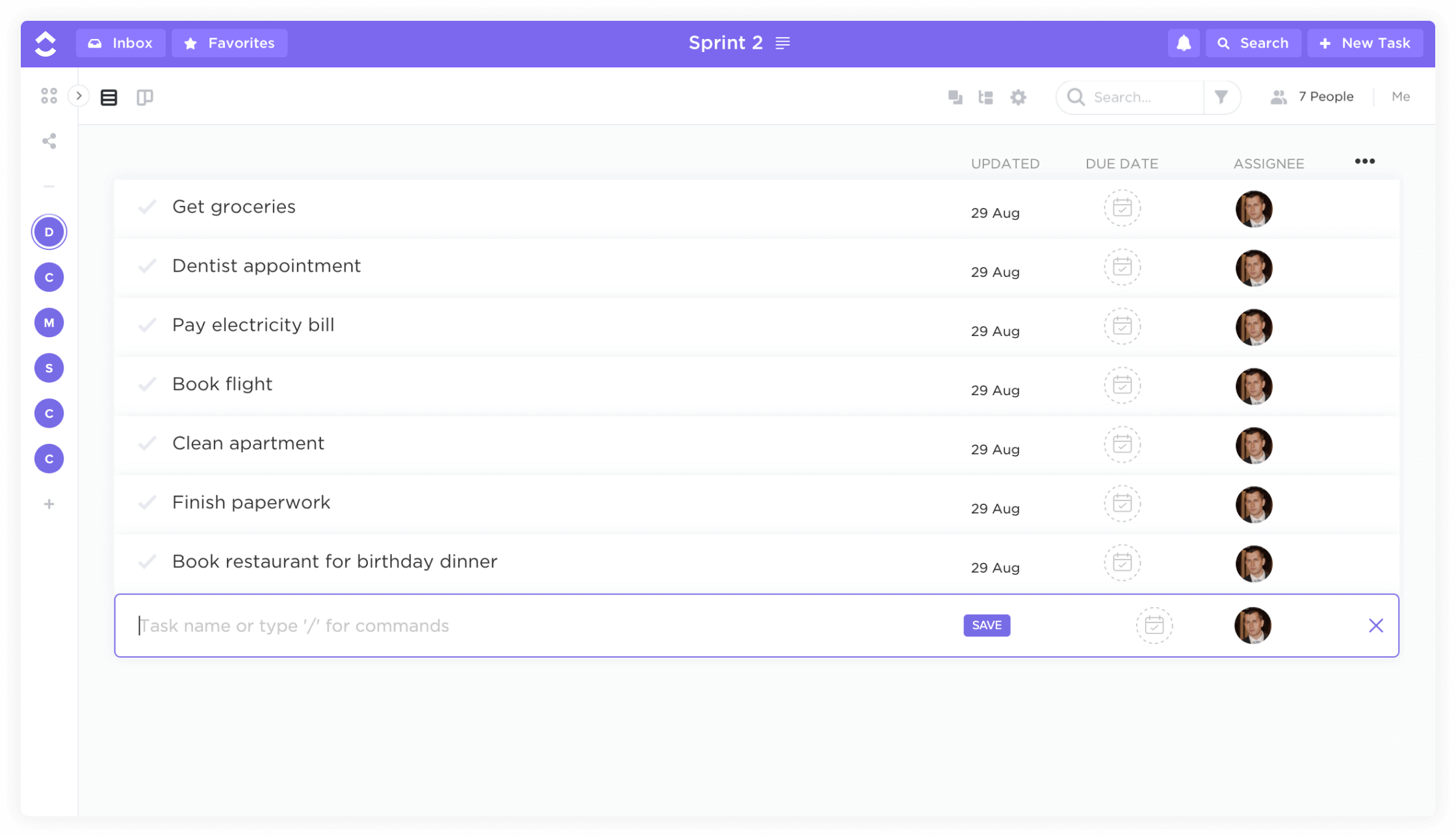 Along with providing basic task management features of to-do list apps, ClickUp also provides advanced features. It allows you to group simple and complex tasks and manage them separately so that you can keep the overall workflow in check without having to mix things up.
The ability to create workplaces allows you to work in teams and operate your business in a highly organized and efficient manner.
Features
Workplaces act as organizational units for companies, agencies, and businesses.
Spaces can be used to keep different types of content in the same workplace.
Folders help you organize content in the spaces.
Lists have statuses with view counts for each member.
Tasks are the pieces of work that need to be done either successively or in one go. You can add attachments and details to elaborate on the tasks.
Any task that needs to be done successively can be divided into subtasks for clarity and ease of completion.
You can switch between different modes while using the app. Switching to Me mode will enable you to see the tasks assigned to you alone.
Reminders help you keep track of everything.
Pricing
Free version: This version is available free but the storage capacity is limited.
Unlimited version: $5 per user per month (if paid annually) and $9 per user per month (if paid monthly). This version allows for unlimited storage and advanced permissions.
---
Supported Platforms: Web, macOS, Android
Price: $9 per month (paid annually)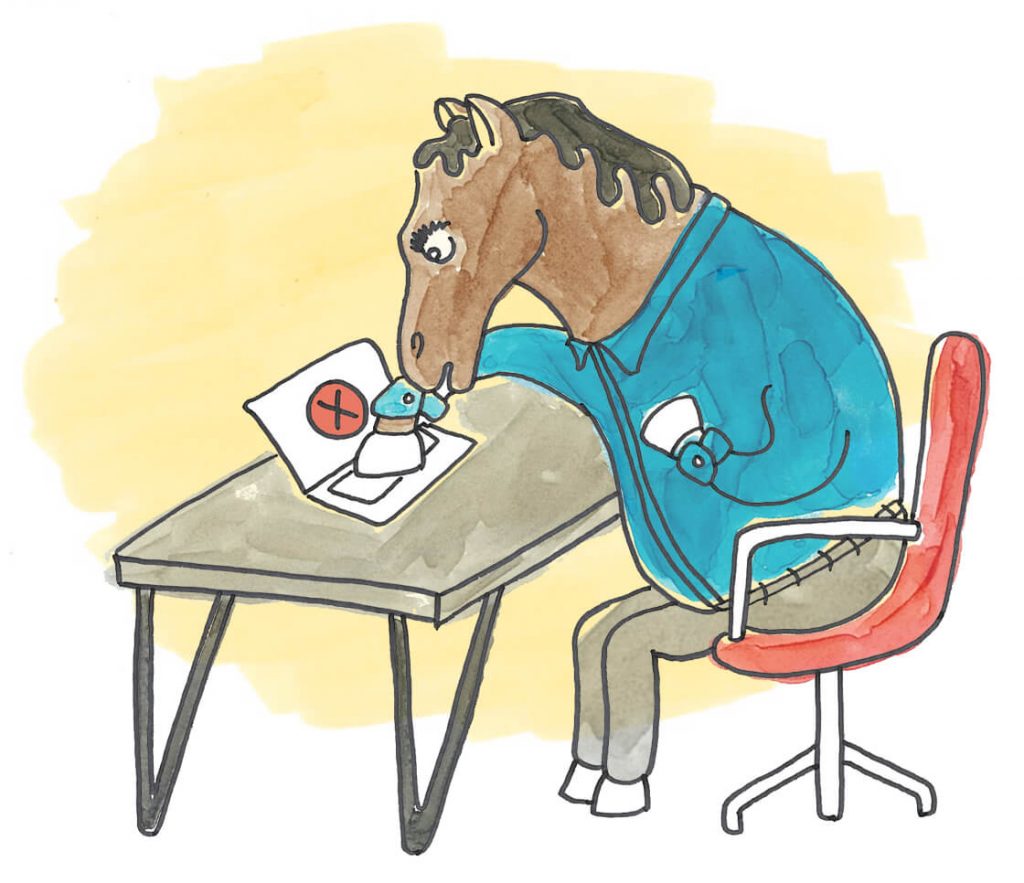 iDoneThis has secured its position in the list of best to-do list apps for android and the best to-do list apps for Mac, with its useful management tools. It is, however not yet available for iPhone. It has three different plans with prices and advanced features varying with each plan.
The members of your team can log in via email and report to you. The goals are managed in terms of their completion status and elaborate reports are produced about workflow.
Features
It allows you to enter projects and tasks that your team is working on.
Everyone in the team can check in daily through email or browser and you get daily status updates.
It allows you to know whether a task is done, in progress, or is marked as something that cannot be done.
Regular reports let you know about your team's progress over time.
Pricing
Standard: $9/user/month if paid annually and $12.5/user/month if paid monthly. Includes advanced reporting features, 3 free integrations, and email support.
Plus: $22/user/month if paid annually and $25/user/month if paid monthly. Includes unlimited searchable archive, unlimited integrations, and round-the-clock support.
Enterprise: $35/user/month if paid annually and $40/user/month if paid monthly. Includes enterprise reporting features, SAML single sign-on, bank-grade security and24/7 support.
---
Supported Platforms: macOS, Android, iPhone, iPad, Apple Watch
Price: Free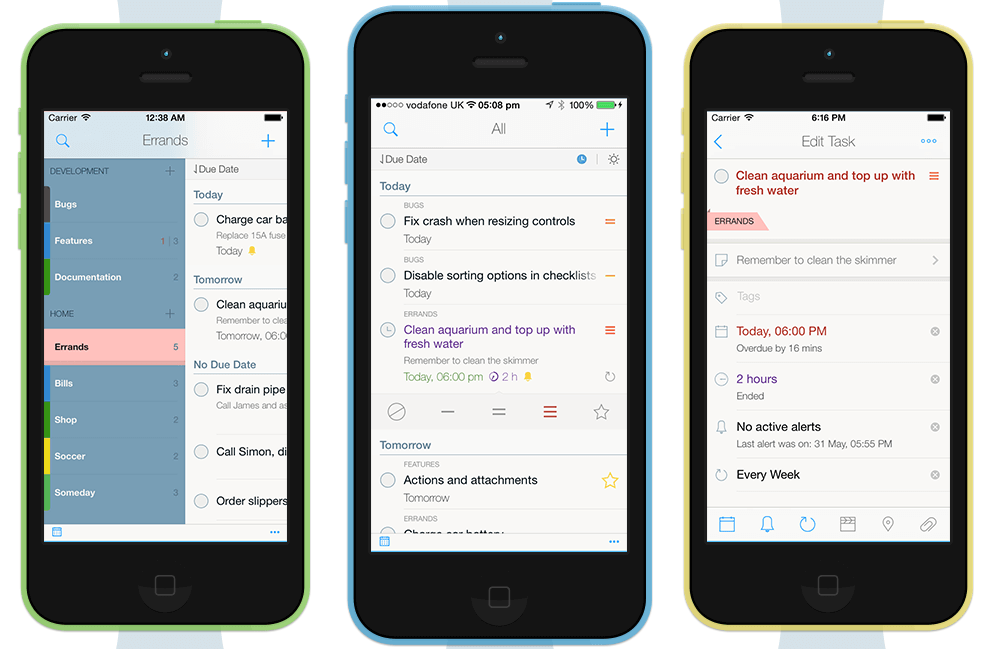 The key feature of 2Do is its versatility. It can be used as a simple app to manage the day to day to-do-lists and it can also be used as a fierce productivity tool to manage complex workflow.
Basic features allow easy sorting and organizing of the tasks while the advanced features ensure productivity and well-managed workflow.
Features
It allows you to create lists to keep your tasks together.
Smart lists save your time by creating a perspective of your tasks.
Notifications help you remind you of things that need to be done.
You will get alerts if you are at a location where some task needs to be done.
It allows you to create projects which may be divided into a combination of tasks.
Quick entry allows you to add tasks one after another from any device.
Tags and search allow for easy management and sorting.
Pricing
Free: 2Do is available for free on both Google Play and App Store with in-app purchases ranging from $1.99 to $3.99.
Pro: The cost of the pro version can range from $4.99 to $19.99 depending on the discount campaign you choose.
Single User License for macOS: The download is not free on Mac. You will have to make a one-time payment of $49.99 to buy a single-user license. This will allow you to use the app on 5 personal Macs.
Multiple User License for macOS: $149.99 one-time payment will allow the app to be used by up to 5 users on 4 Macs each.
---
Supported Platforms: Android, iPhone, iPad, Web
Price: Free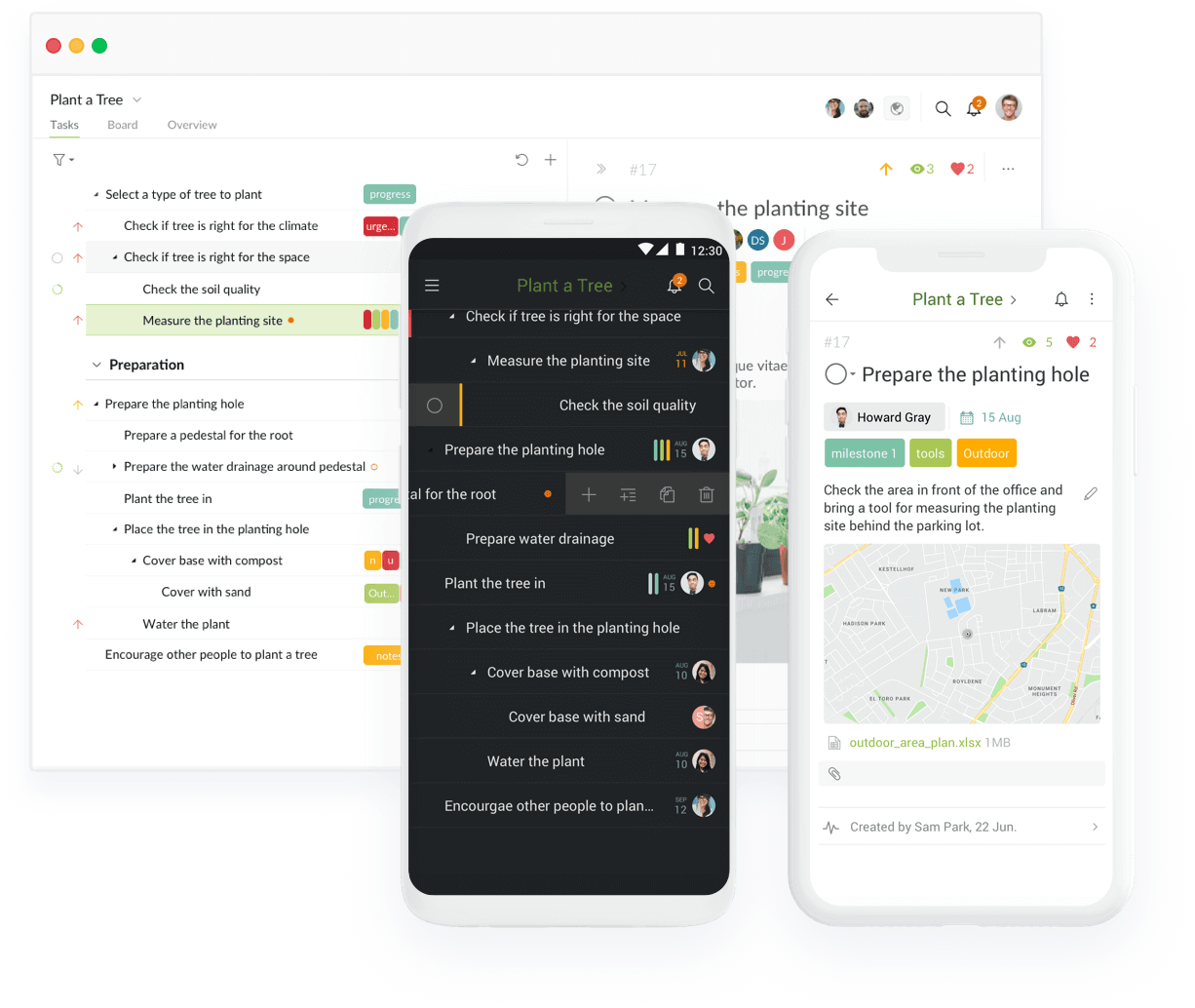 Quire is a great app for management with many powerful features. The fact that it provides so many effective tools without any cost makes it one of the best to-do list apps for android as well as for iPhone. It also ensures productivity through goal setting and reminders.
Kanban boards allow you to see your work in one place and analyze the related statistics. With Quire, you can even outsource your work to external teams and make your work life more efficient.
Features
Kanban allows you to see your workflow in one place.
Task lists help in tackling big projects.
Sub-lists provide a high level of organization.
Smart folders help with the sorting of the tasks.
It allows you to outsource your work to external teams.
Teamwork in real-time and instant messaging allow you to communicate more effectively with your team members.
Recurring tasks are displayed as routines in task trees.
Start and due dates allow you to see your tasks progress in the Calendar in the form of a chart.
Health stats provide a visual representation of how well your tasks are going.
Reminders and notifications make sure that you do not miss out on anything.
Integrations with other apps allow easy sync of data from one app to the other.
Pricing
Included in the list of best free to-do list apps, Quire is free of cost and just a download away.
---
To-do List Apps – Frequently Asked Questions
🌟 What is the Best App for To-Do Lists?
It depends. The best to-do list app varies by the choice of features and capabilities that you are looking for to manage your tasks effectively.
1. Todoist
I've used Todoist in the past – it is a really simple to-do list app, taking me no time to get used to its interface. I've used it to manage tasks across teams, as well as for personal productivity. It has been a great productivity companion.
However, Todoist might not be your ideal choice if you expect powerful visualization and reporting capabilities built natively inside your to-do app.
2. Things 3
I have also used Things 3 and in my opinion, it is one of the best to-do list apps for iPhone offering you great value for your money. The intuitiveness it offers, and a user-first design approach make it the perfect set up for someone such as myself looking to get things done quickly.
However, Things 3 might not be the best collaboration tool for you if you are looking to manage tasks across a diverse team consisting of both Android and iOS users since it is available exclusively on iPhone/iPad and Mac.
3. AnyDo
I have also used AnyDo – it's powerful, does what it is supposed to, has a minimal design interface that is great for keeping things neat when managing your tasks. It also offers a WhatsApp integration, allowing you to create and collaborate on tasks in your AnyDo setup directly from WhatsApp.
But then again, Any.Do does not have a client for Linux users and might not be suitable for your team if you are heavily Linux-based.
To determine what is the best app for to-do lists, you should consider making a list of all the features that you'd like to have inside an app and then make your decision.
---
🌟 What is the Best App for Managing Tasks?
To determine which to-do list app will best help you manage your tasks, first have clarity on the following questions:
Will I be using a to-do list to manage personal tasks or will I be using it with a team?
Do I need strong reporting/visualization features inside my to-do list apps?
Will I have to integrate my to-do list app with third-party services? If so, are those integrations available?
What task management features should there be inside my to-do list app besides a planner/calendar?
Do I need added customizations, such as SAML-SSO, advanced user access management, custom fields, and public API with my to-do list app?
Once you have the answers to the questions above, you will then better be able to assess which to-do list app best suits your needs to manage your tasks effectively.
---
🌟 How Do I Track a To-Do List?
HubSpot has a great blog on how to keep track of your to-do lists. The author of this blog also shares interesting tips and tricks that you can use to better manage/track items on your to-do lists, and make sure they are completed in time.
In a nutshell, Neville Medhora shares the following tips to better track to-do lists:
Specify a due date for your tasks – tasks that are timebound motivate you to get them done in time. It's Fear of Missing Out (FOMO) that tempts you to get things done that are bound by time/date.
List all your tasks daily – this helps tackle two problems: prioritization and being reminded of everything that needs your attention today. Once your list has everything, you can easily prioritize work and be confident you are not forgetting anything.
Keep a log of your meetings – since most to-do list apps offer calendar integration for both Apple iCal and Google Calendar, managing meetings from your to-do app shouldn't be a problem.
Track your work hours – another important tip to remember is to keep track of time spent on each task. Most to-do apps offer integrations with third-party time tracking apps so you can achieve this.
Create a daily summary – summarize work that you have completed for the day, and what remains. This will better help you understand your daily productivity, and you will better be able to prioritize things in the future.
Pre-plan your tasks – before you hit the bed, take 5-10 minutes, and just list down all the tasks you need to work on for the next day. This helps you pre-plan things, and doesn't let you wake up feeling anxious (like I used to) in the morning if you have a lot to do for the day.
---
🌟 What Makes a Great To-Do List App?
The answer to this question also largely varies. If you love cutting things out on a piece of paper once you are done, your best to-do list app, in that case, would be the pen and paper.
If you are more digitally geared and want everything on your phone, a digital to-do list app is what you need. But, what makes a great to-do list app? Here is my checklist:
Lots of third-party integrations available for added customization/personalization
It should offer a "dark mode" for those users who prefer it
The to-do list app syncs across all my devices – smartphone, laptop, PC, and smartwatch
Native integration for calendar apps (Google Calendar and iCal) that sync all my tasks to my calendar
My to-do list app should offer powerful and useful sharing/collaboration features in case I want to invite someone to work on things with me
---
🌟 What to Look for in a To-do List App?
Here are 6 features that I find are a must-have on my list, and I think you should look for too in a to-do list app:
1. Simple, Minimal Design 🦋
You don't want to hate your to-do list app – it is there to help you get things done, not get irritated. What is the most irritating thing about an app? Glitchy, unattractive user experiences.
The first feature that I think any to-do list app should offer is a beautifully designed, minimal interface that makes you fall in love with work.
2. Sorting and Prioritization 🏁
Since we are making a list of things to do, we would like to know which tasks need our attention based on various factors, including:
Due dates,
Priority,
Task labels,
Tasks with the latest updates/notifications, and more
If your to-do app is not able to offer effortless sorting and prioritization features, it probably isn't a 'great' to-do list app.
Another feature that I think is important once you become a daily to-do list app user is the ability to save custom filters and search queries.
It's annoying having to enter custom filters and search parameters each time to filter my tasks. Instead, my to-do list app should let me save those filters/queries. Bonus points for your to-do list app if it lets you set your custom search/filter as your default view.
3. Customizable Workflows ⚙️
Lately, I have fallen in love with what I can do inside Notion. It is super customizable and it's perfect for someone who needs endless possibilities to how they would like to manage work.
You can take online notes, create to-do lists, set up a Kanban-style board to manage tasks and projects, build a complete knowledge base for your team, and so much more.
Apps such as Notion have taken over by storm. We have seen such highly customizable apps, such as Airtable and Smartsheet explode in the past, and the same is happening with Notion.
Probably something to look into if you're comfortable innovating your way to get things done and are not afraid to play around with a to-do app as customizable as Notion.
4. Fast Entry/In-line Editing ⚡
The best to-do list app must be capable of adding a task instantly. Entering a task shouldn't take 16 steps. They should be quick enough to encourage you to add something to a to-do list and get it out of your mind.
5. Cross-Platform Availability 📱
Your to-do list apps should be with you, wherever you go. And a good to-do list app is available on all platforms. By all platforms, we mean the availability of the app on; iOS (iPhone and Android) and Mac and Windows mobile apps. Also, a web interface is great, for desktop applications.
6. Team & Group Management 💼
To-do list apps should provide easy access to manage groups or teamwork. This way best to-do list apps can help you have the whole lot under one roof. So you can incorporate outstanding activities that you have assigned to your staff.
---
🌟 Why Do You Need to Get a To-Do List App?
Using a to-do list app to manage your tasks can offer lots of benefits. Here are a few important ones to consider:
Reminders – a to-do app gives you timely reminders of tasks when they need to be started and completed so you can better manage the workload. There are also location-based reminders that most to-do list apps now offer so you can be reminded of things that need to be taken care of when you reach a particular location, such as groceries.
Planner – another reason you should probably think of getting a to-do list app is because of how efficient it is when planning things. If you have clearly defined tasks with action plans, you can quickly move to execution without wasting time wondering.
Progress Visibility – most people find it challenging to track how productive a day/week has been. To-do list apps take care of this problem and let you see exactly how many tasks were you able to mark off your list during that time.
Ease of Access – with everything synced across all your devices, it's easier to take work with you on the go. Files, checklists, important details, documents, and more – everything is available on all your devices.
Team Collaboration – for teams looking to collaborate online; long email threads or messages on Skype/Slack can become quite challenging to track. A to-do list app organizes all this clutter and presents all the important things neatly in one place.
---
🌟 What is the Difference Between To-do List Apps & Project Management Software?
Before we dive into what can to-do list apps help you with, what are their benefits, and why they are important, let's first explore the differences between a to-do app and project management software.
⚡ To-Do List Apps
⚡ Strongly centered around personal productivity and task breakdown on an individual level
⚡ Provide a simple, easily understandable visualization of productivity over time
⚡ Are there to help you note down things on the top of your head and then refine them as you go along
⚡ Lightweight productivity companions to declutter work
👨‍💻 Project Management Apps
‍‍👨‍💻 Strongly geared toward teamwork and collaboration between distributed teams
👨‍💻 Provide reporting tools for capacity planning, project timelines, etc.
👨‍💻 Are helpful for skilled project management professionals in planning each aspect of client work, project work, and initiatives in-depth
👨‍💻 Full-fledge collaboration suites with lots of built-in modules
---
Other SaaSy goodness on All That SaaS: