In this roundup, we will take a look at the importance of writing things down, how it helps, and what are the best online whiteboards available today.
Let's get started.
✍🏽 The Many Benefits of Writing Things Down
Writing down the things that are going on in your mind or are happening in your daily life minimizes the stress level and the best online whiteboards are very helpful.
Renowned productivity speaker and author of 'Getting Things Done', David Allen, asserts that writing things down clears up your mind and calls the activity "core dump".
Neuroscience also says that writing down goals helps in achieving them better. A study called "The Gender Gap and Goal Setting" found that both males and females perform toward achieving their goals better if they write them down.
The study also says that writing down your goals is directly connected with success.
Writing down thoughts and ideas creates a "generation effect" and keep regenerating the image of achieving your goals, which makes it 1.2 to 1.4 times more likely to be successful.
Therefore, online whiteboards not only make you closer to your goals but also help you to manage your businesses and remote teams.
👨‍🏫 What Are Online Whiteboards?
The world order is completely changed due to technological evolutions that have recently taken over all over the globe. The importance of digitalization has been greatly influenced by the transformation of physical things into virtual software and applications.
Just like everything else, whiteboards are transmuted into online whiteboards which are not limited to only a sphere of your conference-room or class-room.
These virtual whiteboards are highly useful for people or teams that are working remotely and are easy to download.
The free virtual whiteboards help you to access your teams from anywhere around the world. The whole team can use it at the same time from anywhere and it allows you to upload files, documents, texts, or anything you want to share with your remote team.
The Best Online Whiteboards for Remote Teams in 2021
1. Ayoa – All-in-One Online Whiteboard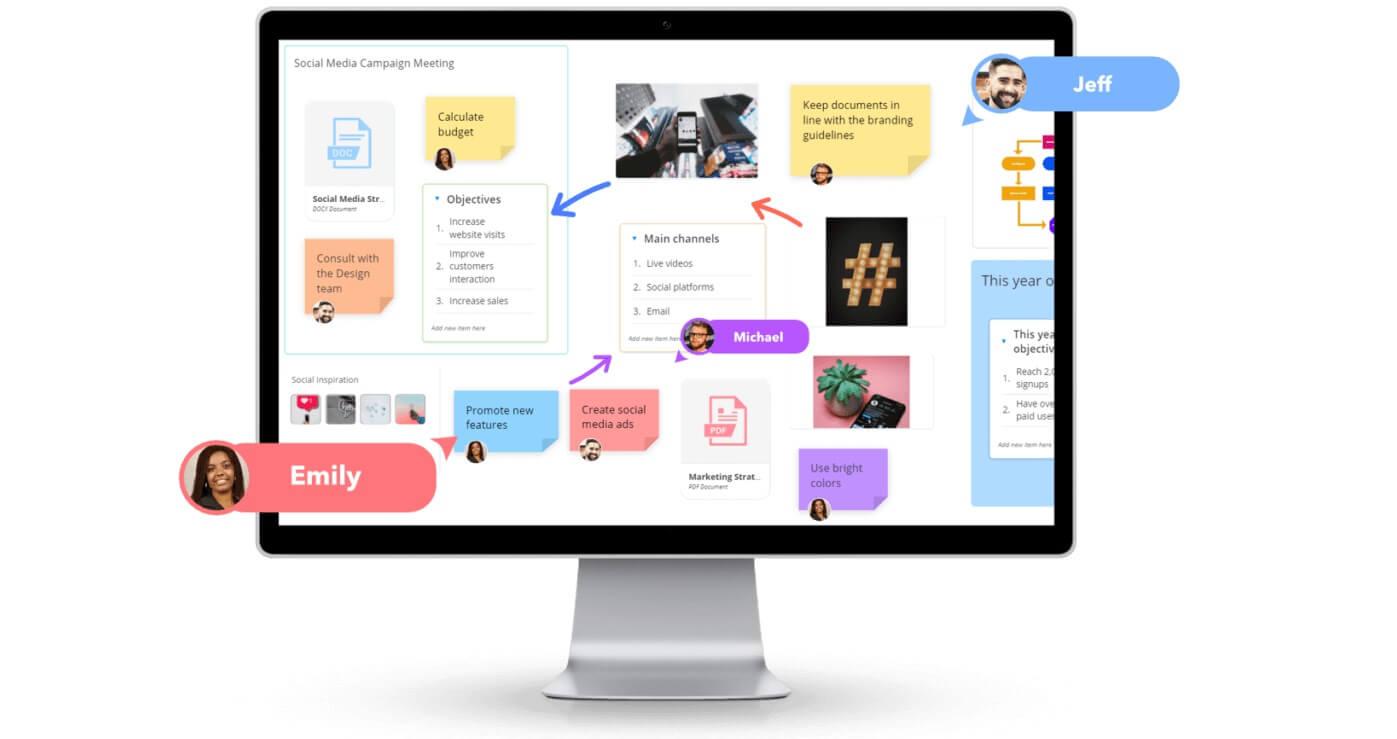 Ayoa is an all-in-one online whiteboard where you can brainstorm ideas, work together and get things done.
By seamlessly blending idea generation, task management, and team collaboration features, Ayoa goes beyond convention and provides a platform for teams to work together and cultivate knowledge that can be used to drive success.
The perfect remote replacement for an office whiteboard, Ayoa boasts various features to boost creativity and productivity, including sticky notes, lists, freehand annotation, attachments, flowcharts, and images.
Key Features
Extensive template library to help you get started including SWOT analysis, Meeting Agenda, Design Brief, brainstorming canvases, and many more.
Invite your team to your whiteboards for real-time collaboration any time and anywhere.
Easily export your whiteboards as a PNG or JPG image to save, print, or share with others.
Use Ayoa's integrated video conferencing and instant messaging features to chat and meet with your team alongside your whiteboards.
Develop areas of your whiteboard using Ayoa's mind mapping functionality to take your creative thinking to a whole new level and uncover groundbreaking ideas.
When you're ready to action your ideas, easily drag and drop items from your whiteboard into a task board where you can plan, manage and track your tasks from start to finish!
Pricing
Basic: Free – Includes up to 5 boards, up to 50 elements per board, real-time collaboration, templates, task management, mind mapping.
Pro: From $10/month – Includes unlimited boards, unlimited board elements, exports.
Ultimate: From $13/month – Includes user groups, team pulse, video conferencing, integrations (Zoom, Google Calendar, Evernote).
---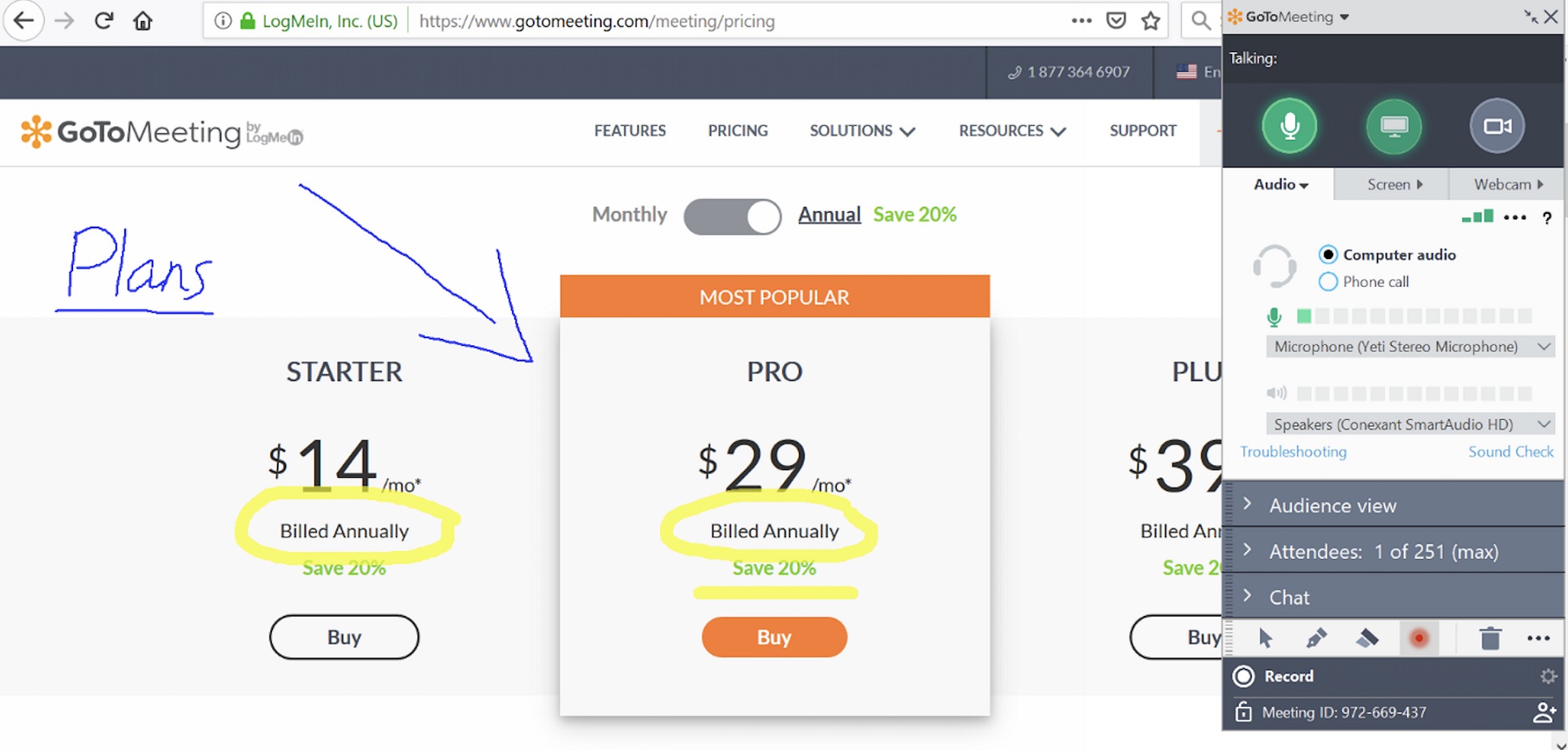 GoToMeeting is one of the best virtual whiteboards with which you can create online meetings with a click and meeting spaces that enhances your collaboration. It safeguards your security and organization policies and through SAML SSO login.
If you are organizing a large number of cooperating users, you can do that simply by easily syncing your Active Directory database to GoToMeeting. It provides easy-to-use secure web-conferencing to its users to maximize collaboration and coordination.
The data that is transmitted between LogMeIn infrastructure and the users is confidential, authentic, and integral with strong encryption mechanisms and protocols. Its easy-to-use video conferencing gives support for the room system and also provides an all-in-one box room solution for easy communication.
Key Features
You can share your screen with your team members, connect Voice over IP conference calls, or video and mobile conferencing from anywhere, anytime.
Record your meetings, take notes, and share them for real-time collaboration.
Its instant messaging feature allows you to chat with people to grow your business. Also, you can easily search through your recorded meeting transcripts.
Clients for desktop as well as mobile apps to use GoToMeeting for crystal-clear audio and video calls.
Drawing tools and options to draw while sharing your screen so you can share insights, maps, charts, etc. with teams.
Bring this app into your conference rooms with a built-in supporter of Lifesize, Cisco, and Polycom devices.
Pricing
Professional: Its cost is $12 per month and is for 150 participants. It offers HD video, dial-in conference line, meeting lock, commuter mode, and many other features.
Business: It offers all the features of the Professional plan and costs $16/month. It also offers slides to PDF, drawing tools, mobile cloud recording, and much more.
Enterprise: It offers all the features of the Professional and Business plan with other features such as InRoom link, volume discounts, and more. For pricing, contact the team.
---
Mobile apps not available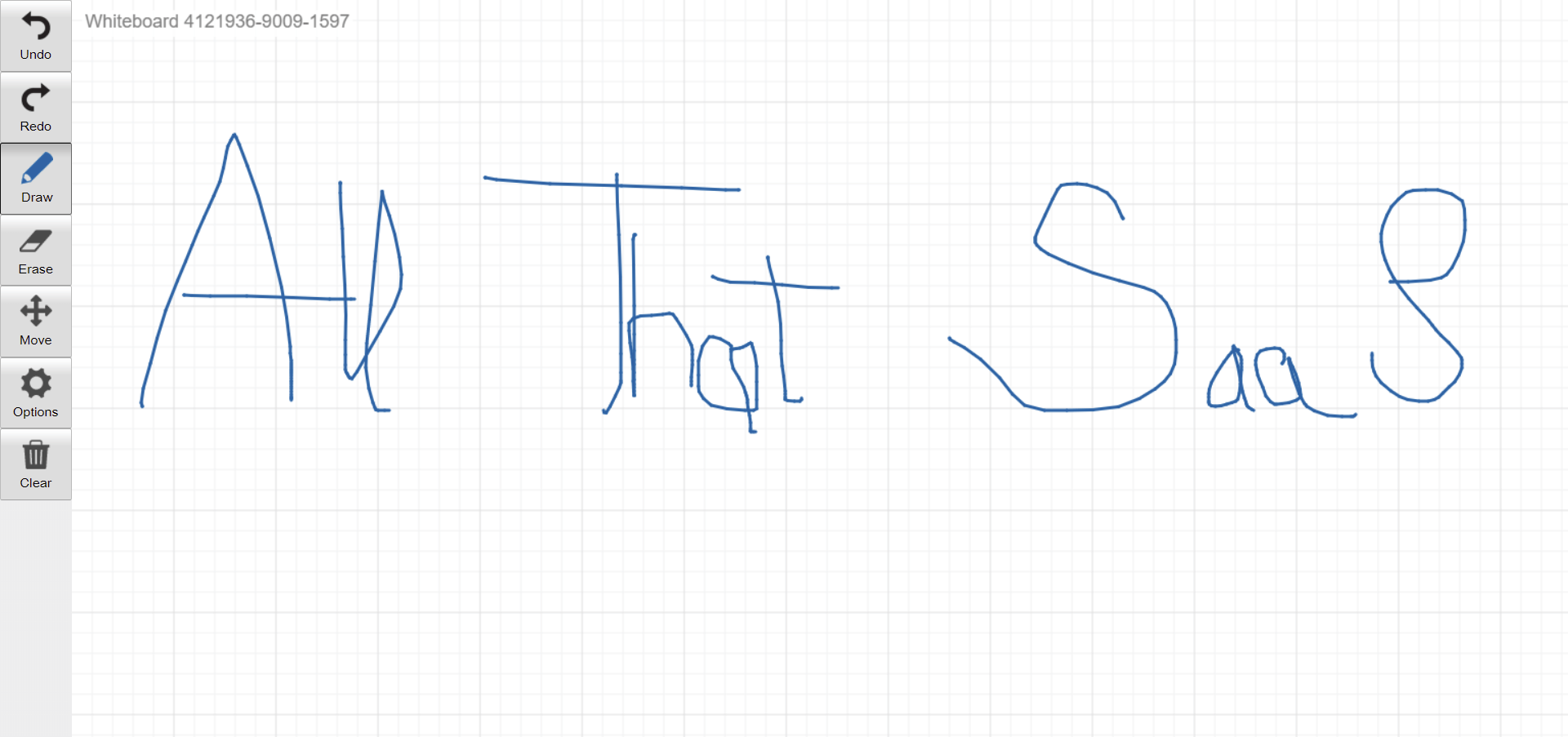 Whiteboard Fox is another virtual whiteboard tool that is fairly easy to use. It does not require any setup or download, opens easily on your browser and you are good to go. The tool begins with a blank canvas and is divided into grids.
It is a quick virtual whiteboard collaboration for your remote teams and businesses. You can easily collaborate and coordinate with your co-workers through this whiteboard too. It is simple and convenient to use without any download requirements.
Key Features
Share your screens with multiple other users and members of your team.
Draw and erase on the blank canvas and it has simple options to choose from. You can undo it whenever you want.
Easily copy anything to your clipboard with a single click-through "copy all" option.
To add more participants to this virtual whiteboard simply email or message them the link and they can join in.
Team members can see the changes instantly that are being made which makes the collaboration super-fast in no time.
Connect with Facebook and let users save and share your whiteboards.
Pricing
Whiteboard Fox is a completely free online whiteboard tool.
---
4. Zoom – Free Whiteboard Tool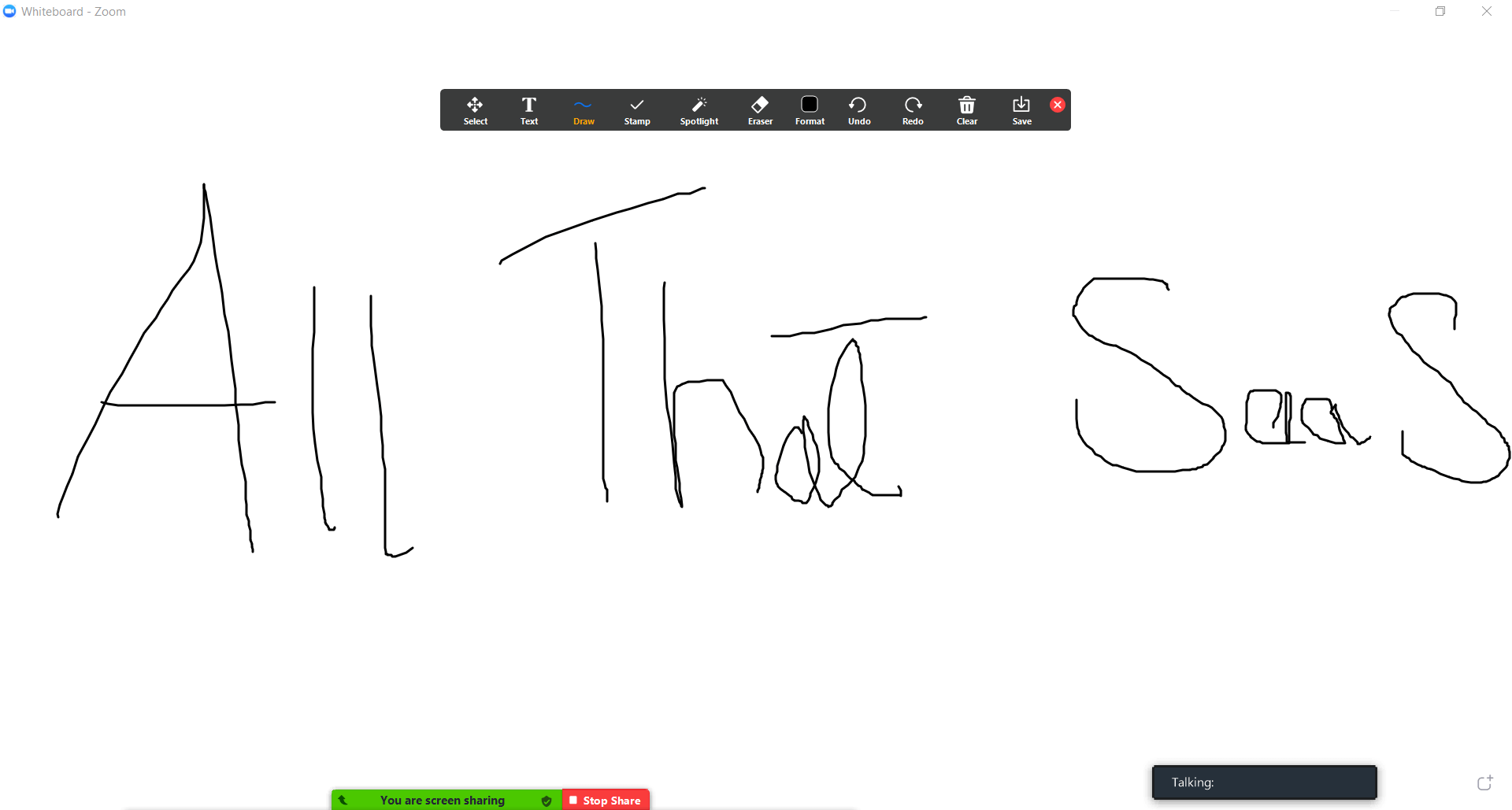 Zoom is one of the best online whiteboards available for businesses or any other field of life. It provides online meetings, training sessions, and technical support to make sure its users are aligned and all in one place.
You get a consistent online expertise experience with this virtual whiteboard application which gives you a video webinar through which you can easily manage events and town hall meetings. You can also integrate Zoom in your conference rooms and enhance collaboration.
Not only this but it also gives you access to the phone system with which you get a next-level phone system enterprise so that you stay connected with your remote teams. With their instant messaging and file-sharing you can easily communicate with your team members.
Key Features
It is highly secure and private due to AES 256-bit GCM encryption and keeps all your meetings and data safe.
Easily syncs your data to any device seamlessly and allows you to make HD audio or video conference calls.
Its built-in collaboration tools help you to share your screen with multiple people to have more collaborative meetings.
Record your meetings and have transcripts. Also, you can search these recorded transcripts for later use.
Play videos or audio clips during your meeting without uploading the content.
It gives mobile conference meetings just as for the desktops. Turn-on virtual backgrounds of the display picture you want.
Pricing
Basic: Basic includes 100 participants, video conferencing, group security, and more.
Pro: It costs $14.99/month. It includes all Basic features with user management, reporting, assigns scheduler, and many more features.
Business: It costs $19.99/month and gives all Pro features plus vanity URL, single sign-on, and much more.
Enterprise: Enterprise costs $19.99/month with all Business features including executive business reviews, and more.
Zoom also offers other solutions like Modern Cloud Phone Solutions, Software-Based Conference Room Solutions, Webinars and Events, and other Add-Ons like Audio Plan, and Additional Cloud Recording Storage. Prices vary according to plans and add-ons.
---
5. AWW App – Simple Online Whiteboard
Mobile apps not available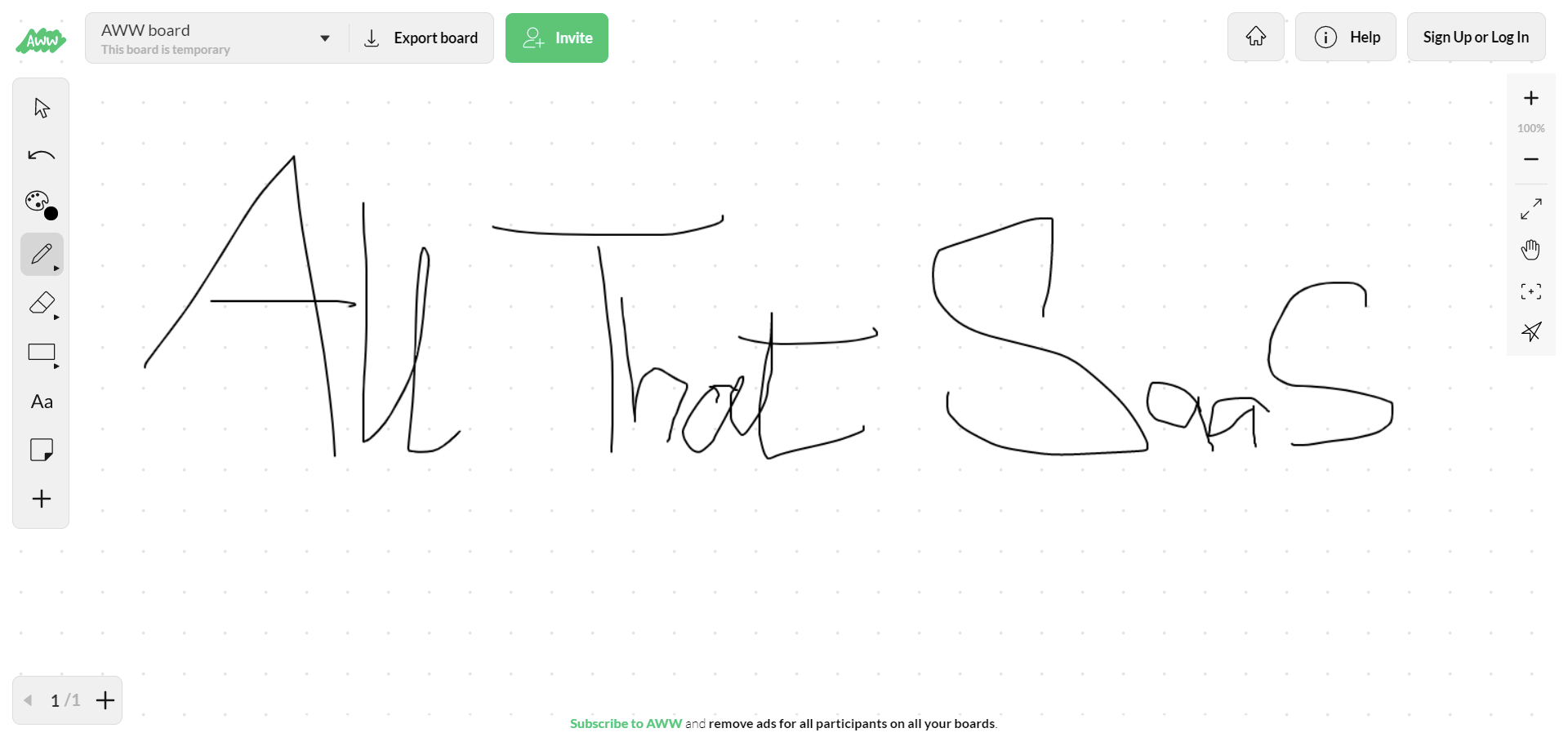 This is among the best online whiteboard tools that are touch-friendly and provide real-time collaboration for users. The AWW App is not designed for a specific kind of business or field, it works best for every kind of team or work.
There are several zoom-able canvases that you can utilize to envisage and visualize your ideas and plans. Your team members can also save them to access them at any time they want. There is also a built-in voice communication tool to carry out crystal-clear meetings.
Key Features
It gives unlimited collaboration and web-conferencing with many people and links it to Skype.
Have unlimited posts on your virtual whiteboard and instantly update your board with brainstorming ideas.
Adjust zooming in and out on your board so you can focus on the important things, along with your other members to view the bigger picture.
Teachers can make assignments, give feedback to students, and allow absent students to participate in class.
Also, teachers can send group assignments and sync all the data related to the syllabus and students assembled in a cloud.
It has got API Version 1 and API Version 2, to have an upgraded Web Whiteboard app for better collaboration with your friends, colleagues, and students.
Pricing
Business: There are 4 plans, Free, Personal, Organization, and Custom plan. Personal and Organization plan costs $10 and $17/month respectively. Features include premium boards, advanced tools, and much more. Custom plans include plans of your choice.
Education: There are 2 plans, Teacher and School plan. The Teacher plan costs $9/month and the pricing of the School plan is customizable. Features include unlimited premium boards, volume discounts, and much more.
API: There are 4 plans, Single, Startup, Enterprise, and Custom Plan. Single costs $10 monthly and gives advanced tools, PDF/PPT upload, and more. Startup costs $30/month and offers 5 concurrent sessions, email support, and features of Single. Enterprise costs $200/month and offers 50 concurrent sessions and Custom plan offers SLA, On-premise solution, and more.
---
6. Conceptboard – Powerful Online Whiteboard
Mobile apps not available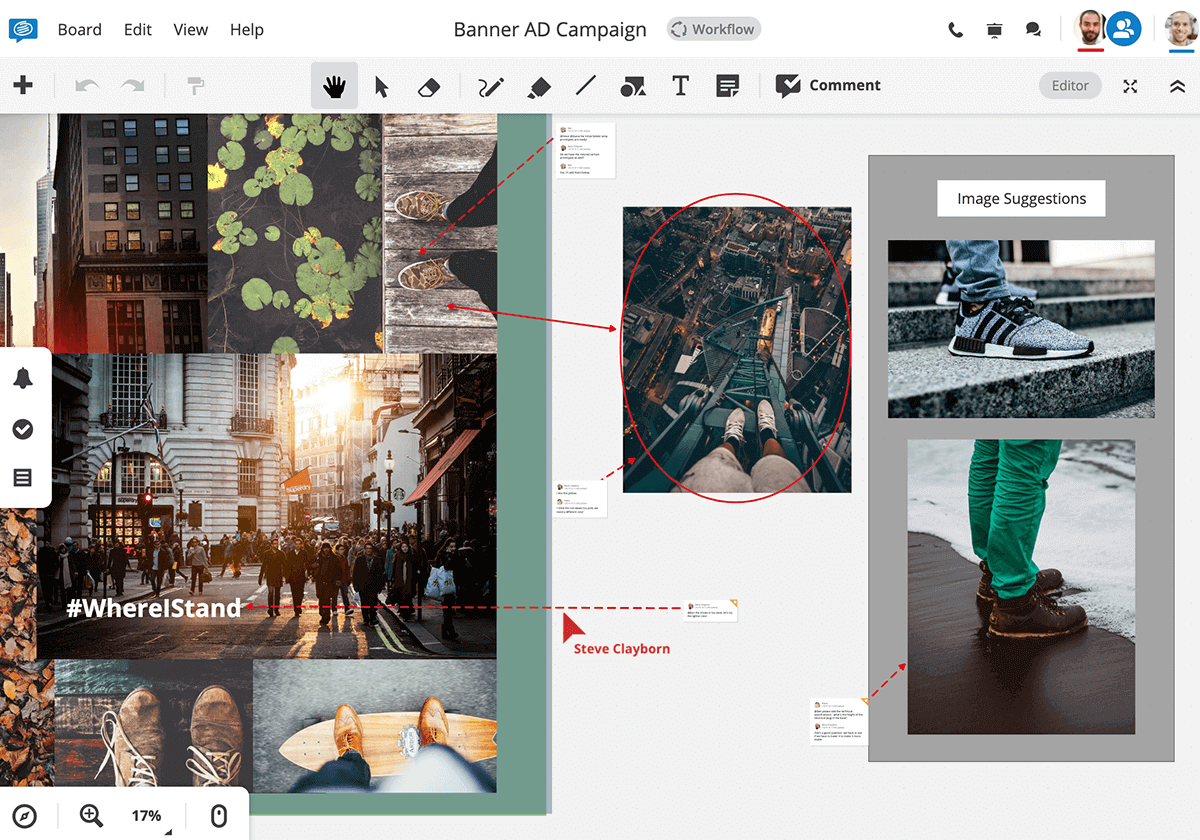 Conceptboard is an amazing online whiteboard software that makes collaboration with your team members, clients, and other stakeholders continuous and smooth. It is your all-in-one virtual cooperative workspace that is available anywhere, anytime.
It offers an infinite number of canvas for your ideas and concepts that you wish to align in one place. Do not worry if your team is huge, this whiteboard for collaboration will organize large as well as small teams and businesses.
Also, if your team is working remotely, Conceptboard has always got your back, it will manage distant groups and teams perfectly without any hassle. You can share your screen with your team members, have video chats that will make you feel like all members are sitting together.
Key Features
Private and secure whiteboard with a cloud-based platform. Your data, meetings, entries, and all the important things are safe and secure.
It allows you to create, share, and collaborate on one page and stay connected on all projects.
There are countless whiteboards so that you are never out of space to align your projects.
You can assign tasks to your team members with a click by using @mentions. Keep your projects smooth and going.
It has several artistic visual tools with which you can sketch, draw, add sticky notes, and much more.
Create visual frameworks with free templates and with its Enterprise solution you can create scales and visual representation of progress and more.
Pricing
Free: It is free of cost with features like unlimited boards, 500MB file storage, live moderation, and much more.
Premium: Premium offers unlimited objects per board, team-wide defaults, 20GB of storage data, and more. It costs $6/month.
Business: Price for Business is $9.50/month with features like unlimited projects, guest roles of reader, editor, and reviewer, approval workflow, and many other features.
Enterprise: Contact them for pricing. Its features include optional guest roles, the custom limit of audio, video, and screen-sharing, SSO, and much more.
---
7. Twiddla – Online Whiteboard for Students
Mobile apps not available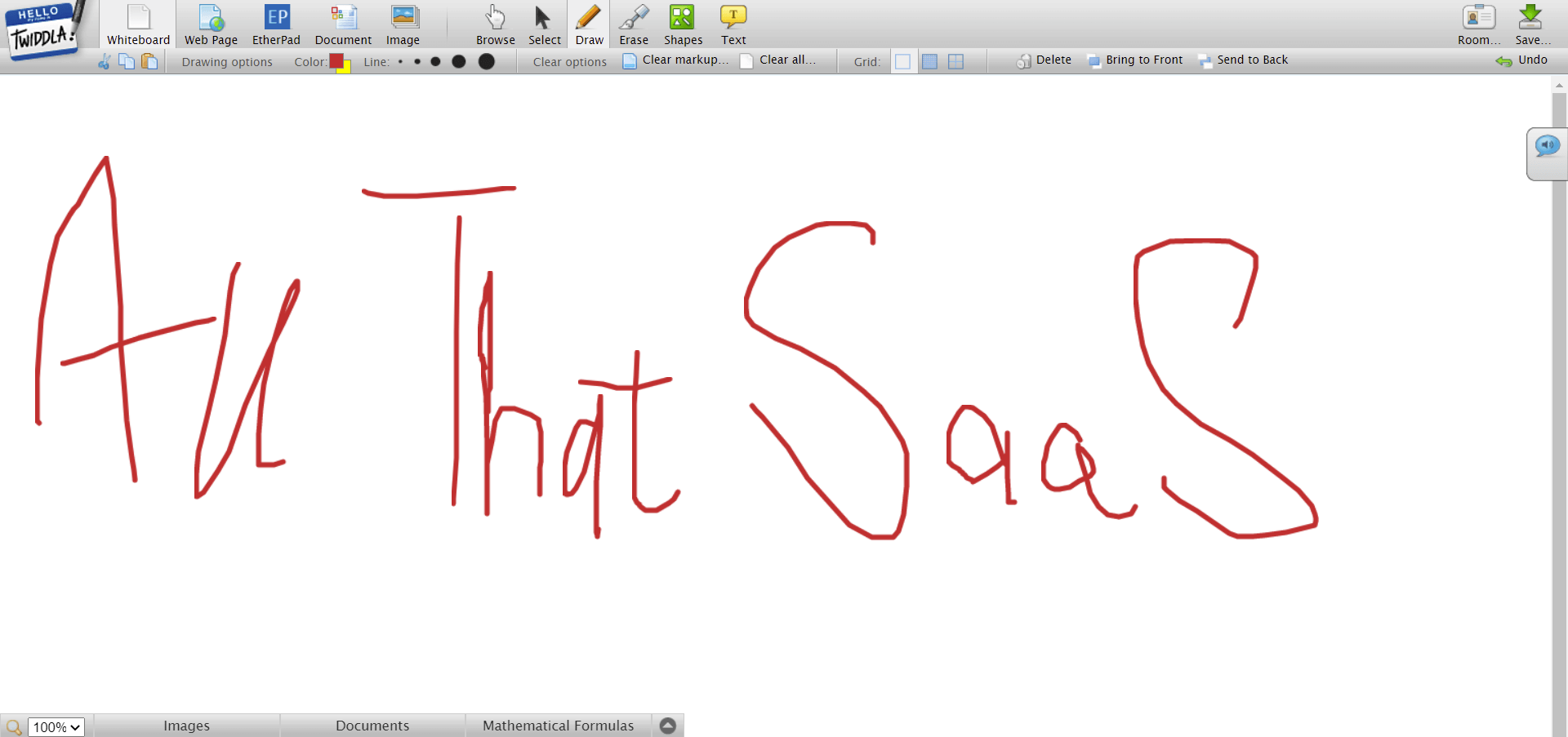 It is one of the best virtual whiteboards for 21st-century classrooms for an innovative and digitalized experience. You can mark-up websites, graphics, and photos, or start drawing things on a blank canvas. You can have an amazing modern classroom by browsing the web along with your students.
Also, it enables you to organize remote classes and tutoring with this free online dry-erase board. It does not need any plug-ins or downloads, just browse the website and you are ready to start. It is a user-friendly and ideal whiteboard for collaboration.
Key Features
Make your collaboration fast and cool. Browse websites together, have a team sport, real-time collaboration, share files, chatting, and more.
Neither you nor your team members need to sign-up for this virtual whiteboard or have an account.
Anyone from your team or classroom can edit and view the whiteboards with the EtherPad function and change images, texts, drawings, etc.
It works for PC and MAC and gives additional forms of communication such as text-based chats and voice functions.
Easily save your work in PDF form or media file with a single click but this feature is only for registered users.
Its API allows you to host all your meetings by yourself and you can create your meetings and display your logo instead of Twiddla's.
Pricing
Guest: It is free and offers 10 participants, 20 minutes meeting time-limit, and create and attend meetings.
Pro: It costs $14 per month with offers such as 1 named account, unlimited participants, screen capture, c0-branded meetings, and more.
Team: It gives 10 named user accounts, email support, 2400 minutes/month, and more features with a $99 cost per month.
Business: It offers features like 50 named user accounts, priority email support, presenter/moderator controls, and many more with a price of $349/month.
Enterprise: Call their team for pricing. It gives amazing advanced features including unlimited named user accounts, email, and phone support, SLA, and features of all other plans.
---
8. Ziteboard – Best Online Whiteboard for Android
Download: Android | iOS app not available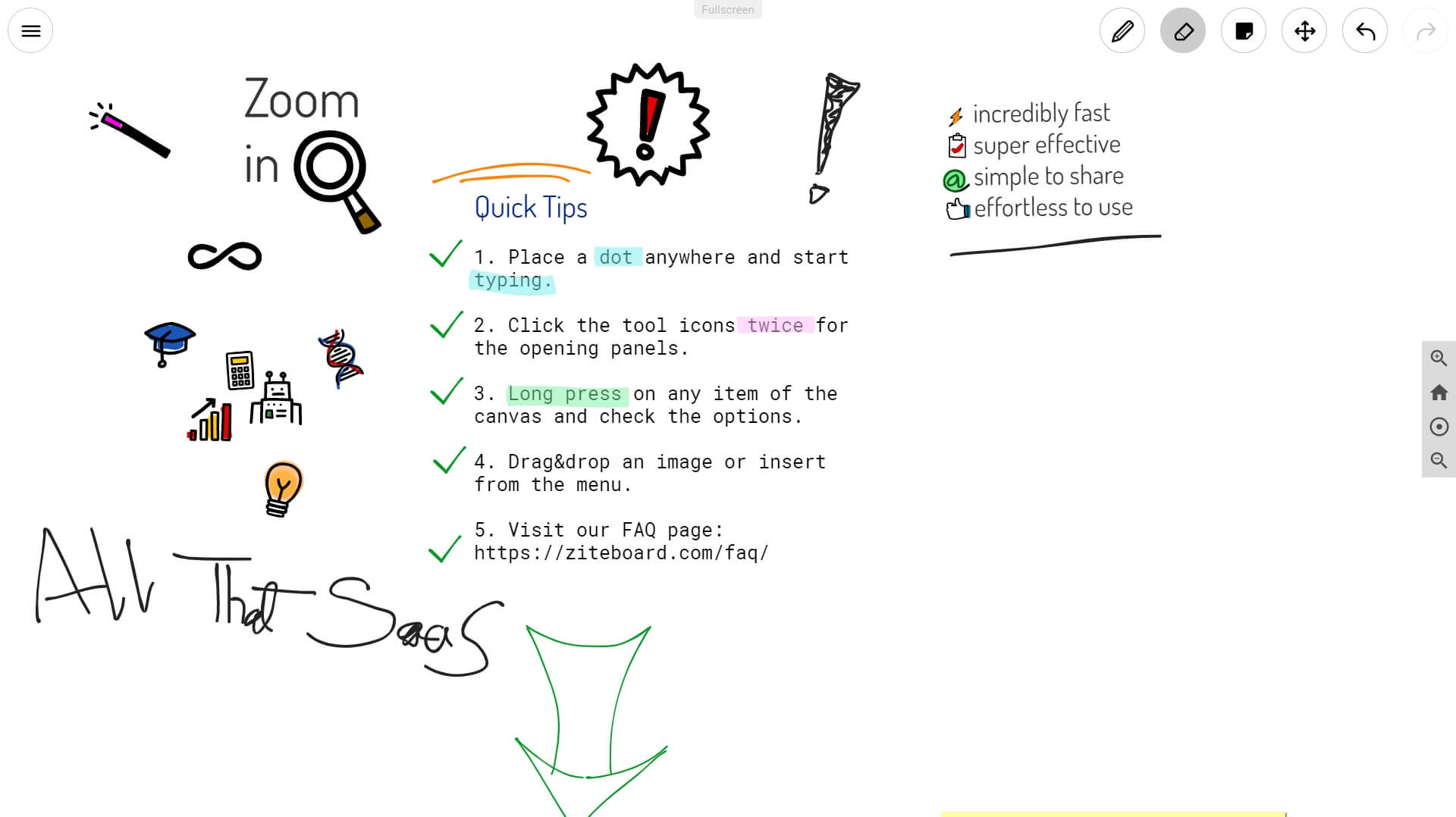 This online whiteboard software is best for real-time collaborations and is designed for the best use by both, teachers as well as students with a clean interface. You can use this free online digital whiteboard to draw any shape with its shape recognition algorithm. It's an all-in-one online whiteboard program.
In this crucial time amid the COVID-19 pandemic where social distancing is a must, this virtual interactive whiteboard can help students to pursue their studies smoothly.
It allows you to have live teamwork along with an option to insert images and files to have a better tutoring and training session to maximize efficient education.
Key Features
Its anonymous whiteboard feature enables students and teachers to use this app without any registration or sign-in.
Its white-label service enables you to embed the whiteboard into your web-page easily with just a few starting steps.
Voice and video chat features allow you to have effective yet real-time cooperation with groups, class-fellows, and any other person.
You can save your whiteboards into PDF form and print them as well. Graph plotter add-on enables you to have an interactive graphic calculator.
It has a WordPress Plugin for embedding and customized boards for your important events and happenings.
It is optimized for Wacom and iPad to enhance the graphics and writing styles of your boards. Also, it has a simple JSON-based API and user-management.
Pricing
Starter: It's free and has features like 3 boards, infinite shared whiteboards, sticky notes, and many more.
Weekly: It has a one-time payment of $5 and offers infinite boards, highlighter pens, text chat, and more.
Monthly: It costs $9/month and offers infinite shared whiteboards, PDF import, public and private boards, and many more.
Annual: It has custom colors, image import, audio and video chat, and many other features with an annual subscription of $85.
Enterprise: Email them for a quote. It offers all Pro features, API, encryption, and many more amazing features.
---
Mobile apps not available
It is one of the best whiteboards apps that can completely turn the traditional way of teaching. Scribblar allows you to have all your ideas and concepts on a single virtual whiteboard that is easy to share and display to all your students, even if they are away.
Also, chat with your students through audio and video chats on this web-based whiteboard which is best for teaching and demonstration. It is well-known among teachers, students, and schools all over the world for its best features such as audio and video calls, live audio, image sharing, and more.
Not only it is best for teachers, but also for other businesses that need to manage and organized.
Key Features
It can be used by multiple users at the same time and real-time collaboration among teachers and distant students is made possible.
Multiple users can upload photos, files, documents, and can make changes to this virtual whiteboard.
Its Pro Website Integration is available in Scribblar Pro with which you can integrate the features and usability of Scribblar to your existing website.
You can do text chats with user lists so that you do not lose track of your communication with students, clients, and other people.
It does not require any download or subscription and is free to use.
It is used by teachers of the world's most renowned schools and universities such as Harvard University, University of Phoenix, Brighton Grammar School, and many more.
Pricing
Starter: It gives 5 users per room and 5 rooms per account with a cost of $14 per month.
Standard: Starter's price is $24 per month with 10 users per room and 10 rooms per account.
Premium: It offers 25 users per room and 25 rooms per account. It has a monthly cost of $39.
Pro: Pro pricing is $69 per month and gives white label and API and unlimited rooms per account. It also offers 150 sessions and other game-changing features for your work.
---
Mobile apps not available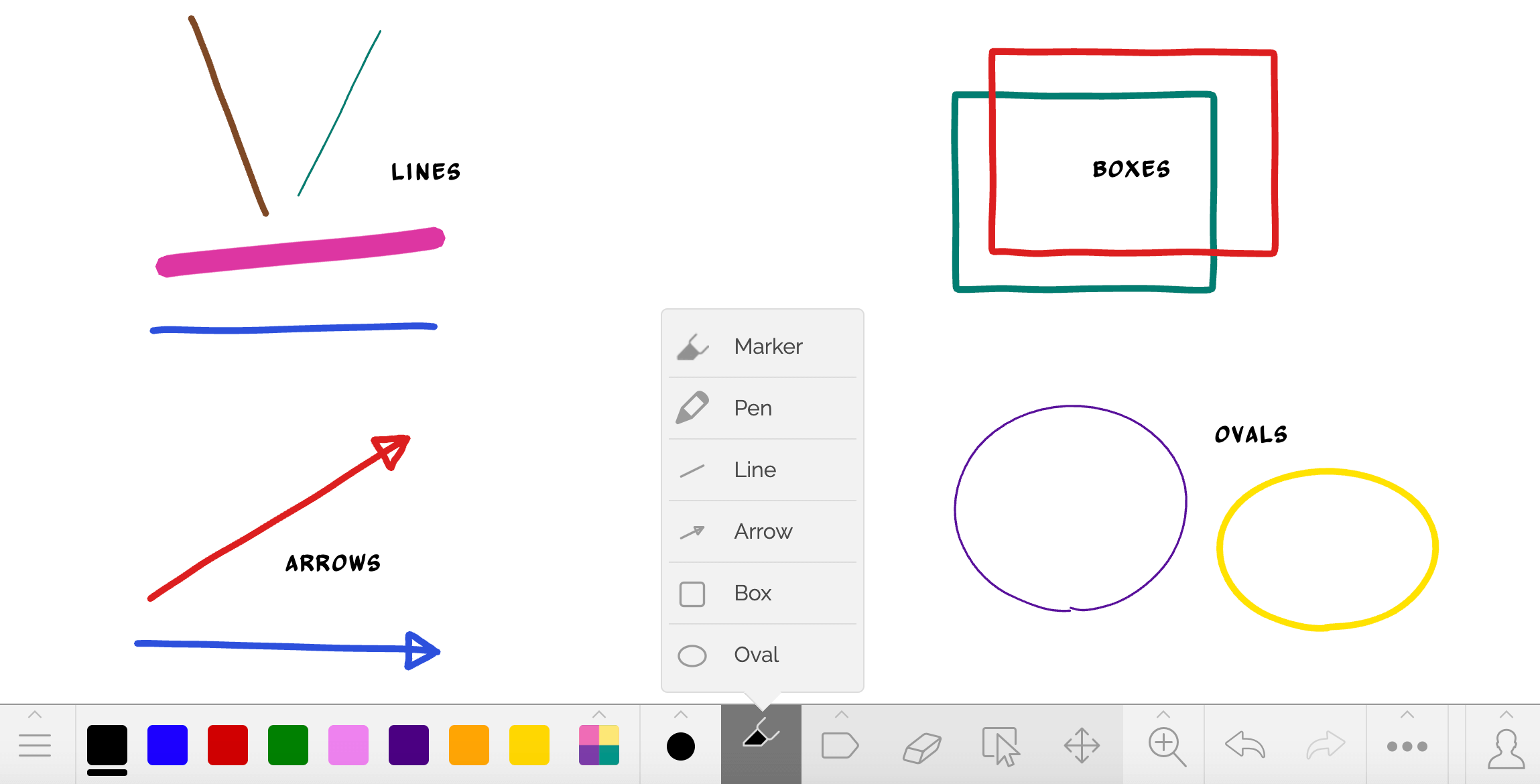 Limnu is the best online whiteboard for every kind of business or team whether its project managers, tutors, freelancers, business analysts engineering teams, so on, and so forth.
You can perform many functions on this whiteboard app like prioritize the product features, collaborate with teams, and much more.
With Limnu, you can also sketch your ideas easily on this handy app along with your team to collaborate and no sign-up or registration is required. Its API features offer Limnu-branded and white-label presentation with vigorous tracking and reporting of users.
Key Features
It comes with large storage space so that you never get out of storage space and your work and collaboration stop.
Access to all the apps and devices so you never stop your work even if you are away as it works best for remote teams.
Sharing your projects with your team members and clients is without any hurdle and your projects are secure.
It has an easy 3-step team setup process and you can add as many team members as you want.
Team admin control gives you full control over the privacy and security of your board. You can choose who can see your board and who cannot.
It is also ideal for tutors and students with attractive drawing tools and video conferencing features. Also, it is free for students.
Pricing
Free: It is free for 14 days with unlimited board collaborators and many other features.
Pro: It costs $5 per month with unlimited boards and collaborators, gives a $10 discount per year, and private and collaborative board options.
Team: It saves $16 per year and costs $8 per month. It gives unlimited boards, team members, team or private boards, and team security controls.
Enterprise: Enterprise has features of Team and Pro with a dedicated customer success manager and personalized training and onboarding program. API requires no download, no registration, and hosts all aspects of whiteboard use.
---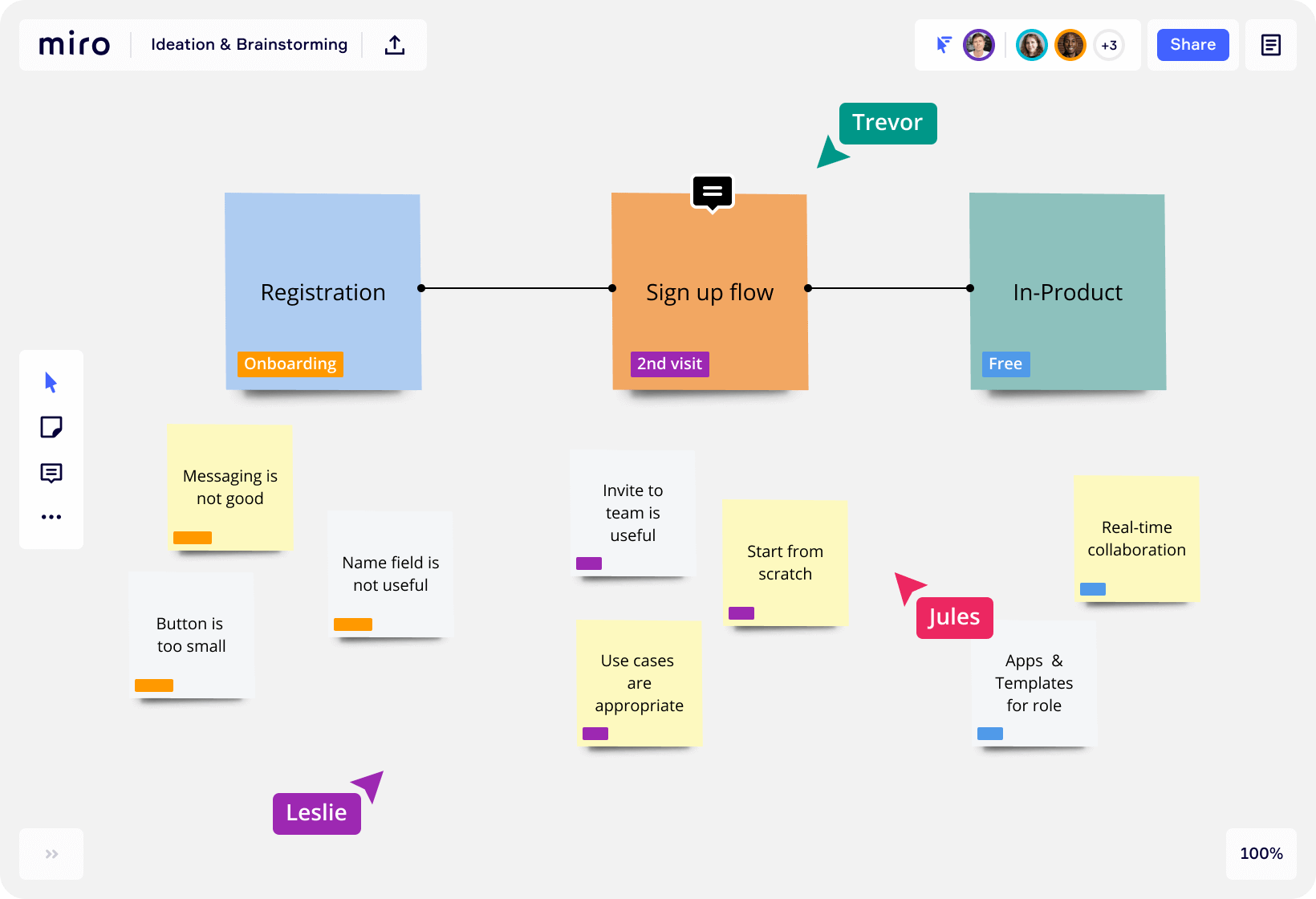 Miro is among the world's best online whiteboards that make your communication and coordination with teams more organized and well managed.
It brings your business teams together on a single online digital whiteboard where telecommuting and distributing remote work gets done perfectly.
Miro is one of the best collaboration tools for every team that is working remotely and is distant. It allows effective and intuitive collaboration with multiple options to enhance your teamwork management and coordination to have maximum work done in no time.
Its infinite canvas allows you to showcase your creativity and productivity to perform your work the way you want. Enterprise plans have upgraded security for all your project management and privacy controls to safeguard all your meetings and projects.
Key Features
It has canvas, widgets, and prebuilt templates for every team and project that makes your project inventive and faster than ever before.
All important decisions can be made collectively through this virtual whiteboard's enhanced collaborative tools through brainstorming, workshops, meetings, and more.
It gives mouse-over collaboration, easy screen-sharing, and presentation along with video chat and conferencing options.
Manage your projects through easy-to-find folders and have 20+ app integrations to restructure your workflow and have private account user administration.
Enterprise plan gives upgraded security for companies through SSL encryption audit log, GDPR, and much more.
With its online mapping and diagramming, easily explain complex ideas to your team members and clients.
Pricing
Free: Among free virtual whiteboards, this is for starters and includes 3 editable boards, anonymous board-viewers, and other great features.
Team: Team is for $8 per month with all Free features plus projects, high-resolution exports, Asana Integration, and many more.
Business: Its price is $16/month and has all Team features plus SSO, external editors, and day passes for occasional collaborators.
Enterprise: It has custom pricing according to the features you want to have. It has all Business features plus advanced permissions and administration, data governance, and more.
---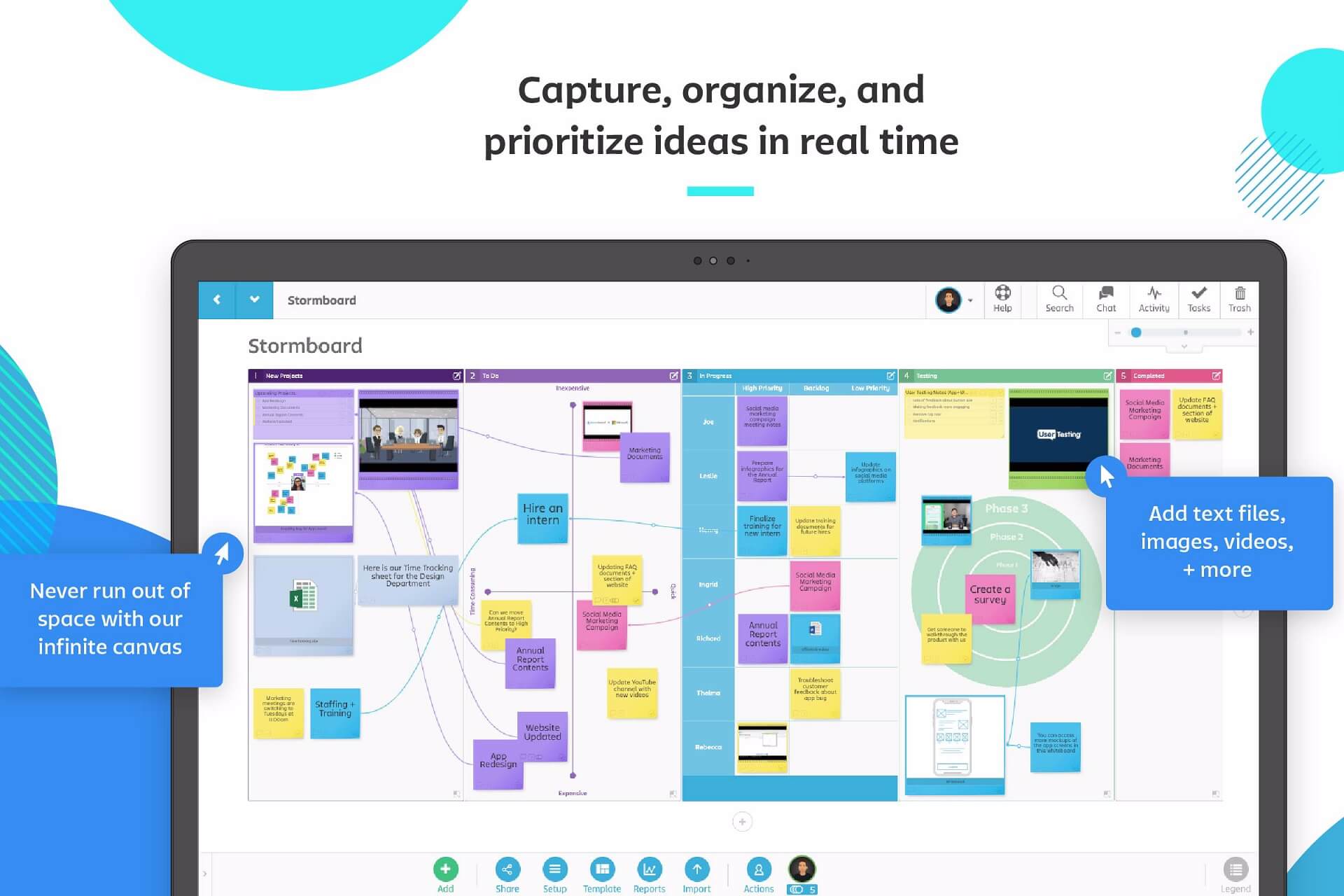 Stormboard is an efficient brainstorming and project managing whiteboard tool. It is a flexible, easy-to-use collaboration software that makes your business meetings more fluent yet interactive.
It allows you to brainstorm and ponder upon important ideas related to your business and deliver them to your team that is working remotely.
You can gather ideas, work together on projects, have online video conferencing, and many other constructive things for your projects.
It has built-in business templates through which you can generate instant reports, work on projects without any hassle, retain ideas, and have solutions for all your business-related problems. There is a huge number of customers that trust Stormboard for their business.
Key Features
Have a smooth collaboration with your remote team members through sticky notes, sharing your concepts, and innovative whiteboards.
It has a 256 bit SSL internet connection which is certified to protect your data.
It provides built-in business processes to start your business with ready-to-use widgets and templates.
Have meetings right away, the moment you want, and generate informative and progressive reports with its quick and instant meeting notes.
You can have all your problems solved instantly with its brainstorming feature that allows you to clarify, explain, have feedback and discussions with your team.
Easily assign tasks and manage your projects according to your desire along with your team to turn concepts into actions.
Pricing
Personal: This is one of the free online whiteboards that are specifically for individuals. It has 5 open Storms, integrations with Slack, Teams, Flow, and others. It also offers basic reporting + exports, and more.
Business: It costs $10 per month and gives 10 Storm viewers, folders, data imports, pre-made templates, the ability to customize all templates, multiple Storm Administrators, and many other features.
Enterprise: Enterprise includes all Business features plus invoice billing, customized demos + training, custom teams, and service agreements, branded templates and reporting, and much more. It costs $16.67/month.
---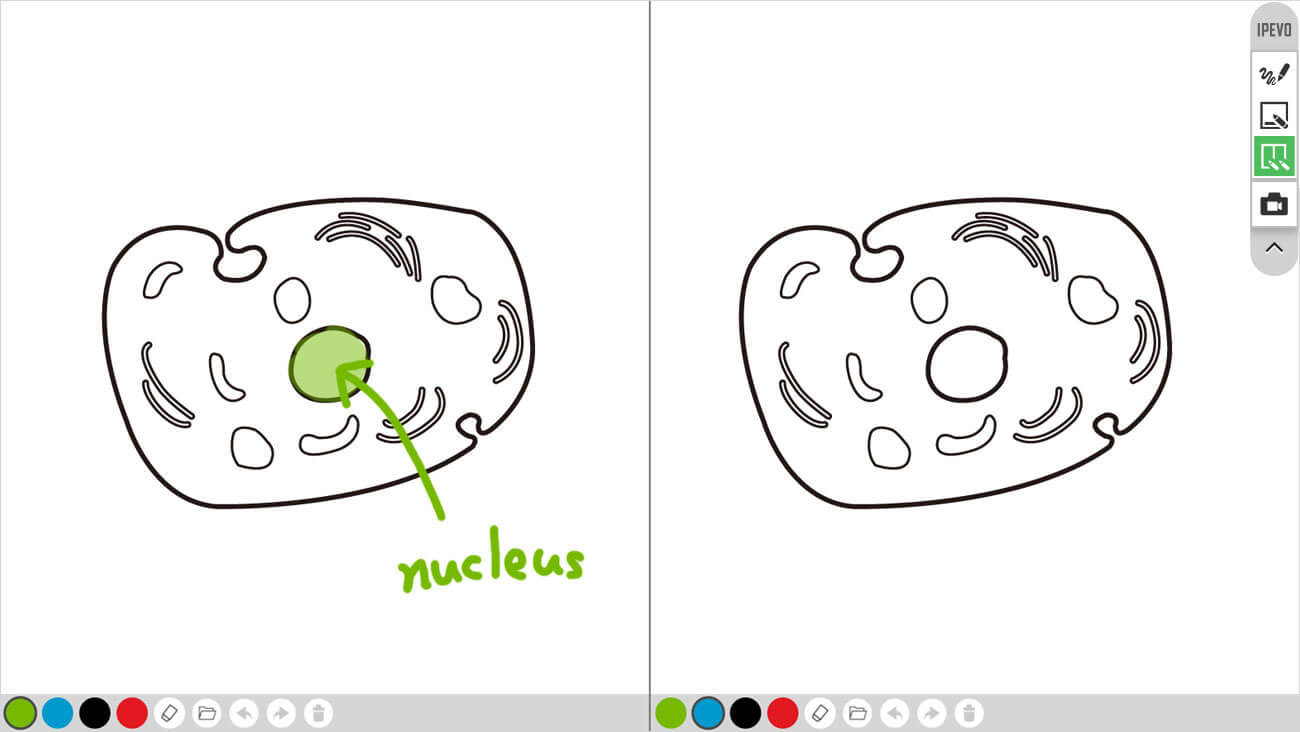 IPEVO Annotator is a completely different way of using your interactive whiteboards. It is one of the unique online whiteboard software that has amazing annotation tools through which you can freely draw on the images that are displayed on the screen and make notes on them as well.
You can also use screenshots, screen recordings, or other things that are useful in your projects. It does not require any registration and also it does not access any of your personal information.
All your photos and videos are stored in the local drive and you can uninstall it anytime when you do not need it.
Key Features
You can use rulers, protractors, scissors, or any other tool to draw instantly on the board and highlight important points, and zoom-in to focus.
Its multi-pen feature allows two users to work at the same time on the projected surface. It is compatible with IPEVO IW2 Wireless Interactive Whiteboard System.
Broadcast your screen in no time with anyone around the globe by using the Live Broadcast feature.
Record your whole screen activities side-by-side or just a part of it for later use.
It has a drawing mode in which you can draw on your ongoing screen and whiteboard mode in which you can delete/add, import files, images, etc. as well.
You also have a cursor, eraser, undo, redo, trash, and many other features that are handy and at your disposal.
Pricing
IPEVO's online whiteboard is free to download and the tools are available on their online store. The tools have two categories, Document Cameras, and Interactive Whiteboards.
Document Cameras: Contains 3 products, IPEVO VZ-X Wireless, HDMI, and USB 8MP Document Camera for $259, IPEVO VZ-R HDMI/USB Dual Mode 8MP Document Camera for $199, and IPEVO V4K Ultra High Definition USB Document Camera for $99.
Interactive Whiteboards: It also 3 products, IPEVO IW2 Wireless Interactive Whiteboard System for $169, IPEVO IS-01 Interactive Whiteboard System for $149, and IPEVO IP-1 Interactive Pen for IW2 Interactive Whiteboard System for $79.
---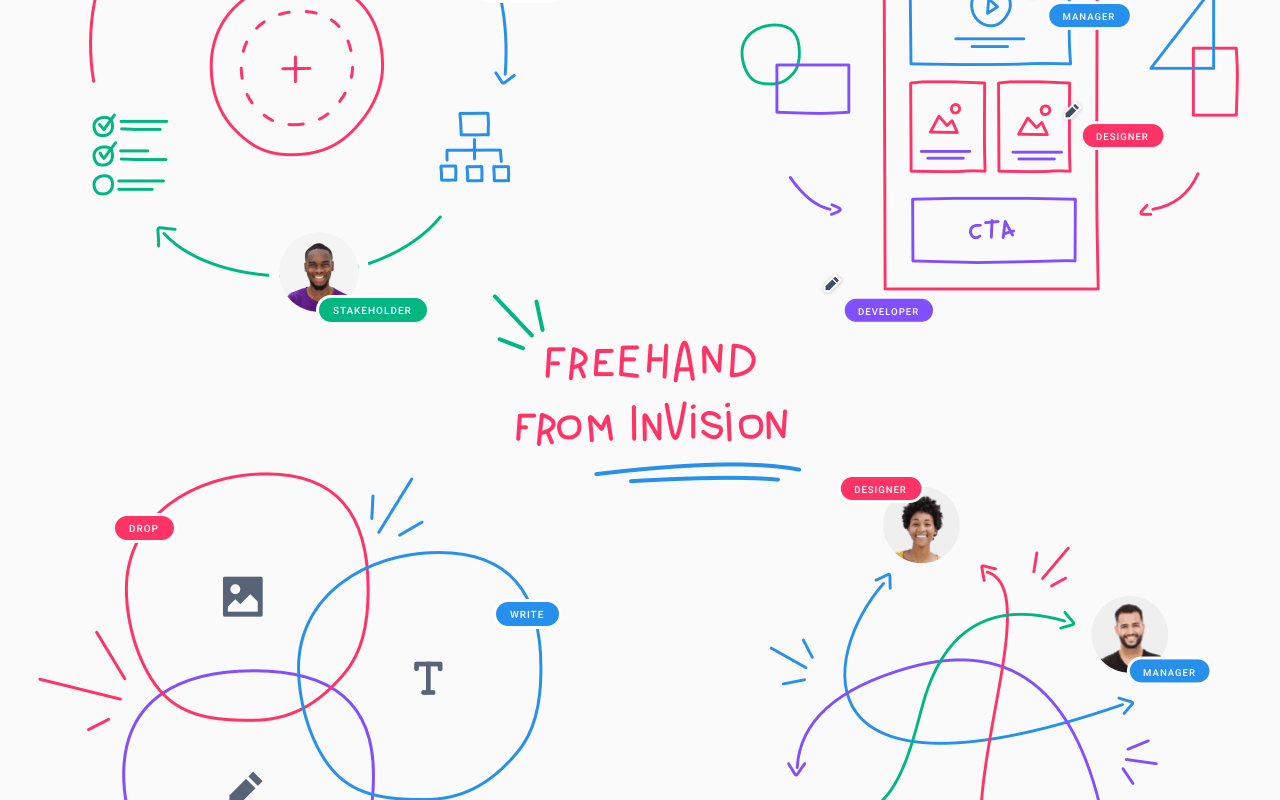 InVision Freehand is an innovative virtual whiteboard application that is not restricted to one form of business or team. It is suitable for every project whether it is related to business, education, or any other with its advanced features and tools.
It makes collaboration with your team seamless and uninterrupted by keeping your managers, developers, stakeholders, designers, all on the same page. Brainstorm with them collectively, share ideas, make decisions, and other important steps to make your projects successful.
It plans, generates, and test prototypes for any team, make business models, and designs for any device with its effective tools and strategies. It has a simple drag and drops feature through which you can use any image and draw whatever you want. You can also use different integrations.
Key Features
It offers a vector drawing tool through which you can easily draw on images, Photoshop, and make sketches.
The layout engine enables developers to regulate and scale their designs to adjust in any device regardless of its size.
Control who can view your projects and also the right person gets the work. Its freehand drawing tools enable you to instantly add comments and suggestions.
Open API is an extensive application integration that makes managing your projects stress-free and easy.
The accounts that are made on InVision are managed on the cloud as well. With the cloud, the workforce becomes flexible and organized.
You can also embed InVision into different apps such as Trello, Jira, Slack, etc. to enhance the power of your development.
Pricing
Free: This plan is free and offers 1 prototype.
Starter: It gives 3 prototypes and costs $15 per month.
Professional: Professional costs $25 per month and offers unlimited prototypes.
Team: Team offers unlimited prototypes and up to 5 team members. Its pricing is $99 per month.
Enterprise: Enterprise has advanced features with unlimited prototypes. It offers spark design-driven innovation, lighting-fast screen designing, animate and prototype, add extensions, and many more striking features.
Conclusion
Michael LeBoeuf says that pencil and paper are outstanding concentration tools because when you write down any idea or a concept, you spontaneously focus on it. Writing things down enables you to memorize them and virtual whiteboards can be your go-to options.
These best virtual whiteboards stay with you wherever you go and help you to organize your stuff and collaborate with your team fluently.
They help you to keep your morale high, remember the things that matter to you the most, boost your creativity, and have many other benefits.
Other SaaSy goodness on All That SaaS: